Why Thursday Is The New Thursday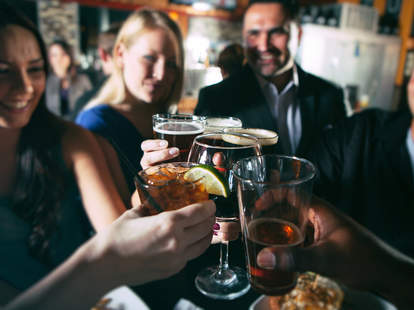 In the beginning, there was the weekend, and it was good. But since then, days of the week have been playing musical chairs; Thursday was proclaimed "the new Friday," other days have tried to become the new Thursday -- Monday, Tuesday (never Wednesday, though. Ew.) -- and we've seen the ascent of Sunday Funday. Well, it's time to remind everybody why Thursday's still the best day to go out, despite what Friday, Saturday, Sunday, Monday, and Tuesday have to say (don't even try, Wednesday).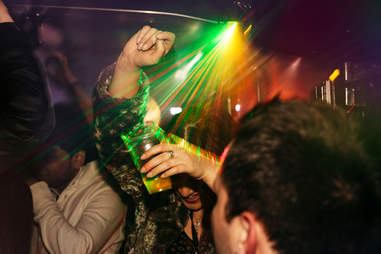 Beatrix Boros/Stocksy
1. Thursday follows Hump Day. From here, things only get easier and easier.
2. Three words: Thursday drink specials. It's like Friday, without that guilty feeling when you look at your bank statement on Saturday.
3. You actually have a chance of getting into that exclusive bar on Thursday. You don't even need to know the bouncer's roommate's uncle or whatever excuse you use on way-less-democratic Saturdays.
4. No one's worn out from the night before and everyone's excited to say goodbye to the work week (early, but close enough). The same can't be said for Mondays, which feel like everyone just returned from that battle in Game Of Thrones.
5. If you start thinking of the weekend officially starting on Thursday night (with a measly 8 hours of work wedged in between that and Friday at 5), it feels pretty long.
6. Plus, if your job does the whole "Summer Fridays" thing, that means only 4 hours interrupt your three-day weekend. That's 72 hours before you need to think about emails, meetings, conference calls and everything else that's driving you to go out right now.
Good Vibrations/Stocksy
7. Surge pricing on a Thursday? Hah!
8. You can still use work as an excuse to go home at a reasonable hour once your friend starts talking about their ex again. We've all been there.
9 The relaxed, happy air of Friday makes it that much easier to go out and have more fun Thursday night -- folks will be less likely to bat an eye if you're in a couple of extra minutes late. Don't even try this on a Tuesday.
10. The expectations for making the most out of a Thursday night are way more lax than making the most out of a Friday night, thus making them that much easier to surpass.
11. Your friends never make you come see their awful Sublime cover band on a Thursday. If they do, make new friends. (Though to be fair, this should be a crime any day of the week).
Dimitrije Tanaskovic/Stocksy
12. Since Friday's payday, the money you spend will be back in your account by morning. Unless you somehow manage to drop a whole paycheck in one night, confirming your status as a party legend.
13. Going out on Thursday allows you to get even more ambitious with your "real" weekend plans. Or, more realistically, not feel bad about staying in on a Friday.
14. Needing to blow off steam will not be labeled as "a case of the Mondays," and that reality is still four glorious days away. 
15. Since most people are home watching Shonda Rhimes shows, the dance floor is totally yours. Trust us, you can catch up on Olivia Pope's latest hijinks over the weekend.
16. The weekend looks a lot better from Thursday night than when you wake up at 6pm on Saturday and realize you've wasted half of it. Don't worry -- you still nailed it.