Why We Should All Summer Like Brazilians
While everyone is hyped about the Olympics in Brazil this year, don't forget that this country inspired hype long before Rio 2016 was announced. With Brazil heading into winter and us Northern Hemisphere locales heading into summer, we decided to get ready for our warmer months by taking a look at how the country with beautiful beaches, music that influences genres around the world, and some of the meatiest barbecues you'll ever see celebrates the longer days and shorter nights. Here's why it's time you did summer like a Brazilian.
 
Because every floor is a dance floor
Brazilians take pride in lighting up the floor with the quick-quick-slow movements of samba -- every beat has three steps -- and summer is the perfect time to showcase these moves. Why? There are more occasions for music: barbecues, street fairs, festivals, more days off and more get-togethers, especially considering holidays like Christmas & New Year's take place during their summer. Big holidays lead to more get togethers which lead to more dancing! But even the average patio hang at a friend's house will probably result in a serious samba session instead of a post-midnight game of Cards Against Humanity.
And beaches are the perfect place for a big ole dance party. Some even have stages set up for performances by some of Brazil's professional dance groups, the kind you see in Rio during Carnival. And because samba music is one of Brazil's biggest expressions of cultural identity and symbol of the country as a whole, no one's really going to get mad if someone brings a really impressive sound system to blare it on the beach (mostly). You're more likely to start an impromptu beach dance party than meet someone who isn't a fan. Oh, and being a wallflower at these things does not fly; you WILL be pulled in -- because dancing the samba, which everyone grew up with, is a part of everyday life.
 
Because a day at the beach is more than just a tanning session
While there are people laying around in the sun tanning, beaches are hotbeds of activity, especially when you get away from the more touristic, cabana-strewn beaches in big cities like Rio. You'll spot zumba classes, beach volleyball, and barbecues up and down the shore as well as people playing drinking games, because you can drink on the beach. If you're hitting up one of the busier beaches, a waiter from a cabana will walk your sweating caipirinha to you onto the sand (or make it fresh, right in front of you). And whether you go to a fancy beach or a less busy shoreline, there will always be people walking around the sand trying to sell you things -- ice cream, coconuts, white cheese grilled over a tiny charcoal fire, fried pastels (similar to empanadas), and fried fish and shrimp. You know, the kind of stuff you actually want people to offer you on the beach.
Jeremy Nguyen/Thrillist
Because a Brazilian BBQ is no joke
Real meat is on the menu here -- steaks, sausage links, chicken wings, etc -- and being the cook is a very serious affair. If you either overcook or undercook the meat you will hear about it for the rest of your life. And there's no hiding from your mistake either with sauces or rubs. The only thing a Brazilian steak needs is salt and flame, so if your grill game ain't A1, you won't find any A1 sauce to mask your mistake.
When meat is put on the grill, strips are cut off based on your preference -- rare, medium, whatever -- and placed on a plate for guests to munch on. Someone might walk around with a plate and a bowl of powdered cassava called farinha for dipping your strip of steak. If that doesn't sound very filling to you, keep in mind that Brazilian barbecues are hours-long affairs and people are always picking away because the chef is putting out more cuts every few minutes. This fete goes on way into the night, and usually it doesn't take long for someone to start dancing -- which is good, because meat-sweats are way less attractive than samba-sweats
 
Because Brazilians are all about body positivity
In Brazil, it doesn't really matter if you feel like you've been hitting the pastels a little too hard. There's more of a "just wear what you want" attitude, and sometimes, that means no one is wearing a whole lot of anything! (And even though Brazil's plastic surgery rate is the second highest in the world behind South Korea, no one's shy about not having a six pack.) Everyone knows about the Brazilian string bikini, which you'll always see no matter what the current bathing suit trends are. But the men aren't going to be wearing knee-length board shorts exclusively either -- it's Brazil, they were those all the time (it's warm all year round). Instead, you'll see many men wearing a sunga, which is reminiscent of a speedo with a little extra material around the hips (very little.) Every man remembers his first sunga.
Advertisement
Havaianas embodies the fun, vibrant, and spontaneous way of Brazilian life. As the original flip-flops created in 1962, Havaianas have been bringing the Brazilian spirit all around the world with high quality rubber and bright, joyful designs. They're as Brazilian as caipirinhas, beautiful beaches, and the bossa nova. Not since the tire has rubber done so much to get people moving.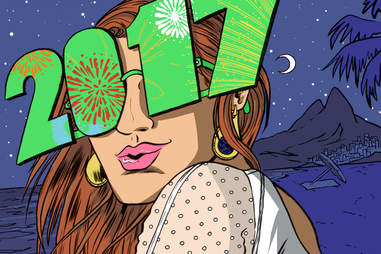 Jeremy Nguyen/Thrillist
Because their New Year's takes place during a time you actually want to celebrate
If you're not up to speed, Brazil's summer takes place during our winter. So that means instead of freezing their buns off by New Year's Eve, their buns are lightly toasted. A big summer tradition revolves around asking the goddess of the sea, Yemanjá, to grant wishes for the New Year by jumping over seven waves before the clock strikes midnight. It's customary to wear white and send offerings of white flowers and little gifts into the ocean on Copacabana Beach in Rio, and then sit back and watch the fireworks.  If you did that on the East Coast in January you'd probably freeze, but take into consideration their tradition anyway and celebrate the first day of summer by jumping into the water. (You'd probably still freeze, to be honest.)
 
Because they take time off of work very seriously
We may get a summer Friday here and there and what like, ten days off a year? And we're still pretty plugged in during that time. In Brazil that's basically sacrilegious. Your vacation time is off-limits and man do you have a LOT of it. You get four weeks a year just to start off with, not to mention public holidays, and any weeks accrued from previous years could set you up to be able to take the ENTIRE summer off. No, you won't answer emails. You won't have to show up to put out some fire, you are OFF. Vacation time is your time, even if you're essentially taking what is to us a sabbatical.
 
Because your friends are your family
Family in Brazil is a huge part of society. It's not uncommon for three generations of a family to live together.  Including your relatives at a party isn't just normal, it's something you actually want to do -- especially in the summer, when you're throwing a lot more shindigs. Your extended family could probably fill a small concert hall with all the cousins and uncles and aunts and second cousins and their kids and spouses -- it goes on and on, and that just means you have a ready-made squad to fill your summer house parties, not to mention the many non-blood friends you'll invite. Did we mention Brazilians like to party?