Reasons Your Backyard Is the Best Place to Be This Summer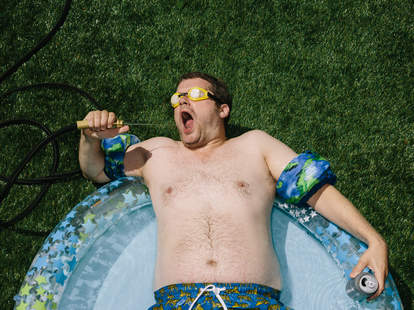 Photography by Nathan Perkel
Picture this: a cold beer sweating into your palm, the smell of burgers sizzling on your grill, and sunshine on your face. You're surrounded by people whose company you actually enjoy. Even your mom is there, and she brought potato salad.
This isn't a dream, this is summer in your backyard -- otherwise known as the best place to be from Memorial Day to Labor Day. Here's why:
Photography by Nathan Perkel
Because it's the best place for a nap outside
When you fall asleep at the beach, someone kicks sand in your face. In your backyard, you can set up your hammock in the ideal sunny or shady spot, and no one is going to bother you.
Because you like everyone at the bar
No more hobnobbing with aggro dudes in an overpriced, overcrowded drinking hole! You've got sunshine, grass, and a cooler full of beer to share with your best pals. Bonus: you can order pizza without trying to hide it from the bartender.
Because you're a regular
No matter your status at your local bar, in your backyard everybody knows your name. Except that friend-of-a-friend-of-a-friend who asked you whose party this was.
Photography by Nathan Perkel
Because you've put some sweat into it
If you're lucky enough to have a backyard, then you've probably spent several summer weekends swinging a hammer, pulling weeds, or pushing a lawn mower under a blistering hot sun. Sure, the upkeep can be tiring, but that's one of the reasons why that bite of a burger at the first barbecue of the season is so satisfying.
Because you can be a glutton
Because if you go out to eat and consume three bratwursts and a burger, you're going to get some strange looks from the waitstaff (not to mention a pretty pricey check). In your backyard, consuming so much barbecued meat that you pass out in a lawn chair is perfectly acceptable.
Because you can't take Mom's potato salad to the bar
No one makes it quite like Mom, and barbecue just isn't the same without it.
Because you won't be charged $5 for water
If you head to an outdoor concert, or a food truck festival, or an amusement park, you're normally going to have to shell out some dough so you don't dehydrate, which is just sort of cruel and unusual.

Because clothing is optional
The backyard is just an extension of your living room, so if you want to go skinny dipping, or sunbathe naked, no one is going to call the cops. Just make sure you've got a fence -- and sunscreen!
Because there's no traffic
Have you ever tried to drive to the Jersey Shore on a Saturday morning? The Garden State Parkway is at a standstill, full of minivans packed with beach toys and Honda Civics with underbody lights. No thanks, I'd rather just take 10 steps to the backyard.
Because there's no sand in your beer
Drinking on the beach is great, but there are few things worse than the feeling of sand in your mouth.
Because your dog doesn't need to be on a leash
There are few things more depressing than the look on Fido's face when you get to the park and can't let him run free. In the backyard, he can play fetch totally unencumbered, like a dog should be.
Advertisement
One great thing about grilling in your own domain: you're the keeper of the cooler. Only true friends get to share your Miller Lite.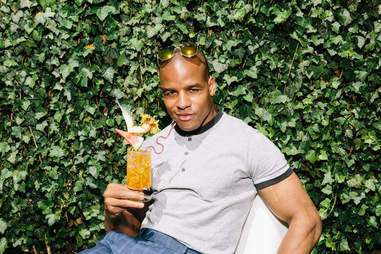 Photography by Nathan Perkel
Because no one will judge your choice of beverage
Beer's the backyard go-to, but the backyard does also present the opportunity to whip up a mojito or a frozen pina colada without getting side eye from bar patrons, and front eye from a put-out bartender. In your backyard, tropical cocktails are perfectly acceptable, little umbrellas and all.
Because grilling indoors is inferior, and potentially dangerous
If you've ever tried any of those half-baked indoor grilling apparatuses, then you know that nothing beats the taste of meat that's been grilled in a backyard. Plus, try to cook anything over an open flame indoors and you might just burn the house down.
Because you can bathe with a hose
Is there anything more refreshing on a hot, humid day then using your garden hose for a chilly outdoor shower? We think not.
Because you can grow food there
If there is ever a famine, you will not go hungry -- for there is fertile soil in your backyard and seeds at the hardware store.
Because it doesn't have to be manicured
Your front yard needs to be mowed on a biweekly basis, the flower beds there need weeding, and the lawn needs to maintain a particular shade of green for the neighbors not to accuse you of lowering property values. The backyard, though, that's where you can keep all those extra car parts and let the lawn go au naturel, and no one can say a thing.
Because water balloons wreak havoc indoors
A water balloon fight indoors is a disastrous situation, one that might end with a call to a mold remediation specialist, or a sopping wet couch. In the backyard, though, you can recreate the Battle of Helm's Deep during your water balloon fight, which is totally sick.

Photography by Nathan Perkel, Prop Styling by Sophie Strangio, Food Stying by Claudia Ficca, Styling by Jamie Ortega, Hair by Jennifer Brent/EA Management, Makeup by Carrie LaMarca, Casting by Impossible Casting