30 Things to Do in New Orleans Before You're 30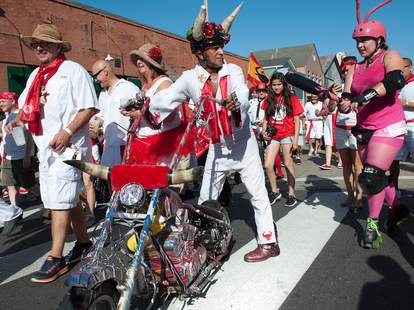 Everyone knows that the Crescent City is a fun place to be, or better still, to live (or at least they should), and nobody more so than spry and energetic people who have yet to meet their third decade. But even in a city like New Orleans, there are many things that you can handily get away with in your 20s that tend to be frowned upon, or at least met with a raised eyebrow once you've reached a more mature place in life. There are just as many experiences that you need to have under your belt before you can be a respectable NOLA-dwelling 30 year old. So while you've got it, flaunt it, baby. Take heed and do these dirty thirty things while you still have a chance, whippersnappers:
Get zozzed on Hand Grenades at Tropical Isle...
It's touted as "The world's most powerful mixed drink," and a single serving of one of these neon-green, cloyingly sweet and vaguely melon-flavored booze bombs will get your motor running. Three, and may God have mercy on your soul.
 
... and follow it up with a Lucky Dog
These infamous mystery meat tube steaks are not for the weak, the sober, or the mature.
 
Hear Rebirth on a Tuesday night at the Maple Leaf
The show doesn't even start until eleven (technically 10:30pm, but this is NOLA) on a "school night." It's going to be a late one, for sure, but it's also going to be an amazingly fun, sweaty, boozy night. For real. Because it's the damn Rebirth Brass Band, ya heard!
 
Dance on the pool table at F&M Patio
This has not been studied by statisticians in mathematical detail, but all accounts point to the fact that the leopard print billiards table at F&M's sees more late-night dancing than actual billiards. Get in on that while the getting's good.
 
At some point, novelty shots engulfed in flame are considered childish, so it's best to drink these (at this bar, also considered a den of youthful exuberance and questionable decisions) before you hit the big 3-0.
Fat Tuesday
Taste every frozen daiquiri at New Orleans Original Daiquiris
It can and has been done. You can do it, too, if you really believe in yourself. Warning: the Swamp Water is just as gross as it sounds. Also, take the streetcar or Uber it. Trust us on this one.
 
A young digestive system and metabolism are key if you're going to pound the inimitable combo of a double Lott-O-Burger with bacon, cheddar cheese, and a fried egg, waffle fries, and a root beer float at this venerated NOLA institution.
 
Bounce that booty
NOLA gave us jazz, Higgins landing boats, and cotton candy. But it also gave us bounce rap, as evidenced by local legends DJ Jubilee, Big Freedia, and Katey Red. Go to one of their shows, and it's as much of a workout as it is a concert.
 
Pull all nighter in the Marigny
At a certain age, "bedtime" becomes a very, very serious thing. But you're not there yet, so hop jazz clubs and bars on Frenchmen St. until the sun comes up. And then have breakfast at Elizabeth's.
 
Kayak or canoe on Bayou St John
This is a fun pursuit at any age, but before 30, it's best done with a bottle of hooch and a friend or two, preferably during Bayou Boogaloo. Just don't rock the boat and fall into the *other* drink.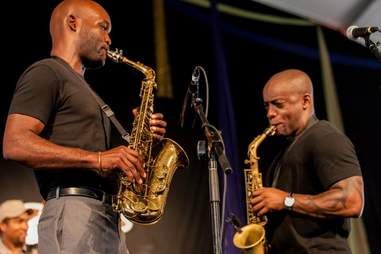 Douglas Mason
Hit every major festival in a single year
Between oysters, po-boys, crawfish, and too many other food and music fests to name (including New Orleans Jazz & Heritage Festival, obviously), there's pretty much a festival every weekend in New Orleans. Sometimes two. Can you hit them all in a year? We dare you.
 
Run from (or with) the bulls
San Fermin in Nueva Orleans is a special event, mainly because the "bulls" are actually badass roller derby women with horned helmets and foam bats. Given your spry, under-30 nature, you should be able to outrun them handily. If, of course, you want to. Sometimes getting caught is the best part.
 
Drink at every single bar on Bourbon St
OK, this one might not be accomplishable or advisable in a single night, but if you make two-three solid weekends out of the endeavor and are prepared for some serious late night shenanigans with tourists, you can totally make it happen.
 
Few things encapsulate your 20s like belting out Bon Jovi or Katy Perry (or One Direction... we're not judging) for a club full of inebriated strangers. It's a beautiful thing.
 
Perform stand up at an open mic
If you have a few good jokes and some guts, there are some solid comedy shows for amateurs in NOLA, including a great one at Carrollton Station on Wednesdays.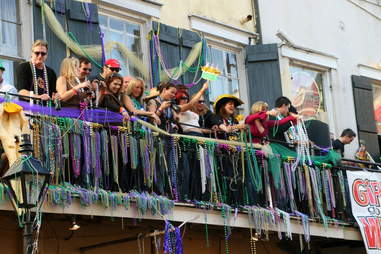 <a href="http://www.shutterstock.com/gallery-287167p1.html?cr=00&amp;pl=edit-00">gary yim</a> / <a href="http://www.shutterstock.com/editorial?cr=00&amp;pl=edit-00">Shutterstock.com</a>
Do Mardi Gras day proper
This changes generationally, but while you're a youngin', it means renting an apartment on the parade route with about eleven of your best buds and using it as your Carnival home base, depositing your throws, using the bathroom, and crashing on the couch or floor when necessary, as you do when you're in your 20s. That mess don't fly when you're 43.
 
There is a single and extremely important criterion for entry into this salacious party: full costume. Seriously, if one of the krewe's lieutenants decides that your getup isn't up to snuff, you're literally sent to "costume jail," where of course you're publicly shamed, if not wholly humiliated. It's called the "Mystic Order of Mysfits," and it's just as fun as it sounds.
 
Get *all* the free bar food
Depending on the place and time, you can find everything from free jambalaya to red beans and rice, crawfish, and even BLTs in certain NOLA bars, usually provided that you buy a drink. Save the moolah for your 401k, which you should probably start thinking about. Or, you know, more drinks.
 
Start your costume box
Buy one wig. Maybe a colorful feather boa and a tutu. Boom: you just started your costume collection, which you'll find to be indispensable if you're going to live in New Orleans. And when that box gets a little too full, you can trade with friends!
 
Yell for STELLA!
Fact: The Tennessee Williams Literary Festival holds an annual "Stella shouting contest." Yeah, that's a thing. Think you can best a young Marlon Brando? No way to know until you give it a go, Stanley.
Watch the ball drop atop Jax Brewery on New Year's Eve
Eventually, you'll learn the joys of spending NYE at home on the couch instead of getting three sheets to the wind with thousands of strangers, but until that happens, New Year's in the Quarter is a serious party. And, unlike Times Square, the evening is soaked in booze. Legally! Speaking of which...
 
Try to climb the greased poles
You won't succeed, but that doesn't mean it isn't worth a try, if only for the pics/tweet/Instagram/Vine/etc. These poles at the Royal Sonesta in the Quarter are lubricated for a reason.
 
Go through your entire 20s in NOLA without being arrested
This is more difficult than it seems. Tips: don't get into public fisticuffs, don't drive like a maniac, don't use illicit substances in plain view, and try to avoid peeing in a place that is not a bathroom. Good luck.
 
Bike from Mid-City to the Upper Ninth Ward
It's a trek from Carrollton Ave in Mid-City through Uptown, down St Charles Ave in the Garden District, through the heart the French Quarter, the Marigny, and over to the Bywater, one filled with myriad perils (not to mention hundreds of places to eat and drink), but it's definitely a trek worth taking.
 
Selfie time
It is an immutable law of the universe that only people of a certain age can get away with taking selfies without being seen as total d-bags, and that age ends after 29. So take advantage of that fact by snapping pics of yourself with notable NOLA chefs, musicians, actors, weird street people, and, naturally, food and drink.
Six miles, six bars, six beers. Sure, there are plenty of grizzled old-timers who will be there, but this kind of challenge favors the young, for certain.
 
Party hardy with the undergrads
You absolutely cannot spend any time whatsoever at The Boot, a known repository for undergraduate antics and debauchery, if you're past a certain age, unless you happen to work there. It's a college bar, filled with college kids, after all. Plus, they have a new pizza and burger joint next door that's so much better than the former Dino's (RIP).
 
Call in sick and day-drink on the levee
We have some pretty spectacular warm days in NOLA, just perfect for imbibing on the banks of the Mississippi as you watch the ships pass down the river. Don't let them go to waste. Work will be there when you get back, and hangovers are way worse in your thirties.
 
Crash a wedding second line
People love getting married in New Orleans, even if they're not from New Orleans or live here. What can we say, this city is romantic as hell. And with NOLA weddings come wedding second lines, so if you see one, just hop on in and dance with the bride and groom. They're probably soused anyway. Again: it's a New Orleans wedding.
 
Test your gastronomical potential
Speaking of challenges, you definitely need to channel your inner Adam Richman by attempting the "Pho Challenge" at Pho Cam Ly, the "Tchoupitoulas Challenge" at Creole Creamery, or the "15 Dozen Club" at Acme Oyster House.
Sign up here for our daily New Orleans email and be the first to get all the food/drink/fun in the Big Easy.
Scott Gold is a writer in New Orleans who is seriously jonesing for a Frostop Lott-O-Burger right now. Follow his old-man rantings @scottgold