The Most Haunting Abandoned Spaces in New Orleans
New Orleans has always had its share of empty, run-down spaces. That's going to happen when your city is nearly 300 years old; not everything is going to be pristine forever. After the massive flood and storm damage from a certain hurricane (a name we shall not utter here) 10 years ago, however, there seems to be more creepy and haunting spaces in NOLA than ever before. If the "beauty of entropy" is your thing, here are some of the most remarkable abandoned spaces in the Big Easy for you to know about.
Six Flags/Jazzland
Eastern New Orleans
This is the big one, the doozy, the absolute pinnacle of sublime abandoned creepiness. Six Flags New Orleans, previously known as "Jazzland," was hit so bad by storm winds and flooding that it never recovered... but it still hasn't gone anywhere. If you really want the willies, take a look at some photos of this crumbling amusement park, and you'll never have trouble staying awake again.
Market St Power Plant
Lower Garden District
For "urban spelunkers" and fans of vacant industrial spaces, the Market St Power Plant has long been a place of fascination (not that we would ever encourage anyone to trespass, of course). The property, including huge rusty ventilation stacks and room upon room of lovely decay, is headed for auction soon, so if you're not the one who buys it, you might want to sneak a peek before somebody gets to demolishing or renovating the place.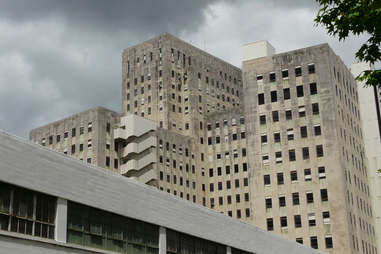 Charity Hospital
CBD
Another site ravaged and closed after the hurricane was the famous (now infamous) Charity Hospital, the place of nightmares in the aftermath of the storm for patients and doctors alike.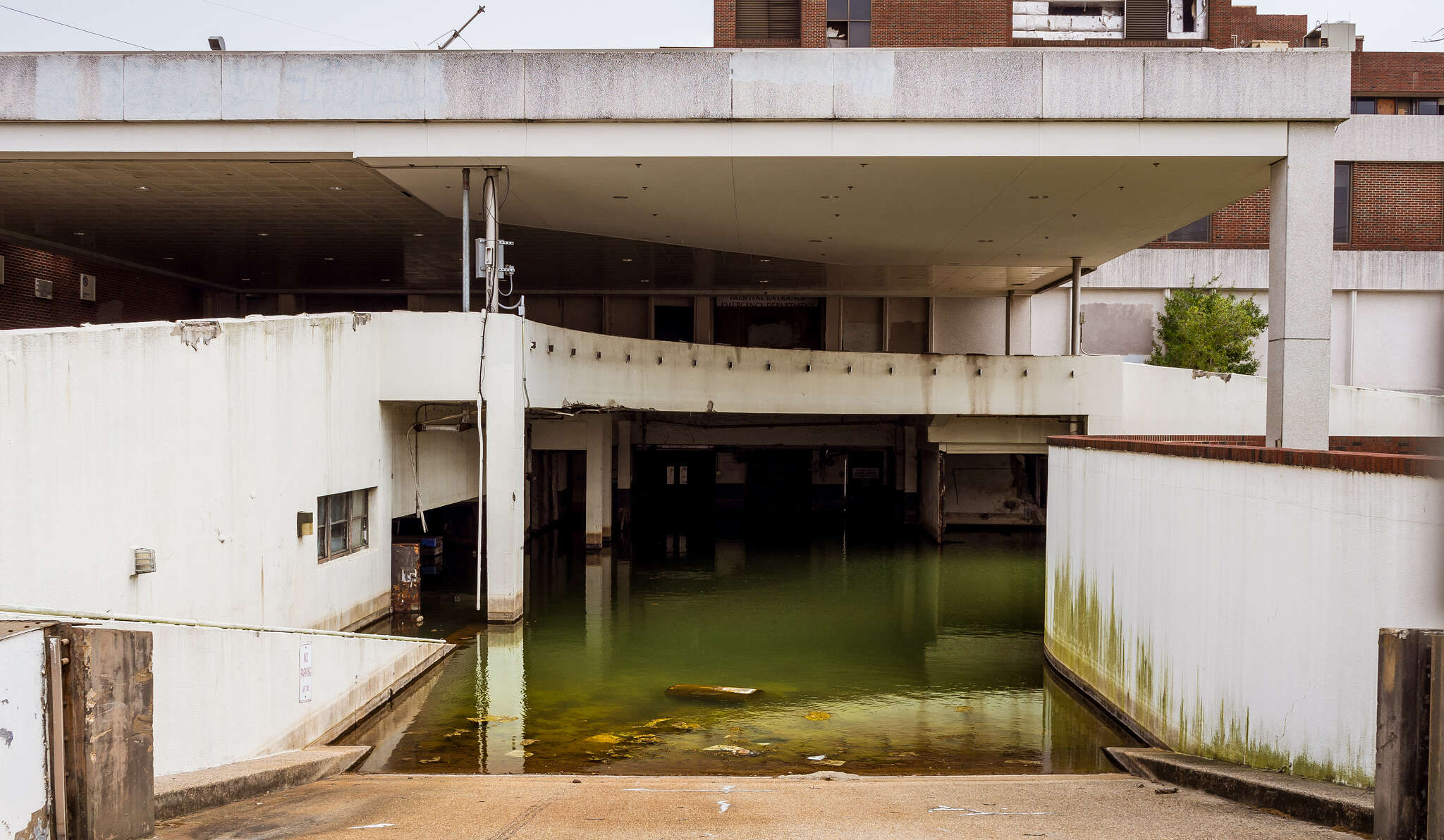 Lindy Boggs Medical Center
Mid-City
This abandoned Mid-City hospital, built in the 1920s and once known as "Mercy-Baptist Medical Center," is one of the spookiest things you'll ever see. Like Charity, you just know it's lurking with ghosts of patients past, and touring its crumbling corridors is the stuff of nightmares.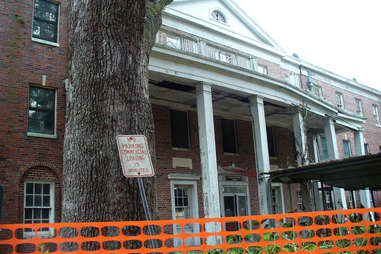 New Orleans Adolescent Hospital
West Riverside
This is probably the single creepiest site listed herein: a former mental hospital for kids. While it's been dormant as a health facility for decades, it was recently purchased by nearby Children's Hospital, so, like the Market St Plant, if you want to do a lookee-loo, you'd better find a way to make that happen soon. Also, we're pretty sure Freddy Krueger (or his New Orleans equivalent) lives in there somewhere, so make sure not to do any on-site napping.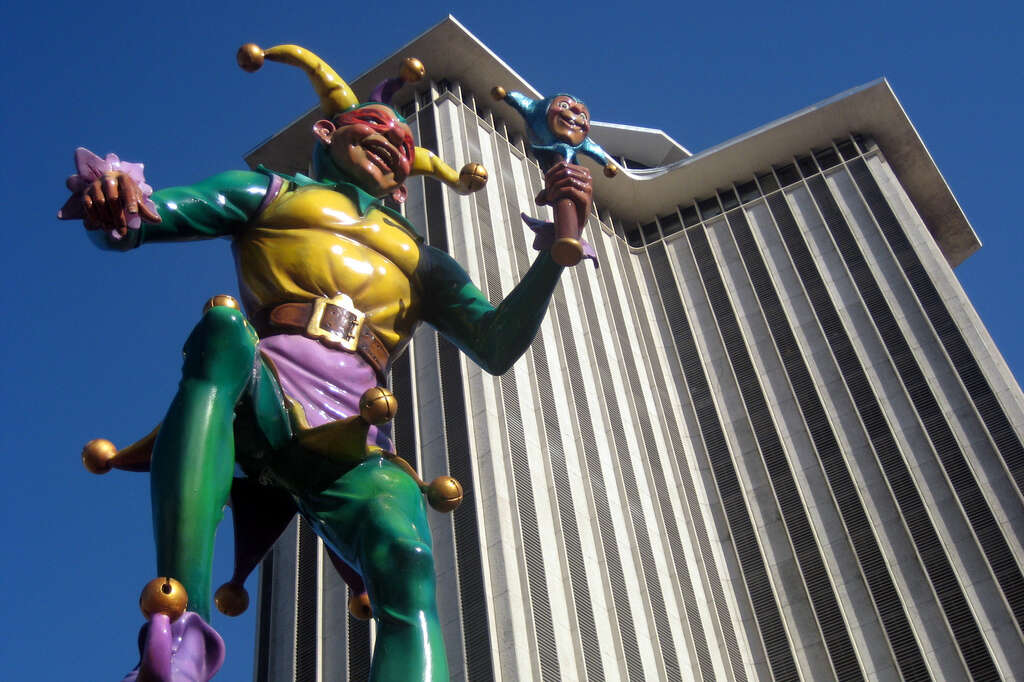 The World Trade Center
CBD
Soon to become a major hotel, this distinctive skyscraper at the foot of Canal St hasn't had any occupants for many years, while the city tried to find somebody, anybody, to do something with the place. Before they get on with the hotel-building, you might want to take a peek, if you're inclined to gaze upon the ruins of New Orleans businesses past (including a restaurant at the top).
London Lodge Motel
Holly Grove
Airline Highway has no shortage of seedy no-tell motels, but this one is particularly remarkable because it's been out of business and slowly rotting for a long time, now. Who knows what shenanigans went on in those rooms? And really, who wants to know?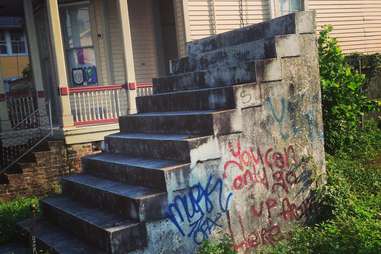 The stairs to nowhere
Milan, Various locations
There are numerous examples of this phenomenon in NOLA, where a house is torn down and yet the concrete steps that once led up to the front door remain. A great example is at the corner of Baronne and Amelia St, Uptown, where the stairs were graffitied with the words, "You can only go up from here." Nice.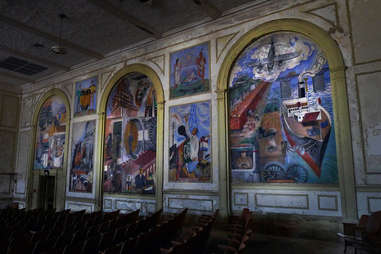 Israel Meyer Augustine Middle School
Mid City
OK, we have abandoned hospitals, a power plant, kids psych ward, motels, and skyscrapers... time to add a school. While there are actually a number of vacant schools in the city, this is one of our favorites, especially because of the triptych of stunning murals in the auditorium, which we hope will be preserved somehow.
Sign up here for our daily New Orleans email and be the first to get all the food/drink/fun in the Big Easy.
Scott Gold is a New Orleans writer who thinks the Six Flags 'coasters are WAY scarier now. Follow him on Twitter at @ScottGold.