Maybe it's the tens of thousands of murders that have bloodied the city's streets over the years. Maybe it's the yellow fever epidemics that decimated its population in the 19th century. Maybe it's the fact that New Orleans was once a hub for the slave trade. For whatever reason, the city has a violent, haunted history and offers one hell of a ghost tour. But if you find Karo-syrup-drenched actors scarier than New Orleans' reality, well, the Crescent City has plenty of haunted-house attractions, too. Here are the spookiest ones to add to your calendars this month.
Colonial Shopping Center, 7335 Jefferson Highway, Harahan
Price: Tickets are $18 and re-entry is $5 (in case you need to step out for a breather and/or liquid courage).
Dates: Fridays and Saturdays through October, plus extended dates around Halloween. Doors open at 7:30pm.
Chamber of Horrors is to the haunted-house world what Scary Stories to Tell in the Dark is to the kids' lit world: a gruesome, genuinely disturbing experience that will haunt you for decades to come. This house really shines when it comes to the verisimilitude of its sets and props. Sourced from Hollywood films, they fill 20 rooms and include artifacts from Roots and Area 51.
2385 Jean Lafitte Boulevard
Price: $10
Dates: Fridays and Saturdays through October, plus extended dates around Halloween. Doors open at 7pm.
A fundraiser for the Lafitte Fire Department, this haunted house features a wheelchair-accessible blackout maze, animatronics, a vortex, animatronics, and more. Plus, it's all for a good cause, so if you chicken out halfway through, at least you're a heroic chicken.
832 St. Phillip Street, Baton Rouge
Price: $30 GA, $55 VIP
Dates: Thursdays through Sundays through November 3, plus extended dates around Halloween. Doors open at 6:30pm.
Yes, 13th Gate requires an hour-plus drive to Baton Rouge (a terrifying prospect in its own right) but the 40,000-square-foot haunted house is worth the trip. There's a necropolis, tomb maze, a live snake-infested swamp, and more, all crafted by Hollywood construction professionals. Makeup artists -- some of whom have been with the company for more than a decade -- transform 160 actors into corpse brides, zombies, monsters, and scary clowns. So, so many scary clowns. Just be warned: 13th Gate is regarded by The Travel Channel, MTV, USA Today and many other outlets as a top haunted house -- and it has the lines to prove it (sometimes waits exceed an hour). Pro tip: Spring for the VIP pass to jump the line, go during off-peak hours in November, or bring a flask.
4800 Canal Street, New Orleans
Price: $30 GA, $50 VIP
Dates: Fridays through Sundays through November 3, plus select Thursdays and extended dates around Halloween. Doors open at dusk and hours subject to change.
Unlike so many haunted houses located in suburban strip malls, The Mortuary is actually held in... wait for it... a former mortuary. Built in 1872, the grand Victorian mansion was converted into a funeral home in 1930. At its peak, the business included cold storage for dead bodies, autopsy and embalming rooms, and a crematorium. It went up for sale in 2004 and sat on the market for three years, slowly decaying, until the current owners bought it and turned it into a haunted house. Can you imagine walking through a vermin-infested, Katrina-ravaged, graffiti-laced former-mortuary and being like, "I'll take it!"? If the Mortuary's three floors of ever-changing sets, props, and actors don't scare you, just think about that. (For group rates, feel free to email contact@TheMortuary.net.)
44 Vivian Court, New Orleans
Price: Free
Dates: Friday-Saturday, October 26-27, plus Halloween night. Doors open at 7pm.
Sometimes the most terrifying thing about a haunted house is seeing your credit-card bill afterward. That's where Bernie Baxter's Traveling Sideshow comes in to scratch the cheapo carnie itch you never knew you had. Launched in October 2005 to provide spooky fun for neighborhoods ravaged by Hurricane Katrina, Bernie Baxter's Traveling Sideshow charged no admission, and still doesn't to this day. "Though humble in size, about 600 square feet, we've built it using professional techniques and with the aim of scaring the daylights out of anyone who comes through," said owner Jonathan Bailey in an emailed interview. "The haunt is very much a year-round project for [my partner Crystal Ramey] and I, and it's an important creative outlet for us both." Warning: The sideshow isn't meant for kids. Bring them to the trick-or-treat area on Halloween eve instead.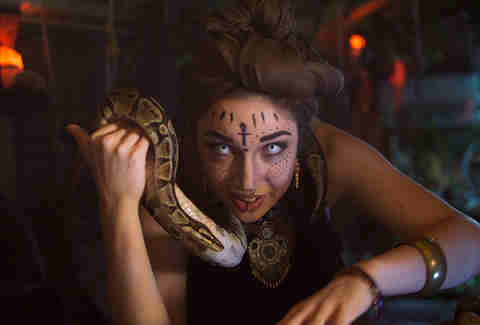 10342 LA-442, Tickfaw
Price: $20 for one of three attractions, $35 for two, or $50 for all three
Dates: Thursdays through Saturdays through November 3, plus Halloween night. Hours vary by attraction.
RISE is a triple-terror threat. It's got a traditional haunted house complete with scares and monsters in the form of an immersive maze. It's got an asylum with actors and a storyline who will make you part of the show (and will not hesitate to touch you while they're at it). And its newest offering is a haunted hayride -- the better part of valor for kids and those too easily spooked by the other two horror shows. As for RISE's famous zombie paintball, it's moved 300 feet away to Southern Extreme Adventures.
Audubon Zoo (6500 Magazine Street)
Price: $17
Dates: Friday-Sunday, October 26-28. Doors open at 5pm the first two days and 4pm Sunday.
Maybe you hate jump-scares. Maybe you're 6 years old. Maybe you just really, really like animals. For whatever reason, if you're looking for a non-scary Halloween experience, Boo at the Zoo is for you. It features trick-or-treat houses, a zombie-themed train, laser tag, a maze, a haunted house, costume contests, and live entertainment. No one's judging you for being a scaredy cat, least of all the crying toddler in a pumpkin onesie.
319 Butterworth Street, Jefferson
Price: GA tickets start at $20 and vary by day
Dates: Fridays to Sundays through Halloween, plus extended dates as Halloween draws near. Doors open at 7pm.
Newly open on the site of the former House of Shock, Nightmare is NOLA's newest haunted house, and it's already proving itself with scares. Its attractions include escape rooms, a 3D "Laughterhouse" involving a murder clown, and a Museum Macabre. If you've been through the House of Shock in the past, expect to recognize some of the familiar props and costumes from that house too, along with the long lines.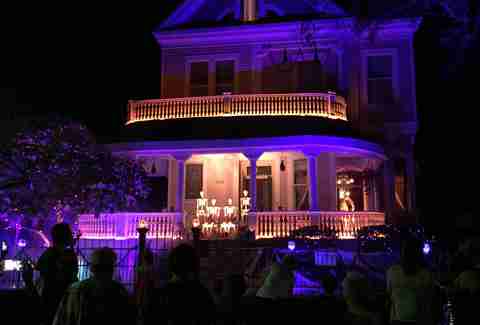 The intersection at Magazine Street and Second Street
Price: Free
Dates: Every night till 1am through Halloween.
Old-school New Orleanians will remember Popeyes chicken magnate Al Copeland and his over-the-top Christmas decorations, a holiday pilgrimage site for many families. This Magazine Street homeowner picked up Copeland's torch and bedizened it with fake cobwebs. You can't actually go inside the 19th-century Queen Anne Victorian house, but there's plenty to see from the street: flying ghosts, projections, videos, and an animatronic skeleton band. These beautifully spooky Halloween decorations are the stuff viral videos are made of.
The middle of nowhere, Pine Grove
Price: Multiple packages, but the haunted tours start at $20
Dates: Open on weekends for both haunted tours (in October) and non-haunted tours (until November 25).
Getting lost in a haunted corn maze was one of the more terrifying experiences of my life. It was just me, my friends, scary dudes with chainsaws, and endless miles of corn rustling in the crisp Louisiana night. At one point, I seriously thought we'd be stuck in there forever. I sat in a strobe-lit clearing, lost and overwhelmed, and accepted that this was my life now. Eventually my friend figured out how to read the map. Definitely hit up a haunted corn maze if you want to get the crap scared out of you.