The Creepiest Haunted Houses in New Orleans to Visit Right Now
There's actually plenty to be scared of when you think of New Orleans' haunted history -- that's why the city is known for hosting one hell of a ghost tour. But if you find Karo-syrup-drenched actors scarier than New Orleans' reality, well, the Crescent City has plenty of haunted house attractions, too. Here are the spookiest ones to add to your calendar this month.
Jean Lafitte
Price: $10
Dates: Fridays and Saturdays through November 2
A fundraiser for the Lafitte Fire Department, this haunted house features a ADA-accessible blackout maze, animatronics, a vortex, animatronics, and more. Plus, it's all for a good cause, so if you chicken out halfway through, at least you're a heroic chicken.
Baton Rouge
Price: $30 GA, $55 VIP
Dates: Thursdays through Sundays through November 2. Doors open at 6:30pm.
Yes, 13th Gate requires an hour-plus drive to Baton Rouge (a terrifying prospect in its own right) but the 40,000-square-foot haunted house is worth the trip. There's a necropolis, tomb maze, a live snake-infested swamp, and more, all crafted by Hollywood construction professionals. Makeup artists -- some of whom have been with the company for more than a decade -- transform 160 actors into corpse brides, zombies, monsters, and scary clowns. So, so many scary clowns. Just be warned: 13th Gate is regarded by The Travel Channel, MTV, USA Today and many other outlets as a top haunted house -- and it has the lines to prove it (sometimes waits exceed an hour). Pro tip: Spring for the VIP pass to jump the line, go during off-peak hours in November, or bring a flask.
Mid-City
Price: $30 GA, $50 VIP
Dates: Fridays through Sundays through November 2, plus select Thursdays and extended dates around Halloween. Doors open at dusk.
Unlike so many haunted houses located in suburban strip malls, The Mortuary is actually held in ... wait for it ... a former mortuary. Built in 1872, the grand Victorian mansion was converted into a funeral home in 1930. At its peak, the business included cold storage for dead bodies, autopsy and embalming rooms, and a crematorium. It went up for sale in 2004 and sat on the market for three years, slowly decaying, until the current owners bought it and turned it into a haunted house. Just imagine walking through a vermin-infested, Katrina-ravaged, graffiti-laced former-mortuary and being like, "I'll take it!" If the Mortuary's three floors of ever-changing sets, props, and actors don't scare you, just think about that.
Tickfaw
Price: $20 for one of three attractions, $35 for two, or $50 for all three; fast pass ticket options also available
Dates: Thursdays through Saturdays through November 2, plus Halloween night. Hours vary by attraction.
RISE is a triple-terror threat. It's got a traditional haunted house complete with scares and monsters in the form of an immersive maze. It's got an asylum with actors and a storyline that will make you part of the show (and will not hesitate to touch you while they're at it). And its newest offering is a haunted hayride -- the better part of valor for kids and those too easily spooked by the other two horror shows. As for RISE's famous zombie paintball, it moved 300 feet away to Southern Extreme Adventures.
Audubon Zoo
Price: $20
Dates: October 25-27. 5pm-9pm Friday and Saturday, 4pm-8pm Sunday.
Maybe you hate jump-scares. Maybe you're six years old. Maybe you just really, really like animals. For whatever reason, if you're looking for a non-scary Halloween experience, Boo at the Zoo is for you. It features trick-or-treat houses, a zombie-themed train, laser tag, a maze, a haunted house, costume contests, and live entertainment. No one's judging you for being a scaredy cat, least of all the crying toddler in a pumpkin onesie. Additionally, ticket proceeds go to the Children's Hospital of New Orleans, so despite the sinister season, your scares are for a good cause here.
Jefferson
Price: GA tickets start at $27 and vary by day, with additional fast pass and skip-the-line options
Dates: Thursday-Sunday 7pm-12am, with more dates and extended hours through October
Opened last year on the site of the former (and legendary) House of Shock, Nightmare is one of New Orleans' newest haunted houses, and it's already proving itself. Attractions include mini escape rooms, a sensory overload maze, a bar, and themed sections with names like "Darkest Dreams," "Rise of the Dead," and one simply titled, "Clown," which honestly seems the scariest. If you've been through the House of Shock in the past, expect to recognize some of the familiar props and costumes from that house too, along with the long lines.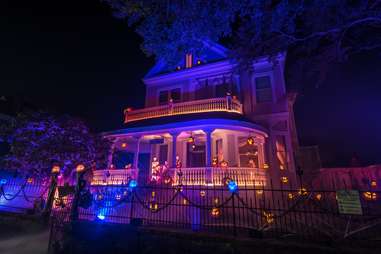 Garden District
Price: Free
Dates: Monday-Thursday sunset to 10pm, and Friday-Saturday sunset to midnight
Old-school New Orleanians will remember Popeye's Chicken magnate Al Copeland and his over-the-top Christmas decorations, a holiday pilgrimage site for many families. This Magazine Street homeowner picked up Copeland's torch and bedizened it with fake cobwebs. You can't actually go inside the 19th-century Queen Anne Victorian house, but there's plenty to see from the street: flying ghosts, projections, videos, and an animatronic skeleton band. These beautifully spooky Halloween decorations are the stuff viral videos are made of.
Pine Grove
Price: Multiple packages, but the haunted tours start at $20
Dates: Open on weekends for haunted tours (in October), and non-haunted tours (until November 24).
Getting lost in a haunted corn maze was one of the more terrifying experiences of my life. It was just me, my friends, scary dudes with chainsaws, and endless miles of corn rustling in the crisp Louisiana night. At one point, I seriously thought we'd be stuck there forever. I sat in a strobe-lit clearing, lost and overwhelmed, and accepted that this was my life now. Eventually, my friend figured out how to read the map. Definitely hit up a haunted corn maze if you want to get the crap scared out of you.
St. Bernard Area
Price: $20-$80
Dates: Friday-Sunday and October 29-31 with varying hours
Co-sponsored by the local haunted house purveyors at The Mortuary, Scout Island Scream Park is one of the more recent additions to New Orleans' seasonal scares, and it's based right inside City Park. One of the great things setting Scout Island apart from the pack is its daylight hours on Saturdays and Sundays, which might not seem like the scariest time to go, but the park offers a lot more than (great) spookiness. There are fair rides, a venue called the Kraken Music Club stocked with craft beer and food, and even a haunted swamp tour.
Sign up here for our daily New Orleans email and be the first to get all the food/drink/fun in the Big Easy.
Andrew Paul is a writer living in New Orleans with work recently featured by AV Club, GQ, Rolling Stone, as well as McSweeney's Internet Tendency and TNY's Daily Shouts. Follow him on Twitter at @anandypaul.
Missy Wilkinson is a Thrillist contributor. Follow her on Instagram at @nowlistenmissy.