Local New Orleans Businesses You Should Support in 2017
Jeff Johnston
Jeff Johnston
New Orleans is all about being local. We're a city where every weekend -- hell, every day -- is Small Business Saturday. Even our grocery stores boast about being "from here," though we're not quite sure where Rouses or Dorignac's went to high school. Anyway, in honor of that spirit of lifting each other up and supporting your neighbors, we've compiled a list of small Crescent City businesses that may have flown under your radar but are absolutely worth your attention.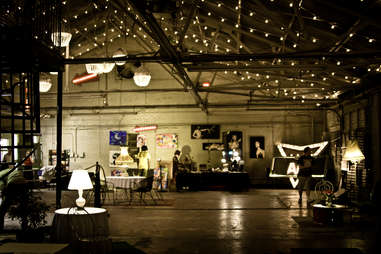 Marigny
The folks behind the Frenchmen Art Market secured this location alongside popular local venues like Siberia and AllWays Lounge. Set up in a former auto body shop, the Art Garage brings even more local artwork to the masses, along with a broader focus on community engagement. Patrons can Sharpie their names onto a papier-mâché elephant while taking in thought-provoking works like "Flying (more) Signs," which features placards from the homeless and transient community. The collection has since been compiled into a coffee table book, the proceeds of which benefit the homeless charity Crescent City Outreach. Art Garage has more in the works and recently played host to New Orleans' Writers Resist, where local authors read works by Martin Luther King, Jr., Allen Ginsberg, Audre Lorde, and more.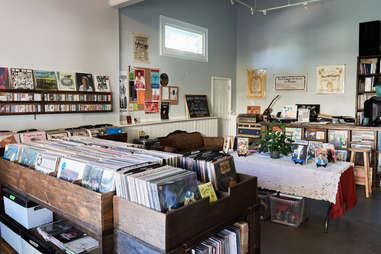 Freret
The vibe of Sisters in Christ is that of warm nostalgia for the city's old hardcore punk scene. Still, the Magazine St record shop is in no way out of date, stocking its shelves with the latest and greatest from local artists and DIYers. Sisters in Christ might even buy your vinyl or tapes if you walk in with a crate, and they're open to nearly anything, so long as it's not on a CD. The shop also puts on shows, and includes Mae's Guitars and Rank & File Books, which focuses on radical and anarchist literature just like Iron Rail used to. Ah, those were the days.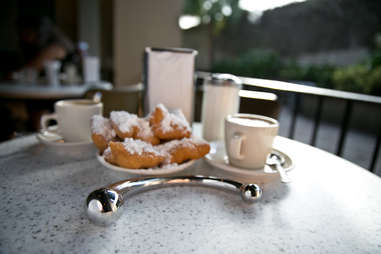 Marigny
Our "House of the Rising Sun" rap has given way to some seriously lacking sex shops. What's widely available is mostly novelty supplies for bachelor parties and trite Mardi Gras pranks. Luckily, Dynamo has, ahem, filled a much-needed void, providing a sex-positive space to explore and indulge in toys, lube, and kink selections, some of which come straight from local creators. The female-owned, education-focused shop has come a long way since its days of pop-up locations and merch booths, opening up this permanent home in the Marigny.
French Quarter
Yep, that Chris Rose got a tour guide license and he's telling the city's story once more. The Pulitzer Prize-winning journalist centers his trenchant focus on the great Ernie K-Doe and his proclamation that "all music came from New Orleans." Rose sidesteps the dubious haunted tours and spits at the campy vampire outings in favor of singing and dancing through the French Quarter in its entirety. It's what makes his tour a delight to locals and fully worth supporting -- there are only so many times you can hear the twisted tales of the LaLaurie Mansion or peep yet another Benjamin Button filming location devoid of context.
Garden District/CBD
The name almost says it all. Defend New Orleans is a feisty apparel shop fighting for the city's needy at the front lines, and looking damn good doing so. Portions from its profits have benefitted a smattering of New Orleans charities, including the Arts Council of New Orleans and Team Gleason. DNO's focus also extends beyond city lines -- in the wake of the Louisiana floods that devastated Ascension, Livingston, and East Baton Rouge, the company rolled out an "I Love Louisiana" line, donating all its profits to those affected. Items are still available for purchase at DNO's Garden District and CBD locations as well as online, with 20% of proceeds going to ongoing support of the flood victims.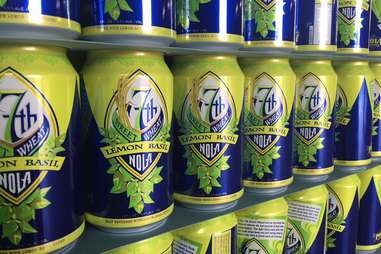 Irish Channel
Chances are you've enjoyed a NOLA Brewing beer and done some good without even knowing it. Those delightful, psychedelic cans of Rebirth pale ale? They benefit the Roots of Music. That annual Easter Keg Hunt? Its proceeds went straight to the Gulf Restoration Network. NOLA Brewing goes hard when it comes to impacting its community, leading trash pickups around its Irish Channel location and even partnering with big ticket events like Hogs for the Cause.
Hollygrove
The freshest thing to come out of Hollygrove (sorry, Weezy) just so happens to be a box of fruits and vegetables from the Market and Farm, available for purchase and open to customization depending on what's in season. Up your farm-to-table game by getting your produce straight from New Orleans and helping a nonprofit that provides community garden space and educational programs for adults and kids. Hollygrove also supports local businesses from throughout Southeast Louisiana and Mississippi, offering everything from all-natural beauty supplies to prepared foods.
Mid-City
Named after owner Candice Huber's grandparents and located right in the neighborhood where they grew up, this bookstore is a dream come true for nerdy New Orleanians. Though it caters mostly to science fiction and mystery, Tubby & Coo perhaps most vibrantly celebrates children's literature. Walls are adorned with fantastical images and a walk up to the second floor reveals steps painted like book spines. The community-oriented bookshop offers weekly board-game nights and four different book clubs, which should keep you pretty busy and help you out if your New Year's resolution was to read more in 2017.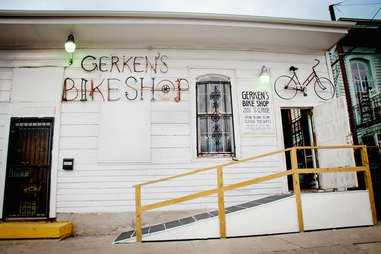 Marigny
New Orleans is gloriously flat and ripe for bike exploration, but it's not always the easiest to navigate (don't even get us started about all the street projects and potholes). Bicycle tune-ups are a must and Gerken's is perhaps the best place in the city to give your trusty steed some TLC. The Marigny bike shop is incredibly affordable and its staff won't sell you on some unneeded maintenance, tackling all the must-fix repairs first. Gerken's is also a haven for amateur bike tinkerers and will even custom-order parts for you.
Central City
Located in the former McDonough 38 school building, Dryades Public Market breathes new life into a 114-year-old building that now houses co-working space and an art gallery. The Central City market offers local produce from across Louisiana and Mississippi in a neighborhood once considered a food desert. Dryades Public Market also serves up exercise classes, including Zumba and MoeJoe's Bounce Fitness with Jazz Meditation. Its forthcoming Coffee + Learning series will make sure you nourish your body and your mind, and there's a King Cake class coming up, tracing the sweet treat's history and showing exactly how to bake it -- just in time for Mardi Gras.
Sign up here for our daily New Orleans email and be the first to get all the food/drink/fun in the Big Easy.
April Siese is a New Orleans writer and photographer still trying to figure out what to do with all that Belle Chasse cauliflower from the Rouses local produce bin. Send her recipes and give a follow on Twitter @ayetalian.