NOLA Tours Locals Will Love
At some point, carrying your drink around 24/7 is bound to get old. Following out-of-towners as they guzzle hurricanes along Bourbon Street gets old much quicker. Luckily, New Orleans is rife with strange and significant history, grand architecture, culinary and cocktail culture both new and old, weird museums, and breathtaking nature -- and plenty of organized tours to escort you through. We've found some of the coolest, and don't worry -- on most of them, you can still carry that go-cup.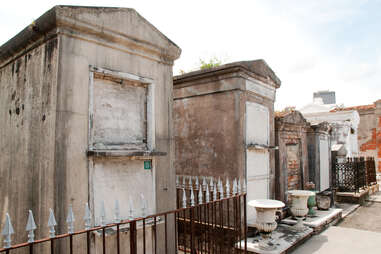 The oldest-running French Quarter walking tour company has outings that focus on ghosts, vampires, and voodoo, with guides that know how to mix historical accuracy with genuinely spooky tales of things that go bump -- or bite -- in the night. They also operate a tour that'll take you past the mansions of the Garden District uptown, including the former residence of vampire grande dame Anne Rice.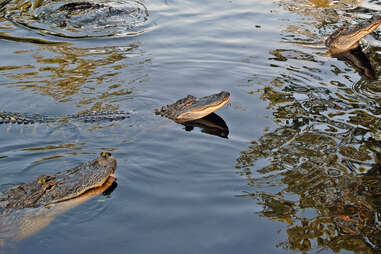 Head out of one of America's most cultured and civilized cities and get up close and personal with alligators, snakes, and mosquitoes. Seriously, though, the Louisiana wetlands are a majestic sight: Spanish moss dripping from cypress trees creates otherworldly vistas, bustling with wildlife like owls, raccoons and even bald eagles. There are a handful of swamp tour operators in the area, some of which let you pet (captive, small) alligators.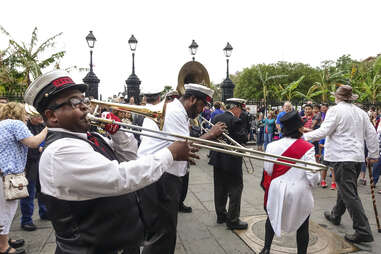 This 2.5 hour tour happens twice a week and is a jazz lover's dream. Photojournalist and early-jazz authority John McCusker -- who repairs antique Victrolas in his spare time -- spent close to 15 years penning a definitive biography of Creole trombonist Edward "Kid" Ory, whose turn-of-the-century band featured jazz luminaries like Louis Armstrong and "King" Oliver. His walking tours of jazz landmarks are the expert real deal, full of deep insider-level research and detail on the birth of America's most celebrated art.
Experts from the State Museum host a running calendar of one-off walking tours that take you a little deeper than the entry-level ghost tour or swamp tour you probably went on the first time you came to town (or the first time your mom visited). Expect to explore the history and architecture of less-touristy neighborhoods like the Irish Channel or Treme, examine the complicated race and class structures of Creole society, or learn about the manifold factors at play during the Battle of New Orleans.
New Orleans is almost completely flat (though there is a man-made hill in the city's Audubon Zoo, built to show kids what one looked like) which makes it a perfect city to get to know on two wheels. The Confederacy of Cruisers group -- named in tribute to John Kennedy Toole's classic comedic novel, required reading for any NOLA visitor or resident -- offers slow rides on fat tires, and you don't have to be in Tour de France shape, either. Themes include a boozy tour of the city's storied cocktailing history (bikes come with cupholders), a culinary tour ("the calories we burn will not even touch the number we consume," warns their website), and the slightly more physically ambitious Pedal to Paddle tour, where the ride connects to a tour of Bayou St. John by kayak.
Hop aboard the Magical Musical Mystery History Tour
Irrepressible local character Chris Rose shared the Times-Picayune team's well-deserved Pulitzer Prize for reporting on the heartbreaking aftermath of Katrina. Before that, Rose, as an entertainment writer, covered the city's many eccentric intersections of celebrity, history, scandal, and the generally strange. His quirky two-hour French Quarter tours are rambling yarns of crime, politics, rock 'n' roll and other only-in-NOLA oddities, delivered by a talented raconteur who kinda is one himself. Email chrisrose504@gmail.com.
There are daily guided tours of this 19th-century apothecary, whose original owner was America's first licensed pharmacist. This museum is also one of New Orleans' most popular wedding venues for those who like to pledge their love surrounded by old patent medicines, frightening early surgical tools, and exhibits about romantic things like leeches. Check the website to be sure it's not closing early for one of the frequent private events.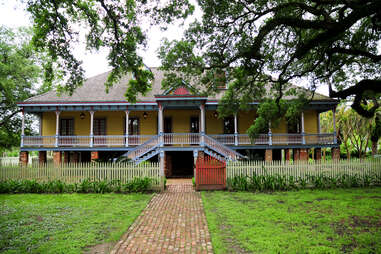 The sprawling, luxurious restored period homes that sit on rolling acres of garden and farmland outside New Orleans are beautiful examples of historic architecture. They're also reminders of the painful history of enslavement -- the engine of Southern agriculture. Laura, a two-hundred-year-old former sugar plantation, faces that head-on with tours that address the reality of that cruel practice.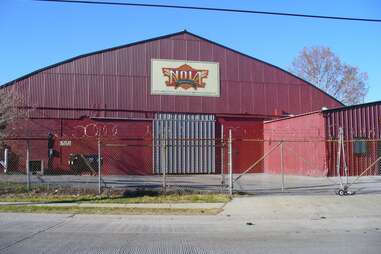 Craft beer has exploded in Louisiana over the past few years, and any bar worth its taps in New Orleans will offer brews from boot-state brands like 40 Arpent, Parish, Tin Roof, or the 1986-founded original, Abita. NOLA Brewing is the only full-on brewery in the city proper; after a tour, sit out on the breezy deck overlooking Tchoupitoulas St and enjoy a Hopitoulas (see what they did?) Irish Channel stour, Rebirth pale ale, or one of many brews served only at the facility.
Stroll through New Orleans' cities of the dead and learn the stories behinds its rows of elegant, often several-hundred-years-old marble tombs. These mausoleums house generations of local families as well as voodoo icon Marie Laveau, R&B legend Ernie K-Doe, and Storyville photographer E.J. Bellocq. St. Louis Cemeteries No. 1 and No. 2 -- the two closest to the French Quarter -- were, more infamously, also the sites of the famous LSD freakout scene in the movie Easy Rider, as well as the site where members of the Misfits were arrested, along with a group of young local punks, after a concert in 1982.
Do it yourself
If you prefer to tour on your own time, local authors and historical societies have you covered. Booklover's Guide To New Orleans, authored by local public radio book critic and former longtime Times-Picayune book editor Susan Larson, will walk you through literary landmarks pertinent to authors including Tennessee Williams, Walker Percy, Kate Chopin, and William Burroughs. Walking New Orleans maps out 30 tours pegged to various themes: art, nature, architecture, and so on. And if you ferry across the Mississippi from Canal St to Algiers Point -- a short but lovely ride -- the lobby of the courthouse provides free pamphlets that map out walks illuminating the neighborhood's jazz history and landmarks.
Sign up here for our daily New Orleans email and be the first to get all the food/drink/fun in the Big Easy.
Alison Parker is a writer in New Orleans. She has a dog. Follow her on Twitter.