Where to Buy, Rent, and Live in New Orleans Right Now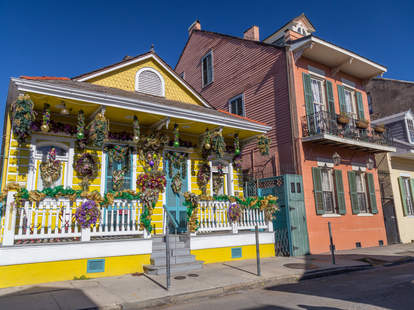 OK, so let's say you want to move to the Big Easy. This is no shocker -- people have been moving here for almost 300 years for work, pleasure, music, food, natural beauty, or most likely a combination thereof, even despite its many flaws. As Lafcadio Hearn famously wrote, "It is better to live here in sackcloth and ashes than to own the entire state of Ohio."
But one does not simply walk into New Orleans and say, "Hey, gimme a place to live!" When it comes to finding a living situation, the best 'hood for some people is sometimes the worst for others, depending on what you're looking to get out of the 504. Fact is, if you want to move to NOLA, you should also do a little investigating so you don't wind up being one of an ever-growing population of transplants who moves Downtown, never leaves their neighborhood, and then prides themselves on dumping on every other part of the city -- which drives natives absolutely quackers. There's so much to love in so many places here that it's worth taking a good hard look around before you take the Big Easy plunge -- whether you're just renting or going in hard for home-ownership. So we put in some legwork for you. Because we're friendly like that.
French Quarter
Who it's for: Everyone who ever fell in love with NOLA and dreamed of living like William Faulkner on Pirate's Alley. Also, service industry folk and other good citizens who work Downtown and want proximity to their jobs.
Buy or rent?
Hey, if you can buy a place in the Quarter, good on ya! You don't get a lot for your dough, however. The Quarter is notorious for expensive properties that have questionable space, histories, and amenities, and parking anywhere in the FQ is an exercise in pure madness. But then again, you're living in the damn French Quarter, so you can just buy a bike and go to about a million bars, shops, and restaurants worth spending your time and loot in, like Angeline, or Brennan's, or Big Killer Poboys.
Marigny/Bywater
Who it's for: People who want to live in NOLA but also kind of in 2006 Williamsburg. Transplants LOVE the Marigny and Bywater for their hip vibe, colorful shotgun houses, and like-minded, artsy musician/actors/writers/restaurateurs/movie industry people. Plus, you have an embarrassment of musical riches all up Frenchman St over in the Marigny Triangle. Not to mention some excellent restaurant options such as Three Muses, Mariza, Oxalis, and Elizabeth's in the Bywater (mmm, praline bacon).
Buy or rent?
Tough call on this one. Renting in either of these 'hoods is going to be a difficult prospect, because of the short-term rental market making finding affordable rental properties rough. But buying one of those colorful Bywater shotguns just sounds romantic as hell, doesn't it? Well, that is until you have lines of Airbnb-ers brushing their teeth on the sidewalk outside of your home. (Yes, this happens. Yes, it's gross.)
The Warehouse District
Who it's for: Anyone who has expensive shoes and a love for art galleries and cool restaurants. Young Urban Professionals, colloquially (and mostly formerly) known as "yuppies," adore this hood for the Julia St arts district, the hot nightlife at clubs like Republic, events like Whitney White Linen Night, and super-cool food at dozens of restaurants like Cochon, Balise, or Compère Lapin.
Buy or rent?
Chances are, either way, if you want to live in the WD and enjoy its myriad offerings, you'll probably have to go condo. It's a fairly corporate lifestyle, but man, it's also a damn fun part of town.
Seventh Ward/Treme
Who it's for: People whose families/churches/business are in the Treme and likely have been for generations. That, or people who are genuinely searching out some solid NOLA cred; this is the oldest historically black neighborhood in the USA.
Buy or rent?
Buying a house in the Treme is totally doable, though you might have to put a little work into it (again, old neighborhood means old houses, generally speaking). But tons of New Orleanians love it for its history, personality, and culture. And your neighbors are probably going to be fantastic and endlessly amusing.
Mid-City
Who it's for: Mid-City has developed exponentially, said local real estate agent Rachael Kansas. "The new retail centers and restaurants found around N. Carrollton Ave. have created space for MidCitizens to shop and dine in their own backyards.  With the new hospitals opening, the Lafitte Greenway, the new shopping centers, and even Whole Foods on Broad, who could ignore the impressive upswing in Mid-City?" Some of the most iconic spots New Orleans -- like Angelo Brocato's, Venezia, and Mandina's -- are also in Mid-City.
Buy or rent?
"Homes in Mid-City continue to be renovated and developed, and while the prices have gone up, there are still pockets that likely have more growth ahead of them," Kansas said. " Some see Mid-City as one of the best places to realize appreciation in your investment long term."
Upper Garden District
Who it's for: Serious blue-bloods and people like Beyoncé (who, rumor has it, purchased an elaborate former Spanish church on Harmony St as her NOLA pied-à-terre). You absolutely cannot keep from adoring the majestic natural splendor of this part of town, from magnolia trees and live oaks drenched in Spanish moss, night-blooming jasmine, just a world of beautiful local flora. A ride on the St. Charles streetcar line never ceases to amaze and gratify.
Buy or rent?
Rent if you can find a decent deal and you enjoy the neighborhood, and also have the duckets for a swanky pad. Buy if you're a sugar daddy/mama, or come from really old money.
Lower Garden District
Who it's for: Day drinkers, night owls, and people who have a yen to shop and eat well (and reasonably) in their own hood.
Buy or rent?
Your call. It's a desirable neighborhood for a number of reasons, most notably the proximity to Magazine St and all its pleasures -- from dive bars to boutiques, and of course places like Lily's Cafe and Juan's Flying Burrito, which never get old. It's also a quick drive Downtown, for anyone who works in a CBD skyscraper, hotel, gallery, bar, or restaurant by that way.
Central/East Carrollton
Who it's for: Family-minded folks who don't want to move to the sticks because they have/want kids. (Also: Thrillist writers.)
Buy or rent?
Oh, you want to buy here. You can be my neighbor! It's a short bike ride -- with actual bike lanes! -- up Carrollton to Audubon Park, not to mention a brisk walk to Oak St and all of its offerings, from burgers to Rue De la Course coffee, a Japanese knife store (Coutelier), a family pharmacy, and there's going to be a sweeeeeeet new specialty market coming soon. The whole hood is immensely and beautifully walkable, too, provided you don't get mown down, Fury Road-style, trying to cross Claiborne. Add in some neat cemeteries (always a great NOLA feature) and the beautiful family madness of Halloween on Neron St, and you have, in my less than humble opinion, one of the best neighborhoods in New Orleans. Period.
University
Who it's for: University students (duh), and those who don't mind University students. Or high school students, for that matter. The area surrounding Tulane and Loyola is always fun if you're cool with the kids. There are tons of coffee shops and casual restaurants up the street on Maple, and the whole place teems with youthful vibrance and annoying naïveté. Just spend a late night at Snake and Jake's and find out for yourself. We dare you.
Buy or rent?
Definitely rent, because you never know if you'll have beer-pong-slinging fraternity bros moving in next door, like in that movie. You know, the one with Seth Rogen, Rose Byrne, and the handsome kid from High School Musical.
Central City
Who it's for: Forethinking homebuyers looking for an appreciating investment. It's really remarkable how the corridor on O.C. Haley Blvd has been revitalized in recent years, especially when it comes to some diverse food and drink options at places like Primitivo, Toups South, and Casa Borrega.
Buy or rent?
Buy, but it's a warts-and-all situation right now. If O.C.H. turns into the new Freret St or Oak St, you'll find some handsome dividends. The place ain't perfect, but it's on the way up.
Lakeview
Who it's for: Again, according to Rachael Kansas, "Lakeview continues to be a popular choice for young families. The area offers great schools (both public and private) and easy access to outdoor spaces like the Lakefront and City Park -- not to mention many popular neighborhood restaurants, coffee shops and stores." There's a real sense of community here, and the neighborhood successfully skirts the line between suburbia and Orleans Parish city life.
Buy or rent?
Buy, most definitely. You can pay significantly less on a mortgage in Lakeview than on rent in a more hip hood like the Bywater, and generally get more bang for your buck (like a big back yard for your dogs and your kids... and your kids' dogs, and your dog's kids!). Just make sure your house is raised, because the entire area was devastated by the "Federal Floods" following Katrina, and that lesson still hits home pretty hard.
Algiers Point
Who it's for: People who want all of the charm of living in a colorful NOLA neighborhood without paying "colorful neighborhood prices." And people who work at the Naval bases. A quick ride on the ferry (you know, the one that -- SPOILER ALERT -- John Goodman's character took a mysterious dive from in Treme) will bring you deep into the heart of Downtown, and you get to come back at the end of the day without (mostly) tripping over smelly gutter-punks and their dogs.
Buy or rent?
You're buying here, and probably never leaving that house.
Sign up here for our daily New Orleans email and be the first to get all the food/drink/fun in the Big Easy.
Scott Gold is a writer in New Orleans who grew up in Lakeview, was educated Uptown and in Metaire, got his first job in Mid-City and his second in the French Quarter. He writes from Central City and now lives in East Carrollton, which he adores. Follow him on Twitter @scottgold.