The Essential Apps for Living in New Orleans
The Big Easy is an old city, nearing our tricentennial birthday, in fact. And though some of our buildings might be a couple of centuries old, NOLA hasn't been too shy to embrace the new, especially when it comes to technology. The modest boom in tech companies even has some folks referring to this place as "Silicon Bayou." So if you're the type of person who's tethered to the hip by a smartphone, you'd be wise to find the best mobile apps for living in New Orleans. Luckily, we've done that for you. Here are some of the best ways to take advantage of new tech when you're living in NOLA.
Screenshot via iPhone
Getting around
RTA gomobile
Free
iPhone, Android
What it does: Prepay for public transit rides
Fact: the streetcars in NOLA cost $1.25, which almost strictly necessitates you have your hands on spare change if you want a ride. Thankfully, this app lets you just show the driver (also, bus and ferry drivers) your prepaid app and leave the coins to be misplaced in your car.
NOLA Transit
$1.99
iPhone
What it does: Minimize how long you're waiting for a bus in 120-degree NOLA summers 
Wanting to catch a streetcar and the schedule isn't, well, running on schedule? Through this app you can track busses and streetcars in real time, right down to how long you'll be waiting for your ride to swing by and pick you up at whatever stop you choose. If you've ever stood outside for longer than 90 seconds on a NOLA sidewalk in August, you'll appreciate how important this app really is.
Parkmobile
Free (with $.30-$.35 session fees per use) 
iPhone, Android
What it does: Skip the hassle of paying at the parking meter
Speaking of loose change, parking meters are really the pits, even if you use your credit card. Skip the process by installing this app, taking down the meter number, and charging it directly to your credit card or PayPal account. You'll even get alerts when your time is about to run out and you can add more time directly from your phone. 
Uber
Free
iPhone, Android
What it does: Get a ride to places besides the French Quarter. Finally.
Sure, this isn't NOLA-specific, but until the taxi and limousine commission lost the battle with Uber to get the convenient car service operating in New Orleans, you were often royally screwed by hacks who didn't feel like driving you anywhere but the French Quarter. This is often a much better option, especially late at night.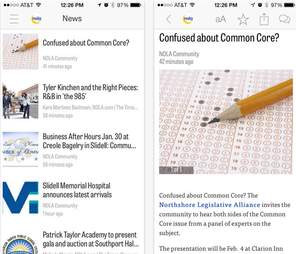 Screenshot via iPhone
Staying in the know
NOLA.com
Free
iPhone, Android
What it does: Local news, on demand
If you're looking for news on the go, the newspaper kinda-sorta known as the Times Picayune should be on your list. Granted the app isn't that great, no matter how much the company touted its tech integration, but it's always worth a look.
The New Orleans Advocate
Free
iPhone, Android
What it does: More local news in a better format
The Advocate has an easier app to navigate than NOLA.com's mobile platform, and, between the two of them (and the two below), you'll get most of the big headlines as they're happening.
WWNO
Free
iPhone, Android
What it does: Live-stream public radio
The official app for NOLA's NPR affiliate radio station, you can stream everything from "All Things New Orleans" to "Louisiana Eats!" with Poppy Tooker. Plus, you'll get NPR news, national stories, and music varying from jazz to classical.
WWL Radio LIVE
Free
iPhone, Android
What it does: Radio breaking news, without the pain of, you know, finding a radio
Channel 4 in NOLA and on the dial at 870am, this app is a great one for quick updates on weather, sports, breaking news, and other news, should you have your phone and not be in close proximity to a radio.
Screenshot via iPhone
Music
OffBeat New Orleans Mobile
Free
iPhone, Android
What it does:OffBeat Magazine's already-trusted music listings, in mobile form
Because live, local music is enjoyed in the Big Easy with a passion and fervor few cities really understand, and you always want to be in the know about who's playing when (and with whom... collaborations are some of the best shows of all), you need to know tonight's shows on the go. Also: restaurant listings, local photos, news, and whatever cool things are going on in the current issue.
WWOZ
Free
iPhone, Android
What it does: If you love music -- New Orleans music, in particular -- then you know that "O.Z." is the finest local radio station around. For all that wonderful jazz, blues, funk, zydeco, R&B, soul, bluegrass, and brass that fills this city, this station (and its app) has them in abundance.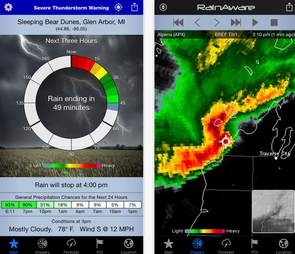 Screenshot via iPhone
Weather
RainAware
$4.99
iPhone, Android, Amazon
What it does: Helps you not get stuck in a rainy parade without an umbrella
Again, not necessarily a specifically New Orleans app, but definitely one of the most useful for residents of the Big Easy. You never know when a sunny day will turn into a torrential downpour at the drop of a hat down here... but RainAware does, and will even give you rain info at your exact GPS coordinates for the next three hours, as well as forecasts, live satellite weather maps, and other neat stuff.
WDSU Hurricane Central
Free
iPhone, Android
What it does: Stay prepared during storm season
Tropical storms and hurricanes are no joke in these parts, as everyone should know by now. This app not only gives you all of the real-time information on storm warnings, alerts, and notifications, but it also has checklists for evacuation preparedness, live updates from social media, and even photos and video, so you don't have to go outside to see just how terrible things are getting.
Entergy
Free
iPhone, Android
What it does: Handle the all-too-freakout power outages with a bit of grace
The local energy company might not have the best reputation with New Orleans residents, which is ironically why you should install its app. During blackouts, even if your home doesn't have power (ugh), you can still get updates on your phone about the situation and when it might be resolved, so long as you keep that mobile device's battery charged. Also, you can use it to pay your energy bill and stuff, but it's most useful for that dreaded blackout situation.
Screenshot via iPhone
Festivals
Parade Tracker
Free
iPhone, Android
What it does: Ensure you'll never miss Muses' giant shoe again
WDSU doesn't just track hurricanes... it also tracks Mardi Gras parades (and other big ones like St. Patrick's Day). And the cool thing is, it does it in real time, so you can literally see how many blocks away the parade is from your coordinates. This is important if you're hoping to get somewhere in your car before the festivities start and not get marooned in horrifying parade traffic, and also if you happen to know a rider and are eager to find out if you'll have enough time to pee before they get to your block. You know, the important things in life.
Jazz Fest
Free
iPhone, Android
What it does: Plan your route from Acura Stage to Gentilly past the Crawfish Monica without missing your main acts
After Mardi Gras, the New Orleans Jazz and Heritage Festival might be the busiest time in NOLA for visitors. Back in the day, you'd save your Jazz Fest "squares" from the local paper to decide which act you were going to see when, not to mention the list of food venders and a handy map of the fair grounds. Now, with modern technology, of course there's an app for that, and it's a great one.
French Quarter Fest
Free
iPhone, Android
What it does: Stage your plan of attack for the city's biggest free music fest
While thousands of people pay upwards of $80 a day for a ticket to Jazz Fest, thousands more hit the Vieux Carre every year for the city's best FREE music and food festival, with dozens of fantastic acts, events, and of course food. Like the Jazz Fest app, this one offers a comprehensive schedule of all the music, what the vendors are offering, and other cool things going on down in the Quarter that weekend.
Tales of the Cocktail
Free
iPhone, Android
What it does: Set your schedule to tackle the cocktail industry's biggest annual event
Are you a spirited individual who's been looking forward to the booze industry's most illustrious gathering of mixologists and brands? Tales has become a seriously big deal for those who buy, purvey, shake, and stir drinks for the thirsty masses, and with a dizzying variety of demonstrations, seminars, tastings, and of course the big awards dinner, it can get confusing, so this app will help you navigate the festival, even if you've been tippling all day.
Screenshot via iPhone
Sports
WhoDatApp
Free
iPhone, Android
What it does: Makes you a more informed fan... even if it doesn't make the Saints a better team
The New Orleans Saints have their own app, but many tech-savvy fans prefer WhoDatApp instead. Offering everything from schedules to stats, standings, the injured reserve list, and chitter-chatter from sports media and social media, this one will keep you up to speed on all things black and gold.
New Orleans Pelicans
Free
iPhone, Android
What it does: Get Pelicans news and buy tix to catch the Brow and everyone else when they're in town
Take flight! NOLA hoops aficionados looking for breaking news, schedules, videos, stats, and more for the Pels need look no further than the official Pelicans mobile app. It also lets you purchase tickets and offers parking instructions for the Smoothie King Center (which we still think is the silliest corporately sponsored arena name in sports history).
Screenshot via iPhone
Eating and drinking
NOLA Food Trucks
Free
iPhone, Android
What it does: Track down Taceaux Loceaux's avocado fries whenever the craving strikes 
It may have taken a few years for the New Orleans food truck scene to catch up with other mobile vending hotspots like Portland, Austin, and NYC, but these days our game is on point. But where and when will these wonderful wagons of cuisine show up? Wonder no more: this app has your hunger covered, from schnitzel to tacos, burgers, poutine, grilled cheese, and more.
NOLA Happy Hour
Free 
iPhone, Android
What it does: Find drink deals close to your current location
With more bars per capita than any other city in the nation (seriously), there comes a healthy abundance of drink specials in New Orleans. With this app at the ready, you can find the happy hour nearest your current location. And, as a bonus, it can even help you call a cab if you overdo it on the two-for-ones.
PJ's Coffee
Free
iPhone, Android
What it does: Work towards free coffee while drinking local joe
You think places like Seattle and Portland are serious about coffee? NOLA was a major coffee town a couple of centuries before that Starbucks mermaid started serving venti lattes. Among our fine local java purveyors is PJ's, whose app lets you accumulate rewards points for free drinks and treats. If you like coffee -- especially free coffee -- this is the one for you.
Thrillist
Free
iPhone, Android
What it does: You already know that, don't you?
OK, so this is obviously a shameless plug, but it's a shameless plug to which you should pay heed! Especially if you want to get all the NOLA dining/drinking content coming out of the Big Easy every week, from lists of the best restaurants to eat at right now to musings on crawfish boils, po-boys, muffalettas, and more tasty stuff. But you're smart, because you're already here, right? Also, you're devastatingly good looking. Just wanted to let you know that.
OpenTable
Free
iPhone, Android, Windows phone
What it does: Grab a table without your computer and without human contact
Once more, this is an app widely used in places that aren't New Orleans, but it's particularly helpful if you do, in fact, live in the Crescent City and you're looking to make a restaurant reservation without -- God forbid -- speaking with an actual human being. 
 
Misc
NOLA emojis (CityKey New Orleans)
Free
iPhone
What it does: Ask your Tinder date to a crawfish boil without using words
Well, I mean... you couldn't be a citizen of the 21st century in NOLA without an app that offers emojis featuring smiling crawfish, oysters, a streetcar that says "On my way," and naturally an alligator saying "Seeya later!" Right? Yeah, we thought so.
Sign up here for our daily New Orleans email and be the first to get all the food/drink/fun in the Big Easy.
   
Scott Gold is a writer in New Orleans who thinks the Jazz Fest app is the best thing to happen to smartphones since Fruit Ninja. Follow him on Twitter: @scottgold.