As we enter the stuporous heat of a Crescent City summertime, city residents become understandably prone to staying inside somewhere cool instead of venturing out into the muggy summer soup. We get it. But nevertheless, we urge you -- implore you! -- to resist that instinct, because there are a ton of really fun things to do (and maybe a little trouble to get into), and all it will cost you is zero dollars. How can you possibly argue with FREE FUN? Here are some of our very favorite things to do this summer in NOLA for those pinching pennies, or anyone who just wants to save money for more important things, like po-boys and frozen daiquiris.
Recommended Video
This Sport Takes Ice Skating to Extreme Heights
Ah, yes, the "Pernt" has some great free live music all summer long, from swamp pop to blues, funk, Cajun, and, uh… Bag of Donuts. They also have wine, but they're going to charge you for that, of course.
Slurp down some free oysters
Yes, FREE oysters. Le Bon Temps Roule will give you gratis bivalves on Fridays beginning at 7pm until they simply run out of the suckers, which they've been doing for about 30 years running now. And they've got great live music, to boot! You cannot, and will not, go wrong with this deal.
Are you a cinephile with a penchant for "cutting-edge, foreign, and art house films"? If so, head over to the Marigny where you can find them for free. Sure it's hot out, and there are insects and stuff, but hey, cool movies plus the opportunity to purchase a beer for a buck (or just "freely" BYOB)? That's worth the heat and the skeeters, friends.
Check out fireworks on the 4th
There's no way to celebrate America's independence from the tyranny of those Brits than to watch some huge damned explosions set off by barges on the mighty Mississippi, set to music. 'MURICA!
Get your laffs on at a free stand-up comedy night
You may not think of standup hijinks when you think of New Orleans, but you really should, because there's some really fun and funny talent here, a lot of which you can enjoy with no cover charge at places like the The Howlin' Wolf, Carrollton Station, Buffa's, The AllWays Lounge, and more. Drinks cost money, of course, but you can get your spirits lifted gratis.
It's summer in New Orleans, which means that it's really, really hot. And that, of course, means you need cold, cold beer. Get you some at NOLA Brewery on Fridays from 2-3pm. And if you're willing to drop a few bucks, don't forget that they also house McClure's Barbecue, which is fantastic.
Swing it up hard with free dance classes from NOLA Jitterbugs
If you have fond reminiscences from the Golden Age of American Swing -- which of course means the mid-'90s and Vince Vaughn -- you can explore it fondly and freely every Friday night. All the beautiful babies will be there, daddy-o. You'll have to bring your own zoot suit, though.
Wanna feel like Burt Reynolds in Gator if only for a little bit, and at no cost? Or just explore the beauty of the bayou and all its Dagobah-like flora and fauna? This is the place for you... but don't forget the insect repellant. And the alligator repellant. (OK, just kidding about that last one. But not about the bug spray. Seriously... if you're headed to the Barataria Preserve, BRING BUG SPRAY.)
It's worth it not just for the majestic live oaks, but also for the bountiful wildlife (which, during summer, does not typically include the usual Tulane and Loyola students). Better still, bring a picnic basket and snack in the shade of all that bountiful greenery.
... and bike through City Park
If velocipedes are more your style, you can't really do better in these parts than a tour through our largest park, which has some pretty great riding trails, not to mention gorgeous fountains, lagoons, and tons of beautiful green stuff.
Browse antique shops on Royal St
They house many beautiful and expensive artifacts that are totally free to admire if you're not in a buying mood. If you're feeling bold, ask for a tour of the "secret room" at M.S. Rau Antiques, which also has a fantastic collection of sword-canes and other freaky stuff.
For NOLA residents only, natch. This is one of the many great reasons you moved to the Big Easy and braved the Office of Motor Vehicles to get that Louisiana ID. You get rewarded with truly impressive collections of art for $0.00.
You don't have to wait for Wednesdays for free art -- you're always welcome to wander through the collections that dot the Warehouse District. Just make sure to dress appropriately… but not too appropriately, or you might be mistaken for a buyer. It's a delicate balance, y'all. Just wear some pants, is what we're saying. Also, you might want to check out the "First Saturday Art Walk," which is held each month in the district, beginning at 6pm, and is also free to the public... and to which you should also wear pants.
Wear white linen pants, even!
One of the most popular art events in town, Whitney White Linen Night, takes place each year at the Julia St. Arts District (this year, it's on August 6th, from 5:30-9:30pm). And yes, pretty much everyone gets to wear their finest linen clothing, stroll through the galleries, and listen to music, and, if they want to pay for it, drink wine and act like a real sophisticate.
... and then dirty linen pants
Of course, any hint of snooty cultural sophistication will not go unanswered in New Orleans. Hence, as a response to White Linen Night, we now have "Dirty Linen Night," which still celebrates art and music for free, only down and dirty in the French Quarter. On August 13th, you're encouraged to don the soiled white linen clothing you had too much fun wearing at the previous event. Not that anyone really does that, but it's a fun idea.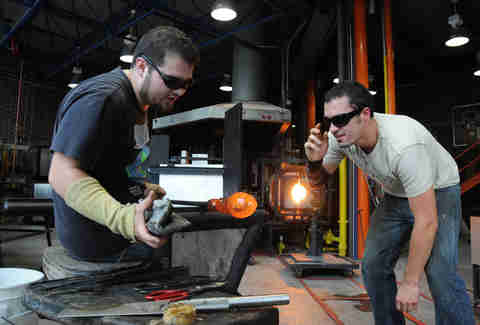 Get your mind blown watching glass being blown
See what we did there? Check out Rosetree Blown Glass Studio, Studio Inferno, and/or New Orleans Glassworks for free demos of glassworking skills, which are truly impressive and kind of amazing, if you're into people spinning molten glass into beautiful objets d'art. It's also kind of a good indication whether or not you still have a soul?
If you're willing to take a drive to the beautiful North Shore, and you're also a beer-lover, it'll be worth your while to visit the illustrious home of Abita in Covington, LA. You can tour for the cost of absolutely nothing (so long as you're willing to go solo -- only the self-guided tours are gratis).
The O.C. Haley Blvd corridor is blowing up these days, with restaurants like Primitivo, Casa Borrega, and Purloo, and cultural centers like the Southern Food & Beverage Museum. To showcase the area's renewal, there's a fun and free event on the first Friday of each month, featuring plenty of cool art, culture, and music for no charge... and sweet deals on food & drink if you're willing to pony up.
Visit the Sculpture Garden for some "kulcha"
Indeed, the magnificent garden of sculpted artwork, created by 60 artists from around the world,  is adjacent to NOMA and free to one and all. So enjoy it!
Fest, baby, fest!
You absolutely cannot live in New Orleans during the summertime and miss out on the many free local festivals, celebrating everything from Creole Tomatoes to Cajun Zydeco, and even Uncle Sam himself. There's often food and drink for sale from a huge variety of local vendors, of course, but the entertainment and educational opportunities can be shared by all at no charge (which is why those Jazz Fest tix are so pricey… they pay for a lot of these events). It's one of the best parts about living in this beautiful mess of a town.
Sign up here for our daily New Orleans email and be the first to get all the food/drink/fun in the Big Easy.