New Orleans has a vibrant, yet often tortured 300-year history, with plenty of doors left open for the dead to come and mingle with the living. From ghosts that expect dinner to be served each and every night, to angry apparitions that smash glasses and interrupt couples having sex -- there is no shortage of haunted restaurants, shops, mansions, and streets in the Crescent City.
The LaLaurie Mansion
French Quarter
One of New Orleans' most famous haunted houses was also the site of one of its most gruesome atrocities. Rumors had swirled for years that socialite Madame Delphine LaLaurie was mistreating slaves in her opulent mansion, but it wasn't until a fire broke out in 1834 that the city found out the truth.
Allegedly started by a maid who was kept chained to a stove, the fire led rescuers and investigators to discover slaves kept chained, tortured, and imprisoned in the mansion's attic.
Once her cruelty became known, LaLaurie -- who escaped the fire -- was chased through New Orleans and managed to board a ship bound for France. Since then, the mansion has been the site of curious and terrifying happenings -- including young girls reportedly scratched and bruised on their arms during the house's days as a school. Guides from Ghost City Tours have also reported being haunted while giving tours in front of the building.
Actor Nicolas Cage bought the mansion, but then lost in foreclosure in 2009. Some people say it's the curse of the house, but the recession could have also had something to do with it.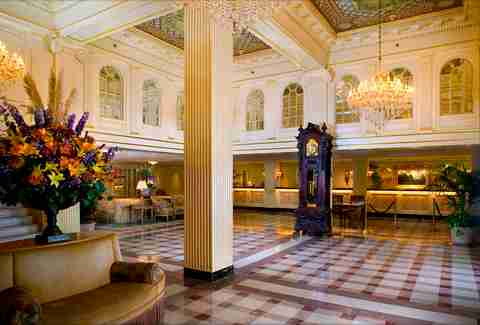 French Quarter
This grand hotel and home to the Carousel Bar and Lounge, which lazily spins as you sip your drink, gets several guests that have already checked out. The hotel has reported ghostly images of children playing and elevators that take guests to the wrong floors and drop them off into cold hallways. A restaurant door also opens nearly every evening even though staff keeps it shut and locked.
According to the hotel, the International Society of Paranormal Research made contact with several ghosts during a 2003 investigation, including a charming little boy named Maurice Begere, who died in the hotel and has been seen by guests and staff alike roaming the 14th floor (which actually is the 13th floor of the hotel).
Canal Street at City Park Avenue
Lakewood
This major intersection also is majorly haunted, earning the No. 1 spot on Haunted New Orleans Tours' most haunted streets list. Not only does the moonlight filter through the old oak trees, setting the stage for a good haunting, more than a dozen cemeteries are located nearby. There have been reports of the ghosts of a couple walking hand in hand in Greenwood Cemetery. Several witnesses, the tour company said, have seen a woman in white running into traffic on Canal. There have also been reports of ghostly funeral procession marching through the closed gates of the Masonic Cemetery and disembodied voices calling out to people waiting for the bus.
St. Louis Cemetery No. 1
Bayou St. John
It isn't a stretch to call a cemetery haunted, but this isn't your average haunted cemetery. The final resting place of Voodoo Queen Marie Laveau, who roams not just the tombs near hers, but the French Quarter where she once lived. Ghost City Tours reports that people have been known to feel ill or hear voices while trying to interact with Leveau at her tomb; others who disregard the voodoo religion have been shoved to the ground.
But Leveau is far from the only spirit who roams St. Louis No. 1 -- just the most famous. A lonely man named Alphonse has been spotted taking flowers off others' graves and placing them on his own. A traveler named Henry Vignes is another well-known cemetery local, constantly looking for the tomb he bought before he died. Vignes' landlord reportedly sold the tomb before his death and he was buried in the section for the city's poor, leaving him unable to rest and forever in search of his burial site.
After centuries of being open to the public, St. Louis Cemetery No. 1 is only open to family members of the deceased and tours after multiple instances of vandalism -- many of them at Leveau's tomb where people have scratched rows of three X's hoping for good fortune.
Central Business District
Founded in 1907, even hotel owners admit they have a fair number of visitors that aren't in the guestbooks.
"One of the most notable and frightening tales involves an individual in town on business," according to the hotel. "He awoke early in the morning to an elderly woman stroking his head and telling him 'I will never let you go. You, are mine.' Frightened, the man gathered his things and left the hotel within the hour."
A Trip Advisor reviewer who stayed in the hotel's Room 530 for her birthday said she loved the hotel, just not the extra company. "Noises, TV static and disruption," the reviewer wrote, adding that she noted "footsteps, strange presence, a presence waking me up from my sleep." The reviewer said she also believes she was choked in her sleep and woke up with a sore neck under her jawbone from ear to ear.
French Quarter
Considered to be the oldest bar in the US, the tavern built between 1722 and 1732 was believed to be an operations base by the Lafitte brothers, a pair of pirates in the late-18th century.
Legend has it that Pierre Lafitte guards his treasure buried underneath the building. Patrons and reported seeing red eyes glowing from a fireplace grate, though given the punch packed by the bar's signature purple Voodoo Daiquiri, some of the best ghost stories could be lost in a drunk haze. Either way, the restaurant asks that anyone who captures any paranormal sightings in pictures or video to please send it to them.
French Quarter
This charming theater plays host to a variety of comedies, dramas, and musicals -- all of which are enjoyed by the ghostly Captain, who has yet to miss a premiere. There are other, more sinister ghosts that are interested in far more than the stage, according to Ghost City Tours. A former manager who reportedly committed suicide in the office has been known to slam doors and steal things, and an actress who is said to have fallen from the rafters to her death has been known to walk the catwalk above the stage during shows.
French Quarter
Formerly a brothel, this cozy boutique hotel is said to be haunted by a former madame. This nosy lady of the night has reportedly been seen skulking in the rooms where couples are being particularly amorous, even interrupting hook-ups and making comments to the men.
"We wish someone on staff would've warned my husband that he might wake up in the middle of the night to some bizarre apparition standing in the corner glaring at him, though!" one hotel reviewer posted on Trip Advisor. "When we talked to the lady at the desk about his experience the next morning, she just shrugged and said, 'This place just isn't right.' This phantom certainly spooked my otherwise unflappable husband."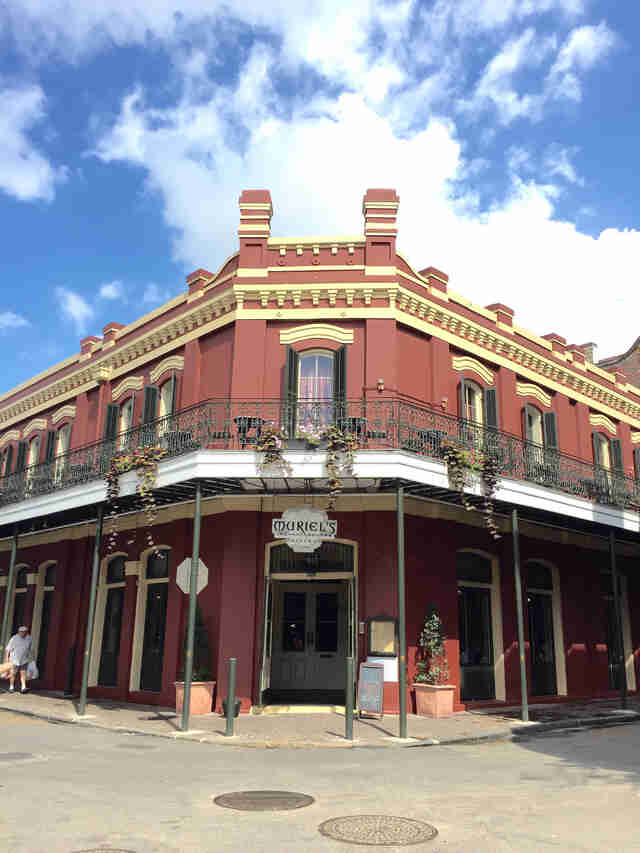 French Quarter
This upscale, white tablecloth restaurant on the corner of Jackson Square sets a table each night for its ghost: Pierre Jourdan, a once-wealthy landowner who lost his pride and joy -- the building now occupied by Muriel's -- in an 1814 poker game.
"The shock of the loss was so intense, before having to vacate the premises and hand over his beloved treasure, he tragically committed suicide on the second floor in the area that served as the slave quarters-the same area where Muriel's Séance Lounges are situated today," Muriel's says of Jourdan.
Respectful that the restaurant was once his home, "We've welcomed an old kindred spirit to dine," Muriel's says. Waiters set Jourdan a table each night with bread and wine. They are less enamored with their other ghost who has been known to hurl wine glasses into the brick wall behind the bar.
French Quarter
Millie the lost bride is one of the main haunters at this Civil War-era hotel. She has been sighted roaming the halls in her wedding gown looking for her lost fiancée -- a Confederate soldier who was shot in a gambling dispute on the morning of their wedding. But she isn't the only one roaming around the hotel at night.
"My daughter and I were awakened, although not spooked, by a strange shaking of our bed. As she is only 9 years old, she was a little scared and I could only tell her I thought we perhaps were in the middle of a mild earthquake for lack of a better explanation. The whole room was shaking but, strangely enough, my husband and 7-year-old son were sound asleep in the bed right next to us," Trip Advisor reviewer Anna P. wrote after her stay in Room 307.
"Later that day, everyone we asked, from the front desk to several guests at the pool, said there wasn't an earthquake and my husband and son both said they didn't hear or see anything at all. How weird!"
Sign up here for our daily New Orleans email and be the first to get all the food/drink/fun in the Big Easy.