How to Support The Black Community in New Orleans Right Now
Here's how you can help.
While protests have erupted in cities like Minneapolis, Los Angeles, and Atlanta, the people of New Orleans have also taken to the streets to express their frustration and outrage in the wake of the murders of Breonna Taylor, Ahmaud Arbery, and George Floyd.
Thousands marched across the city this past week, calling for equality and justice for Black Americans who've been killed by police officers. Protests in New Orleans were mostly peaceful except for the night of June 3 when New Orleans police tossed tear gas into the crowd of protesters on the Crescent City Connection, a bridge that runs over the Mississippi River.
Marching in the streets is certainly one way to speak out against police brutality, but there are other ways to support the cause like buying Black, which isn't limited to simply buying from Black business owners.
"That means awarding contracts to Black businesses, putting Black people on your boards, and conducting equity audits at your places of worship, your schools, and businesses to see how you are perpetuating disparities and the oppression of Black people," says Rashida Govan, the founder and executive director of Project Butterfly New Orleans. "And on a very basic level, speak up when you see injustice be it microaggressions or major injustices occurring."
Still, opening your purse (a popular Twitter phrase mostly aimed at celebrities) to support Black-owned businesses and New Orleans nonprofits led by Black people is a great start. From places to donate and resources for becoming a better ally to shops where you can use your cash to support local businesses, here are some of the ways you can make a difference in NOLA's Black community right now.
Donate to nonprofits and community efforts
New Orleans has a number of nonprofit and social justice organizations including -- Ashe Cultural Arts Center, Project Butterfly New Orleans, The Beautiful Foundation, The Roots of Music, Free-Dem Foundations, New Orleans Workers Group, New Orleans Youth Alliance, The Orchid Society, Operation Restoration, Take Em Down NOLA and many more.
Some of those organizations center Black girls, like Govan's Project Butterfly. And for many Black women and girls particularly, Breonna Taylor's brutal murder and its coverage, or lack thereof compared to Black men murdered by police, add fuel to their activist fire.
"It brings to the forefront the reality that Black women are devalued and erased from the discussion on state sanctioned violence against Black people quite often," Govan says. "When we talk about the brutality of law enforcement against Black people, the conversation largely centers Black men and boys -- and they matter to me as well. But here we have a sister who was also murdered while she slept and it is hardly mentioned."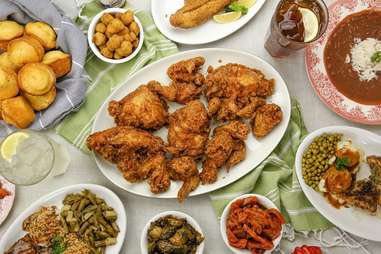 Order takeout and delivery and support restaurant funds
Before the COVID-19 pandemic forced everyone indoors, you'd often see a long line outside of Willie Mae's Scotch House on St. Ann Street in New Orleans. At the height of the pandemic, the popular New Orleans eatery closed its doors like many other businesses across the country. It has since reopened its St. Ann Street restaurant and its location inside the Pythian Market. For now, you'll have to settle for contactless, curbside pickup of Willie Mae's famous fried chicken.
Other Black-owned restaurants in the city include The Munch Factory, Ma Momma's House of Cornbread, Chicken & Waffles, Tasty Treat Restaurant, Sassafras, Beaucoup Eats, Boswell's Jamaican Grill, The Half Shell on the Bayou and many more.
There are even some Black-owned vegan options in New Orleans like Sweet Soulfood and, not surprisingly, a place to satisfy your sweet tooth in Loretta's Authentic Pralines.
For the craft beer lovers, check out Cajun Fire Brewing. According to its website, it is the first Black-owned brewing company in the South. You can support the brewery by purchasing products in local liquor stores or buying merch from its website.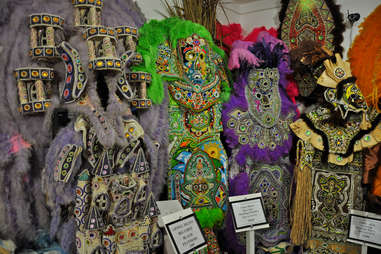 Shop at local Black-owned businesses
As a result of worldwide protests against police brutality, many people are seeking out anti-racism books and Black history books. New Orleans' own Community Book Center has many of those titles. CBC has been around for more than 30 years and serves as a cultural hub of the Black community in New Orleans. According to its Facebook page, an e-commerce site is being developed. In the meantime, phone orders can be placed and patrons can shop in-person as the bookstore has resumed regular business hours.
If you're looking for your cultural fix or ways to support New Orleans' cultural institutions, check out Terrance Osborne Gallery, StudioBe by BMike, The New Orleans African American Museum, and the Backstreet Cultural Museum. While Osborne and BMike's studios are closed, paintings and other merchandise are available on their websites. NOAAM and Backstreet are also closed, but are currently accepting donations.
For your hair, nail, and crafting needs, check out VIP Luxury Hair, Lace Xclusive, CoCo's Unique Nails & Hair Studio and House of Vinyl.
More ways to help?
Check out a list of national organizations we've compiled here. If you have thoughts on other businesses you'd like to see included in our local stories, please email feedback@thrillist.com.
Sign up here for our daily New Orleans email and be the first to get all the food/drink/fun in the Big Easy.
Kevinisha Walker is a content creator and social media strategist from New Orleans with a passion for telling stories about people in underserved communities. Most recently, she worked at the University of Southern California's Annenberg Media Center as a Leadership Initiative Fellow. Follow her on Twitter.