I was crouched down on the pavement in near-100-degree heat and 90% humidity, my camera aimed at one of the thousands of potholes that dot New Orleans' streets, when a car pulled up.
The window rolled down and the driver stuck her head out wanting to know if I was photographing that crumbling street because it had done damage to my car (it happens a lot).
No, I told her, just taking some photos of potholes.
"Go back by Upperline," she told me. That was, in fact, the street where I was headed next.
For New Orleanians, such infrastructure headaches are just a part of life in their beloved city. Potholes, sinkholes, crumbling sidewalks, abandoned buildings, and houses falling down mingle with gorgeous 200-year-old mansions, historic streets, gleaming new city centers, and the modest homes of folks just trying to get by.
Some issues seem like a no-brainer when it comes to city planning. Of course, damage is par for the course in a city as old as New Orleans. Much of it is still left over from the wrath of Hurricane Katrina, even 11 years later. But we adapt to these all-too-common infrastructure eyesores and make the best of it. That's what New Orleans does.
 
There's sunken potholes everywhere
Driving in some neighborhoods (here's looking at you, Uptown) can be like a real life game of Mario Kart... except you don't swerve to get coins, but to avoid thousands of dollars in damage to your car. We grit our teeth, grip the wheel, and make split-second decisions: is this a hole that will fit between our tires? Do we swerve right or left? Should we bump over it because traffic is coming from the opposite direction and the guy behind us is honking? WGNO TV even has a running segment called "Pothole of the Day."
There's no clever driving to get you around a huge pothole in the middle of the road, especially when it has a giant traffic cone. Be patient, stop, and wait for traffic to clear on the other side before attempting to pass this. And yes, you know there's a giant tire embedded in the pothole underneath the traffic cone.
There's also road heave potholes
This one's still a pothole because all the pavement nearby is sunken down, but there's a bonus here! A road heaving into a pointed, occasionally crumbling lump means your car can fly up in air, and then come down with a teeth-rattling clunk. Old cars, beware.
Weak roads cause sinkholes all over town
Sinkholes have become a massive problem, thanks to Katrina-weakened roads and streets that were built back in the day on a foundation of oyster shells and sand. But New Orleans never misses an opportunity to party, even if the road comes out from under us.
So when a giant sinkhole opened up on Canal St just before May 5th this spring, it was only natural that area residents got together to throw a "Sinkhole de Mayo" party.
It's hard to stay safe on the sidewalk
Weekends in the summer are prime time for the stroller brigade marching into the Audubon Aquarium of the Americas. But that brigade hits some serious snags along the way -- like a tree growing in the middle of a too-narrow sidewalk, or loose bricks and random plywood with rusty nails sticking out of it in the walkway. In a lesser city, a busy parent might succumb to this crumbly infrastructure in front of the aquarium, on the way from the closest parking lot to the front door. But this New Orleans mama is a pro, maneuvering her older child and the stroller around the cornucopia of tetanus.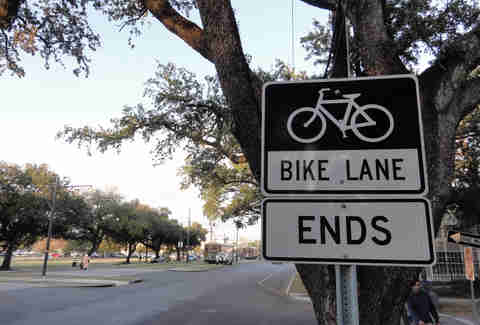 Without bike lanes, cycling can be seriously dangerous
Biking could be a breezy way to get around NOLA and, to be fair, some neighborhoods have lovely bike lanes (that are sometimes used as additional traffic lanes for cars). However, bikers are left to dodge cars, trucks, streetcars, and, yes, potholes on many streets, like this Seventh Ward intersection. The New Orleans Advocate reported an uptick in bike accidents as more and more residents take to two wheels. Wear a helmet and check out Bike Easy, which keeps a database of reported incidents and shows bike safety across the city.
Crosswalks? We don't need crosswalks!
As with bike lanes, there are some crosswalks in New Orleans, notably Downtown, in the Quarter, and in other tourist hotspots. Everywhere else, we jaywalk with reckless abandon. Whether it's crossing a busy street to get to the corner store, or walking a few houses down to visit a neighbor, it's a way of life here that can be dangerous if you don't keep an eye on traffic. After all, drivers are constantly swerving to avoid those potholes and sinkholes.
Our public transportation is below sea level
Yeah, the subway in Manhattan is fabulous, and the T in Boston is awesome, but for a city below sea level, an underground train isn't going to work. Buses don't fare much better, because they often get stuck in traffic with other vehicles. Your best bet is often the streetcars; just try to grab one that's not open-air in the dead of summer, especially if you're headed to work.
Construction always interferes with your commute
The North Rampart/St. Claude streetcar expansion project has ground traffic to a halt on many streets that are already congested during rush hour. Once completed -- still on track for later this year, according to the RTA -- it will connect the French Quarter with Treme, St. Roch, the Marigny, and Bywater neighborhoods.
But the construction scene, like this one at Elysian Fields and St. Claude Avenues, has been a headache for months, leaving drivers, bikers, and pedestrians nothing to do but weave around it and take backroads when the main streets are shut down. Add to that the lack of bike lanes and crosswalks, and you have a receipe for... well, we can't print the expletives.
Construction that interferes with parking near your house
Near-constant home improvement projects -- rebuilding or raising a home being the most common -- mean you may have to do some serious circling to find that elusive spot near your own house. Thank you, pink dumpster, for forcing a workout on the people who have to park two streets over and then walk -- jaywalk! -- home in the blistering heat.
Construction that interferes with your partying
Just kidding. Nothing -- not even this little eyesore on Bourbon Street -- interferes with our partying.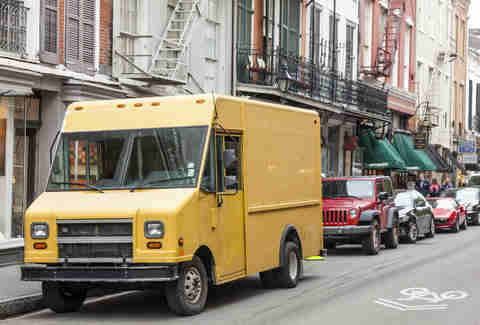 There's never enough public parking
New Orleans does have a good amount of public parking lots and garages, as well as metered spots, but those can fill up quickly, and the free street parking goes even faster. So we grab whatever we can, wherever we can. Under the highway, why not? That giant pothole on the side of the road that's filled with water from when it rained two days ago could still count as a spot, right?  
Just keep on eye on parking signs and your windshield. A New Orleans.com/Times-Picayune report on parking tickets found that the city wrote 354,149 tickets in 2015 -- enough for almost one ticket for every person living in New Orleans.
We have way too much traffic on the High Rise
GO PEOPLE. MOVE!!!! For whatever reason, people cannot and will not drive like normal human beings on this I-10 bridge that connects New Orleans to New Orleans East. Traffic backs up for miles on this bridge every single day. I get it that we don't see big hills around here very often, but you aren't going to fall off, I promise.
There's always traffic on game day
Louisiana is a pretty religious place, and in New Orleans there is no bigger religion than a Saints home game on a Sunday. To beat the traffic -- which will surely be bumper-to-bumper -- get there early and start drinking. It's 9am and you are walking down Poydras with a beer in your hand? Congratulations, you won before the game even started. If you're not on your way to the game, find some good tunes and enjoy watching the parties on the street, because you'll be in that car for a while.
Flooding is a way of life
Hold up – flooding is no joke in this city. It will always be too soon to chuckle about this in New Orleans. Floods here have cost lives, livelihoods, homes, and businesses. It's devastating, and Katrina made international headlines for good reason. But flooding is also something New Orleanians grapple with on a regular basis -- from the pop-up downpour that releases 4in of rain in less than two hours, to a slow-moving system that sits and spins over the Gulf for days, we are always living in fear of flooding.
At best, we get flood insurance and cross our fingers it won't be bad this time. At worst, we hang on to our neighbors and know that, like we always do, we will come back stronger next time.
Sign up here for our daily New Orleans email and be the first to get all the food/drink/fun in the Big Easy.