New Orleans is a terribly beautiful city, packed with everything from incredibly gorgeous bars to spectacular views. And in terms of the city's houses, this place is rich with kick-ass architectural history: you've got the shotgun, double shotgun, Creole cottage, double-gallery house, and Creole townhouse as native New Orleans housing stock. But there are plenty of other styles, too, like Arts and Crafts, Craftsman, mid-century modern, Spanish-style bungalows, and all those crazy Italianate, Queen Anne, and Greek Revival mansions. Sometimes a certain style dominates a neighborhood, but more often than not, every 'hood has a mix of everything, kind of like New Orleans itself. There are so many beautiful and vibrant homes, it was (extremely) difficult to narrow this list down, so in true New Orleans fashion, points were also awarded for uniqueness, historical significance, and general funkiness.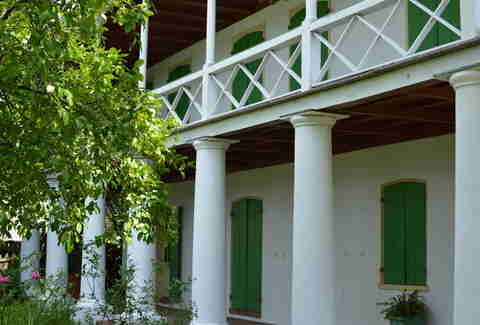 Bayou St. John
Pitot House - 1440 Moss St
Open to the public
On the banks of the Bayou St. John, the Pitot House is a Creole colonial country house known for its tangled gardens, solid shutters, and Caribbean sugar plantation vibe. The Pitot House is one of the oldest in the city, dating back to the 1700s, and is named for James Pitot, the first "American" mayor of New Orleans. This grande dame was also once a convent started by Mother Cabrini in the early 20th century, but today it houses the Louisiana Landmark Society and is open to the public most weeks, from Wednesday to Saturday.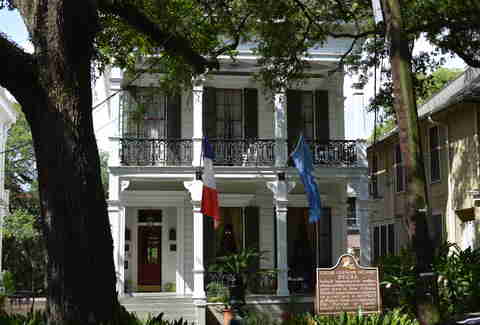 Esplanade Ridge
Degas House - 2306 Esplanade Ave
Open to the public
One of the houses that formed the Esplanade Ridge neighborhood in the 1850s, the Degas House is actually two houses these days: once upon a time, the house was whole, but then one wing was split off from the rest and made to stand alone. These days, one side is a B&B, and the other is a historical museum that's open to the public -- which is a good thing, because Famous Impressionist painter Edgar Degas really did live here for a spell with his rich New Orleans Creole relatives, and you can now take a tour of the home lead by one of Degas's great-grandnieces.
Seventh Ward
A.P. Tureaud Sr. House - 3121 Pauger St
Private residence
Tureaud is one of history's most overlooked civil rights badasses, and he lived in the Seventh Ward in New Orleans in the last years of his life. He worked with Thurgood Marshall and the NAACP in court to overturn Jim Crow laws in New Orleans, and also worked to desegregate New Orleans schools in the aftermath of the Supreme Court overturning Plessy v. Ferguson in 1954. It was a tough time (to put it extremely mildly) for African Americans fighting for civil rights in the Deep South, but Tureaud didn't let anything stand in his way... and this raised-basement, Craftsman-style bungalow is the house where he slept. The Craftsman is a common architectural style in this neighborhood, and design elements include green wood brackets, which define the gable-front roof, and the simple but striking diamond motif found on the porch piers, with a larger version on the staircase. The prominent front staircase, of stucco-over-brick, ascends to the porch in two flights.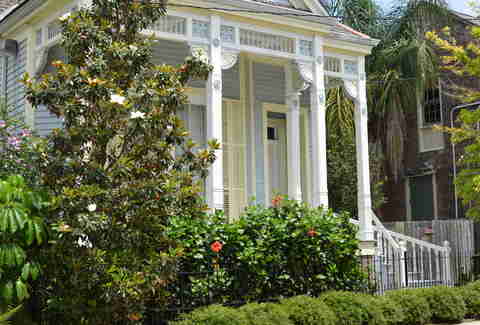 Treme
Thibodeaux House - 1221 Marais St
Private residence
While there are lots of different styles of houses in the Treme, this galleried cottage-style home, built in 1889, contains a feeling of movement with its curved steps to the front porch. Other cool architectural features include gabled front shingles and a hexagonal side bay. Although the front is one story, there's a two-story brick building attached in the back. This home is very elegant, without being super showy or fancy.
Bywater
3405 Royal St
Private residence and event space
The Bywater is getting very eccentric... and it shows. For example, while taking this photo, a gentleman with a handlebar mustache wearing only bright yellow shorts rode an old-timey bike past me several times (perhaps to ensure I noticed his edgy attire)? This "Wonderland" has colorful flowers everywhere, and a tea party set up in the corner of the yard in case the Mad Hatter drops by. Apparently Wonderland is some sort of performance/art space, as well as a private home, and the relatively expansive grounds (for Bywater) are impressive.
Lower Garden District
1309 Felicity St
Private residence
Felicity St, just off of Coliseum Square, is so old-school that stones and bricks still pave the road. This block of Felicity has all sorts of cool-looking houses in various states of repair, and 1309 -- also known as the John T. Moore, Jr. House -- was designed by local architect James Freret, combining Victorian and Italianate interior and exterior features.
Garden District
Joseph Carroll House – 1315 First St
Private residence
There are probably 50 houses in this mansion-heavy, wealthy neighborhood that are downright stunning -- even the regular-sized houses are beautiful -- but the Joseph Carroll House makes the list because of its cast iron and pink Italianate design. It's kind of delightfully creepy, it's held onto its original carriage house, and you get the feeling that no one there cares if you can peek at it. Also, Joseph Carroll was totally Mark Twain's BFF back in the 1880s, so you know the man himself attended the infamous parties thrown there. This house is also next door to where Anne Rice lived for a while... a hundred years or so later.
Marigny
Dolliole House - 1440 Bourbon St
Private residence
Right where the Marigny meets the French Quarter, on Esplanade Ave, the mansions near the river were once known as the Creole Garden District, but the house that I think captures the crazy quilt of the Marigny best is the Dolliole House, built in 1819 by French-speaking builder and community leader, Jean-Louis Dolliole, a "free man of color" in New Orleans. This old-school backstory signifies the general melting pot of New Orleans... plus, the weirdly shaped lot it's on is pretty representative of the way the former plantations of the Faubourg Marigny were cut up and sold off. Dolliole's design represents a very early brick-between-post Creole cottage, quite common in the Marigny when first founded, but much more rare today. The placement of doors attach it, architecturally speaking, to the the old Creole cottage-style in its placement of doors, but the roof is more flat than steep -- a slight variation of the versions that came after.
French Quarter
1041 Royal St
Private residence
When you think of the French Quarter, you invariably think of the iconic iron railings of Creole townhouses. but this gorgeous, two-story brick home with brick arches soaring over floor to ceiling windows (and yes, a cast-iron balcony) is one of the only intact mansions in the Quarter that hasn't been converted into condos. Depending on which walking tour you partake in, it is rumored to be a) haunted; b) the former residence of a vampire who chased a woman off the balcony to plummet to her death on the street below; c) the former residence of immortal French alchemist the Comte de Saint-Germain; d) any combination of the above.
Broadmoor
4512 S. Prieur St
Private residence -- for sale
Broadmoor is such a diverse neighborhood, both in terms of the house styles and the people inside them. Since Broadmoor has been known to take on a lot of water in emergency situations past, a lot of the houses are built on a raised basement. There are lots of bungalow styles with stucco, and those cool wavy red Spanish style roofs, as well as many Arts & Crafts-designed homes. This house, currently for sale, is a large Arts & Crafts style with a raised basement. Those clean, strong lines, wood accents on the windows, the railings, the ceilings... to be fair, Arts & Crafts-style houses turn me into a puddle of mush, and this one is extra special.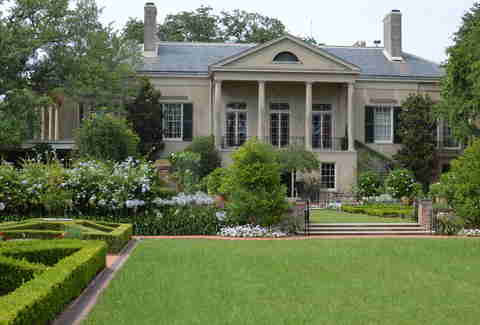 Old Metairie
Longue Vue - 7 Bamboo Rd
Private residence
The Longue Vue House and Gardens are mighty impressive. Some rich folks named Edith and Edgar Stern built this house starting in 1934, hiring brothers William and Geoffrey Platt to collaborate on the architecture and design, and Ellen Biddle Shipman to design the landscape and interior. The gardens and the house were conceived and built in tangent with each other, so they are naturally aligned. Edith Stern transitioned her home into a non-profit museum in the late '70s, shortly before her death.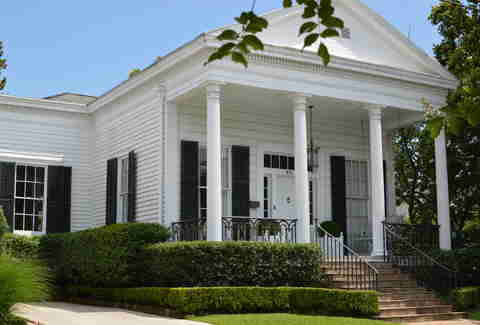 Audubon
James H Dillard House - 571 Audubon St
Dillard was a white academic and educator who spent a great deal of his professional career working to provide educational opportunities for African Americans in New Orleans. When two of the local black colleges merged in 1930, the new university was named for Dillard. (Coincidentally enough, Edgar Stern, who built Longue Vue, was a founder of the Dillard University.) This Southern colonial-Greek Revival house with impeccably landscaped grounds was built in the mid-19th century, and Dillard lived in it between 1894 and 1940. The simple and elegant lines frame a one story central block structure with symmetrical wings, and the front porch/portico shows its Greek Revival roots with classic columns.
Lakeview
434 Lakeshore Parkway
Private residence
This mid-century-modern-influenced, Frank Lloyd Wright-inspired mansion is just off Lake Pontchartrain with a natural levee protecting the house from the water (and traffic). Oh lawd, those bay windows and linear roof line... The interior rooms are irregularly shaped, as those mid-century-modern types tend to be, with angled windows.
Holy Cross
Two Sisters/Doullut houses - 403 Egania St
Private residences
Steamboat captain/pilot Milton P. Doullut built his house on the banks of the Mississippi River in 1905 as a home for him and his wife, who was also a steamboat captain, incorporating architectural features that resemble, you guessed it... a steamboat. Doullut built a second home for his son, Paul Jr. in 1913, which wasn't quite as close to the river as his old man's, but was still pretty well situated. Doullut was also influenced by the Japanese exhibit at the 1904 World's Fair in St. Louis, which lead to his steamboat houses' pagoda-style roofs.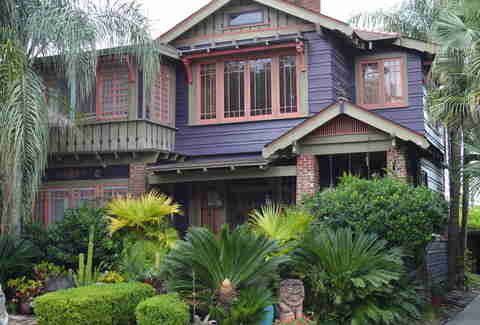 Fairgrounds
1436 Verna Ct
Private residence -- not mine, sadly
This house is freaking gorgeous: it's surrounded by a jungle outside the front porch studded with statues of snarling Chinese-style lions and water features. The windows have that Arts & Craft detail, tiny lizards frolic throughout the outdoor greenery, and its dark purple tone is just perfect for the red accents and brick to pop from. Oh, and the gabeling on the roof! Totally swoon-worthy.
Sign up here for our daily New Orleans email and be the first to get all the food/drink/fun in the Big Easy.