The wildlife in New Orleans isn't limited to party animals. Oh, no. In this part of the country -- and in this city -- you'll find a veritable bonanza of animal activity that would make Noah himself blush, from termite swarms to nutria, flying cockroaches to brown pelicans, alligators, snakes, spiders, you name it. Many of these beasts tend to make the news, from the coyote of Laurel St to the Nashville pig, and the mysterious "magic rabbit" of the Lower Garden District. But some of the animal residents of our city are truly notable, to the point of being famous (if only to locals). Here, for your consideration, is our official rundown and ranking of the finest famous fauna in the Crescent City.
18. Muffin After Midnight
Mid-City
Where Juniper enjoys the reading life, there's one Mid-City kitty that likes the nightlife. Her name is Muffin, and she's known throughout the neighborhood and the city for her salacious after-dark Internet photography, which includes photos of Muffin posing with motorcycles and buddha statues... as well as her nude owner. You know, regular cat stuff.
17. Sad Cat
The internet
First there was Ikea monkey. Then there was Lil Bub and Grumpy Cat. Now, to that illustrious pantheon of Internet famous furry friends, came "Sad Cat," or as she's known officially, "Purrmanently Sad Cat," owing to this feline's constant expression of what seems to be tragic existential depression. It's enough to break your heart. What's wrong, Sad Cat? You live in New Orleans! The seafood is great here! Cheer up, little one.
Fairgrounds
New to the NOLA animal scene, Jell-O Shot Dog (#jelloshotdog) became an instant sensation at Jazz Fest this year, where she was happily vending boozy, gelatinous libations to delighted festers. New Orleanians are always notable for their ingenuity when it comes to standing out, especially when selling drinks at or near a big fest, so this gimmick was welcomed by the city as amusingly novel and very NOLA. All hail Jell-O Shot Dog!
Tulane campus
No college campus would be complete without a mascot, right? But seeing that the Tulane mascot is the "Green Wave," it's kind of difficult to find an embodiment of that character that people can really get behind. Not to fear -- the inventive student body at Tulane found themselves a winner in Mickey, whose black-and-white color scheme led to the nickname "cow cat." They even built Mickey a house!
14. Whitey Bulger
Irish Channel
Right inside Tracey's Bar, you'll often find a dog at or behind the bar, named Whitey Bulger after the famous Irish mobster from Boston -- you remember, Johnny Depp played him in the movie (the mobster, not the dog). Channel residents are not only fond of the pup, they're not above buying him a drink. Because we're friendly like that in New Orleans.
13. Who Dat Cat
The Superdome
OK, who would bring their kitty to a pro football game? This guy, that's who. Randy Pumilia thought he was giving his pet an NFL experience (on the tame side, really, when it comes to eccentricity in NOLA), and almost immediately, the two year-old Calico, Pumila's service animal, went viral due to her black, white, and gold coloring... and clear loyalty to the Saints. And in this way, #WhoDatCat was born. Now an Internet celebrity, you'll find Zoey cheering on the Saints from the bleachers, and every now and then making public appearances. Let's hope that she's a good luck charm for us all once the season starts!
12. Saz and Tini
French Quarter
The French Quarter boutique hotel Chateau LeMoyne features a number of amenities, including exposed brick walls, a lovely saltwater pool, live music, cocktails and... a turtle pond. Yup, a stay here includes the option to hang out with the hotel's mascots, a couple of red-necked snappers named Saz and Tini, which, this being New Orleans, is of course short for "Sazerac" and "Martini." And, this being 2016, the turtles have their own Twitter feed, where you'll find plenty of photos of them doing yoga, cheering for the Saints, and other standard turtle fare. But be forewarned: if you fall in love with them, you might wind up reconsidering your next bowl of turtle soup au sherry at Commander's.
The Internet
Is Roux just the most adorable fluffy little kitty with big, pleading eyes and a name that just screams "New Orleans?" Why, yes. Yes, she is. But what sets Roux apart from the pack is that she only has two legs, having been born without the front set, making her appear to some as a "Tyrannosaurus cat." This, combined with her can-do attitude, has of course made her an internet animal celebrity, as well as the poster kitty for cats with special needs. We're particularly fond of her Instagram pic as Supercat. Dig that cape! Roux even had her first public appearance, much to the delight of her fans, at last year's New Orleans Cat Art & Film Festival 2015. Yes, New Orleans has a Cat Art & Film Festival. Of course it does.
10. Leroy the Dog
Irish Channel
If you're in the Irish Channel, there's a good chance of meeting the unofficial ambassadors of the neighborhood, a dog named Leroy and his human, Frank. You might catch this cheerful pair zooming down the streets between Tracey's and Parasol's in what can best be described as a New Orleans version of the "one horse open sleigh," only it's a "one dog open wheelchair." There's even a portrait of the red lab/chow mix above the bar at Parasol's. That's fame, right there.
9. Tripod
Avondale
You know that scene in Happy Gilmore when the alligator comes onto the golf course and tries to eat Happy's hand? Well, truth is stranger than fiction, because there really IS a golf course alligator in the NOLA area, at TPC Louisiana. And he only has three legs, which naturally means that he has been dubbed "Tripod" by his fans and followers. Apparently, he loves the media; while groundskeepers rarely get a glimpse of the gator, he almost always comes out for a show at the big annual Zurich Classic golf tournament as soon as the big cameras come out. He's ready for his closeup, Mr. DeMille... and maybe a tasty golfer or two.
French Quarter
It isn't out of the ordinary to be walking down Burgundy St and have someone casually shout "hello!" to you. Being neighborly and pleasant is standard practice down here. What is somewhat out of the ordinary is when that someone shouting out a friendly greeting happens to be a giant cockatoo named "Iko." Which is exactly what you can expect to happen around his home in the French Quarter. Even though there haven't been actual pirates in New Orleans for some centuries now, the whole bird-on-the-shoulder thing never disappeared, it seems.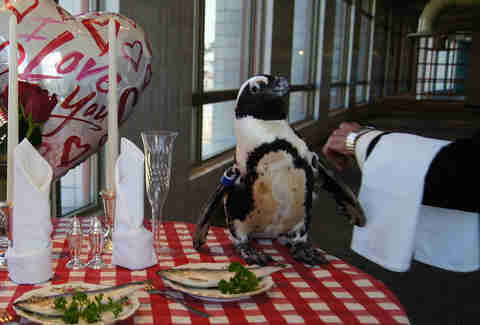 7. Kohl the Penguin
Audubon Aquarium of the Americas
This flightless, tuxedoed gent holds a couple of distinctions: first, he is to all knowledge the biggest Saints fan in New Orleans that is also a penguin. Second, he's the only animal at Audubon with a Twitter handle. How he manages to update his feed with those flippers is anyone's guess (we're thinking he whispers the text to one of his handlers during feeding time). That said, his tweets are both amusing and endearing. If you needed one more reason to love penguins, this is definitely it.
Various
If you smell something that reminds you of horse droppings when you're ambling through the French Quarter, guess what... it's the real deal. Aside from the mule-drawn carriages that roam the streets of the Vieux Carre, you'll also often find officers of the NOPD -- both of the human and equine variety. Mounted cops are important in NOLA because of visibility and crowd control (especially during Carnival), and perhaps the most famous four-legged member of the local police force is B.B., a sixteen hand-tall Percheron/quarter horse cross. She's a big star, and she loves her fans, as evidenced on her popular Facebook page. Just don't try to call her. "I don't have a phone," her page reads. "I'm a horse." Good to know.
5. The Birds of Uptown Car Wash
Uptown
For the past decade or so, in addition to providing you with full tires, new wipers, and a gleaming ride, Uptown Car Wash has housed a veritable menagerie. The current roster includes fish and a chameleon, although once upon a time, there were even bearded dragons (they passed, sadly). But it's the joint's avian collection that really stands out: there's a sun conure named Petey, a cockatoo called Maxie, and, most importantly, Zoe the African Grey parrot, all of which are rescue animals. In Zoe's case, her adoption by car wash GM Scott Gibert helped prevent her previous owners from getting divorced. People bring their kids by the car wash just to visit with these feathered friends. And hey, does Zoe talk? Oh yeah, she does. Hang around long enough and you'll hear "Good morning!" "Pretty bird," and, this being New Orleans, "Who dat!"
Audubon Zoo and Aquarium of the Americas
It's difficult not to think of alligators when you think of animals in South Louisiana, and for good reason. We gots lots of 'em. Not necessarily in the city, however, unlike the other abundant wildlife of the Big Easy -- which is where these two beauties come in and set themselves apart from the pack (pride? Herd? What's the collective noun for gators again?). They're pearl white, but not albino; they're "leucistic," due to a rare genetic mutation that would give them a distinct disadvantage in the wild. But nature's loss is our gain -- you can see these two at either the zoo or aquarium, but fair warning: they're freaky as hell and look like they're made of plastic... until you see them move.
3. Juniper the cat
French Quarter
There are tons of cats in the French Quarter. All you have to do is take a look inside Jackson Square Park after the sun goes down (when the gates close) to see scads of furry friends. But none of them are quite as famous -- or as literary -- as the feline who resides in Beckham's Bookshop on Decatur, who goes by "Juniper." If you're curious as to Juniper's thoughts, reflections, or book recommendations, you should really check out her blog. To be honest, it's actually one of the better blogs in the city. (A recent entry: "The winter has been a cold one, this much even a bird or a mouse would notice and I can only imagine that those villainous rapscallion creatures have been tucked away in hiding multiplying as the other felines and I have cooped up inside, staying out of the wet and frozen terrain.") And it's written by a cat. Which is about par for the course in New Orleans.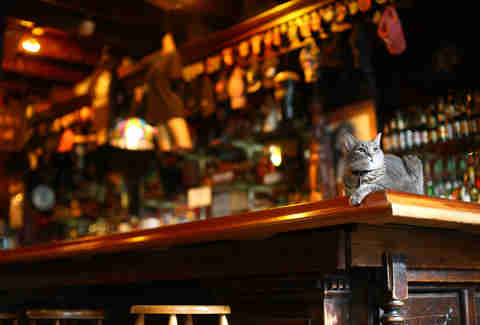 2. Mr. Wu
French Quarter
You know you've reached the apogee of fame in New Orleans when you're asked to the be the Grand Marshall of a parade. And if you happen to be a cat, it's that much more impressive... which is exactly what happened with Mr. Wu, the famed grey bar cat at Molly's in the French Quarter. The kitty, who was already notable enough for fans to make music videos for her, was the Grand Marshal at Jim Monaghan's Halloween Parade in the Quarter, the biggest, craziest Halloween parade in town. Mr. Wu has also made it into print numerous times, most notably in a book about cats and their jobs. Work, it Mr. Wu. Work it.
Pigeon Town, Uptown/Carrollton
Of all the famous NOLA fauna, this guy is perhaps the prettiest. "Mr. P," as he's known to both his Uptown neighbors and his Facebook fans, has been strutting his strut in the 'hood since 2005, following the big storms. One local even calls him "her avian boyfriend." But don't be fooled by those fancy feathers and haughty ways. If you keep your car all shiny and washed in the 'hood, he might see his reflection and, mistaking it for a romantic rival, peck the ever-loving hell out of your ride. And, thanks to the city, the area is now officially a bird sanctuary, leaving Mr. P to fan his feathers in freedom for the rest of his years in peace. Since he's the only animal herewith that actually inspired the city to write actual legislation to keep it safe, Mr. P clearly deserves the top nod here.
Sadly, not all of the most famous critters in NOLA are still among the living. Were they still with us, they'd surely make this list with flying colors, but we couldn't ignore them altogether. And so, two honorable mentions, in memoriam:
This small, black and white terrier/spaniel mix was mostly unexceptional, except for the fact that she was the muse who inspired George Rodrigue, the famed Louisiana artist who immortalized Tiffany as the "blue dog" (and sometimes red, yellow, and various other hues) which appear in his iconic paintings and prints. Blue Dog is still a beloved symbol of New Orleans, and remains dear in the hearts of NOLA locals.
How can we forget the treasured pet cat of famous aviator John Moisant, for whom our airport was once named (hence the oft-confusing airport code MSY for NOLA). On August 23rd, 1910, Fifi became the first feline to cross the English Channel in an airplane, and, after Moisant's tragic death over New Orleans, Fifi was seen at the aviator's funeral, "draped in mourning cover."
Sign up here for our daily New Orleans email and be the first to get all the food/drink/fun in the Big Easy.