Don't freak out, but the good part of the year has officially arrived--aka, the four glorious months that bring Carnival, crawfish, parties, and parades to New Orleans. During these halcyon winter days, when average highs hover in the 60s and 70s, the only thing hard about living in the Big Easy is fitting all its winter events into your social calendar without exhausting yourself. Here are a few to prioritize in the coming months.
December 12-15
Lafayette Square
Now in its sixth year, the Arts Council's annual festival of light and technology has morphed into a rave-tastic mashup of visual art and holiday lights. Glowing installations and trippy projection mapping draw around 75,000 people like moths to...well, very bright lights.
Cost: Free
December 14
French Quarter
As if you really needed another reason to wear your Santa suit. Sponsored by French Quarter businesses like Molly's and Pat O'Brien's, the Krewe of Kringle bills itself as the only private holiday parade in the city. The route hits at least four bars, and the price of entry includes a beer at each spot, though there'll also be drink specials. Krewe of Kringle also welcomes participants who think outside of the Christmas wrapping paper-decorated box and don their favorite costumes devoted to holiday movies and even other winter holidays altogether.
Cost: $25
Everything in your life deserves a soundtrack, whether that's exploring your city or cleaning your apartment, and the all-new Pandora® is ready to create it for you. Pandora lets you play what you want, when you want: Search for your favorite songs, build a playlist, and vibe out to the exact tunes that strike your mood. When you want to hear something new, use Pandora's new music and podcast discovery feed, For You, to find sounds specific to your tastes. With a whole world of new music a click away, it's time to turn the dial up on your whole day.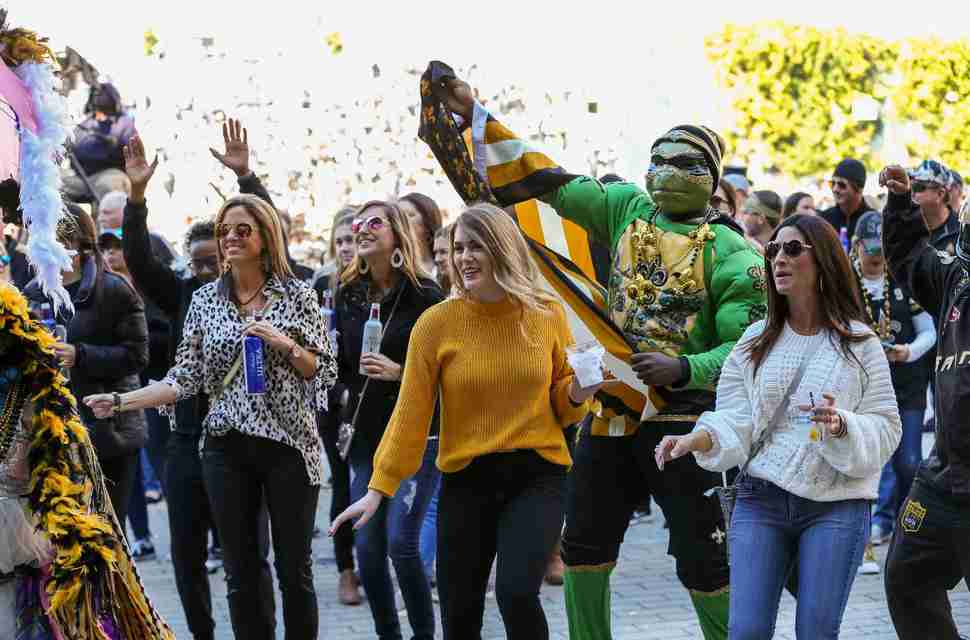 December 16
Mercedes-Benz Superdome
Who Dat Nation, you are needed more than ever. The Brees-Peyton era is almost at an end, and the GOAT quarterback deserves another ring before he retires in glory. Tailgate the Monday Night Football game against the Indianapolis Colts to see where the (currently 10-2) Saints will fall in the playoffs. WHO DAT!
Cost: Prices vary
December 22 
Jackson Square
A tradition since 1946 featuring a large enough crowd helping to keep you warm and by the light of free candles, no one will be able to tell if you actually know the words to "O Holy Night" -- though lyric sheets are provided. (Note that even if you don't love caroling, Jackson Square's public event is self-contained and relatively brief.)
Cost: Free
January 1
Mercedes-Benz Superdome
Even if you don't care about football, the 86th annual Sugar Bowl Classic brings a lot of energy and excitement to downtown New Orleans. One of six games that determine which teams go to the final College Football Playoff National Championship, it also includes a free fan fest with interactive games, parades, and pep rallies in the Jax Brewery parking lot.
Cost: Tickets start at $100
January 6
French Quarter
Mardi Gras takes place on a different date each year, depending on when Easter falls, but Carnival season always kicks off on Twelfth Night. The Joan of Arc parade is a beautiful way to observe the holiday's Catholic roots. Winding through the French Quarter, it's an intimate parade that tells the story of the neighborhood's favorite saint through costumes, signs, and handmade throws. 
Cost: Free 
January 12
Mardi Gras World
Speaking of football, on the eve of the College Football Playoff National Championship, get the chance to sample food and drink from the city's best restaurants. Enjoy bites from chefs Ryan Prewitt of Peche, Rebecca Wilcomb of Gianna, Justin Devillier of Le Petite Grocery, Mason Hereford of Turkey and the Wolf, and many more. All proceeds benefit the College Football Playoff Foundation's Extra Yard for Teachers initiative, which provides resources and professional development for educators around the country.
Cost: $150-$250
January 19
The National World War II Museum
Coastal Fashion Week brings 11 runway shows to seven cities across the Gulf Coast, and its shows sell out every time. Expect a stylish combination of charity and glitz, with coat drives and spotlights on up-and-coming designers, at the New Orleans stop.
Cost: $35-$50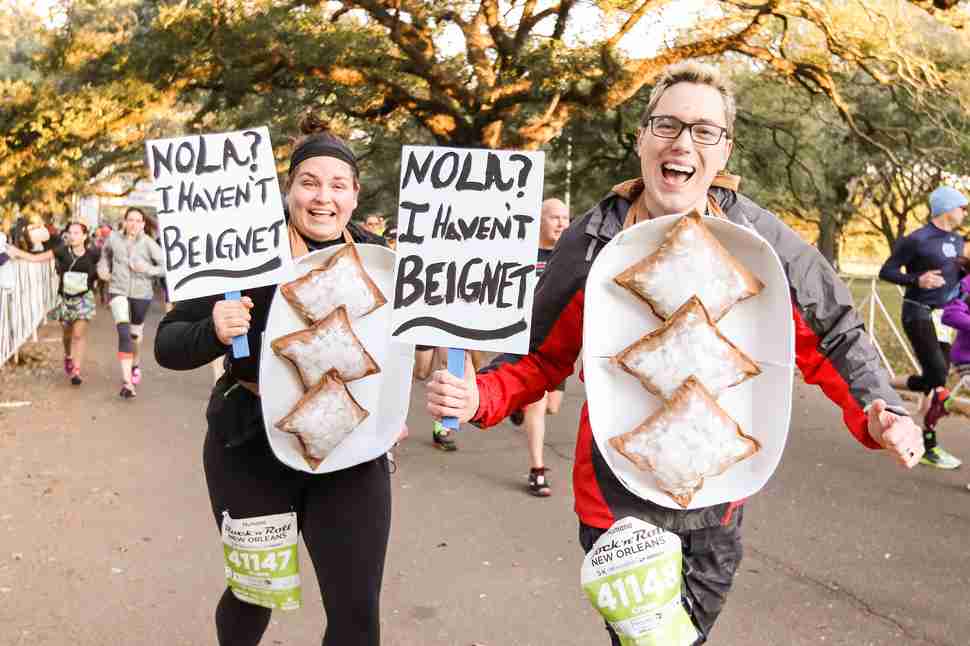 February 8-9
Mercedes-Benz Superdome
New Orleans is fast and flat in runner's parlance -- which makes it an ideal place to go for a very, very long jog. Its historic architecture and the presence of live bands at various junctures along the route make four-plus hours of running feel downright pleasant at times. Choose a 5K, 10K, half, or full marathon and feel extra smug when you flaunt your finisher medal at the post-race concert. Proceeds benefit St. Jude Children's Research Hospital.
Cost: $62-$122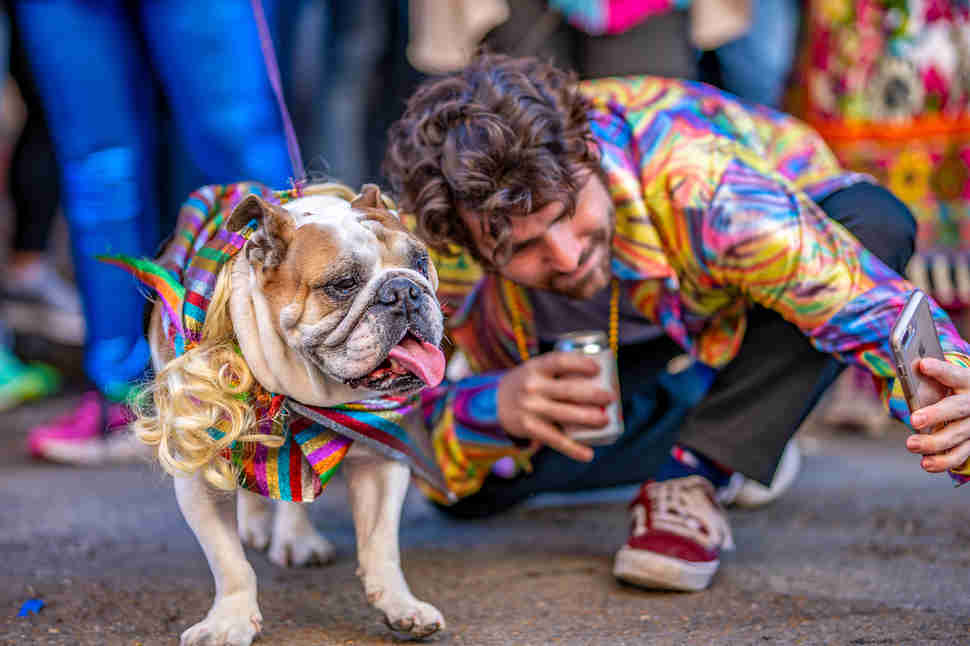 February 25
Citywide
It's the greatest free show on earth, and that's why 1.4 million people descend on New Orleans every year to catch beads, drink Hand Grenades and strut around in their finest costumes. Mardi Gras is more than a tourist bucket-list item -- it's a beautiful, colorful intersection of creativity, spirituality, and culture with an ethos of artistic self-expression that's been going on for centuries. More than 70 parades and countless parties take place in January and early February, but the celebration culminates on Fat Tuesday.
Cost: Free
Nom on fried fish during Lent
February 26 - April 12
Citywide
Fat Tuesday isn't just debauchery for debauchery's sake. The idea is to feast before the fast known as Lent (when Catholics say farewell to the flesh by abstaining from eating meat). Fortunately, in a seafood-centric city, this doesn't feel like much of a sacrifice. Churches, charities, and restaurants throughout New Orleans hold fish fries each Friday during Lent, and proceeds often benefit a good cause. The Archdiocese of New Orleans' homepage is a good place to track down fish fries. 
Cost: Varies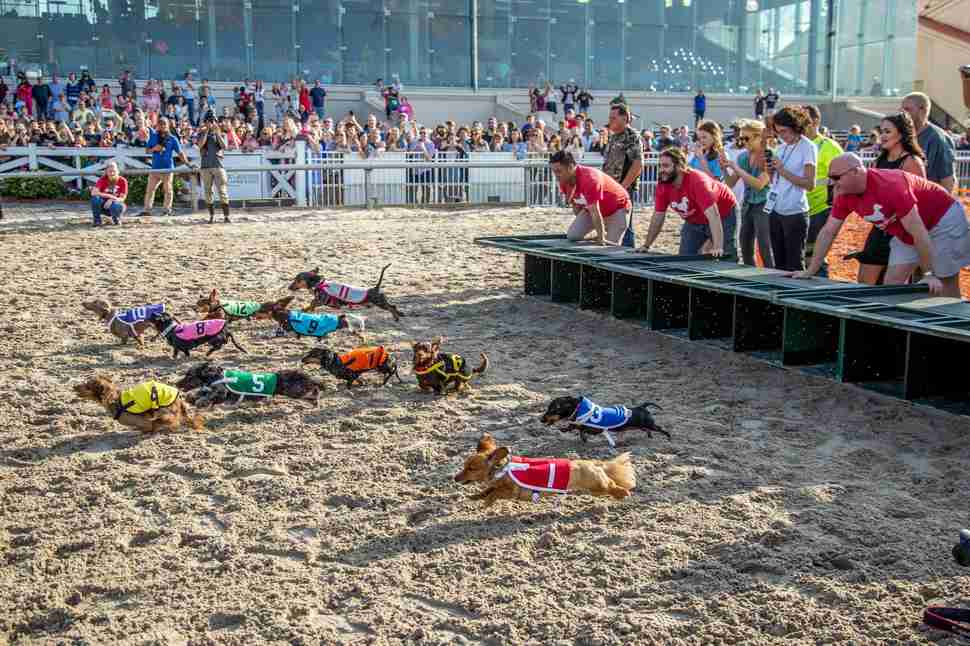 March 7
Fair Grounds Race Course and Slots
Love the races but hate the animal cruelty? At Wiener Dog Racing, dachshunds have the time of their lives competing for the title of Faster Wiener, plus $500 and an ample supply of dog food.
Cost: Free
March 11-14
New Orleans Hilton Riverside
What better place to celebrate bourbon than the city where cocktails were invented? Tastings, seminars, vendors, industry awards, live music, and burlesque are highlights at the Bourbon Festival, which benefits Kids Can Nola. 
Cost: $69 to $519
March 13
Hilton New Orleans Riverside
Serving up a record-setting bowl of pasta is an annual St. Joseph's Day event for members of the Italian American St. Joseph Society. Members combine 500 pounds of ingredients, which include pasta, sardines, mudrica, parsley and raisins, in an eight-foot bowl, then dish it out to onlookers to celebrate the feast of St. Joseph.
Cost: Free
March 16 - 17
Irish Channel, Bourbon Street
Are you all paraded out yet? Well, that's too bad, because St. Patrick's Day means block parties, green beer, and (you guessed it) even more parades. You'll see the requisite floats, classic cars, and walking groups, but these krewes distinguish themselves by throwing produce (cabbages, potatoes, carrots) along with beads and flowers. Boil it up into a vegetable stew and taste the luck of the Irish. 
Cost: Free
March 20 - 21
Mardi Gras World
If you haven't found your rave fam yet, you will at BUKU. The sprawling electronic music festival takes over the Mississippi riverfront at Mardi Gras World, a warehouse filled with strikingly beautiful fiberglass and LED floats. Past headliners have included Lana Del Rey, A$AP Rocky and Bassnectar.
Cost: Tickets start at $185
March 25 - 29
Hotel Monteleone
Authors, editors, agents, thespians, and readers descend on New Orleans for a literary festival honoring its former denizen, playwright Tennessee Williams. Expect panel discussions, writing workshops, parties and more. Its famed Stanley and Stella shouting competition in Jackson Square closes out the weekend.
Cost: Varies
Sign up here for our daily New Orleans email and be the first to get all the food/drink/fun in the Big Easy.