Here's the unsettling thing about living in a humid subtropical climate. When temperatures hover around 90 degrees for six months, it feels like time is standing still and the seasons have halted in their progression. But when the first cool front rolls around in mid-October, it's both cause for celebration (you can go outside again!) and despair (wait, the year's almost over?). No wonder this city loves its 24-hour bars. Anyway, here's a list of fun events to help you maximize New Orleans' most welcome temperature change -- and forget that life is fleeting.
Recommended Video
France's Fête des Lumières Is a Light Festival Unlike Anything You've Ever Seen
September 13
Mercedes-Benz Superdome
Did Beyonce go too far in co-opting Hurricane Katrina imagery in her "Formation" video? Have you had a run-in with her sister (and New Orleans resident) Solange, or determined the whereabouts of the famous lost wedding ring? Regardless of your feelings about the Knowles clan, Beyonce and Jay-Z are definitely the greatest living musical duo around -- and they have strong local ties. The couple brings their On The Run II tour to the Superdome as a "celebration of love, family, and culture."
Cost: $49.50-$290
Slurp up oysters on the half-shell
September-April
Restaurants citywide
Oyster season runs September through April -- and while you can enjoy the tasty bivalve any time of the year, we're now entering peak season. Delicious oyster happy hours dot the city, and raw oysters can be had for as little as 50 cents each (or in some cases, free). Served raw on the half-shell, oysters are cheap, local, high-protein, low calorie, and according to some people, they might even be vegan (because oysters lack a central nervous system).
Cost: Varies
September 15
Howlin' Wolf
After popping up in cities from Washington DC to San Francisco, Pancakes and Booze lands in New Orleans with works by more than 50 local artists, body painting, beer, and all the free pancakes you can eat. True, you can witness a sort of performance art at any IHOP in the wee hours of the morning -- or at least a memorable display of humanity -- but you can't get a cocktail.
Cost: $7 in advance, $10 at the door
September 10-16
Restaurant Week
New Orleans has more than 1,200 restaurants -- a pretty extravagant number when you consider that only 391,000 people live here -- and Restaurant Week allows diners to sample fine cuisine while remaining on a budget. From A (Antoine's) to Z (Zea Rotisserie), from Creole grand dames to the newest, trendiest gastropub, all the city's heavy hitters are here, and they all offer fixed-price menus that are discounted roughly 25 percent.
Cost: Varies; usually $20-$39 for a three-course meal
September 20-23
New Orleans Burlesque Festival
Burlesque dancers from around the globe descend on New Orleans in a cloud of glitter, fishnets, and false eyelashes to compete for the title of "Queen of Burlesque." A live jazz band accompanies the contestants' traditional burlesque acts while five judges evaluate the performers. There are other shows, including Mondo Burlesque, Bad Girls of Burlesque, and Belle of the Ball, where audience members help pick the winner.
Cost: $20-$67
October 4
Julia Street galleries
During this fall celebration of all things artsy fartsy, 20 museums and galleries open their doors, wine flows, and special performances abound. The action is concentrated around the Contemporary Art Center and Julia Street, but merchants on Magazine Street also celebrate with sales and promotions.
Cost: Free
October 5-8
St. Augustine Church Yard
Treme is more than just an HBO series. It's the birthplace of jazz and one of the oldest African-American neighborhoods in the country. Kermit Ruffins, Troy "Trombone Shorty" Andrews, and Alphonse Picou hail from here, and during a weekend in early October, dozens of bands take the stage to celebrate its history and culture. Hot 8 Brass Band, Batiste Father and Sons, Casme, Dwayne Dopsie & The Zydeco Hellraisers, and others perform, and proceeds benefit the Historic Faubourg Treme Association.
Cost: Free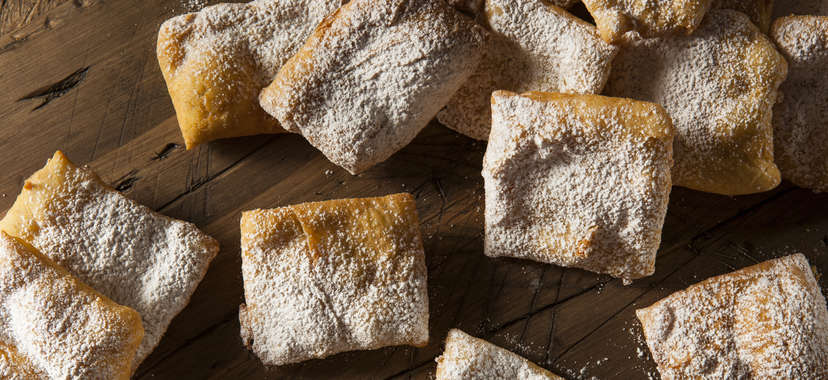 October 6
City Park
At the rate we're going, literally every food indigenous to New Orleans will have a festival in its honor -- and we're totally OK with that. A relative newcomer to the scene, the third annual Beignet Fest features beignets from 30 different purveyors, including Girls Gone Vegan, Ruby Slipper Cafe, Katie's Restaurant, and Sno-La. There's also an art market and live music from the Imagination Movers, The Original Pinettes Brass Band, Eric Lindell, and more. Proceeds support the Tres Doux foundation for children with developmental delays -- so eat up. Just don't wear black (if you've ever eaten a beignet, you'll know why).
Cost: Free
October 5-7, 12-13, 19-20
Deutsches Haus
Although African, French, and Spanish influences are perhaps the most obvious ones when it comes to New Orleans, we have German influences here, too! And they have bequeathed us with giant Bavarian-style pretzels, the Chicken Dance, schnitzel, oompah music, and more than 20 types of beer and schnapps -- all of which can be found during Oktoberfest at Deutsches Haus. An institution and resource for Germans since 1928, Deutsches Haus' old location was demolished in 2011 to make way for the University Medical Center hospital complex. In November, the new 10,000-square-foot, $4 million building will open to the public -- in the meantime, enjoy the beer and wiener dog races.
Cost: $8
October 12-14
Lafayette Square Park
Samantha Fish, Jimmie Vaughan, Shemekia Copeland, Walter "Wolfman" Washington, and other legends and rising stars headline at this three-day celebration of all things blues and barbecue. You'll find two stages of music, all styles of barbecue (including vegan options), an arts market featuring pieces by 24 local artists and a T-shirt design contest.
Cost: Free
October 13
Citywide
Whether you're freaked out by heavy traffic or you simply want to imagine a carless utopia where cyclists rule, the Entergy Bike the Big Easy is a must. Twenty-five miles of New Orleans streets are closed to car traffic for a social ride and race that winds from the French Quarter to St. Charles Avenue, then goes through Uptown before cutting through Lakeview and looping back downtown. There's a post-race celebration in Champions Square with beer, food, and music, and proceeds benefit Entergy's The Power to Care.
Cost: $40 and up
October 17-25
Citywide
New Orleans may have lost its title as reigning "Hollywood South" to Atlanta after cutting film industry tax credits, but it's still a hotspot for independent filmmakers and fans of their work. The New Orleans Film Festival offers a week of 200-plus film screenings, industry parties, panel discussions, and more.
Cost: Some events are free; all-access early-bird passes are $295
October 20
Downtown route (Marigny, French Quarter, CBD)
Do you enjoy Mardi Gras parades, but cringe at the sight of so much waste in the form of plastic beads, go-cups, etc.? With 3D fiberglass and papier-mache floats by Brian Kern, the Krewe of Boo parade features all the glitz and pageantry of a New Orleans parade -- with a side of scariness and eco-friendly throws. From Chee-Wees and PJ's Coffee to pralinettes, many of the throws are made by local businesses. A 2-mile zombie run precedes the race, so grab a costume, do the run, hang out in the Quarter until the parade rolls through, and make a day of it.
Cost: Free to attend parade; zombie run early-bird tickets are $20
October 26-28
City Park
Can you believe this is the 20th Voodoo? The music festival has come such a long way since 1999 -- the former one-day event now sprawls across City Park for an entire weekend and has become a major Halloween weekend tradition. This year, Childish Gambino, Marilyn Manson, Mumford & Sons, Janelle Monae, Arctic Monkeys, Odesza, and The Revivalists are among the 65 bands playing on four stages. Carnival rides, a beer hall, and a haunted mortuary are just some of the attractions. Don't forget to wear comfortable shoes -- and a costume.
Cost: $140 for a three-day general admission pass
November 7-11
Downtown New Orleans
InFringe Festival is back for its third year, with 30-plus acts popping up in more than 10 venues across Bywater, Arabi, St. Roch, and the Marigny. Performances run the gamut from musicals and burlesque to multimedia exhibits and puppet shows. New this year: a focus on kids' shows, thanks to new director of children's programming Cammie West.
Cost: Ticket prices TBA
November 9-11
Ernest N. Morial Convention Center
Thanks to its status as a major port city and destination for sailors, pirates, and privateers, New Orleans has always been a big tattoo town. The first New Orleans Tattoo Convention celebrates ink culture with a bevy of talented artists, sideshow performances, and suspensions. Ink Masters alums including Carlos Rojas, James Vaughn, and April Nicole are among the attending artists. Hit one of them up in advance to schedule as session, or follow your instincts and get tattooed on a whim during the convention.
Cost: $20 per day, $40 for a three-day pass; kids 12 and under get in free
November 10
Louisiana State Capitol grounds
Unfortunately, going to the Louisiana Book Festival necessitates travel to what literary figure Ignatius Reilly described as a "whirlpool of despair: Baton Rouge." Fortunately, with panels, signings, book sale tents, parties, and workshops, the festival offers everything you need to help you overlook the fact that you're in the "the heart of darkness, the true wasteland" outside Orleans Parish limits.
Cost: Free
November 14
Saenger Theatre
If you've ever felt the urge to play Plinko or suspected that you'd totally dominate a Showcase Showdown, a seat at this interactive stage show offers a way to live your Bob Barker-infused fantasies (just remember that Bob's retired now, and this show isn't actually televised). You could go home with cash prizes, new appliances, trips, even "A NEW CAR!" At the very least, you'll leave thoroughly entertained.
Cost: $29-$49
November 22
Mercedes-Benz Superdome
It doesn't matter whether you watch it in the 'Dome, while tailgating, at a sports bar, or in your living room splayed out on the rug with an overstuffed belly. You can't miss a matchup between these NFC South division rivals. Don your finest black-and-gold apparel and savor what are probably the last seasons of the golden Sean Payton-Drew Brees era.
Cost: $100 and up for tickets
November 22
Fair Grounds Race Course
New Orleans does Thanksgiving a little differently -- instead of eating turkey sandwiches for leftovers, we make turkey gumbo, and instead of watching the Macy's Thanksgiving Day Parade, we head to the Fair Grounds and bet on the ponies. The races are a big deal, but attendees offer the spectacle, dressing up in garb that's part Sunday best, part oversized hats, part Carnival kitsch. Grab a Bloody Mary, sidle up to the viewing stands, and prepare to see and be seen.
Cost: General admission is free; clubhouse admission $10, free for children 12 and under
November 28
Mercedes-Benz Superdome
More than 250,000 fans of Grambling State or the Southern Jaguars, two rival HBCUs, descend on New Orleans for an event that started in 1974 as a football game and has morphed into an entire weekend of celebration. There's a battle of the marching bands, a golf tournament, alumni parties, tailgating, and more.
Cost: Tickets cost $16-$50
Sign up here for our daily New Orleans email and be the first to get all the food/drink/fun in the Big Easy.