Congrats on surviving another sweltering New Orleans summer. Your autumn reward: increased festivals and galas, decreased second showers and outfit changes. If you need to bulk up for the winter, you know for those few nippy 35 degree days, this is your moment.
Saturday, September 14
Ashe Cultural Arts Center
Engage with models wearing tattoos and body adornment, cruise the curated photography, learn from history exhibits and a panel discussion, and enjoy live tattooing and henna application. There will be drinks and food. Also celebrate New Orleans' black tattoo artists and honor Jacci Gresham, the US' first-ever black tattoo artist and the owner of Louisiana's oldest tattoo parlor.
Cost: $20
Friday, September 20 - Sunday, September 22
Woldenberg Park
Enjoy fried chicken and dishes featuring the battered bird, along with drinks, music, and dancing. Upgrades including VIP access and Crown Royal cocktails or bottomless Chandon are available, starting at $35
Cost: Free entry
Sunday, September 22 - Saturday, September 28
French Quarter and CBD
Be a spectator at runway shows, learn about historic fashions of New Orleans, try classic food and drink, shop and party at the ninth annual celebration of haute couture.
Cost: Varies
Saturday, October 5 - Sunday, October 6
Lafreniere Park
Buy food and drink from several Latin American nations, including Cuba, Mexico, Honduras, Puerto Rico, and the Dominican Republic. There's also live music, dance, and a kids' area.
Cost: Free entry and on-site parking
Ongoing
Worldwide
Getting treated like a VIP takes any beer festival, barbecue showdown, or sporting event to epic levels, and as a Marriott Bonvoy member, you'll be able to cash in on luxury experiences across the globe with points. Marriott Bonvoy offers benefits and endless experiences at more than 7,000 hotels worldwide, so whether you're into live music, Michelin-star restaurants, or box seats, you're bound to find a perk that fits your lifestyle. Of course, they have you covered on where to stay if you want to make a weekend of it, too. 
Cost: Free to join
Friday, October 11 - Sunday, October 13
Pontchartrain Park Playground
With proceeds benefiting New Orleans first responders, youth extracurriculars, and area playgrounds, there are endless reasons to attend this fun festival. Enjoy several food and drink booths, arts and crafts, live music, and an entire kids' village. Parking onsite is free and there's ample parking in the area.
Cost: Free entry
Saturday, October 12
New Orleans Museum of Art
Take a vacation to Japan, no passport required. The Japanese Society of New Orleans and other Japanese groups from across the US come together to host a day filled with Japanese food, craft vendors, performances, tea ceremonies, and raffles.
Cost: $5
Friday, October 18 - Sunday, October 20
Lafayette Square
The New Orleans Jazz & Heritage Foundation provides two stages of blues, 12 barbecue booths, and 22 arts vendors. A limited number of VIP passes are available for $250 each, which include open bar and catering, actual bathrooms and priority viewing.
Cost: Free entry
Friday, October 25 - Sunday, October 27
City Park
Spend your Halloween weekend getting the chance to check out more than 65 bands over three days, including headliners Guns N' Roses, Beck, Post Malone, Brandi Carlile, and The National while enjoying quintessential New Orleans fare including shrimp po'boys and fried duck quesadillas with Tabasco. 
Cost: Tickets start at $75
Sunday, November 3
Oak Street
Bring a group of friends and make your way through 30 po'boys, from the traditional fried shrimp to the wildly unconventional vegan "shrimp" and "crab cake" with pear slaw. Also enjoy music, arts vendors, and a kids' area.
Cost: $5 entry
Saturday, November 16
New Orleans Jazz Museum
You'd brie silly to miss this festival dedicated to the wonderful world of cheese. With unlimited cheese and food samples, there's no way you can be bleu.
Cost: Starts at $35 for adults, $10 for kids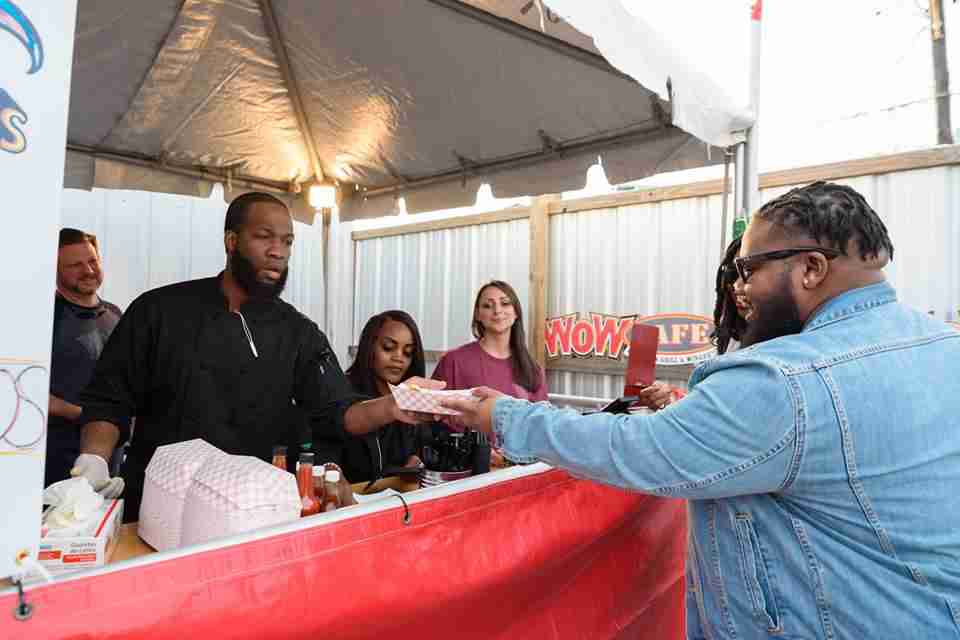 Saturday, November 16
Central City BBQ
All wings cost $1, and there are 20 wing vendors and four bands, including the incomparable DJ Jubilee. VIP tickets start at $75 and include open bar, priority seating, and luxury bathrooms.
Cost: Early-bird tickets start at $10
Thursday, November 21
Superior Seafood and Oyster Bar
Support the American Cancer Society's local Access to Care program by attending this lively event, featuring oyster and spirit pairings from across the United States and Canada. There's also live music and a silent auction.
Cost: Early-bird tickets start at $85
Thursday, December 12 - Sunday, December 15
Lafayette Square
Since 2014, Light Up NOLA Arts (LUNA) Fête has set up large-scale outdoor art exhibitions that combine architecture, light, sound, and video. See some of New Orleans' most iconic buildings and landmarked be illuminated by the work of renowned international artists.
Cost: Free
Sign up here for our daily New Orleans email and be the first to get all the food/drink/fun in the Big Easy.