A long Mardi Gras has given way to festival season and -- no matter the volatile weather -- New Orleans is committed to living it up as the days grow longer and the crawfish get cheaper by the pound. For a city that famously boasts more fests than days of the year, 2019 feels especially jam-packed: Both Jazz Fest weekends are now four days long and even Greek Fest is fully incorporating a soft opening night into its schedule. Grab your favorite folding chair, slip on that beer lanyard, and prepare yourself for a season of fun.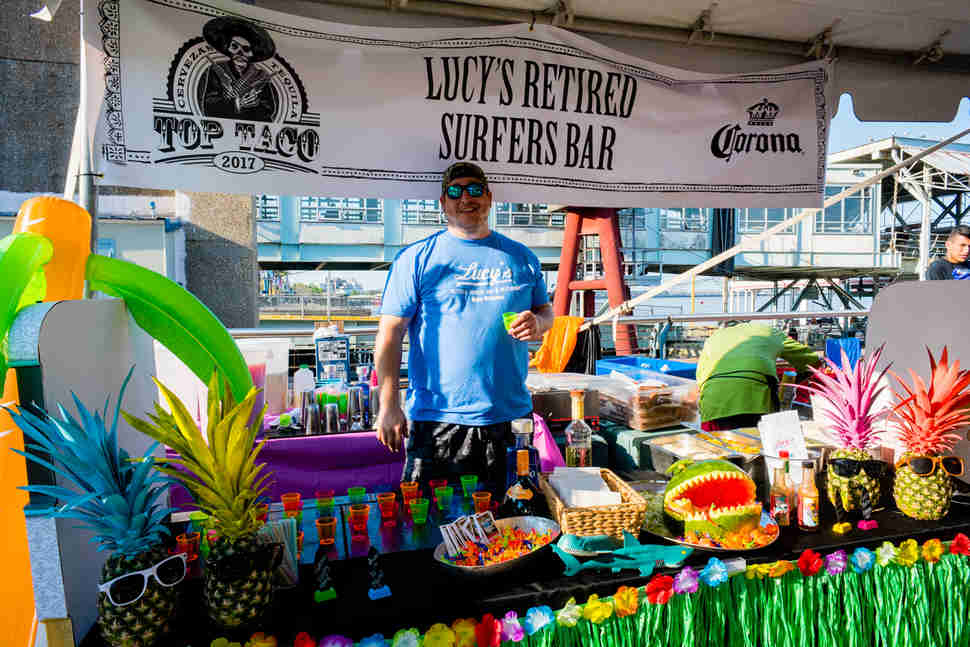 MARCH
March 14
Woldenberg Park
Coinciding with Agave Week and benefitting Foster Nola, Top Taco turns Woldenberg Park into a taco lover's paradise. Dozens of local restaurants will give it their all, from lauded taco joints like Johnny Sanchez and Arana (which last year earned judge's choice and people's choice awards) to more surprising vendors like Fharmacy and Central City BBQ. Wash those down with unlimited cocktails and tequila and you've got yourself a fiesta.
Cost: Tickets start at $40 for a day pass and $75 for the whole weekend
March 16
Irish Channel
One thing that will never leave my mind is an ex's mother discussing the cabbage-shot she took to the stomach during the Irish Channel Parade while pregnant, and how that renegade produce may have informed her youngest son's mentality. On paper, the parade sounds like a roving game of grocery dodgeball. In reality, it's a great way to grab your fixings for corned beef and cabbage and swill green-dyed beer with abandon. Don't worry -- there's no butcher tossing cuts of cow, at least.
Cost: Free
March 17
Central City
The biggest second line event of the year kicks off a mere two days before St. Joseph's day, with Mardi Gras Indians meeting up at A.L. Davis Park in Central City to embark on a loop through historic thoroughfares like MLK and Claiborne in celebration of Second Sunday. Second lines pop up across the city, so make sure to check WWOZ's "Takin' It To The Streets" calendar of parades, which includes weekly practices open to all Mardi Gras Indian tribes.
Cost: Free
March 20-23
Mardi Gras World
BUKU Music + Arts festival returns to Mardi Gras World bigger than ever thanks to a redesign to its riverside Wharf stage. Headliners like Lana Del Rey, Toro Y Moi, A$AP Rocky, and Earl Sweatshirt will grace the nearby Power Plant Stage, which attendees can walk to after taking in art installations, live graffiti, and the occasional pop-up performance. A real treat is the uncanny valley of the interior Float Den stage, itself a repository for the massive Blaine Kern floats made year-round.
Cost: Tickets start at $120 for single-day entry and $220 for the whole weekend.
March 20-May 22
Lafayette Square
The weekly spring concert series returns with a stacked lineup of New Orleans legends, including Irma Thomas, Deacon John, and Cyril Neville's Swampfunk. Wednesdays at the Square is free, as always, with proceeds from food and booze sales going towards community projects spearheaded by the Young Leadership Conference. If swapping cash for concession tickets for a bowl of yakamein and an Abita isn't enough involvement, the YLC is always seeking volunteers to help Wednesdays at the Square go off without a hitch.
Cost: Free
March 23
Lafitte Greenway
The pedestrian and bike path connecting downtown to swaths of the Treme, Bayou St. John, and Mid-City was always worthy of a festival. Only this year did Friends of Lafitte Greenway move to incorporate one into its annual guided tour. Learn about the history of some of New Orleans' most fascinating neighborhoods as well as the ecological benefits of the greenway, which includes flood mitigation and flower and vegetable cultivation. Support for Hike Fest comes from the many businesses popping up right along the route, including Hey Cafe and Wrong Iron, and will feature an array of local artists, live music, and plenty of family-friend activities.
Cost: Free
March 23
Uptown
Fete Francaise is like an elevated version of your favorite childhood carnival. Instead of funnel cake, which -- let's face it -- you probably more than had your fill of this Mardi Gras, Moules Marinieres, crepes, and macarons are on the menu. There's still plenty of opportunities to lose yourself to some mini-golf and dunk tanks. Even if you don't win the stuffed animal you've been eying, you can take comfort in the fact that the festival benefits the K-8th grade French immersion school Ecole Bilingue. Tres chouette!
Cost: Free
March 23
French Quarter
Even if you've slept on seeing St Joseph's altars this year, you can still repent at the Italian-American parade. The route rolls the French Quarter and features a roving altar seemingly overflowing with pastries and produce. Along with standard throws like beads and cups, expect to get a handful of fava beans and colorful silk chrysanthemums. The Italian-American St. Joseph's society perhaps bests sums up the way to celebrate its signature event: Start off with pizza, wine, and music, then parade from there.
Cost: Free
March 27-31
French Quarter
Every year, the Tennessee Williams Festival takes over Jackson Square with two stages meant for only the most pained of bellows. It's here -- stumbling distance from where the famous playwright penned more than half of "A Streetcar Named Desire" while living at his St. Peter St. apartment -- that the "Stella!" and "Stanley!" shouting contest takes place. The contest is just one aspect of a larger, five-day event that includes stagings of some of Williams' most underappreciated gems, along with literary panels, workshops, and walking tours.
Cost: Prices vary based on events, though $200 gets you passes to the whole shebang. The "Stella!" and "Stanley" shouting contest is free to enter.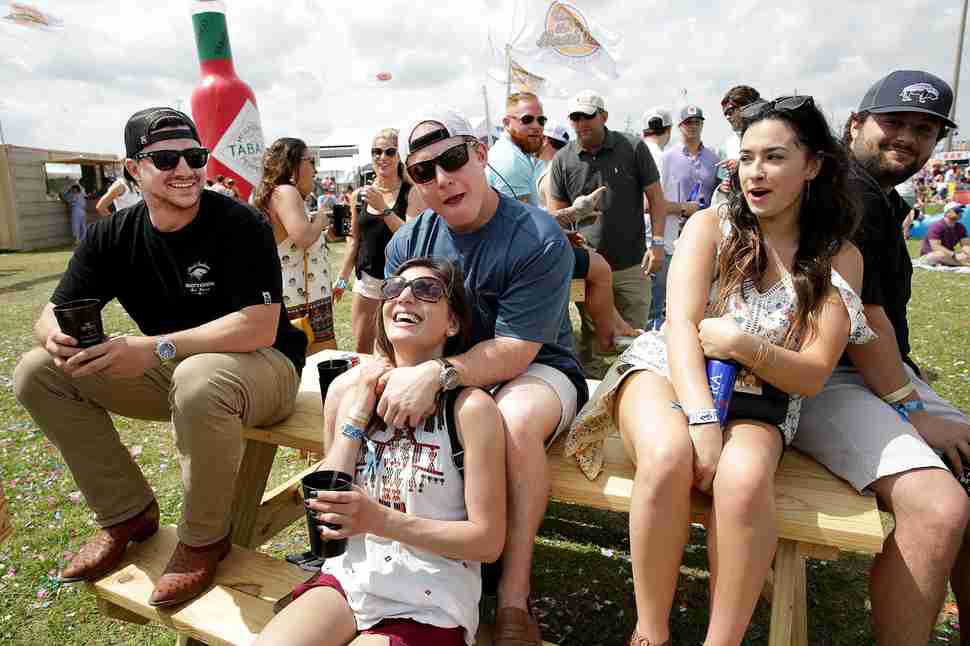 March 29-30
UNO Lakefront Arena
The fact that there will be multiple iterations of bacon s'mores should be enough of a selling point to get you out to the UNO Lakefront Arena. Hogs for the Cause has launched the career of many a talented pitmaster, and half the fun is seeing what the city's best chefs can cook up for the two-day event, which benefits charities committed to helping families affected by pediatric cancer. There's no advanced menu for the perusing but what has been revealed is the musical lineup -- a smorgasbord of acts including Boyfriend and Dumpstaphunk -- and the more than seven dozen offerings at Bacon Night.
Cost: Tickets start at $30 for single-day entry and $55 for two-day entry
March 30
Treme
Old meets new at the Congo Square Rhythms Festival, where African and Honduran music and African dancing is on display along with performances from Louisiana middle and high school brass bands. Get into the groove with Bamboula 2000 and Garifuna Generation and get a taste of classic soul food and Caribbean spices from emerging chefs supported by the the New Orleans Jazz and Heritage foundation's Catapult Fund. The festival is also a great place to catch Mardi Gras Indians, with a battle between groups preceding Chief Monk Boudreaux's Saturday set.
Cost: Free
APRIL
April 6
Freret
Any festival with a pet adoption component is guaranteed to be a hit, but Freret Street Festival exceeds all expectations by partnering up with multiple rescue groups, so you can find your new best friend whether they're a cat or a dog. More than 200 vendors will line nearly half a mile of Freret Street -- and that's not including the businesses already along the busy Uptown corridor. This year also marks the first time the Rotary Club of New Orleans Riverbend will be putting on the festival, having bought the event and its related monthly Freret Market.
Cost: Free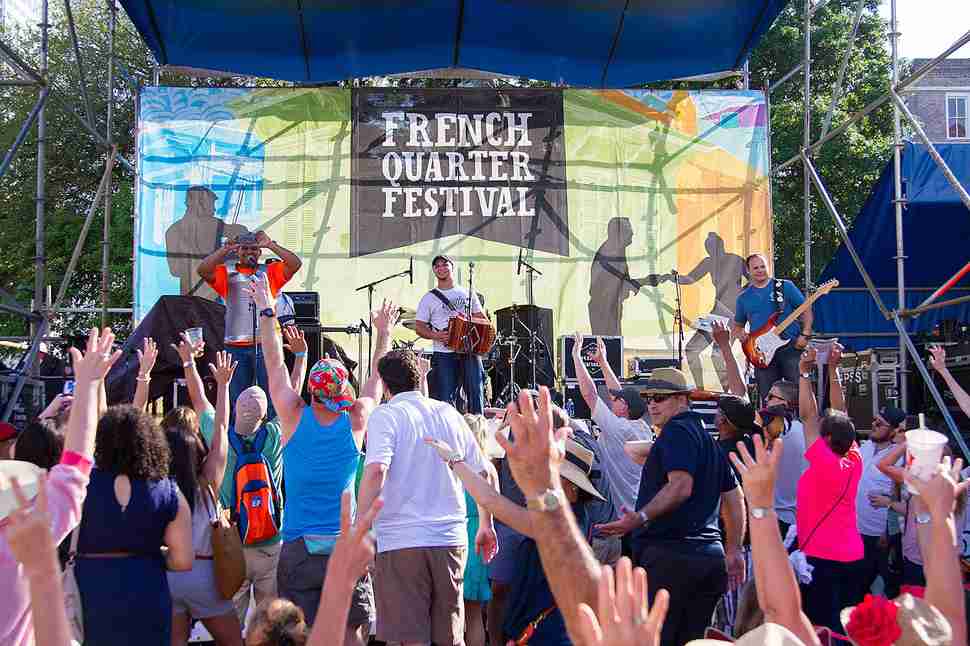 April 11-14
French Quarter
It's 2019 and somehow this is the first year that beloved funk outfit (and new Tipitina's owners) Galactic are only just making their French Quarter Fest debut. Fresh-faced is certainly the unofficial theme, with the Royal Teeth and Magnolia Sisters also giving inaugural performances and the festival rolling out a brand new stage at the newly renovated Moon Walk. Even the food vendors are getting some new blood, with tents from Morrow's, Landry's, and We Dat.
Cost: Free, but VIP starts at $99 for single-day passes and gets you viewing stands and exclusive lounges.
April 16
City Park
The Louisiana Philharmonic Orchestra brings out the crowd-pleasers, swapping Brahms for Berlin as part of its annual free concert. This year's Swing in the Oaks also coincides with Earth Day, and City Park's got plenty of events celebrating mother nature. Cooking demonstrations, lectures, and even more live music at the Botanical Garden precede the LPO's after-party performance.
Cost: Free
April 21
French Quarter
2019 marks 20 year of the Gay Easter Parade rolling through the French Quarter. Initially launched as a way for the LGBT community to flaunt its Sunday best, the Gay Easter Parade plays an important fundraising role for NO/AIDS Task Force's Food For Friends. Last year, the parade raised more than $22,000 for the initiative, which provides those with HIV and AIDS with groceries and nutritious meals at no cost to patients.
Cost: Free
April 25-May 5
Fair Grounds
In celebration of its 50th anniversary, Jazz Fest is now eight days total. That's long enough to warrant a Benny Grunch song about it and about in line with the "marathon, not a sprint" mentality of Mardi Gras. This year's lineup was partially spoiled by Mick Jagger but still includes plenty of surprises, like fellow headliner Katy Perry who said she was already planning on attending as a fan when she got the call from Quint Davis.
Cost: Tickets start at $75 for single-day passes
April 29-May 1
Central City BBQ
New Orleans has been blessed by myriad crawfish festivals but none are quite as accessible for the amateur boiler looking to make it pro than Central City BBQ's three-day event. For $40, NOLA Crawfish Festival will let you and a friend have your way with 40 lbs of crawfish as part of its competitive cookoff held the final day of the festival. Those on the other side of the table who are more passionate about eating a sack than preparing one can enter the crawfish-eating contest, which promises bragging rights and a $100 gift card to whoever peels and eats the most crawfish in 10 minutes.
Cost: Tickets start at $35 for single-day general admission
MAY
May 3
Audubon Zoo
If the Lexus and Rolex raffles didn't give away how wildly snazzy Zoo-To-Do is, the food lineup certainly will. Where else can you sample fare from Josephine Estelle, Restaurant R'evolution, and Court of Two Sisters in one place? This year's gala benefits one of the most standout residents of Audubon Zoo -- its giraffes -- so if you're looking for fashion inspiration, look no further than the guest of honor.
Cost: Tickets start at $175 before April 1, then rise to $225
May 11
Lakeview
The fact that New Orleans has multiple crawfish festivals is something to celebrate on its own, though Crawfish Mambo bills itself as the city's premiere one. What truly sets it apart is the sheer expanse of the event, which is put on by the University of New Orleans alumni association and takes up a dizzying amount of real estate along the lakefront. And once you're in the proverbial door, Crawfish Mambo serves up all-you-can-eat mudbugs.
Cost: Tickets start at $25 for general admission and $75 for VIP
May 17-19
Bayou St. John
There's nothing more that makes me want to buy a shitty blow-up kayak not even Jesus himself could stay upright on than Bayou Boogaloo, which for the past few years has held a paddle battle along Bayou St. John. Less rickety kayaks are available for rent onsite, and don't even require you to enter the six-mile race. On land, the fest offers food, booze, and art stalls, plus four music stages, including a kid's stage. Because let's be real: You'd be just as excited to see the Mudlark Puppeteers as Bag of Donuts.
Cost: Free
May 24-26
Bayou St. John
Riding high off the success of its first soft opening evening, Greek Fest returns on a Thursday night for a dinner soiree at the sweet price of just $5. The rest of the fest is well worth the $3 extra for entry, especially when you look at the new food and drink additions coming to the fest. An expanded offering of vegetarian and vegan dishes await, as does a different Greek spirit taking center stage: mastiha. It's an offshoot of ouzo and significantly earthier, aka the perfect digestif to cap off a day of swilling ouzo daiquiris and biting into baklava.
Cost: Tickets start at $5 for the Thursday evening soft opening and are $8 for daily admission Friday-Sunday.
Sign up here for our daily New Orleans email and be the first to get all the food/drink/fun in the Big Easy.