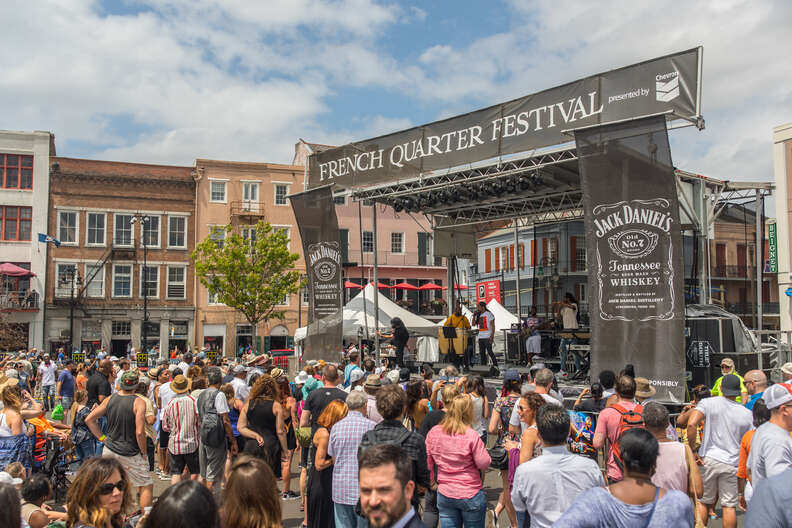 Everything You Need to Do in New Orleans This Spring
Don't be sad that Mardi Gras is over. Be happy because the end of the Carnival season heralds the start of the spring festival season -- and contrary to popular belief, this might actually be the most glorious time of the year in New Orleans. Yes, I say that almost every season except for summer (a time that proves the devil walks among us). But with spring bringing everything from EDM to strawberry festivals, it's hard not to believe it's true. Here are just a few spring events to highlight in your calendar.
Wednesday at the Square

| Courtesy of Paul Broussard and New Orleans & Company
March 11 - May 13
Lafayette Square Park
Being stuck in an office is never fun, but it's especially terrible during New Orleans' brief-but-magical spring. That's why Wednesday at the Square is such a godsend to working stiffs (and others). Each free concert kicks off at 5pm at Lafayette Square Park, so you can get a solid dose of halcyon weather, cool grass, cold strawberry beer, and good music before the sun sets. This year's headliners include Flow Tribe, Anders Osborne, Partners-N-Crime, and Lost Bayou Ramblers.
Cost:
Free
March 15
Citywide
On the Sunday closest to St. Joseph's Day, members of approximately 50 Mardi Gras Indian tribes take to the streets in intricate handmade, feathered, and beaded suits. Some routes are unannounced, but the largest procession begins at noon at
A.L. Davis Park
.
Cost:
Free
March 18
Irish Channel
You'd think a neighborhood that has Irish in its name would host a pretty kick-ass St. Paddy's Day parade -- and you wouldn't be wrong. This one kicks off at 1pm and rolls down Magazine Street with all the aplomb you'd expect of a New Orleans parade. Plus, in addition to plastic beads, riders throw carrots, cabbages, potatoes, and other fixings for a tasty soup.
Cost:
Free
March 21
General Pershing and Magazine
French people haven't run the show in New Orleans since the Louisiana Purchase, but they did give us pralines and beignets, so theirs is a culture worth celebrating. The Fete Francaise accomplishes that with two stages of live music -- plus food, wine, and art.
Cost:
Free
March 20-21
Mardi Gras World
You can hear the
boom-tss
of so much electronic music even two or three miles downriver when Buku takes over Mardi Gras World, a sprawling collection of float-filled warehouses and riverfront stages. Don't forget the glowsticks. Tyler the Creator, Flume, and Megan Thee Stallion headline.
Cost:
Day passes start at $120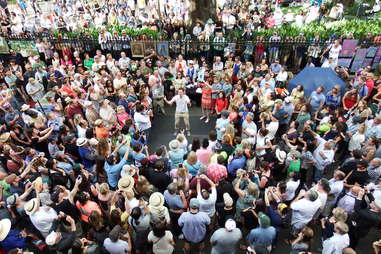 Stella Shouting Contest

| Courtesy of Ride Hamilton
March 25-20
French Quarter
"STELLAAAAA!!!!" Yes, a Stanley-Stella yelling competition is part of this literary festival. There are also readings, master classes, panel discussions, a book fair, and more hokey Blanche DuBois impressions than you can shake a Chinese paper lampshade at. Don't miss its sister festival, the
Saints + Sinners LGBTQ Literary Festival
, which takes place March 27-29.
Cost:
One-day conference passes start at $20
Fridays through Easter Sunday
Citywide
It's not necessary to observe the Catholic imperative to avoid meat during Lent in order to really enjoy a fish fry. Ten bucks gets you a plate of fried fish and sides including peas, mac and cheese, potato salad, and green beans, plus dessert (usually sheet cake) and a drink. Plus, proceeds benefit the local community, and pretty much every Catholic church in New Orleans gets in on the deal.
Cost:
$10, cash only
April 3-5
Ponchatoula
Louisiana strawberries are sweet, meaty, and plump. So, naturally, there's a festival devoted to the fruit -- complete with a pageant, parade, car show, and two stages of live music and cook-offs. The strawberry daiquiris alone make it worth the hour-long drive.
Cost:
Free
April 11
Downtown
It's a 10K. It's a concert. It's an expo. And, like everything else in New Orleans, the Crescent City Classic is also a costume event. Whether you're a serious runner who started training back in January or a child in a bunny costume, you're bound to have a good time on this flat, scenic course, which snakes from the Superdome and through the French Quarter before ending in oak-shaded City Park.
Cost:
$50; free for children ages 5 and under
April 12
French Quarter
Take everything you thought you knew about Easter (bonnets, pastels, lace) and make it even more extra. And gayer. Then you might have an
idea of what to expect on Easter Sunday
when three major parades roll through the French Quarter. Kitschy-yet-kid-friendly, the parades are a time to don your finest seersucker, grab a mimosa in a go-cup, and see and be seen.
Cost:
Free
French Quarter Festivals Inc

| Courtesy of Zack Smith Photography
April 16-19
French Quarter
You could (and probably should!) fork over $65 to go to Jazz Fest...but you could also catch many of its headliners a week earlier at this free, four-day festival. More than 1,700 local musicians take to 60 stages scattered throughout the French Quarter. Sounds range from gospel to funk to zydeco, but all are Louisiana-centric (and so is the food).
Cost:
Free
April 23 - May 3
Fair Grounds Race Course and Slots
This is the time of the year when everyone from that Key West retiree in a Hawaiian print shirt to Wire creator David Simon rolls up at the Fair Grounds...so why wouldn't you? The New Orleans Jazz and Heritage Festival is one of the country's biggest, longest-running music festivals. And yes, there's jazz, along with this year's headliners (The Who, The Beach Boys, Lionel Richie, and Big Freedia, to name a few). Dance hard to burn off the Louisiana-centric treats including crawfish bread, snowballs, and plenty of po-boys.
Cost:
General admission tickets start at $75
May 15-17
Bayou St. John
This waterway used to be a dirty tract populated by alligators and submerged vehicles. It's a lot cleaner now, though -- and while swimming is discouraged, floating on a raft, paddleboarding or simply lounging by the water are optimal ways to take in the scene at the Bayou Boogaloo festival, where musicians perform on multiple stages.
Cost:
$10 at the door or $20 for a three-day pass
May 22-24
Hellenic Cultural Center
There's a 5K race, crafts, live music and a climbing wall -- but the real star of this long-running festival is the Greek food. Pomegranate iced tea, gyros, feta fries, baklava sundaes, dolma, goat burgers -- if you don't bring your appetite, you're doing it wrong. And if you don't bring your appetite or your togo, you're even more wrong.
Cost:
$5 to $8 depending on the day
June 12-14
Downtown
Pride might not be New Orleans' oldest LGBTQ celebration (that honor goes to Southern Decadence, which takes place during the Labor Day weekend), but it is the largest LGBTQ parade in the South. In addition to the parade, expect block parties, all-night dance-a-thons, and rainbows, rainbows everywhere.
Cost:
Free
June 4-7
Sheraton New Orleans Hotel
It may not come as a surprise that a city with a vibrant strip club scene is also host to a thriving pole dance community. Advanced and aspiring aerialists can expect workshops, seminars, presentations, and an exhibition hall devoted to all thin or $95 for ages 5 to 17.
Sign up here for our daily New Orleans email and be the first to get all the food/drink/fun in the Big Easy.