The Ultimate Guide to 2022 LGBTQIA+ Pride Events in New Orleans
There's a reason we have one of the fastest growing Pride celebrations in the nation.
Get your rainbow attire, glitter, jock straps, harnesses, or whatever makes you feel fab—and get ready for an unforgettable time. Pride Month is all of June and there are activities throughout the next 30 days. But, this year, New Orleans Pride weekend is from Thursday, June 9 through Sunday, June 12.
There is so much to do and so much to see over the next few weeks. So, get ready to feast your eyes on all kinds of imaginative outfits and fill your soul with LGBTQIA+ community building. Most of the activities will take place in and around the French Quarter. Follow #PrideNewOrleans to keep up to date with all the happenings and see what all the other revelers are up to.
Catch some beads at the big parade
The New Orleans Pride Parade takes place on June 11th in the Marigny and the French Quarter. The parade begins near Phoenix Bar at 6 pm, but be sure to arrive at least half an hour earlier if you want a good spot to catch the best beads and throws.
The parade travels down Elysian Fields Avenue and by Washington Square Park, then traverses the popular part of Frenchmen Street, as it crosses Esplanade Avenue and goes down Decatur Street all the way to the edge of the French Quarter, up St. Louis Street and continues down Bourbon Street, finishing up at the intersection of Bourbon and St. Ann Street.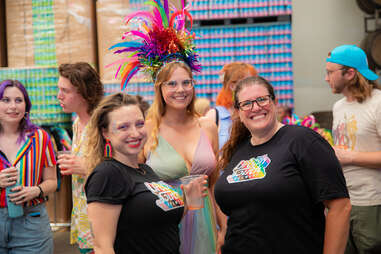 Go gay bar-hopping around town
On June 4th, Urban South Brewery is hosting their annual pride party from 2 to 8 pm. There will be drag shows by Fabigail Tchoupitoulas, Laveau Contraire, and Tarah Cards, pop-up shops like Fringe & Co, and food by Urban Smash and Hatch & Harvest. DJ Liz Owens will be spinning tunes.
During Pride Weekend, Good Friends Bar is hosting multiple events including an animal print party on June 10 and a 24-hour-plus Hoe-Down—cowperson gear is appreciated—starting Sunday, June 12 at 7 pm that goes until 8 pm Monday, June 13.
Rawhide 2010 is offering leather bar-lovers the space to rack 'em up for some Jock Strap Pool (where you play pool wearing your jock-strap) starting at 11:30 pm on June 11. That same day, The Corner Pocket is offering cash prizes for a wet jockey shorts contest. And the whole of the LGBTQIA+ community is invited to Betty's Bar & Bistro's inclusive dance party called Thots & Prayers with DJ HAAYKP.
On Sunday, June 12, the party starts at Crossing from 2 - 5 pm when anyone in beach attire can get a free Tropic Thunder Shot. From 5 pm onwards, the 800 block of Bourbon Street is the place to be. There'll be a Pride T-Dance at Bourbon Pub at 5 pm, followed by a Pride Show at 8 pm. At 9 pm, the party moves over Oz New Orleans.
Party morning to evening at the oldest gay bar in North America
Cafe Lafitte in Exile—the oldest gay bar in North America—is closing out the Pride weekend with two different events on June 12 including a Hangover Brunch at 11 am, followed by #TrashDisco at 4 pm in King's Courtyard and on their Bourbon Street-facing balcony. Gay napkin tosses take place at 8:30 pm and 9 pm.
Bring the kids to celebrate with the whole family
Pride isn't just about the epic party—though, who doesn't love to drink, dance, and dress up in New Orleans? On June 5, French Market is hosting its Inaugural Pride and Diversity Celebration in Crescent Park in the Bywater neighborhood at Mandeville Wharf from 2 pm to 7 pm. The free event includes live music, community organization performances, kids' activities, a curated arts and crafts market, and community organization info, along with food and beverage booths. On June 11, Happy Raptor Distilling is hosting an all-ages gathering for the family from 12 pm to 8 pm with food by Alphabet Mafia BBQ and music. The next day, June 12, Longue Vue House and Gardens is also hosting a family-friendly event that includes fan decorating, Drag Queen Story Time, a children's march, and a community resources fair for everyone from 10 am to 1 pm.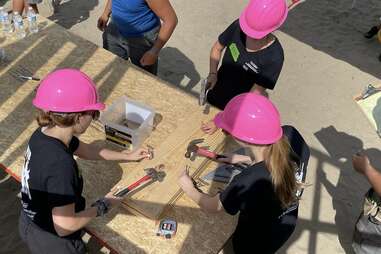 Build community (literally)
Decades of systemic discrimination have barred LGBTQIA+ families and individuals from homeownership. New Orleans Area Habitat for Humanity's first-ever Pride Build aims to draw attention to that inequity and offer a solution. On June 4 and June 18, the organization is bringing together local members of the LGBTQIA+ community and allies to help build a home for a local family while celebrating New Orleans Habitat's LGBTQIA+ homeowners.
Thuc Doan Nguyen is a New Orleans based writer and dog lover. You can find out more about her at
Considerate Content
.