I'm on a New Orleans Dance Team. Here's What It's Like During the Mardi Gras Parade Season.
As I sink into Daria Dzurik's couch, I suddenly realize how much my back hurts. I showered off a mixture of sweat and glitter after an outdoor dress rehearsal that ended an hour earlier, but I can still see sparkles out of the corner of my eyes, and I'm pretty sure I smell faintly of crawfish from a boil held the night before in a dreamy courtyard in the Lower French Quarter.
Dzurik is recovering from the flu, which, I must add, she did not have time for.
If you don't like glitter, have a contagious illness, or are averse to sodium or spice, then you should probably stay at least 100ft away from people like us (and maybe 1,000 miles away from New Orleans) for the next week and a half.
I'm relieved to slide off my shoes, because one of them has been digging into an enormous blister that has recently exploded on my right heel and is definitely increasing, both in size and pain. The reason we have dress rehearsals is to figure out which items and accessories "don't work," and I recently learned a powerful life lesson: I clearly need to get some better socks.
Dzurik, a leader of The Nola Cherry Bombs, and I, a founding member of The Star-Steppin' Cosmonaughties, joke that we'll need to replace our respective signature footwear -- hers, black combat boots; mine, silver high tops -- in favor of orthopedic shoes as soon as "parade season" in New Orleans is over. We also lightheartedly gripe about knee injuries induced by high-impact moves along the parade route, and the difficulties of "sassy head flips" even after countless hours of rehearsals throughout the year.
"I'm scared I'm going to get whiplash or pull a muscle and ruin my life," I confess, "so I usually just kind of pretend I'm doing a head flip." She nods. "I know what you mean."
This is the now-charted territory that comes with being one of the hundreds of Gen X and Gen Y dancers who perform along the 6 mile parade route during Carnival season, which officially begins on January 6 (Epiphany, aka the day the Three Kings visited baby Jesus) and peaks on Mardi Gras, the Tuesday before Ash Wednesday.
While high school-age dance teams far outnumber us, the amount of adult dance teams has risen exponentially over the past decade, and many were formed during the post-Hurricane Katrina renaissance of New Orleans. Part of this is due to the influx of transplants who wanted to form new friendships, while embracing the long, storied tradition of dancing and second-line parading. We're here to show the world that creative expression combined with the notion of not taking yourself too seriously can, in fact, be serious. Like the spirit of New Orleans itself, being on a dance team promotes positivity, inclusivity, and a sense of community. It's also quite cathartic.
We perform not just because we like to shed our everyday attire in favor of costumes and revelry, but because we also like to entertain and share our hard work with thousands of spectators of all ages and backgrounds. We want to give back to the community that has either raised us or welcomed us. For many of us, practicing is a year-round laborious but fun hobby that culminates this time of year.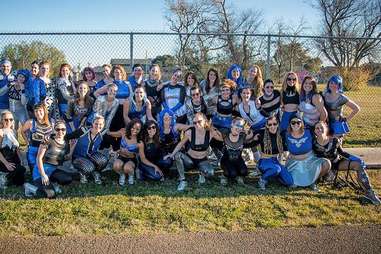 I can say with confidence that the messages of positivity and strength are reflected in all of the dance teams that parade during Carnival. While each group has its own style, rules, and philosophies, ultimately they seek to elevate the experience of parades, for ourselves and, more so, the crowds.
My own team started off as a small flash mob organized by my friend Molly Reid about seven years ago, when we were approaching our mid-20s. Now, we are the 41-member, official dance team of Krewe de Lune, a social and philanthropic group made up of more than 100 creative young professionals with a Bohemian bent, and a fondness for outer space and the limitless possibilities it represents.
Dzurik's squad exudes an "edgy rock 'n' roll sort of vibe," she says. The Cherry Bombs are recognizable by their signature red tutus, white tank tops, and energetic, spunky moves, performed exclusively to a soundtrack of all-female singers and performers (they made an exception for the time they appeared in a Red Hot Chili Peppers music video). They favor music by The Donnas, Missy Elliott, Joan Jett, and Sleigh Bells. Despite their seemingly effortless, cool-girl edge, Dzurik says that the Cherry Bombs' CEO, Aniko Greger Reddy, makes a huge effort when it comes to their playlist, analyzing the lyrics, melodies, and beats before confirming that each track is ultimately positive and empowering -- never sad or angry.
"Someone wanted to put Adele's 'Rolling in the Deep' on the playlist once, but it was vetoed," she says. "We love Adele, and [our songs] are very fierce but we don't want anything lyrically that will bring people down."
Dzurik is a thoughtful, instantly likable full-time musician who fronts Daria & the Hip Drops and teaches piano. In addition to her burgeoning music career, she estimates that during peak Carnival season, she spends an extra 20 or so hours a week dealing with Cherry business, whether it's inventing new routines, supervising tryouts, practicing, testing sound equipment, fielding media requests, facilitating community outreach, and all the other general tasks that come with being a grassroots performance organization.
It's par for the course for those of us who blossomed from starry-eyed spectators, simultaneously inspired by The Pussyfooters -- one of the original adult dance teams that emerged in early aughts -- and the youthful nostalgia of watching majorettes, drill teams, and cheerleaders. My group, The Organ Grinders, The Sirens, The Camel Toe Lady Steppers, Gris-Gris Strut, the 610 Stompers (a popular all-men's dance team), The Cherry Bombs, and the bounty of other self-started teams, have all experienced growing pains.
The Cosmonaughties' co-captains, Stephanie Stromath and Molly Brackin, put so much energy and time into keeping us functional -- and literally on our toes -- that it's akin to having a second job. "It's thankless sometimes," admits Brackin, a saucy former cheerleader from Pennsylvania. "There are always opinions on everything, so many questions. There's a lot of stuff we have to coordinate. I have things in my own life: I want a new job, I'm planning a wedding, and I have work deadlines, and I ate too many cookies, and I want to go to bed, and so many stupid things like that."
But Brackin realizes that it's a responsibility she chose. "Because I put myself in that position, I also have to be there to set an example. If I don't show up then other people will think that's OK, and it's not. I'm very adamant about us looking the best we can. We're not trying to achieve perfection, but it's important to go to practice so we know each other so we can all build each other up. You might not have the step down, but if you do it with confidence you're gonna look great. The only way to foster that type of environment is to foster that type of environment every week."
Practice doesn't always make for a perfect parade, though. Marches usually last five hours, and occasionally floats break down so we're not always advancing along the route, adding more time. One year we lined up at 5pm for a parade that started at 6:30, and it didn't finish until 1:30am. We've also suffered a slew of minor battle wounds. My teammate Brooke Perry has scars in the shapes of sequins, while Lianna Patch once slipped on a bead and danced the remaining 5 miles of the route "covered in blood." And everyone agrees -- it's no easy feat to hop into a port-o-let and undo the crotch snaps of your leotard in the middle of a parade. (This is partially why many troupes "sustain" themselves with Jell-O shots instead of liquids.) Other common grievances include too-tight wigs, and showing up to work the day after an event having to explain to your boss why you're still partially covered in sparkles and face paint. Thankfully, they usually understand.
Looking good, staying in step, and getting cheers is one thing. But the real payoff to being part of a troupe comes away from the parades, when we work with local charities and nonprofits. Even when we host fundraisers as individual squads, the invitation for other dance teams to perform is always there. In January, when we held our annual "Lunar Lagniappe" benefit to raise funds for the ACLU of Louisiana, we asked several other teams to show off their moves, which helped bring in more people and build hype for the organizations. And while they might seem like dance-offs, it's really just friendly competition.
The Organ Grinders, a troupe of more than 100 dancers led by environmental quality specialist Christina McClasky Duggar, is another great example of a group that gives back. Of course, Duggar's career might not have much to do with her dance moves, but her persistence and brassiness as a fearless leader who isn't afraid to speak her mind, whether it's telling off politicians or keeping her team in line, pays off.
"It's not personal. I don't have to be in the front row -- though I used to be," she admits. "I don't have to be in the pictures. I don't have to be interviewed. I want the people in the organization to get credit." They deserve that credit, she believes, not just because of the performances during parade season but because they have evolved to be "cultural bearers" of the city. "We formed as a dance group but it's grown with the philanthropy, and we want to give back to the community."
During the months leading up to Mardi Gras Day, we rehearse for countless hours and devote whatever time we can to charities and community organizations. By the end of Carnival season, some of us will have marched close to 100 miles and danced for thousands of onlookers. We try to solve New Orleans' problems, little by little, while using our moves to uplift locals and visitors alike -- even if it means we end up totally exhausted, blistered, and covered in glitter for days.
Sign up here for our daily New Orleans email and be the first to get all the food/drink/fun in the Big Easy.