How to Celebrate Mardi Gras Like a Local in New Orleans
There are almost as many misconceptions about Mardi Gras as there are airborne strands of beads at any given moment during a parade. A few things to know right off the bat: You don't need a ticket (just show up); Carnival takes place over weeks, not a single day; and yes, it is family-friendly (as long as you stay away from Bourbon Street).
What else should you know? A lot of stuff. For Mardi Gras 101, here's our guide to the most epic free party on earth.
MORE:What Every Out-Of-Towner Should Understand About New Orleans
When is Mardi Gras in New Orleans?
Mardi Gras takes place on Tuesday, February 25 this year. The date changes each year, but here's a rule of thumb: Easter always takes place on the first Sunday following the first full moon after the vernal equinox, and Mardi Gras happens 41 days before Easter. It can be as early as February 3 or as late as March 9, depending on when Easter falls. Simple, right? Ha, just kidding.
The lunar calendar and its interactions with the ecclesiastical calendar are complex, to say the least, so all you really need to remember is that Mardi Gras takes place on Fat Tuesday, the day before Ash Wednesday kicks off 40 days of pious abnegation among New Orleans' historically Catholic population. Overindulgence is the whole point, which is why the celebration is called Carnival (derived from the Latin words for farewell to the flesh -- and many locals do abstain from meat throughout Lent).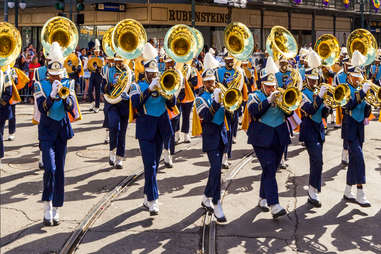 What does the Mardi Gras parade schedule look like?
Mardi Gras parades start rolling as early as January 6, when Carnival season kicks off. During the two weeks prior to Fat Tuesday, things really kick into high gear. More than 70 parades roll in the greater New Orleans area (not counting the impromptu second lines, walking krewes, and street parties that inevitably pop up). This year, Krewe of Minerva rolls in New Orleans East for the first time in 28 years. That's just one of many highlights, so check the comprehensive parade schedule, and know that basically, parades roll from dawn till dusk during the final days leading up to Mardi Gras.
Routes vary, but most major parades in New Orleans proper follow the time-honored St. Charles Avenue-to-Canal Street route. (Definitely avoid these streets; they'll be blocked off by police barricades and thousands and thousands of revelers.) And because delays happen, it's always a good idea to download a parade tracker app and check the Regional Transport Authority's map of detours.
Wait, what's a krewe?
Simply put, krewes are secret societies of like-minded people who throw Mardi Gras events. Without them, there would be no Mardi Gras. Because corporate sponsorship for parades is forbidden by city law, krewe members pay for parades and balls out of their own pockets. Dues can range from zero to thousands of dollars, so whether you're an Uptown blue blood or a broke Pokemon trainer, there's a krewe for you. When it comes to joining, it's kind of like the Masons -- to be one, ask one. Does this sound a little Eyes Wide Shut? That's because it is. And yes, there's definitely at least one orgy krewe. This is Mardi Gras, after all.
What's the New Orleans weather forecast?
A word to our out-of-town guests: February is a mixed bag. The weather can be balmy, sunny, and conducive to a costume consisting of nothing but body paint. Or it can be cold, wet, and dreary. One thing that you'll almost never see in New Orleans, however, is snow. February's average high is 64 degrees. Right now, Mardi Gras Day is predicted to be 72 degrees and rainy, but that's obviously subject to change.
What kind of Mardi Gras outfit should I wear?
Dress for an event that's half masquerade ball, half endurance race. You'll be walking, standing, catching beads, drinking, and dancing outside for hours on end, so comfortable footwear, sunscreen, and water are a must. Note that drinking on the streets is legal in New Orleans, meaning you might want to bring a flask, too. A small backpack can come in handy, and if you plan in advance, you can incorporate it into your costume.
A costume, by the way, is a must. Almost everyone dresses up in costumes on Mardi Gras day, and you'll stand out like a sore thumb in jeans and polar fleece. Even if it's just a mask and a T-shirt shop boa, make some effort to dress up -- that's half the fun. In the event of cold weather, a wig, layered tights, and colorful coat are your best strategies when it comes to looking festive but feeling cozy.
And it should be said that although the NOPD generally turns a blind eye to flashing, they aren't so forgiving when it comes to public urination -- that's an express ride to Central Lockup. Also, it's just gross. Don't do it.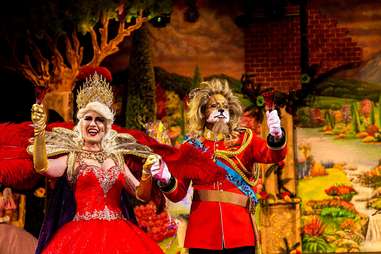 Going to a ball? Take the dress code seriously
If you were lucky enough to score an invite to one of the old-line krewe balls, then do yourself a favor and heed the dress code...or risk being turned away at the door. That may mean investing in opera-length kid-leather gloves or a white tie and tails. Of course, every krewe has its own dress code, and appropriate attire can range from a satin ball gown to a costume to nothing but body paint. Although Carnival is about letting loose, balls are one area where we encourage party-goers to follow the rules.
Where are the best parties?
You literally can't leave your house without tripping over a party during Mardi Gras. But here are a few highlights. Krewe of Armeinius, the one of the oldest active gay krewes, is known for the lavish, large-scale costumes at its ball (they're more like mini floats than apparel). The Music Box Village's annual ball always draws a crowd, and this year, Big Freedia brings bounce to its rustic, in-the-round stage. And Choke Hole, a drag wrestling event where the production values are as high as the stiletto heels, is always a must-see -- the next party falls squarely in the Carnival season.
When (and when not) to eat king cake
In a city of culinary delights, king cake is….well, king. Baked from cinnamon-laced dough with a small plastic baby inside, the ring-shaped cake is both a delicacy and a tradition. Whoever gets the slice with the baby inside is responsible for buying the next king cake, which means New Orleanians eat a lot of sugar during Carnival time. But all good things must come to an end, and it's gauche to eat king cake out of season (no matter how much you crave it). Most bakeries don't even stock king cake before January 6 or after Fat Tuesday, and locals will give you the side-eye if you eat it before or after these dates.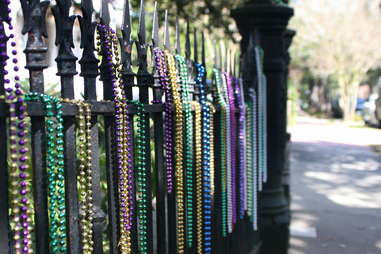 What are the Mardi Gras colors?
Just look at the colored sugar topping any king cake and you'll see the hallowed Mardi Gras colors: purple, green, and gold. Purple symbolizes justice, gold symbolizes power, and green symbolizes faith, as designated by the 1892 Rex parade. Legend also says the Louisiana State University Tigers got their school colors (purple and gold) because ribbons in those color were readily available during Carnival season.
What's up with all the Mardi Gras beads?
Carnival is a time to upend the existing power structure. Krewe members riding in parades throw beads and doubloons, meant to symbolize wealth, to the frenzied masses -- symbolically throwing away their wealth. And also, like so many other Carnival traditions, beads gained popularity with Rex riders started throwing them in the late 1800s.
Back then, beads were made of glass and those lucky enough to catch a strand considered them treasured mementos. Today, float riders toss literal tons of plastic beads from floats -- if you're a Mardi Gras noob, prepare to be shocked by the amount of trash each parade generates. The city's sanitation department picked up 2.6 million (!) pounds of waste in 2018, records show. That's not to say that sustainable Mardi Gras initiatives aren't underway. Krewes including Pontchartrain, Choctaw, Freret, Femme Fatale, Carrollton, King Arthur, Okeanos, Mid-City and Thoth offer "on the route" bead recycling. And ArcNOLA has bead donation sites stationed citywide, year-round. So now you can wave your hands in the air and yell, "Throw me something, mister!" without being part of the plastic problem.
What should you do off the parade routes?
Much of your Mardi Gras experience will consist of costuming, viewing parades, and taking care of bodily needs: finding sanitary places to pee, getting food, procuring alcohol, etc. The closer you get to the parade routes or the Downtown celebration hot spots, the more crowded and crazy things will be. Venture into residential surrounding areas to avoid lines and long waits. Lower Decatur Street, Marigny, and Bywater have a host of restaurants, bars, and coffee shops; plus, you might encounter the Society of St. Anne walking parade if you get up early enough. In the French Quarter, get some distance from Bourbon Street's crowds and hit up a bar like The Abbey or Erin Rose that's off the beaten path (though crowded is a relative term on Mardi Gras day). Be sure to use the restroom while you're there -- clean places to pee are rare on Mardi Gras. You might even want to tuck a few squares of toilet paper into your pocket before leaving the house.
Street parties almost always pop up in the Marigny Triangle on Frenchmen Street, and Woldenberg Park or Washington Square Park offer places to chill out. Note that there are plenty of events and things to do every day in New Orleans too; we have a full calendar to help you out with your decision making. And if it's your first time in the Crescent City, Thrillist's DestiNATION New Orleans travel guide will point you to the best places to drink, essential foods to try, and rookie mistakes to avoid.
What hotels are available in New Orleans for Mardi Gras?
You'll find plenty of high-rise corporate hotels in the downtown, French Quarter area, which offer the best proximity to Mardi Gras (many sit right on Canal Street, the parade route). You can also book an Airbnb or venture into the suburbs -- Kenner, Metairie, the West Bank, and New Orleans East for more affordable options. Perhaps the best of both worlds can be found in the Marigny's award-winning Hotel Peter and Paul, a gorgeously renovated Catholic church, which sits right outside the French Quarter and is ground zero for the St. Ann walking parade.
How do I get around during Mardi Gras?
Walking is your best option. Between street closures, parades and the hundreds of thousands of tourists clogging the city's major thoroughfares, you won't want to attempt driving. Ride-share apps often employ surge pricing. You can snag a pedicab, take the bus, or use a bike share program.
Sign up here for our daily New Orleans email and be the first to get all the food/drink/fun in the Big Easy.