The New Orleans Mardi Gras Season Bucket List
You've probably heard of this thing called "Mardi Gras" that happens every year in New Orleans, right? But if you've never experienced it for yourself down here, it's likely you've been brainwashed by pop culture (and Joe "I'm a Scumbag" Francis) to believe that it's all boobs-for-beads and general open-container-fueled loutishness. Truth is, it's only *partly* about loutishness. There's way more to Carnival season and Fat Tuesday than you might know, so if you truly want to make the most of it, check these very important life goals off your list:
The official beginning of Carnival season is January 6th, which is 12th Night/Epiphany, and it concludes at midnight on Mardi Gras evening. But aside from the fact the sixth makes it acceptable to eat king cake (see below), everyone knows that Carnival truly begins with the ever-so-naughty, satirical parade hosted by Krewe du Vieux. Expect to see myriad papier-mâché phalluses and vulvas. It's that kind of parade. And we love it.

2. Snag a Muses shoe
The all-women krewe of Muses might not put on the oldest parade in town, but their signature throw -- painstakingly hand-decorated high heels, mules, wedges, flats, even boots -- has quickly become one of the most coveted souvenirs in Carnival history. If you're fast and savvy (or if you happen to know a rider), it is wholly possibly to score one for yourself, which you will treasure always as a token of ultimate Mardi Gras success.
3. Score a Golden Nugget (i.e., a Zulu coconut)
This, above all things, is the sine qua non of Mardi Gras throws. Which is kind of a misnomer, seeing as the riders in Zulu aren't allowed to actually throw them anymore (hello lawsuits!). Instead, these festively decorated coconuts are handed gingerly to lucky Carnival revelers. If you're fortunate enough to get one, it's going to stay on your shelf or mantle for all to see and know that you totally won Mardi Gras.
It's may not be a Zulu coconut or a Muses shoe, but the Nyx handbag is on the rise as a prized throw. Definitely shelf-worthy.

5. Collect the following throws:
A feathered spear, a football, a frisbee, bouncy balls, a light-up headband (or, really, light-up ANYTHING), a collapsible fan, plush toys, those weird accordion plastic snakes that whistle when you wave them in circles, a fake pirate sword, a plastic hand grenade/squirt gun, cotton candy, sunglasses...
6. Collect every float-specific throw at Rex
The centerpiece parade of Mardi Gras Day, Rex now has a specific (and quite lovely) set of beads for every one of its parade floats. Try to catch them all, just like Pokémon. Only you're a tax-paying adult. And also you're already buzzed at 9am. Have fun with this one.

7. Catch a MoonPie
Among all the cheap plastic debris, these golden (or chocolate) disks of marshmallowy goodness sometimes make an appearance, one that's never unwelcome. There's even a parade that celebrates this distinctly southern American treat, among other things: the Krewe of Mona Lisa and Moonpie, in Slidell.

8. A go-cup from every parade
Let's not mince words here: you're going to throw out or donate pretty much everything you caught during Mardi Gras, notwithstanding the real prizes (see above, on both accounts). But go-cups? Those are a daily fact of life in NOLA and exceptionally useful, whether it's iced coffee for your morning commute, water for your workout, or something stiff to carry off into the night. Bonus points for varying up your go-cup collection by year and krewe.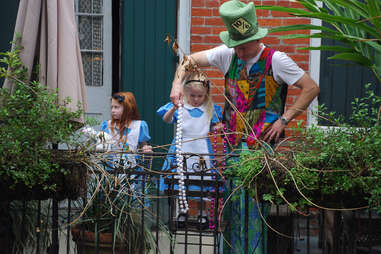 9. Delight a small child with something you've caught
You're not going to keep all of those beads or gaudy toys anyway, so why not give to a nearby kid? Their reaction at this gracious gesture is worth it, and, really, catching the thing is the real goal in the first place, not keeping it.

10. One word: costume
Some New Orleanians spend the better part of the year after Carnival season planning their costumes for the following Mardi Gras, which will be boldly evident if you bother to open your eyes at any point during Carnival. You don't need a 6ft headdress and makeup that requires a professional half a day to finish (not that this ever goes unrespected or unappreciated), but a decent wig and some funky clothing should do the trick. Costumes are an essential and inextricable part of Carnival season. Just don't be that person who tries to pass off a Saints jersey as a Mardi Gras costume. We're onto you, dude.

11. Design and wear your own mask
Riders aren't the only ones during Mardi Gras to don masks, although they are the only ones legally required to do so (seriously, that is a law here). At some point, it behooves you to get crafty and make yourself a mask that your ten-year-old self would've been amazed by. You won't regret the effort.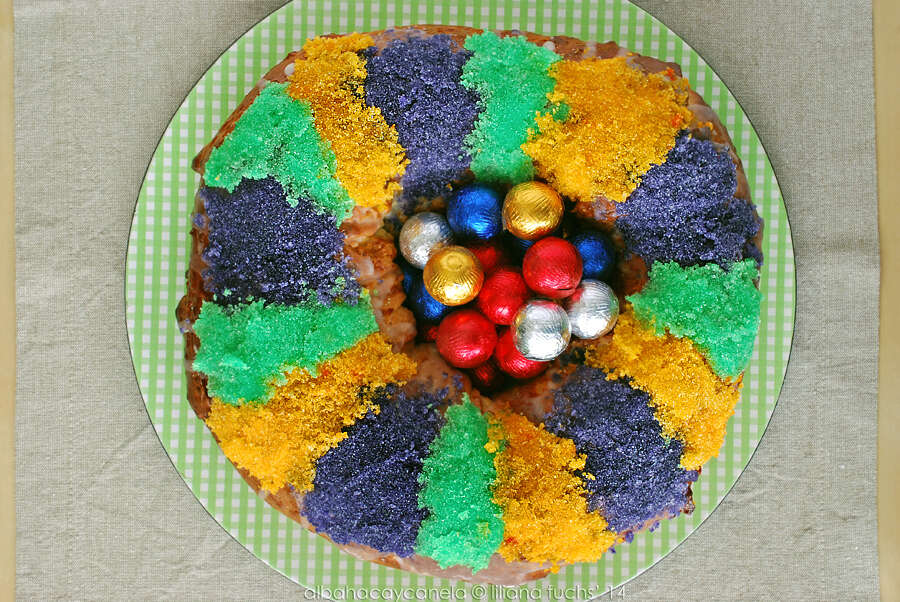 12. EAT ALL THE KING CAKE
True New Orleanians do not eat this magical, sugary, wonderful treat out of season, which leaves us pining for it all year after Carnival dies down. And when it comes around, look out, bathroom scale, because you're about to get a serious pounding. Whether it's just basic brioche with neon purple, green, and gold granulated sugar, cakes filled with syrupy fruit or rich cream cheese, a classic French galette de rois, or the see-it-to-believe-it banana/pecan/caramel/praline/mascarpone version at Willa Jean that is literally topped with edible gold, you'd better know that king cake will be on the menu at nearly every restaurant (and in the bakery at every grocery), and you need to try them all. Daily.

13. Consume every king cake-flavored product that is not king cake
King cake flavors are oddly not limited to actual king cakes. There's also king cake vodka, king cake soda, king cake lattes, king cake gelato, daiquiris, sno-balls, cocktails, macarons, cupcakes, cake pops... every year it's like a mad dash to see who can create the weirdest, most outlandish king cake-flavored product.
14. Party from Lundi Gras to Ash Wednesday without sleeping
This is best accomplished by the young, but at least once in your life as a bona fide New Orleanian you must spend 24+ hours tying one on during the whole of Mardi Gras Day, preferably starting the Monday before (i.e., "Lundi Gras").
15. Join a krewe
Celebrating Carnival as a spectator is one thing (and a magnificent thing at that), but it's an entirely different experience to walk or ride in a parade as part of a krewe. Whether it's the old money blue-bloods in Rex or the geeks in Chewbacchus, being a rider is a New Orleans experience that you'll want to check off at least once before you check out.

16. Cheer on someone you know who is riding
Just because you don't have the cash or the connections to join a krewe doesn't mean that you can't support the people that do, namely by making colorful signs with their name on it and shouting it at larynx-shattering decibels when their float rolls by. Also, you're almost guaranteed to get some cool throws for your efforts, although that generally depends on just how many hours your riding friend has been drinking by the time they cross your path, of course.
17. Dress up the family canine for Barkus
Yes, friends, there is a Mardi Gras parade for dogs. If you have a pet pooch or even if you're just an admiring fan of man's best friend, this one is possibly the most adorable parade of Carnival outside of 'tit Rex and all their tiny little shoebox floats.

18. Successfully land beads in King Kong's mouth
There are too many notable floats in the Bacchus parade to name here (except for the Bacchagator, which is awesome), but the one that locals love every year is King Kong, whose open, fanged jaw begs Carnival-goers to try and land some beads right in the monster's gaping maw. Don't ask why. It's tradition.

19. Dance with a uniformed, on-duty NOPD officer
Yeah, the cops here dance. Seriously. And not just polkas and foxtrots, either, we're talking whipping, wobbling, the Nae Nae, the Cha Cha Slide, and, famously, the Cupid Shuffle.

20. Throw tips at some old-school flambeaux bearers
Carnival floats no longer need people wielding live fire lanterns to illuminate them (we have plenty of fiber optics and LEDs for that these days), but the tradition never died down. Seeing the flambeauxs stroll down the avenue dancing and strutting while keeping their fires alight is an inimitable, magical thing to behold. Tradition says that you should tip them, though these days they tend to prefer bills over coins chucked at the backsplash of their fire poles.
The single best high school marching band in the nation, possibly the continent, conceivably the planet. The knights of "Saint Aug" are also the first ever African-American marching band to perform in the Rex parade on Mardi Gras day, and they've since played for popes, presidents, and Super Bowl crowds. Which is to say: their game is TIGHT.

22. Make friends with a stranger to use their bathroom
The abundance of partying day and night and the corresponding dearth of toilets has always been a local logistical challenge in New Orleans on Mardi Gras. You could try to sneak into a bar to do your business, but that usually requires buying a drink. Better yet, you can make a few friends on the parade route, and if you're any good at making friends, there's a decent chance that they'll bless you with use of their private facilities.

23. Drink from a comically gigantic pirate flask
The author of this list totally swears that he would never engage in such salacious activity. GOOD DAY, SIR.
24. Watch a parade from the top of a ladder
Yes, Mardi Gras is actually a family affair (except for maybe Bourbon St). Nothing says "growing up in New Orleans" like viewing the parades from your family ladder, fitted with a handmade wooden bench and likely a sweet paint job. There's also nothing like standing on the back of one of those ladders as a grown-up and experiencing the glories of Carnival through the eyes of youngins plunked down in front of you. For them, every bead, doubloon, or trinket might as well be carved out of solid gold, and every high school marching band sounds like the London Philharmonic Orchestra. It is a wonderment only a NOLA upbringing can offer.

25. Enjoy Mardi Gras from a balcony
There's nothing like viewing Carnival from the catbird seat, in this case meaning a balcony in the French Quarter or along the parade route on St. Charles Ave. You will feel like a mighty deity on Mount Olympus, graciously gifting the puny humans below with your beneficence of beads. Unless you've got deep pockets, forget about renting a balcony room in the Vieux Carre on Fat Tuesday. Instead, make friends with a deep-pocketed swell who actually owns one of these places and have them invite you over.

26. Attend a Mardi Gras ball in white tie attire
You haven't been to a formal event until you've been to a white-tie-only Mardi Gras ball. It's the last vestige we really have in New Orleans of the courtly days of yore in Europe, and those traditions are deeply ingrained and fastidiously abided in Crescent City Carnival culture. All the restaurants in town could go "upscale casual," but if you're not in a tux and tails at certain balls, you'll be swiftly turned away at the door. Not to mention the gaudy pageantry of the entire affair. Spectacle, tradition, what have you, a formal Mardi Gras ball is going to be an evening to remember, if you've never been a part of one.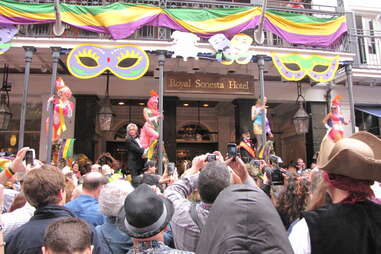 At the Royal Sonesta hotel in the French Quarter, the columns are famously and ceremoniously coated in petroleum jelly on the Friday before Mardi Gras day to ensure that crazy revelers won't be able to climb to the very coveted balcony above. Watching people try to climb them *even after they're greased* is better than going to the movies. Speaking of which...

28. Make a giant pot of gumbo or red beans to fuel you through Mardi Gras weekend
We love to eat in the Big Easy, and we also love to cook. Fixin' up a mess of red beans or gumbo is a fun and easy way to make sure that you have plenty of food on hand to see you through the long Carnival weekend, and also good if you happen to have friends stop by (or perhaps strangers using your toilet).

29. Make it from one end of Bourbon St to the other without losing your friends
Oh, you think you're up for a challenge? Try this one out for size. Unless you're tethered together by a length of hardy twine, taking a group through the Bourbon gauntlet on Fat Tuesday -- or at any point that weekend, for that matter -- is like herding cats. Only the cats are your friends, in a sea of other cats, who are from Ohio and have been on Bourbon for 12 hours and are *this close* to peeing themselves. Good luck.
30. Eat Popeyes on Fat Tuesday
It is a beloved local tradition that Popeyes (founded, of course, in NOLA) is always open on Mardi Gras Day. Go early, get a big box of chicken and biscuits, and share with friends. This is the path to enlightenment.

31. See all the pretty, pretty Indians on Super Sunday
This is one Mardi Gras tradition that truly needs to be witnessed to be understood and fully appreciated (even if it happens to occur after Mardi Gras). Track down a tribe and follow them as they chant, dance, and confront other, gorgeously costumed Indians with their flag boys, spy boys, and, of course, the big chief, all with the distinctive rhythms, cadences, and songs of this heralded culture. You want to truly experience New Orleans? Here you go. Won't bow down, don't know how!

32. Survive the Ash Wednesday hangover
With all of the good times and revelry of Mardi Gras comes the inevitable crash, which is going to suck, no matter how you put it. Even if you don't imbibe, there's always something just a little sad and gray about putting Carnival season to bed for the year. But there are three upshots: 1) everyone knows and understands what you're going through, and their empathy is both real and abundant, 2) time to start planning for next year! and 3) Jazz Fest is right around the corner, ya heard?
Sign up here for our daily New Orleans email and be the first to get all the food/drink/fun in the Big Easy.

Scott Gold is a writer in New Orleans who drank from the giant pirate flask and loved every second of it. You can follow his Carnival antics and shenanigans @scottgold.