These Are New Orleans' Most-Loved Personalities
They are the faces -- or ghostly apparitions -- you see around town. They pop up at your favorite bar, your local coffee house, or your Facebook feed. They are the distinctly New Orleans personalities you know and love -- and wouldn't find anywhere else.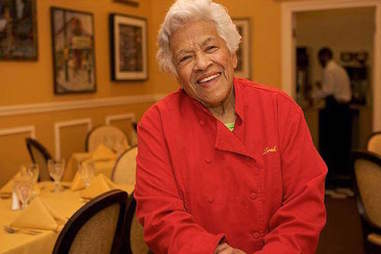 Leah Chase

| Dooky Chase Restaurant
At 93 years old, Chase is the momma of New Orleans. As the executive chef of the famed Dooky Chase's Restaurant, she has served two presidents (George W. and Obama) and has a Disney Princess -- Tiana of The Princess and the Frog fame -- modeled after her.
Born in 1923, one of 14 children, Chase left home after sixth grade because her small Louisiana town did not have a high school for black children. She moved to New Orleans to live with an aunt and later began waiting tables in the French Quarter. Dooky Chase's opened in 1941 and became a hot spot for civil rights meetings.
"African-Americans didn't have restaurants like that to go to when I came here," Chase told New Orleans-based The Advocate earlier this year. "I said we've got to change things. Growing up, mother always kept nice things for company. Nice glasses, nice things. That's how we look at it here. Everybody who comes through that front door is my company. People deserve that."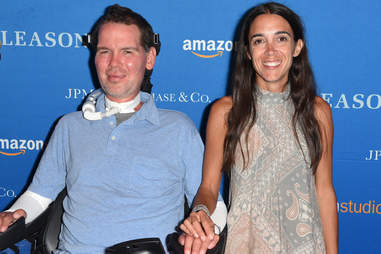 Steve Gleason & Michel Varisco Gleason

| C Flanigan/FilmMagic/Getty Images
The former New Orleans Saints defensive back has his city rooting for him louder than ever off the field. The one-time football hero -- he famously blocked a punt that led to a touchdown in the Saints' first home game after Hurricane Katrina -- has raised millions for ALS patients through the Team Gleason foundation after he was diagnosed with the devastating illness at age 34.
Now confined to a wheelchair and using eye movement to speak through a computerized voice box, Gleason has redefined the term "hero."
He is the subject of a critically acclaimed documentary, Gleason, that premiered this year at Sundance.
The revered No. 9 of the New Orleans Saints (and good friend to the Gleasons) is one of the most iconic quarterbacks, and players, in the entire NFL.The one-time Sports IllustratedSportsman of the Year is known as much for his big heart as his big plays. The Brees Dreams Foundation (run by Brees and his wife, Brittany) has given more than $25 million to international charities and causes. But it's his work right here in New Orleans that has made him a hometown hero -- from supporting the rebuilding of the city after Hurricane Katrina to raising money and spending time with pediatric cancer patients.
The 2009 Super Bowl MVP and father of four has also traveled the globe, visiting US soldiers stationed in Afghanistan, Iraq, and Guantanamo Bay.
<a href="http://www.shutterstock.com/gallery-2131613p1.html?cr=00&pl=edit-00">Andrea Raffin</a> / Shutterstock
She is a Hollywood heavyweight, but she is also a faithful New Orleans resident, with a Swiss chalet-style home in the Garden District that she shares with her children, Louis and Laila, when they are in town. Bullock has strong ties to the city -- her children were adopted in Louisiana. She is also active in the community, donating money and time to Warren Easton High School.
5. Burnell Cotlon
This easygoing, quick-to-smile Army veteran has a one-track mind: revitalizing his Lower 9th Ward neighborhood. Devastated in Hurricane Katrina, the Lower 9th has been slower to recover than other neighborhoods in the city.
Cotlon helped move the recovery a big step forward by sinking his life savings into opening the neighborhood's first and only grocery store. The Lower 9th Ward Market sells staples like bread, cheese, milk, rice, fruit, and vegetables, but also stocks extras like school supplies, pickled pigs' feet, and condoms (at the customers' request). He's working on opening a laundromat with machines donated by Ellen DeGeneres. He also has his heart -- and his sights -- set on one day opening up an internet café and a movie theater.
6. Tim Williamson
He is a native son of New Orleans who left for opportunities that his then-turbulent and economically devastated home city couldn't provide. Following a stint at Bear Stearns in Boston, Williamson returned home. After jotting down notes on a bar napkin with some fellow high school alumni, Williamson hatched a plan he hoped would revitalize his beloved New Orleans -- and it worked.
Since Idea Village was founded in 2000 with the goal of making New Orleans the entrepreneurial hub of the South, its business accelerator alumni have pumped more than $190 million into the regional economy. This summer Williamson announced he would be taking over as president of the NOLA Media Group, which runs The Times-Picayune and NOLA.com. He will remain on the board of directors of Idea Village.
big freedia

| Flickr/Kowarski
Known as the Queen of Bounce, Big Freedia has put the national spotlight on the New Orleans-born hip-hop offshoot. She has toured from coast to coast but remains loyal to her New Orleans home, often playing five days a week.
Freedia, who was born a male, but uses female pronouns for her stage name, has appeared on Jimmy Kimmel Live and in episodes of HBO's Treme. Her hits include "Azz Everywhere" and "Y'all Get Back Now."
Speaking of bounce...
"We going to Wally, Wally, Wally, Wally, Wally, Wally World," he raps in his song "Walmart (Wally World"). Yes, that's six Wallys (we counted).
The video, which you can't look away from once it starts, features Mr. Ghetto and two booty short-clad twerk masters taking off the Tchoupitoulas St Walmart in New Orleans. He checks out their asses, they twerk in shopping carts. It's been viewed more than 300,000 times.
Mr. Ghetto follows them as they make their way around the store, trying on underwear in the aisles and buying douche.
And then these lyrics.
"She buying Summer's Eve. She buying Massengill. She keep her body clean."
Seriously, just watch. You won't regret it. And if Walmart twerking isn't your jam, how about McDonald's twerking?
Mitch Landrieu

| <a href="http://www.shutterstock.com/gallery-4826p1.html?cr=00&pl=edit-00">Albert H. Teich</a> / Shutterstock
9. Mitch Landrieu
Otherwise known as Mr. Mayor around New Orleans. Landrieu was elected in 2010 and 2014, both with the unprecedented support of white and black voters. A champion of economic growth and more effective policing, Landrieu is not without his critics, but still holds a respectable 60% approval rating. He's also a dad to five kids.
She is the face of morning TV in New Orleans, co-anchoring the morning news on the local CBS affiliate WWL-TV. Having served with the station since 1977 (that's some loyalty, folks), Roberts made her mark by not just reporting on the community, but becoming part of it.
She is the co-founder of Each One Save One, a nonprofit that recruits and trains mentors for area schools and organizations. She is also a fixture in Mardi Gras parades. In 2012, Roberts made news by donating life-saving bone marrow to her little sister, ABC News' Good Morning America anchor Robin Roberts, who was battling myelodysplastic syndrome, or MDS.
11. The ghost at Muriel's
... also known as Pierre Antoine Lepardi Jourdan, a turn-of-the-century (19th century, that is) gambling enthusiast who bought the corner lot in what is now known as Jackson Square as the French Quarter was recovering from the massive fire of 1788.
According to the legend posted on Muriel's restaurant website, Jourdan had hopes of restoring the property to its one-time grandeur, but lost the house in a game of poker in 1814. Instead of leaving his dream house, he committed suicide in the location now known as Muriel's Séance Lounges.
Staff and patrons have reported seeing a glimmer of light that's believed to be Jourdan. As a nod to the building's past, the restaurant always reserves a table for its most well-known ghost. According to Muriel's: "Those who have seen or felt a presence have never felt threatened and instead we've welcomed an old kindred spirit to dine, by always keeping a table reserved for Mr. Jourdan set with bread and wine."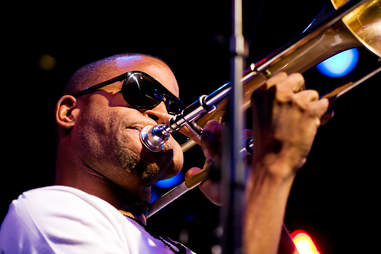 Trombone Shorty

| <a href="http://www.shutterstock.com/gallery-66756p1.html?cr=00&pl=edit-00">Mat Hayward</a> / Shutterstock
12. Trombone Shorty
One of New Orleans' premier musicians by age 30, Mr. Shorty -- aka Troy Andrews -- is also a major Crescent City philanthropist. The leader of the funkalicious Trombone Shorty & Orleans Avenue was touring by age 12, and playing in Lenny Kravitz's horn section by 19. His Trombone Shorty Foundation aims to keep the music of New Orleans alive through mentoring, lessons, music education, and performances for underserved New Orleans' kids.
610 stompers

| Flickr/Tulane Public Relations
They wear powder-blue shorts and knee socks. They don headbands, and more than a few proudly flaunt "dad bods" with porn 'staches.
Their tagline is "Ordinary Men. Extraordinary Moves." And with it, the dancing men's club has stomped through Mardi Gras, boogied through their own bar crawls, and shook it on late-night TV. They delighted their rabid NOLA fan base by going national at the Macy's Thanksgiving Day Parade in 2015. As Matt Lauer said "You can't unsee this."
14. Krewe of Muses
From the dancing guys to the powerhouse gals of Mardi Gras. This all-female krewe has become a major draw during Mardi Gras season. Once a year, ladies of all ages and backgrounds gather to chuck shoes into the night sky over Uptown New Orleans. Getting a Muses parade shoe requires fate, more than a little luck, and a serious strong arm (and a willingness to trample little girls and old ladies). But it's so worth it.
Dating back to 1872, Rex is true New Orleans royalty. His proclamation is why we all are invited to Carnival. It is his colors of purple, green, and gold that we flaunt on our beads, glasses, ties, tutus, and shirts.
Each year his identity is shrouded in mystery. Will YOU be the next king? Probably not, but we can still wear all the crowns we want.
Sign up here for our daily New Orleans email and be the first to get all the food/drink/fun in the Big Easy.
Sarah Netter is a journalist and TV producer who lives in New Orleans with her young son and two neurotic dogs. Find her in line for a drive-through daiquiri or follow @SarahMNetter.