Over in Texas, folks often say, "Keep Austin Weird." Well, New Orleans doesn't need a slogan, because it's been a weird place for nearly 300 years, and that's not looking like it'll change any time soon. Here are nine of the most bizarre tales to come out of the Big Easy.
That time Dog the Bounty Hunter bailed out Nicolas Cage from jail
It really happened. And let's not even begin to discuss the craziness of Cage's pyramid-shaped tomb in St. Louis Cemetery #1. We swear, Nic Cage is the gift of weirdness that keeps on giving.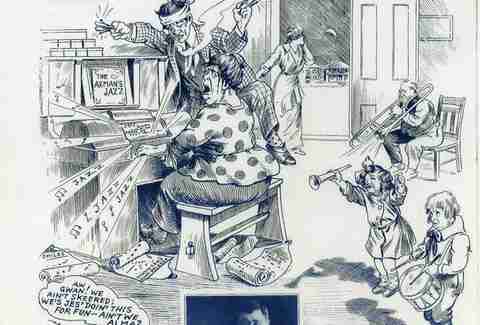 When the "Axeman of New Orleans" made the entire city dance
Truly, one of the most insane American horror stories occurred in NOLA in the early 20th Century, when a deranged man used an axe and a straight-razor to kill half a dozen local residents, and wounded a half-dozen more. He penned a completely insane open letter warning local citizens of his evil ways, but said he'd give them a reprieve so long as they were playing jazz in their houses. That night, every dancehall was packed. 
When an entire harem was murdered, creating the tale of the "NOLA Sultan Massacre House"
Seriously, there is a whole ton of spooky history in New Orleans, and this one is one of the more infamous. Apparently, a young Turkish sultan's brother was fond of having lavish parties for his harem (because that's what you do, right?), and, during one of them, many of attendees were slain by an unknown assailant (or assailants), and the sultan's brother was found dead in the backyard, presumably buried alive. And do you know what tipped neighbors off to the horrible crime? There was literally blood oozing out of the walls. Take that, Overlook Hotel.
When the New Orleans Jazz drafted a woman to play basketball for them
To be clear, this really should not be weird -- but it was certainly alarming to many back in 1977. Luisa Harris, a 6'3" center from Mississippi, sadly declined the offer to attend training camp because of a pregnancy, but she remains the only woman in US history to be officially drafted into the NBA. Perhaps if she took the offer, the Jazz wouldn't have moved to Utah (just throwing that out there).
When the political slogan, "Vote for the Crook: It's important," was used in an election
Granted, this was for the state of Louisiana and not necessarily NOLA-specific, but in 1991 that phrase went into Louisiana legislative lore when the notoriously corrupt Edwin Edwards was running for governor against former KKK Grand Wizard David Duke (it wasn't officially his slogan, but it sure did stick). Edwards also famously noted, "The only way I'm going to lose this race is if I'm found in bed with a dead woman or a live boy."
... who were, of all things, celebrating a summer without any drownings. Call Webster's, we have a new definition of irony. 
That time Lee Harvey Oswald plotted to assassinate President Kennedy
Whether or not you believe in second shooters on the grassy knoll, magic bullets, CIA conspiracies, that it was a mob hit, that Oswald acted alone, or that he was indeed "a patsy," the entire (very sad, very crazy) story is so definitively odd that Oliver Stone was forced to make a movie about it.
The time this city had a wake attended by the deceased
On her passing, Mickey Easterling threw a decadent party where she was famously positioned upright, wearing a feather boa and holding a cigarette and a glass of Champagne (Veuve Cliquot, her favorite). Hey, if you gotta go, you might as well do it in style, right? Oh, and did we mention that her cocktail gown had the word "bitch" stitched into it? If truth is stranger than fiction, it's doubly so in New Orleans.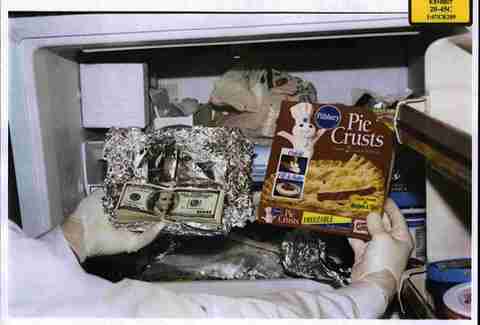 When local politician William J. Jefferson was caught with an illicit $90k in his freezer
Political corruption isn't anything new in NOLA, but the fact that Jefferson was literally hiding that sum of money in his freezer is pretty remarkable. Talk about cold, hard cash (zing!).
Sign up here for our daily New Orleans email and be the first to get all the food/drink/fun in the Big Easy.
Scott Gold was once called "The Axeman of New Orleans," but only because he plays guitar. Follow his further weirdness on Twitter @scottgold.