There was a time, believe it or not, when human beings actually spoke to one another on telephones, and those telephones were tethered to sockets in the wall of a house or place of business. Boy, that must've sucked, right? Well, now we have instant messaging, and while it might have changed the way in which we communicate, it sure as hell hasn't changed a lot of things about life in NOLA. If you've lived here for any appreciable amount of time, you are going to see some, if not all, of the following texts:
A standard greeting and inquiry about one's current location and general disposition.
Just because the RTA app says one is headed your way in no way guarantees the car won't just pass you by if full.
Especially during summer storm season, when the dubious local energy company often fails to provide many neighborhoods with, you know... energy.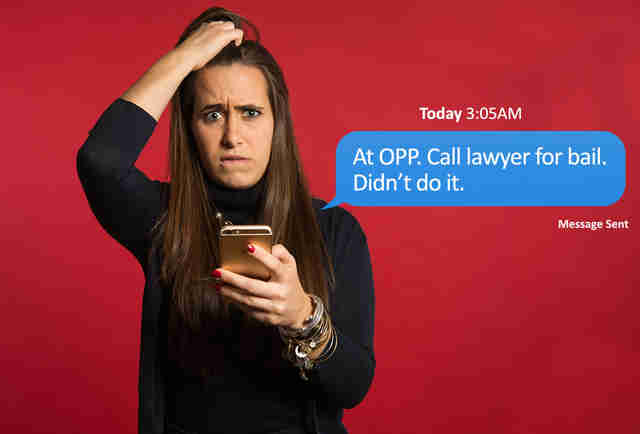 Not the best place to be. Get out of there quickly, if at all possible. And if you're receiving this text on Mardi Gras weekend, tell your buddy "good luck."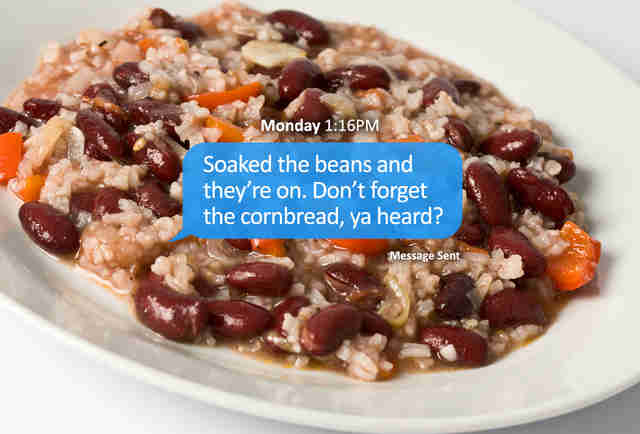 On Monday nights in NOLA, tradition is tradition, and that means red beans and rice.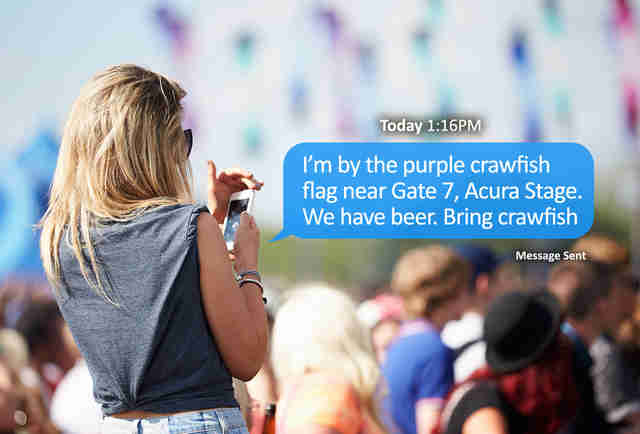 Locating friends at Jazz Fest is hardly an easy task. The colorful and unique flags definitely help.
The holy grail of Jazz Fest, Brass Passes are transferable from person to person, conferring unto them the ultimate all-access ticket.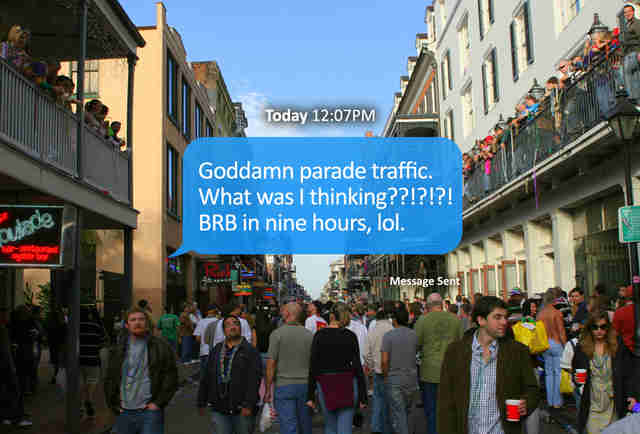 Ever been marooned in standstill traffic so bad you won't move until (you guess) the following day? Try driving anywhere near a parade route during Carnival. We do not recommend this, unless you're a masochist.
Yes, this happens, and more frequently than you might imagine. New Orleans is essentially a Third World country.
Beware the potholes. Fear the potholes. Respect the potholes. Or they will try to KILL YOU.
Afraid people might not make it to your shindig? Provide king cake and potent homemade beverages. There's no better party fuel.
Gotta make sure to get that po-boy order just right.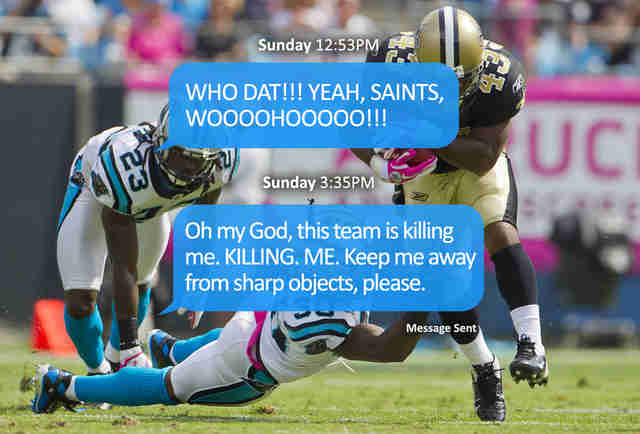 Indeed, the Saints are a source of both great joy and soul-withering despair in NOLA. Every Sunday, you're definitely going to receive texts like this, and more.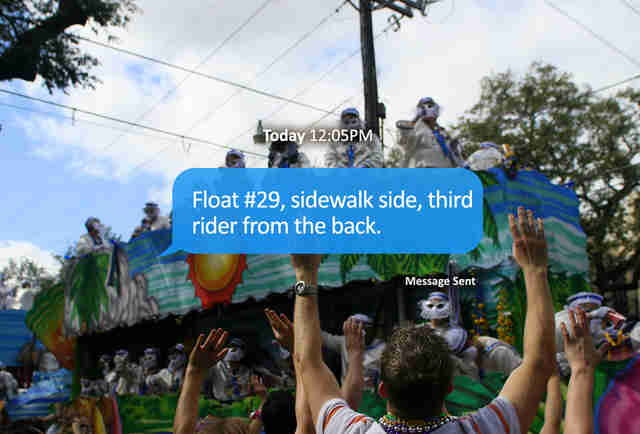 When you have a friend riding in a parade, it's essential you know where they'll be, because all the riders wear masks and look creepily identical.
A common malady among Carnival revelers, but easily solved with some Clear Eyes.
New Orleans gave the world jazz, but it also gave it drive-thru daiquiri shops.
How can one be expected to reply in a timely fashion when one's digits are dripping with spicy, buttery sauce?
Aww right aww right aww right.
Finding a decent bathroom on Mardi Gras day near the parade route is a serious priority. A box of Popeyes chicken, biscuits, and red beans will always -- and we mean ALWAYS -- help in finding a friendly local with a clean, private WC for your necessaries.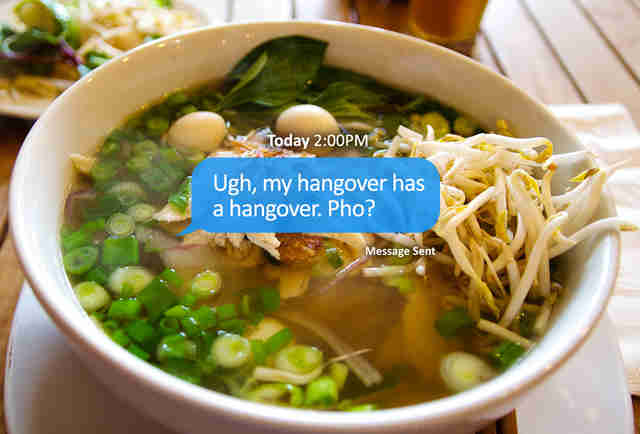 Best day-after remedy ever. Don't forget the Sriracha.
Sign up here for our daily New Orleans email and be the first to get all the food/drink/fun in the Big Easy.
Scott Gold is a writer in New Orleans who will gladly trade the use of his bathroom for a box of Popeyes (but only the spicy kind, and there MUST be biscuits). You can use your smartphone to follow him on Twitter @scottgold.