The Weirdest Museums in (and Around) New Orleans
Everyone knows that New Orleans is, at the very least, a weird place. It has played home to everyone from pirates to presidents, artists, freaks, authors, actors, and every stripe of freakazoid you could imagine in America. But what not everyone knows is that this weirdness has been immortalized by the curators of these extremely offbeat museums...
French Quarter
Well, we all gotta go some time, right? The creators of the decidedly macabre museum have taken that into account, so that those fascinated by how and why we meet our maker can get a real eyeful. Here you'll find everything from Manson family photos to body bags, graphic car accident photography, crime and morgue scene photos, coffins, skulls, antique mortician apparatuses, and, according to the website, "much more!"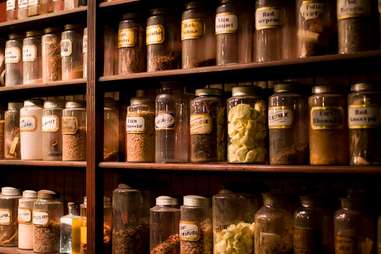 French Quarter
Seeing as Louisiana is the birthplace of the modern pharmacy (New Orleans resident Louis A. Dufilho was America's first licensed pharmacist), it makes perfect sense that the city would have a museum dedicated to the history of prescriptions and pharmacology. Located in the French Quarter, the Pharmacy Museum is actually on the National List of Historic Places, and a visit there will give you a peek at everything from antique bottles of opium and perfume to medical instruments, snow globes, voodoo potions, and "questionable medical practices."
French Quarter
"A 70-million-year-old tale waiting to be told..." boasts this Magazine St oddity, which is the first museum in the country to celebrate the alligator, long associated with the state of Louisiana and its people. Aside from the museum's centerpiece, a 14ft gator named "Fideaux," you can expect to find a 50-million-year-old alligator fossil, "deformed alligator heads, over a century's worth of antique alligator-related postcards, video games featuring alligators, vintage alligator fashion items, movie posters from around the world, folk art, toys, household goods, and by far the largest collection of alligator ashtrays and salt and pepper shakers in the USA."
French Quarter
You just knew a wax museum would be on this list, didn't you? Well, this ain't Madame Tussauds, that's for sure. Rather than freakishly recreating celebrities, this museum honors the history of New Orleans by displaying wax dioramas of its more important moments, from the discovery of the city by Iberville and Bienville to casket girls, privateer Jean Lafitte, Andrew Jackson and the Battle of New Orleans, and, naturally, Napoleon Bonaparte in his bathtub. Bonus: a haunted dungeon!
Gibsland
It's not in NOLA, but if you're willing to drive up near Shreveport to Gibsland, LA, you'll find the very spot where infamous outlaws Bonnie Parker and Clyde Barrow were Tommy-gunned (and shotgunned, and pistoled) to death by a posse of angry sheriffs. While the real "death car" is in Nevada, this museum houses "one of Clyde's Remington shotguns, pulled from the death car, a Browning semi-automatic rifle similar to the one used by the Barrow gang, a tire that Clyde stole and gave to an old man (who refused to use it but who kept it as a souvenir), Bonnie's red hat, some glass from the death car windshield, and replicas of Bonnie and Clyde's tombstones, set in a simulated graveyard."
Abita
Truly one of the most bizarre museums in the state, if not the country, the Mystery House, located in nearby Abita Springs (yes, home of the brewery) is truly something to behold. It's a junkyard, scraproom, and outsider art paradise, featuring everything from a vintage service station to scenes of classic New Orleans made out of recycled trash, including a tiny jazz funeral, a haunted Southern plantation, and an R&B house, among other things. Then there's the "House of Shards," a comb collection, a "bassigator" and a "doggator," old arcade games, and more weird vintage crap than you ever thought could be assembled in a single place. So, it's pretty much amazing.

Angola
Fact: Louisiana incarcerates more people than any place in the entire world, and the State Penitentiary at Angola is a testament to that. Angola has a sweet prison rodeo, but it also has a museum about, what else, the penitentiary itself. It is, in fact, the only prison museum in the country operated within an active prison. Essentially, it's Louisiana's Alcatraz, only it still has prisoners. Fascinating stuff… just make sure not to steal anything from the gift shop.
Morgan City
The Pelican State wouldn't be what it is without the oil industry, like it or not, and if you're looking to get an up-close-and-personal look at what it takes to harvest and refine that sweet, sweet crude, this Morgan City museum is right up your alley (or pipeline, rather). Technically, it's the "International Petroleum Museum and Exposition," and it houses an authentic offshore oil rig, in this case, "Mr. Charlie," which was "the first transportable, submersible drilling rig and an industry springboard to the current offshore rig technology."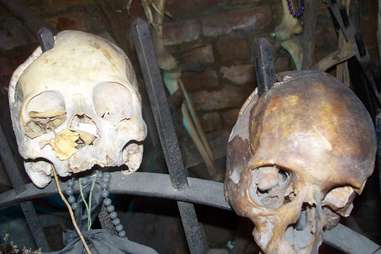 French Quarter
Well, of course you're going to find a voodoo museum in New Orleans. How could you not? If you're looking to steep yourself in knowledge and history of this mysterious religion, you couldn't do any better than this place, which has everything from authentic altars to candles, crosses, skeletons, and exhibits covering the legends and traditions of voodoo in the Crescent City. And yes, it sells voodoo dolls.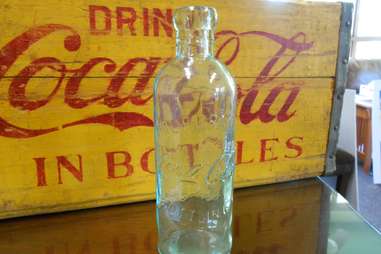 Monroe
While the official Cola Museum is in Atlanta (booooo), the one thing that particular institution seems to be missing is, apparently, a ton of Bibles. Technically, it's called the Biedenharn Museum and Gardens, but it's known colloquially as the "Coke and Bible Museum," seeing as it focuses on those two particular items. The Biedenharn Candy Company was actually the first to ever bottle Coca-Cola, and there's plenty of soda pop memorabilia to marvel at here. Also, Bibles and gardens.
Kentwood
The town of Kentwood, LA, is known for two things: clean, pure spring water, and Britney Spears, who grew up there before becoming, well… Britney Spears. Fans of the pop star who want to get hit one more time can visit the Kentwood Museum, which features a Britney exhibit, including a handmade a replica of the stage Britney performed on her HBO concert special, and 600 colored lights and thousands of parts.
Ferriday
There's a whole lotta shakin' going on out in Ferriday, LA, the birthplace of rock 'n' roll icon (and famous cousin husband) Jerry Lee Lewis. Operated by Lee's younger sister, Frankie Jean, this one is definitely off the beaten path. But if you're willing to dive in, you'll be rewarded with some very cool '50s and '60s rock memorabilia, Jerry's piano, and perhaps a few stories from Frankie Jean herself. Oh, and there's a liquor store.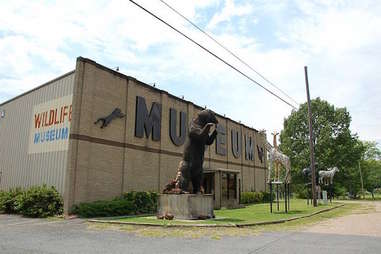 Haughton
Do you like dead, taxidermied animals? Well, good, because there are over a thousand of them at this museum near Shreveport, posed in dioramas of their natural habitats. Lions and tigers and bears, oh my! And gorillas, giraffes, ostriches… it's basically an entire zoo of exotic wildlife, only minus the "life" part.
Lower Garden District
This historic New Orleans home is often used for weddings and the like, but it also plays host to some fascinating antiques and artifacts, should you pay a visit, including a desk built for the Duke of Dresden, a 2000-year-old piece of Egyptian fabric, "the display of Dr. Broel's frog farm," and a huge collection of antique doll houses. Yup, doll houses.
Sign up here for our daily New Orleans email and be the first to get all the food/drink/fun in the Big Easy.
Scott Gold is a New Orleans writer who hopes to never be an exhibit at one of these places. Follow him on Twitter to see if he makes it.