The Best Burlesque Shows in New Orleans
<strong>Bustout |</strong> Courtesy of Stormy Gayle
At the turn of the 20th century, New Orleans' Storyville district was famous for its vibrant jazz scene and scandalous burlesque shows. OK, to be honest, Storyville was also known for its unregulated prostitution and organized crime, but burlesque and jazz are the remaining traditions the city should be proud of. By the 1950s, most of Storyville had been police raided out of existence, but burlesque remained one of the French Quarter's main draws for tourists... that is, until pole dancing and strip clubs became the preferred men's entertainment de rigueur. However, thanks to neo-burlesque superstars like Bella Blue and Trixie Minx, the city's burlesque scene is now arguably the best in the country, and once again among the most remarkable in the world.

Royal Sonesta Hotel
French Quarter
Experience Huey P. Long-era entertainment in one of New Orlean's swankiest hotels. Famed New Orleans burlesque performer Trixie Minx performs a modern burlesque show with classic twists -- think pink feathers and martini glasses set to old jazz standards.
Location varies
Another Trixie Minx production, Fleur de Tease brings the big top to those who adore carnival-style burlesque, with aerial acts, sword swallowers, fire breathers, and all the stars of the sideshow. This is the show where Trixie lets her hair down, and the act evolves every time it's performed, so one night might be a hot girl-on-girl trip to the dentist, set to Lady Gaga's "Teeth," while the next time you might get a full stage of burlesque cheerleaders performing aerial gymnastics to "Mickey."
House of Blues
French Quarter
Part vaudeville, part jazz concert, part strip show: this authentic, 1950s-inspired House of Blues-based troupe is your best bet for burlesque traditionalists. The women in the show, like Miss Stormy Gayle, Queen of Burlesque 2015, are among the most beautiful burlesque dancers in the world, but that's not to say they skate by on beauty alone. At any given performance, you might be treated to GoGo McGregor's terrifying (yet super sexy) bed of nails act, or a Nikki LeVillain belly dancing and snake show.

Bourbon Pub and Parade
French Quarter
The name "Blue Book" pays homage to the original guide to New Orleans' infamous Storyville, full of working girls, dancing girls, and jazz musicians. Now the act, found across the Bourbon St "Lavender Line," consists of bawdy, classically inspired vaudeville acts with names like "Musical Theatre with Tits" mixed with a little bit of drag, and of course, lots of toplessness. Its artistic director, Bella Blue, is New Orleans neo-burlesque royalty. A classically trained ballerina turned burlesque dancer, Blue's acts are among the most intricately choreographed in the city.
House of Blues
French Quarter
The Bad Girls of Burlesque is the naughtier sister show to Bustout, and usually takes place a couple of times a month at House of Blues. Expect lots of latex, live snakes, and straight jackets. Warning: you may be brought on stage and spanked. With a riding crop. So, yeah, that.

The Howlin' Wolf
Central Business District
Slow Burn's "Night Under the Big Topless" show boasts something for "freaks, fiends, and weirdos of all ages... of legal consent." It's perfect for anyone who likes sideshow acts, macabre, bondage-inspired burlesque, or just good old-fashioned dildo humor enthusiasts. The show is equal parts hilarious and titillating, and is some of the best -- and definitely weirdest -- the city has to offer.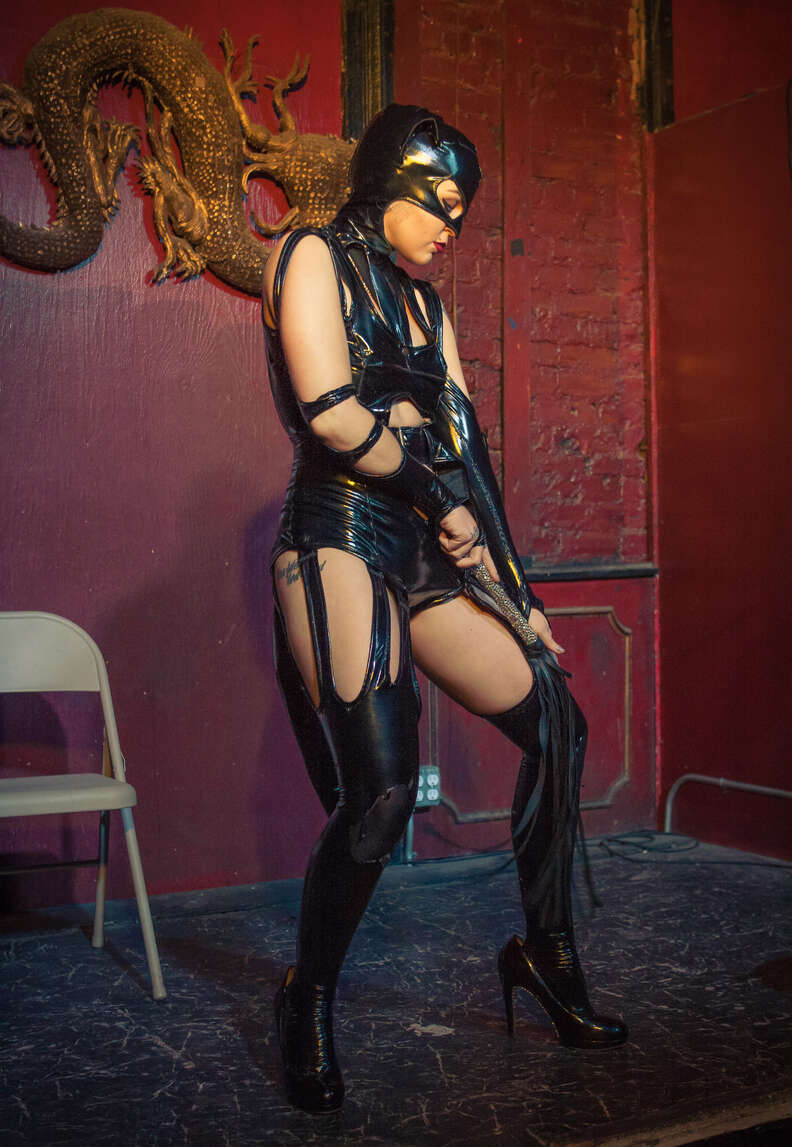 The Dragon's Den
Marigny
Whatever your fandom is, Talk Nerdy to Me by the Society of Sin has a show that fits. This once-a-week burlesque review caters to every type of nerd out there, and is brought to you by the creators of Batman in Arkham ASS-ylum: A Batman Burlesque Play and Game of Thrones in A Thong of Ice and Fire. Many of the shows are created by Xena Zeit-Geist, the self-proclaimed "Queen of the Obscene" and New Orleans' preeminent "nerdlesque" performer.
Siberia
Marigny
Siberia is mostly known for being one of the coolest spots in the city for discovering new music or checking out some of the city's most cherished acts, like bounce queens Katey Red and Big Freedia, but its Monday night stand-up comedy/burlesque show (formerly called "Bits and Jiggles") is a proving ground of sorts, where up and comers in both fields test out new material.
Sign up here for our daily New Orleans email and be the first to get all the food/drink/fun in the Big Easy.
Emily Alford can't dance but loves to watch people who can. You can Tweet dancing gifs at her @AlfordAlice.