The Best Pro Athletes From New Orleans, Ranked
You might think of New Orleans as a booze-drenched, lascivious land of Gomorrah filled with vice and temptation, and for that you wouldn't be entirely wrong. But of course we have more to offer here in the Big Easy than cheap thrills, not the least of which is the fact that we've reared some pretty impressive professional athletes. So, naturally, we decided to rank the most prominent ones (and even some of the less prominent ones). This was not easy. Our homegrown stars needed to be homegrown, i.e., "from New Orleans," which was difficult, because plenty of NOLA athletes have called the city home but aren't really "from here" (with a couple of notable exceptions, of course). But we did it anyway, for our personal amusement and yours. Disagree? Feel free to rail on us in the comments. Bring it.
17. Odell Beckham, Jr.
He's still on the young side of his career, but ODB is forging a strong path for himself in the NFL, having been named the AP Offensive Rookie of the Year in 2014 and going to the Pro Bowl in '14 and last year. It's a career worth watching, but still a bit green. We just hope he'll see the light, move back home to NOLA, and give a hand to the Who Dat Nation in our desperate times. Help us, Odell! 
16. Michael Lewis
He might not have been the biggest star in the NFL, but Lewis's rise from New Orleans beer truck driver to receiver for his hometown Saints is both remarkable and inspirational, so we're throwing him on here. Ever seen "Invincible" with Markie Mark? It's like that, only with the Saints, which is clearly way better, and we love an awesome underdog story.
 
15. Eddie Price
This one goes a ways back, but Price had a storied career at Tulane as a linebacker and went on to lead the NFL in rushing for the NY Giants in 1951, earning him a spot in the Hall of Fame. If you look at the photos, he's almost comically small compared to the beasts in the modern NFL, but the man had it where it counted. To this day, no Tulane player has yet to beat his record of 3,095 career yards. That's massive.
 
14. Tazzie Colomb
If you're not a fan of female professional bodybuilding (and why would you not be?), the name Tazzie Colomb probably doesn't ring a bell. But it should, because Tazzie has become one of the most prolific bodybuilding/powerlifting women in the world, and one of longest competing IFBB professional bodybuilders of all time. In a sport that sadly pretty much nobody pays attention to, Tazzie is a star, and a NOLA native to boot. You rock, Taz. 
13. Reggie Wayne
A Super Bowl champion and six-time Pro Bowl pick, Reggie was a wide receiver to be reckoned with during his career with the Colts. He even led the league in receiving yards in 2007, a tenure that included fellow teammate and New Orleanian Peyton Manning, which surely didn't hurt his chances of having a ball placed perfectly into his hands. The seventh in all-time career receptions and eighth in receiving yards, the man had a talent for playing catch. And, you know, winning football games.
 
12. Sylvester Ritter (i.e.,"The Junkyard Dog")
Artfully speaking, "pro sports" also includes "pro wrestling," so we're obliged to nod our heads at The Junkyard Dog here, one of the pillars of Hogan-era WWF wrestling in the '80s, along with the Iron Sheik, Roddy Piper, Jake the Snake, Rowdy Roddy Piper, and other greats. Notably, JYD was "the first black wrestler to be made the undisputed top star of his promotion," for which he should be acknowledged, as well as his thunderous and charismatic appearances in the ring.
11. Marshall Faulk
With a rushing record of 12,280 yards, a Super Bowl Ring, three team MVPs, and an NFL Hall of Fame career, Faulk is not just one of the best running backs to ever come out of New Orleans, but one of the best to play the game period. He was big, but fast as hell, clocking the 100m at 10.3 seconds. Think of that: the length of an entire football field... in less than 11 seconds. And then he made a habit of doing that kind of thing with all sorts of angry, juiced-up monsters trying to kill him. On top of that, he's still holds numerous NFL career records, everything from most receiving yards by a running back in a season to several that begin with "fastest player to ever... " It's a seriously impressive list.
 
10. Avery Johnson
Johnson, an elegant point guard nicknamed "The Little General," is best known for his stint playing for the San Antonio Spurs, during which the team dominated the court and won the championship in 1999. After sixteen years in the NBA for various teams, Johnson continued his career as a highly successful coach for the Mavericks (fastest coach to ever reach 150 wins) and the NJ/Brooklyn Nets; he is currently the men's coach at Alabama. And we'll forgive him for wearing Crimson Tide red, because he went to St. Aug. and at heart he's all NOLA.
9. Archie Manning
The patriarch. The man. The Manning! Archie hails from Mississippi, sure, but he's clearly an adopted son of the Crescent City, having famously quarterbacked for a horribly beleaguered Saints team, but he was -- and still is -- one of the most beloved athletes in New Orleans. The fact that he both sired and raised two future NFL Hall of Fame quarterbacks here should really say it all, but that's a distant second to his own prowess on the field, which was truly something to see, especially in spite of tragically horrible offensive protection (he got sacked... a lot). Also, his first name is actually "Elisha," so you know it couldn't have been easy for him as a kid.
 
8. Eli Manning
OK, so Eli might actually have more championship rings than his brother, but that doesn't necessarily mean he's a better quarterback. Statistically speaking, he doesn't even come close. This, of course, will be debated into the ages in bars and living rooms across the nation, and especially in NOLA, for years to come. As the youngest Manning, he's always had something to prove, but it's safe to say he's proven it, and will likely join his big brother in the Hall of Fame some years down the road.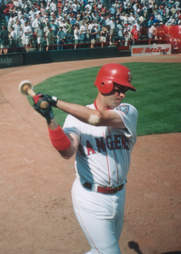 Wikimedia
7. Will Clark
How could we possibly leave off "Will the Thrill"? His legacy is attributed mostly to his powerful tenure with the San Francisco Giants, but NOLA locals still share stories of him knocking homers into the upper stories of houses across the ball field when he was a NOLA high schooler. In fact, his first MLB appearance at the plate resulted in a home run... against Nolan friggin' Ryan, of all pitchers. From there, he cemented his place in the firmament of New Orleans-bred sports stars.
 
6. Audrey Patterson
She doesn't have the most recognizable name in the world of pro sports, but track star Audrey Patterson should be known to all and taught to schoolchildren across the country because of a singularly impactful achievement: she was the first African-American woman to win a medal in the Olympics. This happened in 1948, at the London Olympics, and is a testament to her prowess as a gifted runner, both a national and international champion as well as an Olympian. An amazing woman and a portrait of sportsmanship and resilience.
Wikimedia
5. Paul Morphy
Whether or not you consider competitive chess a "sport," there's no denying that Morphy, a lifelong New Orleanian, was one of the titans of the game. Even the elusive Bobby Fischer admitted as much. He was hailed (unofficially) as a Chess World Champion, and essentially the guy just couldn't be beat. A tragic death at age 40 gave him the nickname "The Pride and Sorrow of Chess," but two things were for certain: he was a master, and he was from New Orleans.
 
4. Clyde Drexler
He might be known mostly for his dominance on the court for the Portland Trailblazers (and anyone who played NBA Jam in the '90s wanted Drexler on their team), but Clyde is a proud son of the Big Easy. The all-time leading scorer for Portland, he was a 10-time All Star, a championship winner, and a member of the NBA's 50th anniversary "All Time Team." Not bad for a kid from NOLA, right?
Wikimedia
3. Pete Maravich
OK, so technically "Pistol" Pete Maravich wasn't born or raised in New Orleans, but we're giving him special consideration here based on 1) his prodigious, mind-boggling talent on the basketball court, and 2) how important his legacy has been to the city. Maravich displayed an effortless elegance and handling skills rarely matched in the history of the game, first at LSU, and then in the pros, where he dazzled fans while playing for the New Orleans Jazz. When he was inducted into the Naismith Basketball Hall of Fame (one of the youngest ever), he was cited as "perhaps the greatest creative offensive talent in history." The man was untouchable and a legend.
 
2. Mel Ott
People don't think "baseball" and "New Orleans" very often, mostly because we haven't had a major league team here in... well, ever. But one of the absolute titans of the game was a bona fide New Orleanian: Mel Ott, one of the best power hitters to ever pick up a bat. Technically, he's from Gretna, right across the river, but that's just splitting hairs. No player in history has yet to best his 18-season batting dominance record, not even in the recent era of steroid dingers. And with eight consecutive 100 RBI seasons (the first in history, and still an elite club), pitchers would just walk the guy rather than getting the pill anywhere near the plate. That, friends, is how good this New Orleanian was at the game.
1. Peyton Manning
As far as homegrown skill and talent on the gridiron are concerned, it's difficult to top Peyton "chicken Parm you taste so good" Manning, who will for decades be known as one of the greatest quarterbacks to ever play the game. It doesn't hurt that you have the genes and the training from an NFL legend as a father, but Peyton was putting opposing teams to shame in high school, then at Tennessee, and long into his heralded pro career with the Colts and the Broncos. His stats are almost unreal, and it's only a matter of time before he's in the Hall of Fame. One of the smartest, most intuitive, savviest QBs to play the game.
 
Honorable Mention: Richard Simmons
So aerobics instruction on TV isn't a professional sport. So what?! We still love Richard and all his enthusiasm for fitness, especially for friends and family of a certain age whom he's inspired to get active and "sweat to the oldies." Bless you, good sir! 
Sign up here for our daily New Orleans email and be the first to get all the food/drink/fun in the Big Easy.
Scott Gold is a writer in New Orleans who played junior high baseball with Peyton Manning, whom he remembers to be a really nice guy with an awkward swing. Follow him on Twitter: @scottgold.