Election Season 2016 was stressful. So stressful, in fact, that we forgot exactly how lucky we are to live in New Orleans. When we say that New Orleans is a beautiful town, we don't mean it in the metaphorical, the-people-are-lovely sense (although, that's also true). No, we mean it in the very literal, it's-actually-gorgeous-to-look-at sense. Get out this weekend, relax, and rediscover some of the city's most beautiful places. 
The Pontchartrain lakefront near the New Orleans Yacht Club
The mighty Mississippi might get bigger billing than our big-ass local lake, but that doesn't make it any less pleasing to the eye, particularly during "magic hour."
The St. Louis Cathedral on a foggy morning
One of NOLA's most famous places of worship is also one of its more beautiful. Catching a glimpse of this famed cathedral on a foggy day will make you immediately realize why William Faulkner decided to live just around the corner.
The view of downtown NOLA from the Algiers ferry
These days, the Algiers ferry carries some fairly heartbreaking connotations because of its role in the TV show Treme (no spoilers, don't worry), but that doesn't make it any less wonderful. Seriously, you haven't seen the NOLA skyline until you've seen it from the water.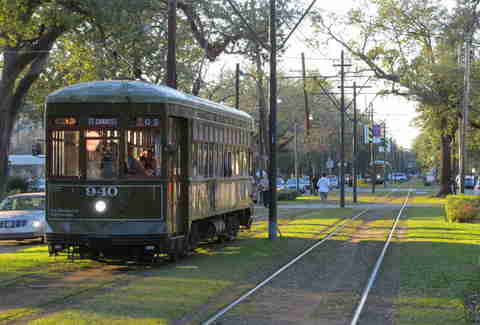 The St. Charles Streetcar line
Even the most jaded, emo teenager will tell you that St. Charles is a truly majestic place, owing to the ancient live oak trees forming a canopy over "The Avenue." Add to that the distinctive sounds of the old streetcars chugging through the city, and you're in for a real treat for the senses.
Woldenberg Park at sunset
Woldenberg used to just be a spare expanse of grass along the downtown riverfront, but these days it's a hell of a place to bring a picnic on a lovely day, watch the boats cruise down the Mississippi, and simply love being in a city where you might hear a steamboat calliope at any given moment.
Longue Vue House and Gardens
Built in the early 20th Century, this historic house and museum -- with its 20 rooms occupying three stories -- is pretty magnificent to begin with, but add to that some amazingly kept gardens, and you have a mighty sight to behold.
The Besthoff Sculpture Garden at NOMA
One of the best places to see outdoor artwork in New Orleans is also absolutely free of charge. And with works from the likes of everyone from George Rodrigue (holla, blue dog!) to Renoir, Magritte, and Henry Moore (among others), it's exceptionally difficult for art lovers to go wrong here. Also, they often show movies outside when the weather is nice, which is pretty great.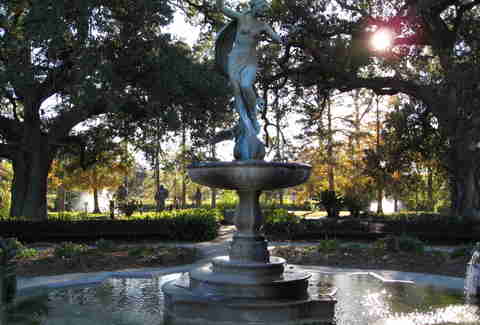 The Gumbel Memorial Fountain in Audubon Park
Directly across the avenue from Tulane University, at the St. Charles entrance to Audubon Park, is one of the most celebrated fountains in all of New Orleans, and one glimpse at her on a lovely day is all you need to be hooked. Bonus points for being surrounded by benches, which come in handy when the weather heats up.
Lafayette Cemetery No. 1
There are quite a few "Cities of the Dead" to admire in NOLA, and while St. Louis No. 1 might get much of the attention due to its inclusion of the graves of Voodoo Queen Marie Laveau and a bizarre pyramid to be eventually occupied by Nicolas Cage (yes, really), Lafayette No. 1 has our vote for most beautiful cemetery in NOLA. Plus, you don't need a tour guide on hand to enjoy the grounds and monuments, which (sadly) you need at STL No. 1.
The "Tree of Life"
The park named after famous painter and naturalist John James Audubon is known for its picturesque qualities and natural splendor, but many don't realize that there's a portion of the park, across Magazine St, that houses a seriously impressive live oak tree nearly as old as the city itself. Seriously, it is a very, very big tree.
City Park (pretty much all of it)
There's too much park to City Park to adequately pick a favorite spot (though we're inclined towards the Monet-esque bridges and the wildflower field), and one can easily spend several days enjoying the charms of its 1,300 acres. Given the size, touring the park on bicycle is a particularly great idea.
The Japanese Garden at the New Orleans Botanical Garden
Okay, so maybe we fibbed a little bit about that last one: the Japanese Garden in City Park might actually be our favorite. A perfect slice of Japan in one of the largest public parks in the United States? What else do you need to know? It's fantastic, so get there, already.
The Rex Room at Antoine's
There are a lot of famous "rooms" in old NOLA institutions like Antoine's, and the Rex Room, named after the most celebrated parade during Mardi Gras, is probably the most lauded example, from it's emerald walls to the starched white tablecloths. This is old-school Creole fine dining at its most quintessential.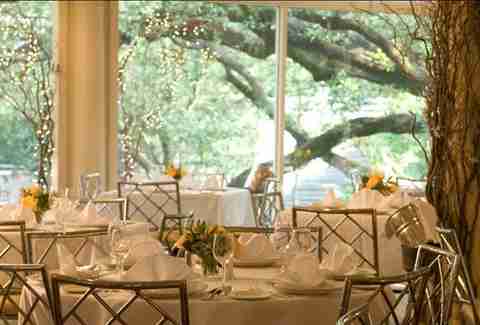 The Garden Room at Commander's Palace
While you always want a seat in the downstairs dining room at Galatoire's (for Friday lunch, obviously), if you can snag a seat at Commander's other than at the Chef's Table (good luck with that), it's got to be the Garden Room. Paul Prudhomme killed it in there, as did Emeril Lagasse and, currently, Tory McPhail is doing the same. Just don't forget to wear long pants and, preferably, a jacket.
The old hitching posts on Royal St
As far as iconic New Orleans sights go, it's difficult to beat those horse-head hitching posts in the French Quarter (and parts of the Garden District, as well). Where other American cities tend to ditch elements of their past, we still have our famous cobbled streets and hitching posts in NOLA. Which is a good thing, because we also still literally have horse-drawn carts clip-clopping through the Vieux Carré.
The balcony gardens in the French Quarter
Speaking of "Da Quarters," the residents of that celebrated neighborhood have a wonderful penchant for decorating their wrought iron-clad balconies with enchanting local flora. So if you're having a leisurely stroll through the Quarter on a lovely day, don't forget to look up.
The lobby of the Roosevelt Hotel at Christmastime
Like many other fine American towns, New Orleans tends to get a thrill out of decorating for the winter holidays, and nowhere else is that more evident that at the Roosevelt. And the best part about it? You can enjoy the decorations, then get a Sazerac at the Sazerac Bar, followed by dinner at Domenica and a nightcap at the Fountain Lounge, all in one beautiful place. You'd be crazy not to!
Sign up here for our daily New Orleans email and be the first to get all the food/drink/fun in the Big Easy.
Scott Gold is a writer in New Orleans who has a particular fondness for the Gumbel Fountain. Follow him on Twitter @scottgold or on Instagram @strangedish for more talk of beautiful NOLA.