A beautiful, historic city, chockablock with personality and personalities, not to mention spectacular natural beauty and distinctive architecture, New Orleans is tailor-made for the silver screen. While more and more films are being shot here (thanks, tax breaks!), New Orleans is a place Hollywood has always had a love affair with... even if filmmakers haven't always gotten everything in NOLA right. Hundreds of movies have been filmed here, set here, or both, and New Orleans is so distinctive, it's often a character in its own right. Watch a bunch of these films (both the good and the bad; tbh, there are a lot of bad ones), and you'll soon find locations that tend to pop up with frequency...
 
Antoine's Restaurant
This is the oldest family-run restaurant in the United States (going back to 1840), and as such, it attracts location scouts like so many mosquitoes on a humid day here in August. You'll find Antoine's in films like John Grisham's The Client and again in The Pelican Brief, as well as Oliver Stone's JFK. As one of the grandest of grande dame Creole restaurants in the city -- not to mention the picturesque mirrored walls and incomparable Rex Room -- Antoine's is the go-to for that classic New Orleans restaurant feel, particularly in period pieces.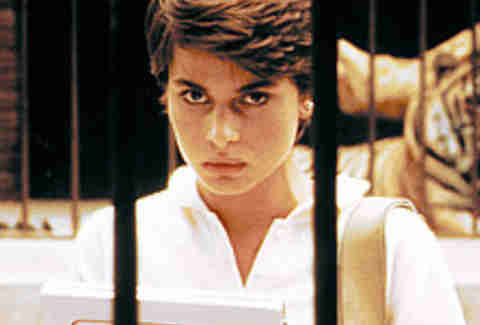 The Audubon Zoo
Who doesn't love a movie with animals? Well, if you're doing an animal film in NOLA, it's best you take advantage of our world-famous zoo. Also, you should probably make the movie about people who turn into large cats in the dead of night and then kill a bunch of ordinary, non-cat people. Then you should title the film Cat People. That really happened. And good that it did, because it features both a David Bowie song and a young Nastassja Kinski.
 
The Superdome
You'll find the very large stadium that houses the New Orleans Saints (technically called the "Mercedes Benz Superdome") prominently on the NOLA skyline in almost every movie set in the city since the mid-1960s. But there's one movie in which the Superdome really stands out, and that's the illustrious 1976 classic The Savage Bees, in which a deadly swarm of killer African bees is herded into the dome during Mardi Gras to be terminated. Locals all know this to be totally unrealistic... even millions of homicidal bees wouldn't have the nerve to spoil Carnival. Talk about a real buzzkill! (Sorry, it had to be done.) You'll also find more death and mayhem in the Dome in the 1978 TV movie classic creatively titled Superdome, which of course found its way to the hallowed film banks of Mystery Science Theater 3000.
 
Jazzland/Six Flags
If you're looking for both tax incentives for your film and the perfect post-apocalyptic location, look no further than the decrepit, spooky, and *totally not haunted* derelict amusement park formerly known as Six Flags New Orleans and before that, as Jazzland. This place is understandably a go-to for photographers and filmmakers looking to capture the entropy of urban decay, which was noted and used in a variety of movies ranging from Dawn of the Planet of the Apes to Killer Joe, Nic Cage's Stolen, and even Percy Jackson: Sea of Monsters. The site was also employed in the film Jurassic World, although more for the open space than the scenery... the filmmakers on that one literally just built their own theme park in the Six Flags parking lot. True story.
The Marigny
This triangle-shaped wedge of streets was at one point -- very much like its neighbor, the French Quarter -- almost entirely residential, though these days, you're more likely to find Airbnb rentals than places where you can genuinely live. Of course, it's anchored by Frenchmen Street, famous for its excellent live-music venues, which many locals are now referring to as "the new Bourbon" for the hordes of visitors it attracts. Still, it's both a lovely and distinctly New Orleans neighborhood, filled with colorful shotgun houses and even more colorful people, making it immediately filmic. Movies featured here run the gamut, from Jim Jarmusch's Down by Law to Jon Favreau's Chef, which has the titular cook parking his food truck on Frenchmen to sell po-boys.
 
Riverwalk
Wait... isn't this just a mall on the river across from the French Quarter? Yes! It is! But it's also, surprisingly, a popular spot for films set in NOLA. Legal-based drama/thrillers seem to be drawn to this spot, for some reason, including The Pelican Brief and Runaway Jury. While John Grisham is originally a Mississippian, he's also clearly a fan of the Big Easy.
The Cemeteries
This city is world-famous for its uniquely beautiful and haunting "Cities of the Dead," centuries-old mausoleums and above-ground crypts in lieu of traditional "six feet under" graves. Ours is one of few cities in the world that leads regular tour groups through cemeteries, so you can imagine that they might be attractive to someone with a camera. The Ashley Judd vehicle Double Jeopardy sports a scene in Lafayette Cemetery No. 1, as does the classic The Cincinnati Kid, but it's the cult classic Easy Rider that really takes the cake here. That film has director/actor Dennis Hopper and cohort Peter Fonda famously embarking on a memorable (and, legend has it, very real) Mardi Gras acid trip in St. Louis Cemetery No. 1, home of the resting place of voodoo queen Marie Laveau.
The Saint James AME Church
While both 21 Jump Street and its creatively titled sequel, 22 Jump Street, aren't specifically set in New Orleans, they certainly did a lot of filming in NOLA, as evidenced by the titular location, which locals will recognize as a historic African Methodist Episcopal church... rather than an undercover police precinct specializing in cops posing as high school students. The filmmakers behind 21/22 didn't stop there, though, and took full advantage of filming in New Orleans and its environs. In addition to the church, keen locals might also recognize scenes filmed in Riverdale High School, Lafreniere Park, and the Esplanade Mall in Kenner (brah).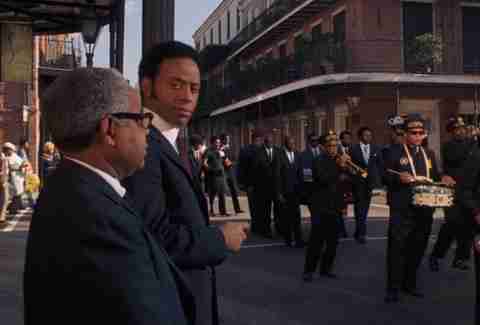 Bourbon Street
Oh, Rue Bourbon. How we love and loathe you. In the minds of outsiders, both New Orleans AND the French Quarter are located entirely on Bourbon Street, which, as y'all well know, is far from factual. But authenticity isn't exactly Hollywood's primary goal. You'll find crowds of drunken revelers, invariably clothed in feathered masks and carnival beads, in movies like Now You See Me and The Pelican Brief, but also in classics like Tightrope and Live and Let Die, which also has that absolutely insane "alligator walking" stunt that still leaves Louisianians biting their fingernails to this day (even though they used crocodiles and not our native gators).
The Crescent City Connection and the Algiers Ferry
Like the Superdome, both the bridge that stretches across the Mississippi, and the famous ferry that rides across it, are iconic aspects of the Downtown New Orleans skyline, and both invariably appear in the backdrops of films set here. But sometimes they're used for more than just set dressing: in the Denzel Washington thriller Deja Vu, the bad guys BOMB THE FERRY. Of course Jerry Bruckheimer produced this movie: who else would even think to blow up the freaking Algiers Ferry? Still, both the CCC and the ferry are essentially characters in this film, and there's some weird sci-fi time-folding stuff thrown in, too. Plus, both Val Kilmer and Jesus are in it. Look, it's worth seeing, that's all we're saying here.
The French Quarter
Amongst all the old, iconic neighborhoods of the Crescent City, the Vieux Carre is both the oldest and most iconic. As far as filmmakers go, there seems to be an unwritten rule that if you set a movie in NOLA, you must feature its famous streets, musicians, sidewalk performers, hucksters, hotels, hanging gardens, gas lanterns, balconies, and other details that make this part of town both so adored and so immediately recognizable. Perhaps most famously, Interview with the Vampire set multiple exteriors along 700 to 900 Royal St. But movies featuring the Quarter go all the way back to Tarzan of the Apes in 1918, and continue to this day, from good movies (Elvis Presley's King Creole) to decent flicks (Point of No Return, Tightrope), and clunkers (Now You See Me). For good or ill, when it comes to Hollywood, the French Quarter basically is New Orleans. They're certainly not rushing to set their movies in Gentilly (though we'd love to see that).
 
Tipitina's
Dennis Quaid vehicle The Big Easy is notable to most New Orleanians for being possibly the most tone-deaf depiction of the city ever put to film. Seriously, that accent, Dennis... you're usually great and we love your stuff, but you're never living this one down. Most memorably -- and not in a good way -- is a scene in which Quaid takes love interest Ellen Barkin to the famous music club Tipitina's... for dinner? Um, it's not a restaurant, guys, especially not one with cheesy neon crawfish on the walls and a clearly fake "Cajun" chef who is obviously someone from literally anywhere but Cajun country. If you're from NOLA, watching this scene is downright torturous. Iconic, but excruciating.
The Sazerac Bar
The famous bar, now situated in the Roosevelt hotel, bears the name of a quintessential New Orleans cocktail, and has been immortalized on several film reels. You'll find it in Now You See Me (seriously, what is it with this movie? It's like some producer decided there was a NOLA locations list that they had to obsessively check off), but more memorably in JFK, in a scene that features a dazzling performance by John Candy, in which he completely and thoroughly trumps Kevin Costner's phony-baloney accent with real, you know... acting. Make sure to check out the mural on the wall, for authenticity.
The streetcars
Like the French Quarter, the unspoken film-world mandate about New Orleans also applies to our iconic streetcars, which truly are pretty glorious. You'll find few iconic scenes actually taking place on the streetcars, but they're inevitably trundling along in the background in NOLA-based films, presumably to give them that real, Big Easy feeling. One notable standout is, naturally, A Streetcar Named Desire, which features both the titular streetcar and plenty of Vieux Carre locations. But don't get too excited about taking Stanley and Stella's MTA route for yourself... there hasn't been a streetcar on the Desire line for many decades, sadly.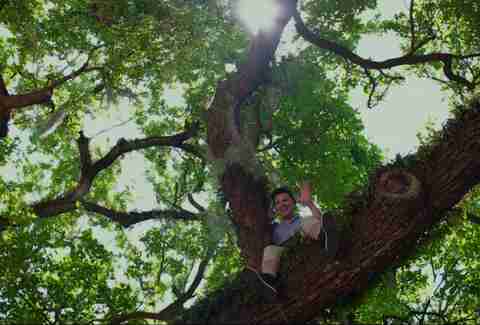 City Park
While not as widely recognized as Audubon Park (Uptown, across from both Tulane and Loyola Universities), City Park dwarfs Audubon in both size and number of film locations. Dozens of films have been shot in this historic and gorgeous public space, which is filled with lakes, lagoons, and ancient live oak trees festooned with lichen and dripping with Spanish moss...a nd that's only since 2008. You can find a comprehensive list here, but some of the more recognizable recent appearances of City Park on celluloid include The Expendables, The Mechanic, Red, GI Joe II (sure, when you think GI Joe, you think NOLA!), Old Boy, Beautiful Creatures, Get Hard, and that all-time cinematic masterpiece, Hot Tub Time Machine 2.
The Upper Garden District
This neighborhood is so old, verdant, and beguiling that goth queen Anne Rice moved there, but not before setting many of her novels in the hood, beginning with Interview with the Vampire. The film adaptation of that book naturally shows off some lovely UGD locales, like the old Coliseum Theater at 1233 Coliseum St, where Louis goes to see the movie Tequila Sunrise, and of course there's a notable scene filmed in Lafayette Cemetery No. 1 (see above). Another literary adaptation, The Curious Case of Benjamin Button, also makes use of the Garden District's charms: ol' Ben's house was filmed at 2707 Coliseum St, a mansion dating back to 1832, which is most likely why Brad Pitt and Angelina Jolie decided to move to NOLA for a spell (though not anymore... so visitors need to quit asking where Brad and Angie live, already).
 
Blaine Kern's Mardi Gras World
Hard Target is probably the "best worst" Jean Claude Van Damme movie in existence. Between JCVD's epic mullet -- how do you say "business in the front, party in the rear" in Belgian French? -- Wilford Brimley as a crazy-drunk Cajun with a bow & arrow, riding a horse, and the Crescent City setting, it's pretty glorious all around. That is, unless you realize that there are... mountains in the background during certain exterior scenes? Note to film continuity teams everywhere: South Louisiana is really, really, really flat. There is, however, one notably authentic NOLA location in this MST3K-ready flick, other than the de rigueur French Quarter: Mardi Gras World, where many of the most notable Carnival floats in the city are both crafted and stored. In this masterpiece, it's the site of the big showdown between JCVD and villain Lance Henriksen. Explosions and face kicks galore!
 
The Audubon Aquarium of the Americas
Along with the zoo, NOLA is home to a beautiful and renowned aquarium, a structure which immediately became part of the city's architectural landscape when it opened in 1990. On film, you can find it in movies that aren't so good, like Failure to Launch (snooze), as well as movies that are surprisingly good, such as Werner Herzog's Bad Lieutenant: Port of Call New Orleans. The latter might have a tedious name, but at least it's not a tedious film. We're treated not only to some cool New Orleans locales -- the Audubon Aquarium included -- but also to some epic Nic Cage meltdown scenes. And that's saying a lot, given the fact that meltdown scenes are Cage's forte.
Sign up here for our daily New Orleans email and be the first to get all the food/drink/fun in the Big Easy.
Scott Gold is a writer in New Orleans whose father was an extra in JFK who totally gave John Candy's character the stink-eye in the Sazerac Bar scene. Follow him (Scott, not his dad) on Twitter @scottgold.