Baton Rouge: The place you go to tailgate for LSU. It may not have Bayou Country Superfest anymore -- the other main reason people came to sweat it out in Death Valley -- but it's a pretty rockin' place to visit for non-sports or country music reasons. Embrace the history of the state, its natural beauty, and the quirkier side of Red Stick with our guide to BR.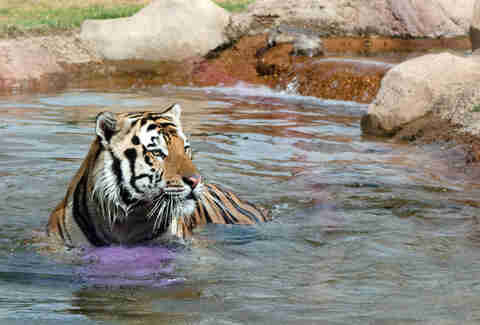 The successor to LSU's beloved mascot has yet to be named, but the school's expansion of the live tiger enclosure could rightfully set things up for an entire royal family of felines. The university added some 13,000 square feet for the next Mike to roam in, complete with lush touches like a massive live oak tree and waterfall.
Storm the Old State Capitol
The state's colorful politics shine in the 165-year-old former capitol grounds, which has been converted into a museum and event space that's as perfect for arguing legislation as it is for reciting nuptials. Its kaleidoscopic stained-glass windows in the House and Senate chambers and the rotunda make it a striking wedding venue, and, this being Louisiana, the "castellated gothic" grounds are also reported to be haunted as heck.
See the the trees on high
At 450 feet, Louisiana's "new" and current state capitol is the tallest such facility in the country and the highest building in Baton Rouge. Traveling up to the 34th-story top floor is a great way to take in the sights of downtown without having to spend a fortune on sushi at the Tsunami on top of the Shaw Center. And it's got a lovely garden to get lost in.
Wander a swamp hidden in plain site
Comically close to society (aka behind a Whitney bank) is a 103-acre reminder that we live in a giant swamp. Bluebonnet is one of dozens of BREC parks perfect for picnics and wandering, though you're probably wiser cooling off at Liberty Lagoon than taking a dip with the alligators.
Gamble on the river
Baton Rouge boasts two riverboat casinos, the Hollywood Casino and the Belle of Baton Rouge, both right on the Mississippi. It's a unique concept that set sail in 1991 for the sake of revenue and has a pretty wild requirement -- they must include paddlewheels, not that their lazy spinning is going to suddenly boost your luck on the roulette table.
Visit the birds at Magnolia Mound Plantation
The 226-year-old plantation house mixes the architectural stylings of West Indies cottages with French colonial charm and includes a still-functional pigeonnier, which is a fancy way of saying it's got a bird house. Like all extremely old buildings, Magnolia Mound is rumored to be the residents of a few spirits. Who knows what the trash doves being housed there have seen...
Get your scares in at a theme park
The 13th Gate haunted house has grown is a Halloween-season spectacular with a year-round escape room and a New Orleans cemetery-themed realm meant to evoke all your worst fears about death and the afterlife. It's also one of those great places that capture your fear on camera, snapping a photo at perhaps one of the freakiest part of the 13 realms that comprises the main attraction.
Glimpse at the state's farming past
LSU's Rural Life Museum has the largest collection of Louisiana Vernacular Architecture dating back to the 18th century. From cottages and barns to outdoor kitchens and farming tools, the museum feels like stepping back into the nascent years of Acadian migration. The throwback houses and sturdy materials also make for great DIY and interior design inspiration if you're over the whole bargeboard trend and want to get real about your weathered wood.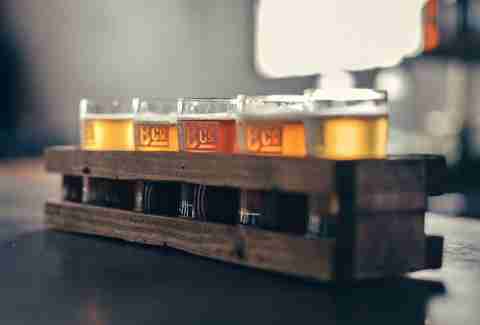 Drink the local brews
Quality breweries have been popping up all over Louisiana, but when Tin Roof Brewing hit the scene in 2010, it became a fixture in the beer scene. It hosts weekday happy hours, yoga and trivia nights, and free tours on Saturday afternoons. There are unique, brewery-only single batch creations, as well as standards like the Rusted Rye IPA and Not Too Sweet watermelon wheat.
Sample the hard stuff
If you're not content to crack open a cold one with the boys, perhaps hard liquor will do the trick. Cane Land Distilling Company is no one-trick pony, boasting a myriad of rums as well as Shindig Vodka and a delightfully strong throwback whiskey made in homage to the early American whiskey trail. Tours must be booked in advance, though they'll likely begin holding more events after a successful rum-soaked tiki night.
Enjoy the amazing local arts
Baton Rouge boasts a robust art scene, with a majority of museums clustered downtown. The Shaw Center is the one-stop shop of them all, featuring the Manship Theatre along with two galleries. Emerging artists and young talent from LSU reign supreme, and shows from New Venture Theatre and Forward Arts are consistent must-sees.
Meet some more ghosts on an old plantation
On a scale of one to extremely haunted, the Myrtles Plantation in nearby St. Francisville is simply off the charts. The 221-year-old historic-home-turned-B&B has been featured on Unsolved Mysteries, Ghost Hunters, and Ghost Adventures for its bad juju, rumored to emanate from the ancient Tunica burial ground right under it.
Cool off on the waterslides
Just off the interstate is a combination amusement/water park with one of the silliest Gumbolaya names ever: Blue Bayou/Dixie Landin'. Even if you think the title is asinine, the attraction is a great spot for locals to relax down a lazy river or get your thrills in on the many rides without having to head all the way to Bogue Chitto.
Dance the night away
Billed as the largest dance club in Baton Rouge, Splash has two levels, dance boxes, and multiple stages that host everything from drag shows to foam parties. Never fear: Splash is one of the few LGBT clubs that's not only a total blast but an affordable place for everyone ages 18 and up.
Sign up here for our daily New Orleans email and be the first to get all the food/drink/fun in the Big Easy.