Go Beyond LSU Football in Baton Rouge
Baton Rouge knows it's got a reputation: You come here to tailgate for LSU football games, or to navigate some business dealings at the state Capitol, then you hightail it to New Orleans or Lafayette. But if that's all you think there is to do in the state's second-biggest city, then it's time to reconsider. Baton Rouge is also home to a vibrant arts scene, which you can see from the murals visible from Interstate 10 as you drive into town, and in the details on locally made jewelry in a monthly arts and crafts market. Marry that with an on-the-rise bar and restaurant scene, a host of well-curated museums and family-friendly attractions, and you've got a good reason to stop and stay awhile.
Free
LSU
Visitors are often surprised to learn the LSU Tigers aren't kidding around about the mascot name. The university is home to a live tiger, who lives in a palatial enclosure across from Tiger Stadium. Stop by to see him playfully toss around a couple toys or take a swim in his pool, complete with a waterfall. Mike VII is part of a storied legacy, which you can learn more about when you check out the on-campus LSU Museum of Natural History, home to the taxidermied Mike I.
Storm the Old State Capitol
Free
Downtown
The state's colorful politics shine in the 165-year-old former capitol grounds, which has been converted into a museum and event space that's as perfect for arguing legislation as it is for reciting nuptials. Its kaleidoscopic, stained-glass windows in the House and Senate chambers and the rotunda make it a striking wedding venue, but don't let that fool you: The "castellated gothic" grounds are also reported to be haunted.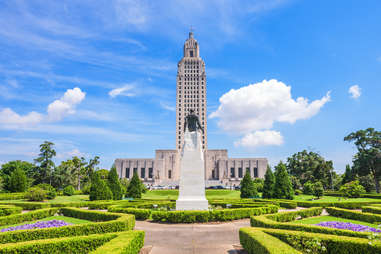 See the trees on high
Free
Downtown
At 450 feet, Louisiana's "new" and current state capitol is the tallest such facility in the country and the highest building in Baton Rouge. Traveling up to the 34th story is a great way to take in the sights of downtown. Be sure to wave hello to the statue of former Governor Huey P. Long, who was shot and killed in one of the building's corridors. You can dive into more of the state's history next door at the Capitol Park Museum.
Wander a swamp hidden in plain site
Free
Various locations
The Baton Rouge Parks and Recreation's expansive and varied facilities are one of the best things about living in or visiting the city, from Bluebonnet's 103-acre reminder that we live in a giant swamp to the Perkins Road BMX park. BREC's Blackwater Conservation Area is a favorite -- it has an access point to the Comite River, which is as close as you can get to an old school swimming hole in the area. Haul along a cooler for sunbathing and relaxing with friends.
Gamble on the river
Free-$$$$
Various locations
Baton Rouge boasts two downtown casinos -- the Hollywood Casino and the Belle of Baton Rouge -- as well as the swanky L'Auberge Casino off Nicholson Drive south of LSU. Each sits right on the Mississippi River, but you can't beat L'Auberge's music lineup.
Learn your history at a local plantation
$
Old South Baton Rouge
Check out Magnolia Mound, a 226-year-old plantation house that mixes the architectural stylings of West Indies cottages with French colonial charm and includes a still-functional pigeonnier, which is a fancy way of saying it's got a birdhouse. If you're up for a bit of a drive, head south to the Whitney Plantation, which is the state's only one dedicated to telling the story of the slave experience.
Get your scares in
$$
Downtown
The 13th Gate is a local haunted house with a national reputation. While the haunted house and its New Orleans cemetery-themed outdoor attraction are only open during the Halloween season, you can sample the over-the-top set designs in its year-round escape room.
Glimpse the past and smell the flowers
$
Burden Museum and Gardens
LSU's Rural Life Museum has the largest collection of Louisiana Vernacular Architecture dating back to the 18th century. With cottages and barns to outdoor kitchens and farming tools, the museum feels like stepping back into the nascent years of Acadian migration. Don't leave without a visit to the botanic gardens, too.
Drink the local brews
$
Old South Baton Rouge
Don't let the new drink menu in Tiger Stadium fool you: Baton Rouge is home to some quality suds, including Tin Roof Brewing, which hit the scene in 2010. It's a local fixture on taps and social calendars thanks to its weekday happy hours, yoga and trivia nights, and free Saturday afternoon tours.
Sample the hard stuff
$$
Downtown
If you're not content to crack open a cold one, perhaps hard liquor will do the trick. Three Roll Estate is no one-trick pony, boasting myriad rums, as well as Shindig Vodka and a delightfully strong throwback whiskey made in homage to the early American whiskey trail.
Belly up to the bar
$$
Mid City
The team behind Radio Bar -- the Baton Rouge neighborhood spot that's as good for a game of Ping-Pong as it is for a well-crafted cocktail -- recently opened the Mid City Beer Garden. Check it out for laid back vibes and a wide selection of brews. When you get hungry, head to the Chicken Shack, less than a mile away. It's a local institution known not only for its wet-battered fried chicken but also for its role in the Baton Rouge Bus Boycott, which later inspired the Montgomery Bus Boycott.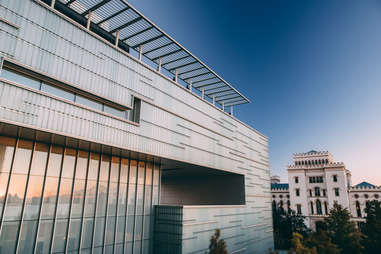 Enjoy the amazing downtown museums
$$
Downtown
The majority of Baton Rouge's museums are clustered downtown. The Shaw Center hosts the LSU Museum of Art and the Manship Theatre, which has programming that ranges from documentary screenings to shows boasting local talent, like the New Venture Theatre. A few steps away is the Louisiana Art and Science Museum, where you can cool off in a planetarium show.
Don't leave hungry
$$
Mid-City
Baton Rouge got in on the fancy food hall trend with the White Star Market. Inside, you'll find a variety of local options, including Baton Rouge chef and Food Network personality Jay Ducote's Gov't Taco. Go for the Clucks and Balances, a taco filled with chicken thighs and pimento mac and cheese, or the vegetarian Magna Carrot. Save room for dessert at Elsie's Plate and Pie down the block.
Pick up some local gifts
$-$$$
Downtown
The weekly Red Stick Farmers' Market is always worth a walk through. Area farmers truck in everything from freshly baked bread to cured meats, veggies, and house plants. Once a month, the Baton Rouge Arts Market gets in on the action. Look for local artisans selling paintings, crafts, and handmade jewelry -- like the locally inspired pieces from Mimosa.
Meet some ghosts
$$
St. Francisville
On a scale of one to extremely haunted, the Myrtles Plantation is simply off the charts. The 221-year-old historic-home-turned-B&B has been featured on Unsolved Mysteries, Ghost Hunters, and Ghost Adventures. Stop in for a tour so the guides can tell you the legend of Chloe -- and why you'd never want to sample any of her baked goods.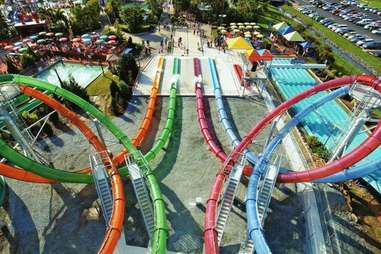 Cool off on the waterslides
$$
South Baton Rouge
Just off the interstate is a combination amusement/water park with one of the silliest names ever: Blue Bayou/Dixie Landin'. Even if you think the title is asinine, the attraction is a great spot to relax down a lazy river or get your thrills in on the many rides without having to head all the way to Bogue Chitto. If you're looking for something a little more laid back (and cheaper), take a trip to BREC's Liberty Lagoon instead.
Cheer on the big cats
$$$
LSU and Southern University
Baton Rouge is home to two great marching bands -- I mean, football teams. You can visit LSU to cheer on the Tigers and clap along as the Golden Band from Tiger Land comes marching down Victory Hill. Or head to north Baton Rouge to the HBCU Southern University, where the Human Jukebox vies for attention as the Jaguars meet their opponents on the gridiron.
Dance the night away
$
Highland Road
Billed as the largest dance club in Baton Rouge, Splash Nightclub has two levels, dance boxes, and multiple stages that host everything from drag shows to foam parties. Never fear: Splash is one of the few LGBT clubs that's not only a total blast but an affordable place for everyone ages 18 and up.
Get the blues
$
Zachary
Baton Rouge's blues history runs deep. Tune right into it by heading just a touch north of Baton Rouge to Teddy's Juke Joint. Here, owner Teddy Johnson, who was born inside this very building, is king. Get a set up (that's a DIY approach to mixology where you get your liquor and a mixer in separate bottles) from the bar and kick back to hear whoever's playing under the Christmas lights.
Sign up here for our daily New Orleans email and be the first to get all the food/drink/fun in the Big Easy.
Chelsea Brasted is a proud LSU grad and a freelance writer in her hometown of New Orleans, where she formerly worked for
The Times-Picayune
as an arts and entertainment reporter and city columnist.