10 Essential Harlem Historic and Cultural Destinations to Explore on Foot
According to Neal Shoemaker of Harlem Heritage Tours.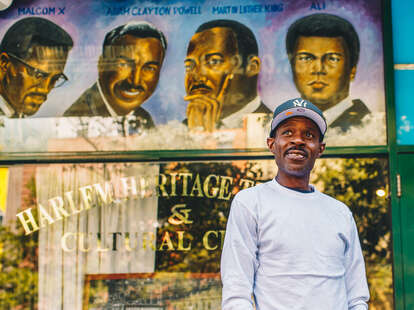 Following the Great Migration, NYC's Harlem became known as the mecca of African American and Black congregation in the U.S. As a 1.4 square-mile trove located in Upper Manhattan that's home to some of the most iconic parks, places of worship, architecture, and landmarks celebrating Black culture in NYC, the best way to experience Harlem is on foot—especially via an informative walking tour led by a local. Resident and local Neal Shoemaker founded Harlem Heritage Tours in 1998 and offers a range of experiences, from tours centered on gospel to civil rights to tv/movies, or even the Harlem Renaissance. Since then, his company has played a vital role in sharing the important legacy of the community with both its residents and visitors. "The tours show Harlem from the perspective of those that live here and include audio which makes you feel like you are walking in the footsteps of history," he says.
Even lifelong residents, like Tren'ness Woods-Black of the restaurant Sylvia's, still finds herself in awe with the neighborhood's architectural details, and understands the significance of Shoemaker's contributions. "I love Neal's tours," she says. "He's become the preeminent tour guide of the community and has done so much research through local conversation to find out and uncover places where so many of our Harlem fixtures have lived, eaten, breathed, danced, and played."
To properly experience Harlem in all its glory—from spots where Civil Rights history was made to historic homes or gorgeous architecture and places dedicated to LGBTQIA icons—here are 10 essential destinations to include in a Harlem walking tour, courtesy of Neal Shoemaker and Harlem Heritage Tours.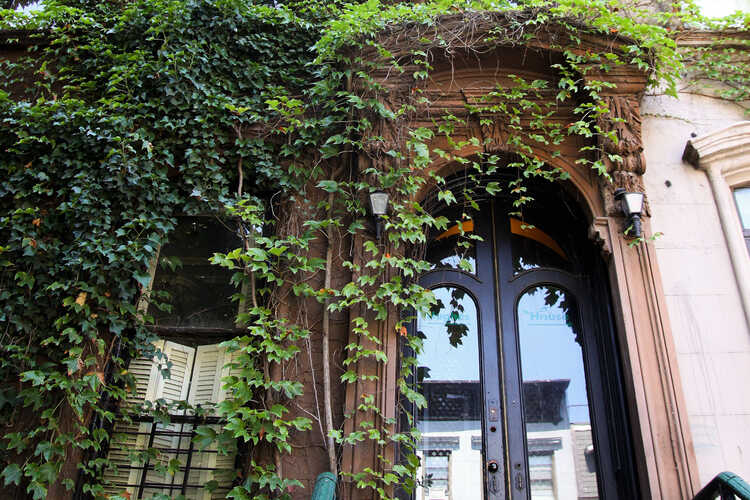 The Langston Hughes House

| Raymond Boyd/Michael Ochs Archives/Getty Images
20 East 127th Street
Popularly known as the Poet Laureate of Harlem, Langston Hughes was a famed African American poet and activist who was a stalwart of the Harlem Renaissance. He originally arrived in NYC in 1921 to attend Columbia University and lived at 20 E 127th from 1947-67 during the last two decades of his life. His Italianate brownstone residence has been designated an official NYC Landmark since 1981. In addition to writing, Langston Hughes is an LGBTQIA icon and it's widely accepted that he stayed closeted during his lifetime in order to make a living as a Black writer.
85 Bradhurst Avenue
Jackie Robinson Park rests within the Hamilton Heights neighborhood under the culturally Black enclave of Sugar Hill Historic District. Bordered by 145th Street to the south and 155th to the north, and then Bradhurst Avenue to the East and Edgecombe to the west—it covers ten city blocks and was designed to bring the community together. According to Neal, "Harlem was a countrified area of the city where many wealthy Caucasian families built grand estates during the hot summer months when lower Manhattan was unbearable." Jackie Robinson Park, formerly known as Colonial Park, sits on land that was part of the Bradhurst Estate established by wealthy businessman and author, Samuel Bradhurst. Today Harlem residents in the area enjoy park amenities such as basketball courts, baseball fields, entertainment, and the popular swimming pool.
Masjid Malcolm Shabazz

| Osugi/Shutterstock
102 West 116th Street
This famed mosque where Malcolm X worshipped and organized during the Civil Rights era was known as Muhammad's Temple of Islam #7. Located in South Harlem, the Masjid that was once a bastion of Black Nationalism and imperative meeting place for racial justice organizing is now an interfaith community hub. The Masjid is unique in style for its green dome atop a box-like structure that was once the Lenox Casino and it is another interesting stop on the Civil Rights walk of Harlem Heritage Tours. "The Masjid is the most historic faith-based organization in Harlem because between 1957-63, it was the house of worship for Malcolm X," says Shoemaker. "It is hyperlocal and has tourists from as far as Istanbul coming to view this attraction and its historical imagery still present."
East 120 Street to East 124 Street on Madison Avenue
Marcus Garvey is well known as a political activist and Pan-Africanist originally from St. Ann's Bay in Jamaica. In 1916, he moved to Harlem and according to Shoemaker, "was one of the first to advocate that American-born Black citizens develop an appreciation of their connection to the mother continent, to embrace our dark skin, and to not see it as a badge of inferiority." As such, Mount Morris Park was rededicated as Marcus Garvey Park in 1977 and it is bounded by 120th Street to the south, 124th Street to the north, and Madison Avenue to the east. In addition, Shoemaker explains: "the community of Harlem appreciates the park serving as a platform of diverse entertainment and cultural expression, in addition to the cornucopia of beautiful 19th and 20th century architecture that surrounds it."
170 West 130th Street
Bayard Rustin was an iconic Civil Rights leader who was also an activist for gay rights and non-violence. He is best known for organizing the historic March on Washington for Jobs and Freedom in 1963 where Dr. King's famous "I Have a Dream" speech was given. Harlem was where he spent time organizing and fundraising for the March and he did so at the former Utopia Neighbourhood Clubhouse at 170 West 130th Street. Previously, the building's facade was designed by Vertner Woodson Tandy—a resident of Strivers' Row (an African American Harlem enclave) and the first African American architect registered in New York State—in addition to its address formerly housing the Sojourner Truth House for the care of "delinquent colored girls." Bayard Rustin died in NYC in 1987.
515 Malcolm X Boulevard
Arturo Alfonso Schomburg was a Puerto Rican author, bibliophile and curator of an extensive collection of Black literature, art, and writing. He immigrated to Harlem in 1891 and became part of the Harlem Renaissance movement. In 1926, the 135th Street branch of the NYPL purchased his collection and appointed him curator. As Shoemaker of Harlem Heritage Tours states, "the Schomburg Center is the most thorough and highly esteemed resource of information and memorabilia pertaining to people of Black and Latino descent." In keeping with this honor, Langston Hughes' ashes rest beneath the floor of the Schomburg Center.
East of Fifth Avenue and north of 96th Street towards the Harlem and East Rivers
Also known as El Barrio, Spanish Harlem is bounded by the Harlem and East Rivers, Fifth Avenue, and 96th Street. The neighborhood is predominantly Puerto Rican with a sizable number of Dominican, Cuban, and Mexican multi-generational residents, in addition to a fast-growing Chinese population and remnants of being a previous enclave for Italians. There is history to uncover in Spanish Harlem, such as the Young Lords Organization, a Puerto Rican (and other Hispanic cultures) activist collective inspired by the Black Panther Party founded in 1968. Other must-try places include the world renowned El Museo museum featuring artists of Latin descent, and newer restaurants like Contento, who continue to add to the area's rich culinary scene.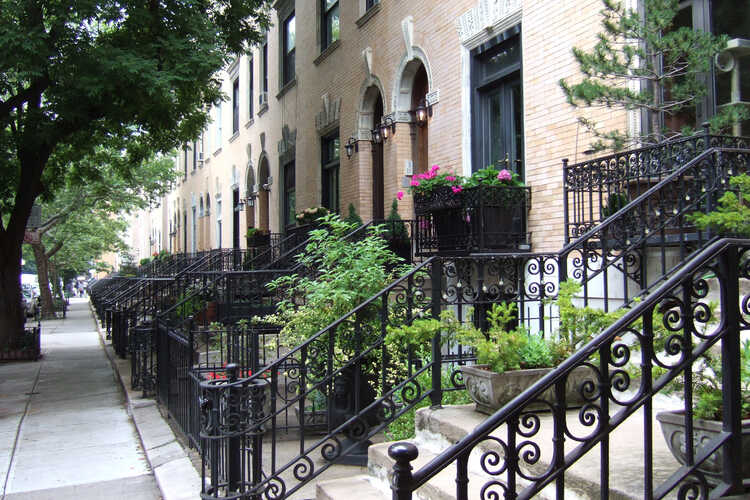 Strivers' Row

| The Curious Eye/Shutterstock
West 138th and 139th Streets between Adam Clayton Powell Jr. Boulevard and Frederick Douglass Boulevard
Originally called King Model Houses, Strivers' Row is now known as the St. Nicholas Historic District, and is a landmark-designated site consisting of row houses built in 1891-93. It's a popular walking attraction for its variety of architectural styles and previous homes of renowned figures in music, politics, and entertainment. Located on two different city streets that are sandwiched between large avenues, "Striver" was the colloquial name given to this enclave as upwardly mobile African Americans began moving into the area after white flight in the early 1920s. Notable African Americans who called this place home include the tap dancer Bill "Bojangles" Robinson, and Adam Clayton Powell Jr., the famed Congressman for whom the avenue is named.
West 122nd Street at St. Nicholas Avenue and Frederick Douglass Boulevard
Harriet Tubman requires no introduction as the leader of the Underground Railroad that ferried many enslaved African Americans to freedom in non-slave-holding states and Canada. To honor her, a bronze sculpture, Swing Low, was created by artist Alison Saar and erected in 2008 amid a renovated triangle structure where West 122nd Street meets St. Nicholas Avenue and Frederick Douglass Boulevard. Harriet Tubman died in 1913 in Auburn, New York, but her Harlem statue is a testament to the neighborhood's strong African American history and heritage.
328 Malcolm X Boulevard
After a comprehensive walking tour of Harlem, there's no better way to end it than with a meal at Sylvia's, the iconic soul food restaurant founded by Sylvia Woods in 1962. Even after nearly 60 years, Sylvia's continues to feed, love, and nourish their community not only with their world famous dishes like fried chicken, corn bread, and peach cobbler—but also as an uptown epicenter for Black culture, justice, and social life that remains popular with celebrities, politiciations, and artists. Among countless others, some famous faces who have dined here include President Barack Obama, Nelson Mandela, Whoopi Goldberg, and many more.