Here's Why Donald Trump Can't Call Himself a Real New Yorker Anymore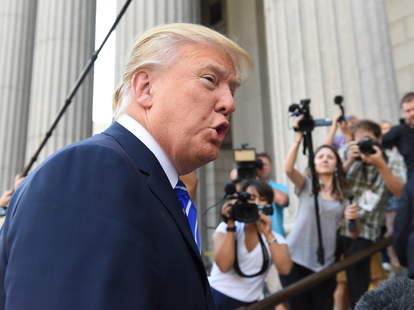 <a href="http://www.shutterstock.com/gallery-940660p1.html?cr=00&amp;pl=edit-00">a katz</a>/<a href="http://www.shutterstock.com/editorial?cr=00&amp;pl=edit-00">Shutterstock.com</a>
As a society, we have yet to settle on a singular, comprehensive definition of what constitutes a "real" New Yorker. Whatever it is, I'm pretty damn sure it doesn't include Donald Trump. Sure, he was born in Queens, and claims his primary residence at Trump Tower on Fifth Ave, and yeah, he's consummately true to the New Yorker stereotype (loud, narcissistic, spectacularly greedy, status-obsessed…). But if I'm not even a real New Yorker, there's no way The Donald is.
Here are 10 things that prove it:
 
1. He's rich
He claims to have "TEN BILLION DOLLARS," while Forbes says it's probably more like $4 billion. Either way: we're not talking about "douchebag in the club ordering bottles" money. We're talking about "owning the company that makes those bottles, and the building you're in" money. Yeah, a lot of that wealth is self-made, but he also comes from money. His father, the late Fred Trump, was a shrewd businessman and a millionaire a hundred times over.
In other words, Donald is a card-carrying member of New York City's super-rich upper echelon, and absolutely no one in that ultra-insular cohort is familiar with the basic New York struggles we all deal with. Like, y'know, spending three-quarters of your paycheck on a claustrophobic three-story walk-up in Greenpoint, or eating dollar pizza and dumplings for dinner every night to be able to afford an air conditioner. Sigh.
 
2. He's tragically unfashionable
A real New Yorker is effortlessly stylish. Trump, on the other hand, is constantly overcompensating with monochrome ties, ill-fitting power suits, and of course, the hair.
<a href="http://www.shutterstock.com/gallery-143386p1.html?cr=00&amp;pl=edit-00">Christopher Halloran</a>/<a href="http://www.shutterstock.com/editorial?cr=00&amp;pl=edit-00">Shutterstock.com</a>
4. He went to prep school outside NYC...
After Trump spent one year at Queens' prestigious Kew-Forest School, his parents placed him in New York Military Academy, an institution in Cornwall-On-Hudson (today's tuition: $31,000). Debate the New Yorkerness of private schools all you want (hey, Dan from Gossip Girl was definitely the real deal), but never forget that most of The Donald's formative adolescent years were spent beyond the Five Boroughs.
 
5. ... and college, too
Trump spurned New York's own Fordham University after a year to attend Wharton School of Business at the University of Pennsylvania. What, Columbia wasn't Ivy enough for you, Don??
 
6. You aren't a real New Yorker if you hate Mexicans
Or really even just a good person.
 
7. He thinks his garbage steaks are better than Peter Luger's
Rule No. 1 of being a real New Yorker: never, ever blaspheme at the red meat altar by claiming your vacuum-sealed, mail-ordered, Sharper Image-sold beef is "the greatest in the world" -- finer than the likes of Peter Luger's, Keens', or any of these places, which Trump did.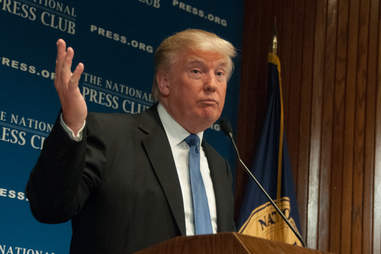 <a href="http://www.shutterstock.com/gallery-4826p1.html?cr=00&amp;pl=edit-00">Albert H. Teich</a>/<a href="http://www.shutterstock.com/editorial?cr=00&amp;pl=edit-00">Shutterstock.com</a>
8. He doesn't even take the subway
The subway is the lifeblood of this place. It's magnificent, shitty, and both literally & figuratively embedded in the foundation of New York City. As far as I know (and Google knows), Donald Trump does not ride it.
 
9. He supports "traditional" marriage
NYC was ranked the second-most gay-friendly city in the country, and has more LGBT residents than anywhere else, which makes The Donald's stance on marriage equality distinctly un-New Yorkerly.
 
10. The middle of the country loves him
The flyover states traditionally hate New Yorkers because we act like we're smarter, prettier, and better than them (we are) and because we call them "the flyover states." If he was truly a New Yorker, decorum dictates that people in places like Oskaloosa, IA, should hate everything this loud-talking bankruptcy magnet stands for. And yet, they love him. Something doesn't add up.
Sign up here for our daily NYC email and be the first to get all the food/drink/fun New York has to offer.
Dave Infante is a senior writer for Thrillist, and is not a real New Yorker. Follow @dinfontay on Twitter, Instagram, and Facebook.