Paid Content For
Chevrolet
Nik Cockshott via Mmuseumm/Facebook
Nik Cockshott via Mmuseumm/Facebook
Astoria
It's no Barnes & Noble, which is exactly why this cozy Queens stop is worth visiting. Sure, it's limited in size, but they manage to squeeze in the requisite poetry and YA titles alongside a section devoted exclusively to Queens-based writers, including Megan Abbott and Joseph Tirella. (Though Queens readers might opt for the bookshop's book club.) Bonus points for a staff so friendly you would wonder how New Yorkers ever got a bad reputation.
Chinatown
Yes, the fact that this modern natural history museum is a converted freight elevator located in a Manhattan alley tells you this is not your Upper West Side's Natural History Museum. (Ross Geller from Friends would never have worked here.) Instead, you might see exhibits like toothpaste tubes from around the world, Cambodian menu photo rejects, a chronology of Corn Flakes, or Al Goldstein's personal ephemera. Plan accordingly because this only-in-New-York cultural spot run by entrepreneur Alex Kalman is open only Thursday through Sunday with a pay-as-you-wish fee (suggested donation is $5). And if you're over 6' tall, be prepared to duck.
East Village
The local joint everyone in New York dreams of living near, this small restaurant has it all: the chalkboard menu, a BYO-laid-backness, a kitchen that probably makes you feel better about your minuscule apartment, and tables so small you'd better not come with a party bigger than four. (And only one of the joint's three tables can accommodate a party that big.) Definitely slurp down some escargot and just try not to order the boeuf bourguignon after seeing it hit a neighboring table.
Staten Island
The legendary Red Hook, Brooklyn sandwich joint has moved a ferry ride away to Staten Island. This Italian hero joint includes the Sinatra special (grilled steak in tomato sauce, topped with fresh mozzarella), the Danny Boy (grilled sausage, peppers and onions), and the Zito Vito (Virginia ham, fried eggplant, provolone).
Riverdale & East Harlem
People travel beyond their home borough to this teeny Bronx storefront for a muffins, pies, or just a slice of cake (the carrot is legendary) baked from scratch using the recipes of the now-deceased founder Lloyd Adams. Unlike fancier New York City bakeries, Lloyd's just charges $2.75 a slice, and an 80-person cake will only set you back $75.
Greenwich Village
The name says it all. When you make it past the narrow staircase down it's not the roomiest of jazz clubs, but locals love the intimate feel of a barely-there stage and mismatched seats. (That is, if you get there early enough to nab an actual seat.) And if you do find a place to plant yourself, make sure to stay put, as the cover charge ($20, and $10 during off hours), will get you in for the full night.
The Troll Museum
Lower East Side
If your legs will carry you up to the 6th floor walk-up, visitors are treated to a free (though the suggested donation is $3,000) tour of 400 vintage trolls and troll memorabilia, courtesy of curator Reverend Jen (and her Chihuahua, Reverend Jen Jr.). Don't forget to make a reservation beforehand by calling 212-560-7235 or she won't let you up. And trust us, you want to be greeted by her in her elf ears.
Greenwich Village
If you ask for the private dining room at Bell Book & Candle, you'll be taken out of the regular 5,000-plus square foot restaurant to a hidden area behind a fake wall, where just one table for 2-6 people sits surrounded by brick walls and wallpaper of scantily-clad ladies, which you'll want to see for yourself.
Carroll Gardens
Small-batch ice cream has become so ubiquitous, a company really has to impress. Which is why we're happy to report that Hokey Pokey (salted honey ice cream with manuka honey comb) exists at Milkmade. As does Hamantaschen (lemon poppyseed ice cream with the enjoyed-by-all-religions cookie devoured during the Jewish holiday of Purim). And don't get us started on the beautiful simplicity of New York Stylin' (Junior's cheesecake with graham crust, and cheesecake ice cream). Their "tasting room," a teeny spot in Brooklyn, is open daily, beginning in mid-April, but closed as soon as the weather gets too, well, icy.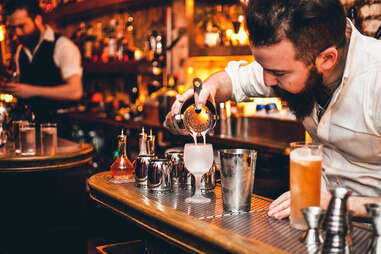 LES
Behind a door marked only "AB", with a warning to "Please Knock Gently", is a cozy speakeasy founded by two former Milk & Honey bartenders. If you are let in, you can ask a mixologist to make you a personalized drink (there is no menu), but it'll set you back $16. Don't try to call them because like any self-respecting speakeasy, they're unreachable.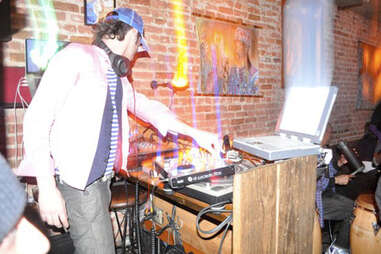 Williamsburg
It's not easy to find a small dance club in New York City, but this bar gets moving with salsa, calypso, hip hop, rumba, merengue, and more. Sure, it gets crowded quickly, but that only adds to the we're-all-in-this-together vibe, and not everyone stays until 4am closing time. Plus, those who want to take a break can head to the street and gaze at the Williamsburg bridge or simply hydrate inside with one of many drinks served in actual coconuts.