In NYC, you likely spend 99.367%* of the time with other people (*REAL STATISTIC). Living with them, working with them, commuting with them. They. Are. Everywhere. To the point that once in a while it's nice to stop and take a moment for a little You time.
Thing is though, being "alone" in the city doesn't have to have morbidly depressing undertones -- it can be… waitforit... actually fun, especially if you're doing these 18 things.
1. Explore and/or join a community garden
Parks shmarks. You probably go to the public parks with your homies ALL the time. Why not check out New York's smaller, more intimate community gardens? They're collaborative efforts from members throughout the community and great places to check out local art, plant vegetables, or join small neighborhood-y events. Tip: check out the 9th Street Garden on E 9th and Ave C, which has some sweet weeping willow trees.

2. Visit a hotel bar
Being alone doesn't necessarily mean you have to be by yourself all day. Mix up your regular routine and head to a hotel bar. You might meet some cool new out-of-towners eager for a New York expert like yourself to come drop some wisdom. And won't they be delighted to find you sitting at their hotel bar.
3. Visit the Met's late weekend hours
It's a pain in the ass to visit the Metropolitan Museum of Art because it's so damn crowded most days at most times. But on Fridays and Saturdays the museum is open until 9pm, when all the people are definitely out doing something else. Enjoy a rare, quiet moment to stroll the galleries and feel as though you have the museum all to yourself. Tip: be sure to stop by the Temple of Dendur in the Egyptian wing. Trust us. It's amazing to see it at night all lit up with the entire wall of windows behind it.

Practice your swing without fear of embarrassment from your friends who are better at golf than you. You could even check out The Golf Club at Chelsea Piers' Friday Night Swings happy hours to add a little wine and beer to your nightly golf practice.
5. Stroll the High Line
The High Line with friends or a date is a little boring because after you've walked it… that's kinda it. But by yourself, the High Line can be pretty fun. Pick up some food at Chelsea Market and have yourself a little picnic where you can take in views of NYC and have some sweet life-affirming thoughts.

6. Join a running group
Running with friends is only a good idea if your intention is to talk each other out of running and hit boozy brunch instead. If you're serious about actually running and need a bit of motivation, join one of New York Road Runners' many running groups, and has options for runners of all levels.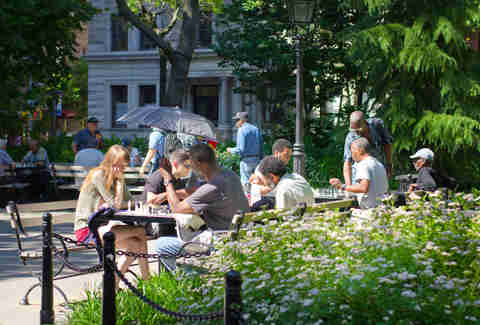 7. Challenge the chess masters
Quite frankly, no one in NYC is more intimidating than the chess players in Washington Square Park. Strap on your confidence balls and challenge them to a round of chess. Just make sure to do it alone so that when you do in fact lose, no one is there to see it.

8. Take a class at the 92nd Street Y
Higher education is great if you've got things like money and time, but if you have neither of those, consider taking a class at the 92nd Street Y. Enjoy an affordable program of everything from language and creative writing to wine pairing and the history of Jewish and Italian food. Classes run either as a series or as one-offs.
9. Browse for records
Your record collection is sure to impress the skinny jeans off of any hipster, but your endurance for browsing drives your friends crazy. Fine, you don't need them. Browsing for records is a great solo activity for audiophiles who love to get lost. Visit some of NYC's best shops on your own, like The Thing in Greenpoint, Deadly Dragon Sound System on the Lower East Side, Black Gold Records in Carroll Gardens, Turntable Lab in the East Village, and Rough Trade in Williamsburg and take all the time you need.

10. Get cultured for cheap
Feeling artsy at the last minute and don't have a date? No problem. Visit the David Rubenstein Atrium at Lincoln Center to see what discount tickets you can score for performances at Lincoln Center, BRIC Arts Media, Kaufman Music Center, New York City Center, and more. Tickets can be sold at discounts of 25-50%. If Broadway is more your bag, and you don't mind waiting in a line, show up to the box office early to check out their standing room only and lottery system for ticketing.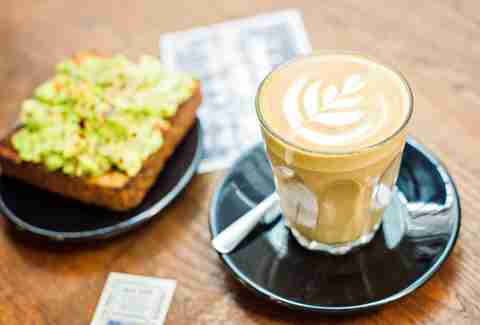 11. Sit in a coffee shop
Go to any of these and do work, read, or just sit there, people-watching the shit out of everyone quietly.

12. Eat at the bar
Just because you don't have anyone to go check out that new restaurant with, doesn't mean you're relegated to another night of takeout. You can still (and SHOULD) go by yourself. Granted eating at a table for one is pretty damn awkward and uncomfortable, but that's what bar menus were invented for. Generally people who eat at the bar are in town on business, solo travelers, or are like you and had no plans for the night. These are social beings and you might end up making a few friends.
13. Visit a day spa
You work hard. You know it, we know it. Treat yourself with a day of massages, facials, steam rooms, saunas, hot tubs… whatever helps you unwind best. You can visit everyone's favorite Spa Castle (in Flushing or Manhattan), go super budget at the Russian Turkish Baths in the East Village, or if you're feeling a bit fancy, check out one of the pricier spas in the city like Aire Ancient Baths.

If you've got an interest (like... seriously ANY interest in ANYTHING), there are guaranteed to be at least two other people in NYC that have that same interest. Visit MeetUp, and find them.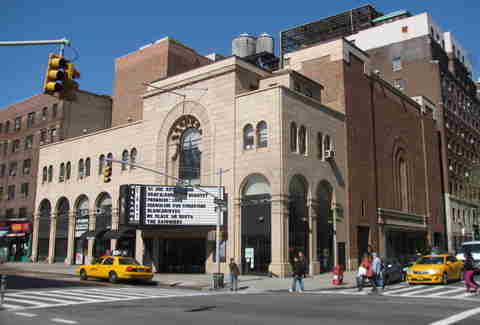 ... wut? Yeah. That's a thing. You've probably already been to Verboten in Williamsburg a gajillion times because you're THAT cool. But have you ever been for its Deep House Yoga? Every Monday and Tuesday, Verboten brings in different DJs and yoga instructors to lead a class in yoga set to deep house music. Yes, complete with disco ball.
17. EatWith strangers
EatWith is sorta like the Airbnb of the foodie set. Instead of booking a room in someone's apartment, you book a seat at their table. Create a profile for yourself at EatWith.com, see who in your city is cooking up what, and request to join the dinner party. What unfolds is (hopefully) a menu of homemade epicurean treats and an evening of sparkling conversation.

Because you are definitely NOT doing that with your friends.
Sign up here for our daily NYC email and be the first to get all the food/drink/fun New York has to offer.
Meagan Drillinger is a freelance writer for Thrillist. She gets the Spanish Language MeetUp emails and figures that's good enough. Follow her on Twitter, Instagram, and Facebook at @drillinjourneys.