Courtesy of 21 Club
Courtesy of 21 Club
In 1922, long before fake IDs were procured in NYU basements and speakeasies outnumbered rats, when alcohol in NYC was banned thanks to a little thing called Prohibition, 20-something cousins Jack Kriendler and Charlie Berns were starting an illegal drinking venture that would go on to become the 21 Club, a legendary dining, party, and see-and-be-seen (except by the feds) spot, for New Yorkers of the era and generations to come.
Some 94 years later, 21 Club still carries the air of an old-school speakeasy, with a buzzing dining room filled with well-dressed regulars, tourists, and first-timers swayed in by Florence Fabricant's recent chicken paillard rave in the Times. You may even spot a few men casually slipping cash into the maître d's hand.
But there's more to the 21 Club than a meal you probably can't afford. It's the place the mob once tried to put a hit out on, where Ernest Hemingway once had sex, and of course, where a secret dungeon housed smuggled booze. Lifelong New Yorkers may look at it as a tourist trap, but the 21 Club has played a hugely important role in the New York City history -- we've rounded up all the reasons why.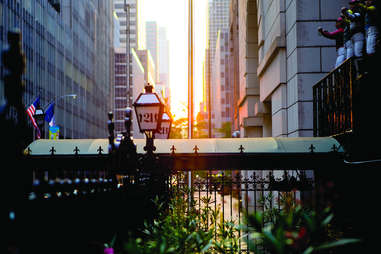 Like anything good in New York, real estate made things complicated
In 1922, almost two years into Prohibition, Jack and Charlie opened their first smuggled-booze speakeasy, the Red Head, in the East Village. After realizing exactly how much money they could make by potentially breaking some laws, they grew the business into the Frontón in Washington Square. Though Mayor James J. Walker was a notable patron at the time, the successful speakeasy was evicted in 1926 so the city could build the subway. The duo moved the business Uptown to a vacant space on 49th St, where the venue known as The Puncheon Grotto (as well as the Grotto, No. 42, and Jack and Charlie's to elude the federal agents) became known for throwing the booziest and rowdiest party in town -- until J.D. Rockefeller decided he wanted to build Rockefeller Center on the same property.
The 21 Club as we know it today officially began with a party
On New Year's Eve 1929, Jack and Charlie, still in their 20s and by this time enviably successful, decided to go out with a bang. They held a gala at the Puncheon Grotto, inviting their best customers to arrive in tuxes and ballgowns. Upon arrival, guests were given a bottle of Champagne and a pickaxe. Dressed to the nines, they all drank a ton and destroyed the Puncheon Grotto, which was about to be torn down anyway. Legend has it, someone on horseback (perhaps a cop) walked through the pickaxe demolition party amid the chaos. To ring in 1930, Jack and Charlie announced that they would be relocating the party to their new spot at 21 W. 52nd St. Guests threw down their pickaxes and picked up the iron gate surrounding the 49th St bar, marching it three blocks north and putting it out front of the new space. You'll find that same gate outside the restaurant today.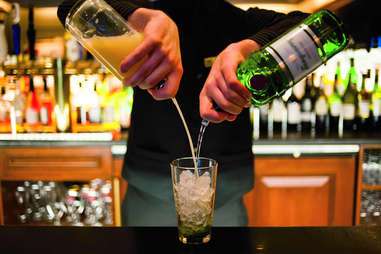 Jack and Charlie's impressive connections gained them access to booze
The Club's owners had a complex network that allowed them to import the best wines from Europe and spirits from Canada and South America. Booze would be smuggled in the hoods of cars, and the doorman and his sister would pose as a honeymooning couple to bring booze up from Florida. "They had some really good stuff, and that was really pivotal in building the great reputation," Avery Fletcher, 21's director of sales and marketing, says. While early on in Prohibition, booze smuggling is mostly documented with legends and lore (perhaps the smugglers drank a little too much to even remember the facts), according to one anonymous bootlegger in Marilyn Kaytor's 21: The Life and Times of New York's Favorite Club, early on, 100-proof alcohol was looted by gangsters from government warehouses, then sold underground. Once the contraband stash ran out, Jack and Charlie began importing booze driven in from Canada or sailed in via Long Island from Bermuda and the Bahamas.
It was never actually a club
The venue at 21 W. 52nd Street was known as Jack & Charlie's 21, The 21 Club, The Numbers, and just 21, all at the same time to trick federal tax agents, as they'd been doing with multiple names all along. At the time, the Internal Revenue Service looked for returns by the name of the business, not the address -- so having multiple names helped keep 21 under wraps. 21's name stuck because of the address, not the drinking age (since all drinking was illegal at that time), but membership was never an option, and the "club" was never exclusive. People knew they were there, but they weren't loud about it.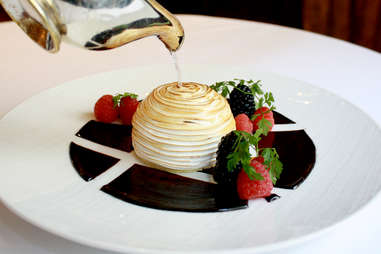 Excellent food is partly what gave 21 its reputation
With a talented French chef, 21 was known as one of the only speakeasies in the city that had really good booze and really good food. With a liquor menu extending far beyond moonshine, and dishes beyond finger sandwiches, 21 stood out from the city's other underground haunts.
The restaurant got raided once, which led to a high-tech booze security system
The restaurant had a serious system down, so they never got caught... well, almost. Employee Jimmy Coslove would use the peephole at the door to spot gangsters, police, and revenue agents. He avoided every single raid -- except for one in 1930, after gossip columnist Walter Winchell, who had been banned from 21, authored a column about its illegal activity. Post-raid, Jack and Charlie commissioned a new architecturally inventive security system that involved false stairways and walls to hide 2,000 cases of Montrachet 1889, Romanee Conti 1880, and fine vintages of Chateau Lafite-Rothschild. Bar shelves were also designed to collapse, so if Coslove spotted an agent, a wire rod would trigger them to collapse and send wine bottles down a chute.
21 expanded underground before expanding on street level
To store all the booze, the club made a deal with the neighbors at 19 W. 52nd St., using their basement -- accessed by a hidden, two-ton door to which the only key to this day is an unsuspicious meat skewer -- to keep excessive amounts of booze. The club could very easily say there was no booze on the property, because it was all stored in #19. Eventually 21 bought 19 and then the next townhouse as well, and the restaurant you see today is a combination of the three buildings.
The mob had it in for 21
Legs Diamond, a famous mob boss at the time, wasn't thrilled that 21 made alliances with the police department rather than with the mob (the other way to source booze during Prohibition). It's said that Diamond put a hit out on Jack and Charlie and planned to come down to NYC from Albany to do it himself, but somebody took him out first.
Ernest Hemingway had sex there
When visiting 21, Hemingway would famously declare, "Since I'm not drinking, I'll just have a tequila." One night, when he was there for a dinner party, he met an attractive woman with whom he spent the remainder of the night talking and eating and drinking. When it was time for the restaurant to close for the night, Hemingway asked Jack (the owner), if they could stay for a while. Jack was known for saying yes to everything, and he agreed to let them linger while the restaurant cleaned up. "They got to know each other very, very well, intimately even, on our kitchen steps... they're pretty darn steep!" Fletcher claims. Apparently, the next day Hemingway came back to the restaurant and said "Jack, I have a problem: what's her name?" And as it turned out, he had romanced Legs Diamond's girlfriend.
The toys hanging from the ceiling aren't as playful as they seem
The legendary ceiling collection started in 1931, when the owner of British Airlines asked Jack and Charlie if he could hang a model of his plane over the table to impress some investors. A BA "flying boat," as it was called, was hung over his regular table, and soon competitors and captains of industry also insisted on adding their mementos. Now, Salvatore Ferragamo, Cartier, JFK, Bill Clinton, John Riggins, Chris Evert, Dorothy Hamill, Willie Mays, Wayne Gretzky, and many more have all had a hand in decorating the Bar Room.
Carrie Bradshaw once cried there
In Season 6, Episode 8 of Sex and the City, "The Domino Effect," Mr. Big travels back from Napa to New York City to have a "little heart thing done." Discussing his impending angioplasty with her over steaks at the 21 Club, Carrie bursts into tears at the table.
Barack Obama is the only president who hasn't made a visit
Since 21 Club opened, every single president has dined there, save for Barack Obama, who has not yet made reservations. A few bottles of wine in the cellar still have Richard Nixon's or Gerald Ford's names on them, and Ronald Reagan once gave a beloved bathroom attendant a pair of cufflinks. Presidential candidates Hillary Clinton and Donald Trump have also dined there. The butter- and cream-laden menu probably doesn't appeal to Mrs. Obama's Let's Move! campaign.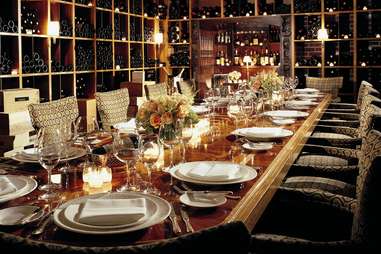 The wine cellar is the perfect place for celebrities' friends to take advantage of their bank accounts
When Jay-Z visited 21 Club last year, his friend apparently requested a $10,000 bottle of wine. No confirmation on whether he went for it or if he saves the five-figure booze for Bey.
For further reading on 21 Club, check out H. Peter Kriendler's 21: Every Day Was New Year's Eve and Marilyn Kaytor's 21: The Life and Times of New York's Favorite Club.
Sign up here for our daily NYC email and be the first to get all the food/drink/fun New York has to offer.
Melissa Kravitz is a writer based in NYC. She is a big fan of 21's truffle mac & cheese.