Design by Maitane Romagosa for Thrillist, Photos courtesy of 420 Expo
Design by Maitane Romagosa for Thrillist, Photos courtesy of 420 Expo
"Nobody's in a hurry. Nobody's stressed." Those are the vibes you can expect at this weekend's 420 Expo, according to the event's co-founder, J. Handy.
Now in its second year, the 420 Expo is setting down temporary roots at the New Jersey Convention & Exposition Center in Edison, New Jersey from Friday, September 29 to Sunday, October 1. With 20,000 attendees predicted this year, the festival sets itself apart with its B.Y.O.C. (bring-your-own-cannabis) policy, in addition to more than 100 cannabis-related vendors, live music performances, celeb meet-and-greets, and loads of munchie-certified food trucks.
"It's exactly what you would expect at a cannabis convention," Handy chuckles. "It's chill. It's just everybody kind of there having fun, vibing, and at the same time celebrating the legalization of cannabis."
A highlight of this year's event is undoubtedly the special guest appearances from cannabis-loving celebs, including this year's host, Cheech Marin. Handy and co-founder Dan Davis both consider Marin to be part of the "Mount Rushmore of cannabis." "There's nobody that's been in the position that Cheech and Chong have been in over the last fifty years," says Handy. "It's wild to see the span of their career. Cheech actually wants to be there, wants to meet fans, wants to hear the stories and sign autographs, which is not necessarily the reaction you get with [a lot of] celebrities."
Also at this year's 420 Expo, guests can also take advantage of free legal advice from the on-site expungement clinics. Anyone at the convention can sit down with an available local lawyer, explain their circumstances, and receive advice on the next available steps to wiping their record of cannabis-related offenses. "Don't get me started on nonviolent drug offenses," says Handy. "All of those charges caused a lot of people sleepless nights and shitty job or life experiences. Now they can turn around and get that clean slate back."
While we usually love to explore our local dispensaries or have weed delivered right to our apartments, this festival is giving us plenty of reasons to branch outside of city limits. Come along with us as we light up in Jersey this weekend. Read on for more info on what to expect at this year's 420 Expo.
When is the 420 Expo?
Friday, September 29 from 5 pm–11 pm, Saturday, September 30 from 12 pm–9 pm, and Sunday, October 1 from 12 pm–6 pm.
Where is the 420 Expo?
The New Jersey Convention and Exposition Center in Edison, New Jersey.
How do I get to the 420 Expo and how long will it take?
1–1.5 hours from NYC by car
2 hours from NYC by public transportation
1–1.5 Hours from Philadelphia by car
2 hours from Philadelphia by public transportation
If you're traveling from NYC, you can take the NJ Transit line (Northeast Corridor Line train) from Penn Station to Metuchen, New Jersey then snag a rideshare car or hop on the NJ Transit 813 bus to Fieldcrest Ave & Northfield Ave, followed by a 15-minute walk to the convention center.
From Philadelphia, board an Amtrak train at the 30th Street Station to Trenton Transit Center in Trenton, New Jersey then transfer to the NJ Transit line (Northeast Corridor Line train) and get off in Metuchen, New Jersey. From there, you can call a rideshare car or hop on the NJ Transit 813 bus to Fieldcrest Ave & Northfield Ave, followed by a 15-minute walk to the convention center.
How much are tickets?
One-day general admission is $34. For the VIP experiences—which include perks like exclusive merch, lounges, and after parties—one-day admission is $65 and three-day admission is $140. Three-day, all-in VIP is $200 and includes an exclusive sweatshirt, special offers from vendors, free entry to after parties, and more. Tickets are available online.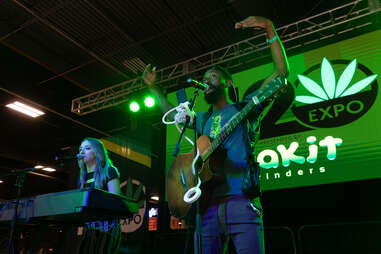 How old must I be to attend the 420 Expo?
Attendees must be 21 or older to get into the festival. Don't forget your ID!
Can I smoke at the 420 Expo?
This is a bring-your-own-cannabis event, so, yes! That being said, smoking is prohibited within the convention center, but guests can light up within the designated outdoor smoking areas.
How much weed can I bring?
In accordance with New Jersey State laws, you can have up to six ounces of weed on your person.
What celebs can I potentially sesh with at the 420 Expo?
Among the celebrities available for purchasable meet-and-greets or smoke sessions are guest host and actor Cheech Marin, WWE Wrestler Blue Meanie, actor David Faustino of Married With Children, actor Jason Gann of Wilfred, and many more.
Will there be food and drinks on site?
Yes, both inside and outside. Surrounding the outdoor smoking area there will be a large selection of food trucks like Michael's Backyard BBQ, Pucho's Puerto Rican Cuisine, and Sweet Spot Donuts. Within the convention center, you can assuage your munchies with help from Dark Run Jerky and Uncle Bob's Kettle Corn, as well as sip on beverages from Wild Bill's Craft Beverage Co. and Chocolate Moonshine.
Do I have to sign up for an expungement clinic?
No, guests can simply walk up to the stand and request to speak with an available lawyer.
What seminars are going on throughout the weekend?
There are 23 seminars being held throughout the weekend including So You Wanna Get Into The Canna Biz?, Cannabis Tourism, Removing the Stigma, Dabbing Do's & Don'ts, and more.
What live performances can I look forward to?
Stage performances include DJ sets, a reggae concert, live body painting and aerial acrobatics. Keep an eye out for game shows, where the prizes include exclusive merch.
Izzy Baskette is the New York City Staff Writer for Thrillist. Talk to her at izzy.baskette@voxmedia.com or find her on Instagram.