There are only so many times you can make a run along the West Side Highway or a run-of-the-mill cycling class feel new and thrilling. With winter upon us, it's time to shake up your standard exercise routine to make up for the lack of Vitamin D (and, hello, keep you ready for spring getaways). And no, we're not simply talking about exchanging your 7am workout for a 7pm one. Get ready to grab a sword, a mini-trampoline, or a pair of dancing shoes: These seven unique fitness classes are here to maximize fun while taking you out of your exercise comfort zone for good.
Shimmy and shake like a Bollywood star
You don't have to buy a ticket to Mumbai to enjoy the physical benefits of a Bollywood-inspired dance and fitness class. With two locations in NYC that accept drop-ins, BollyX allows you to get a cardio workout and acquire some new sweet dance moves during one of their 50-minute classes. The workout fuses energetic choreography with high-intensity interval training -- and BollyX claims guests can burn up to 800 calories per class. It'll fly by, too, considering the class is all about getting people out of their comfort zones in a fun way with the help of rhythmic dance music.
Cost: $20 for a single class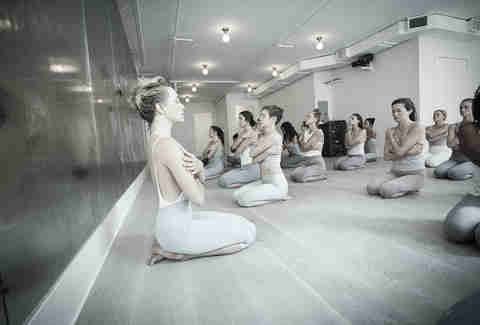 Release your work week rage with Taryn Toomey
There is nothing regular or routine about The Class by Taryn Toomey, which combines a mix of disciplines (calisthenics and plyometrics) into one heart-thumping class. Over a soundtrack of powerful, heart-pumping tracks, you're encouraged to yell and scream throughout the 65-minute class to amp up the detox and leave your serotonin levels at an all-time high. Since being started by Taryn Toomey in 2011, The Class has built a cult following of devotees who swear by its workout of your body and your mind. Just don't forget to grab a towel because you won't be leaving this class dry after letting out a few yells directed at your email inbox.
Cost: $35 per class
Run away to the circus and become an acrobat
Swinging through the air is going to tone your entire body in ways you've never experienced before. At Aerial Arts NYC, professional aerialists and acrobats lend their expertise to help you get better at balance, precision, and control of your body. From aerial dancing via hanging silk or rope, to lyra (moving your body through a suspended hoop) and trapeze, to contortion and handstands, boredom isn't an option here. And don't worry, no one is immediately asked to master the trapeze. Aerial Arts requires everyone to take four beginner classes before moving on to the next level. Insider tip: Most of the studio's teachers have performed on Broadway or even appeared in movies and TV shows, so you may just get a star sighting along with your workout.
Cost: $40 for drop-ins
Downloading class schedules, reserving your spot, and routing yourself to the studio is better with Verizon, the network more people rely on.
Go on an underwater bike ride
Don't be fooled by the one-piece suits or the pool, AQUA is far from your standard water aerobics class. Tucked into a Tribecca storefront, the 4,000 square-foot sanctuary is filled with flickering candles, aromatherapy products, and a stunning 84-degree saltwater pool filled with exercise bikes. It's a three-in-one exercise class, too: As you spin your way to a full-body workout, the friction on your skin from the water acts as a massage, while being buoyant helps the body recover, heal, and strengthen deep muscles. Even though the 45-minute class gets intense (water is 800 times denser than air!), the spa-like atmosphere of AQUA will balance you out. There are also daily stretching, meditating, and toning classes to take advantage of after your workout.
Cost: $35 for the first class, then $42 for drop-ins
Jump up, jump up, and get down
If you haven't tried a rebounding class before (aka jumping on trampolines), now is the time. TrampoLEAN will give your overworked adult self the illusion that you're still a middle schooler attempting amateur backflips in someone's backyard. Each 50-minute class is a blend of cardio endurance, muscular toning, and high-intensity training. Everyone gets a mini-trampoline and a set of hanging resistance fitness bands, and select classes even throw in light hand weights and dumbells to further increase the challenge of the workout. 
Cost: $19 for the intro class, then $29 per class 
Go surfing on the shores of Manhattan
It's no secret that surfers have amazing bodies, and now you can train like one without fear of wiping out or running into a shark. Thanks to Surfset, you can challenge your mind, body, and soul (and pretend you live in California) with their indoor, surf-inspired workouts. The classes at their East Village studio take place on custom-built surfboards that are placed atop three balance balls, mimicking the movement of water for an intense strength and stability workout. There's even a surf yoga class that moves SUP yoga to land. The best part? There's no sunscreen or wetsuits required. 
Cost: $25 for first-timers, then $32 per class
Sword fight your way to a fitter bod
If you're not already a fan of the martial arts, you may become one after visiting Sword Class NYC (which uh-huh, uses real swords). The Harlem studio offers a range of adult classes, but Sword Fitness, which is taught by a personal trainer/performance artists, will help curious guests improve their movement, coordination, and kinesthetic awareness. People of any fitness level are welcome to join (and you don't need to bring your own sword), so there's no excuse not to pretend you're a character in Mortal Kombat.
Cost: $10 for an intro class, then $30 per class