What Every Breakup in New York City Looks Like
As determined by a highly unscientific poll, the average length of a relationship in New York for a 20-something is somewhere between two and a half Tinder dates to a year. Still, this is enough time in New York minutes to cover just about every emotion in an adult relationship steamrolling into a sad and awkward breakup phase. Collected through entirely subjective personal anecdotes, we've amassed simultaneous timelines of a newly single couple following a breakup in the city.

1 week: Tinder, margaritas, and tallboys
Dumper
You sigh a sad sense of relief -- breaking up with someone is never easy. But things were weird for a while anyways, right? You wait about a week before (re)downloading every dating app known to mankind. You include the red flag fact "recently single" in your Tinder bio. You start hitting up your friends again, who all know what's going on here. After a noticeable lack of a third body in the apartment, your Craigslist roommate, whom you speak to maybe twice a week, asks you to grab an obligatory drink to stave off the impending sad. Confounded by this social gesture, you oblige, and follow him to the
Turkey's Nest
. You opt for the large margarita, stay for a crusty anecdote from an older gentleman missing a front tooth, and leave alone, styrofoam cup in hand. You sit on a bench in McCarren Park in the dark.
Dumpee
Oh God, you're still crying. You stomach your aloneness with a few 24oz-ers of shitty beer from your bodega while trying to avoid eye contact with the guy behind the counter, who's quite taken aback that you stiffed him because you've known each other for years at this point. You lie dormant in bed indefinitely while crying silently because your roommates can hear through the walls, and, frankly, your room is too dirty to let anyone else in it right now.

1 month: irrational flirtstorm & endless Seamless
Dumper
You realize that being single rules, and flirt during every human interaction available --
Variety
? You know it. Disgusting local post office? Why not! The
subway
? It's gotta happen sometime, right?! -- and start swiping right on every person with a face (you never knew that there were so many single people within a five-mile radius.) You mostly fail at this since your game sucks after being in a relationship for longer than you initially intended -- New York time is somehow faster than time anywhere else, and you gotta make up for what's been lost.
Dumpee
"No really, I'm fine," you proclaim. Sadly, nobody believes you. You try to make it through the day without finding a doppelgänger of your ex on the subway. You're still declining happy hour offers from your friends. Your excuse is a "networking thing," which is code for spending $40 on Seamless for one while binge-watching reality TV. You find yourself using your ex's bad habits to fill weird comfort gaps, like smoking or listening to a lot of pop-punk.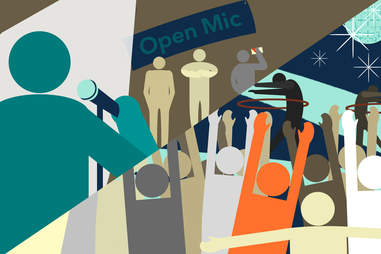 Jason Hoffman/Thrillist
3 months: picking up new "hobbies"
Dumper
You've been going to a lot of Bushwick warehouse parties lately, making out with a minimum of three strangers every night out. You consider a tattoo or shaving one side of your head. You realize you've hit rock bottom on Tinder when you finally reach the dead end page reading, "There is no one new around you," which you know is a lie because there are millions of people in this city. Right?
Dumpee
You've started writing honest comedy and/or poetry and take it to open mic nights at Stand Up NY (because no one you know is frequenting the Upper West Side for fun) and/or the poetry slam night at Nuyorican Poets Cafe (where everyone is way better than you and way more emphatic, preaching about real blight). The catharsis of publicly admitting the number of times you've texted your ex since the breakup and/or picking apart your ex in lyric-form on stage in front of anywhere between two and 27 people is real and helpful. You are now hooking up with the other broken comedians and/or poets.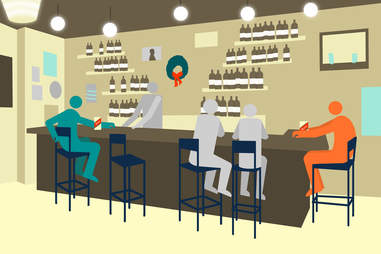 Jason Hoffman/Thrillist
4 months, 1am: the inevitable run-in
Dumper
You're on a helluva bender, but have been enjoying the perks of being a single New Yorker. One Saturday night, you're out at
Pearl's
(because you're soooo Jefftown now). You hit the bar for another drink and notice your ex leaning on the other side. How did you miss their entrance? The place is a shoebox. You know the emotions flooding your brain are the alcohol, but still. Shit. You become flustered and dart your eyes around the room when they catch you staring at them.
Dumpee
Oh, shit. Oh, Jesus. Is that your ex at the end of the bar? Aren't there like, a million other bars they could be at? No, of course it's this one. You try your hardest to act natural but instead your body offers a comically overdone perplexed wave/shrug and before you know it, you're walking over to the other side of the bar against your will.

4 months, 1:04am: bargaining and losing with yourself
Dumper
Well, that was awkward, but you have to admit it was nice seeing them, though. You're happy for how well they seem to be doing, but also slightly resentful that they might actually be better without you. You drink more to remind yourself that you are clearly, definitely winning at happiness. At the very least, you're making more money at your marketing gig than they are freelancing for that tech blog.
Dumpee
After talking loudly about all your new hobbies and accomplishments you've made in the last four months, you abruptly end the conversation and excuse yourself, as to not appear weak. You rapid-fire order several rounds of well whiskey shots and leave. After the bar, you skittishly eat a hastily made bodega sandwich in fear of your ex turning up at any moment. When you're finally home, after brief deliberation, you text them, asking to come over.

4 months, 4:30am: the aftermath
Dumper
You respond in kind, remembering everything you liked about the other person. For a fleeting moment, you consider that going over there might be a bad idea, but ultimately 4:30am-you tells logical-you to shut up. More specifically, you're thinking about how long it's been since you actually got laid. You feel nostalgic about the 45-minute, two- or three-transfer (depending on the maintenance schedule) commute to your ex's place that you would take so often, but opt for an Uber instead.
Dumpee
You frantically shove all of your dirty laundry under your bed and take out the trash for the first time in weeks, empty a bottle of Febreze on your sheets, and quickly Google their route for an ETA from Williamsburg to Astoria.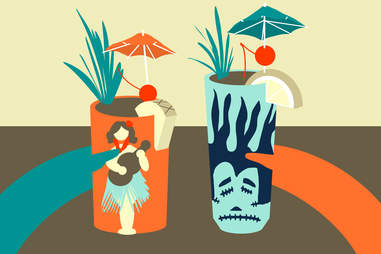 Jason Hoffman/Thrillist
4 months, 5 days: the backslide
Dumper
The one night stand with your ex has led to you spending the next near-week together. You fall back into old routines of meeting up for drinks in the city after you're off work and going home together. It's like a whole new relationship, you think. Things will be different this time!
Dumpee
You're back in the honeymoon phase, and it's great. Over drinks at Otto's Shrunken Head with your once-again partner -- because Tiki used to be "your thing" -- you begin to dissect what you were really feeling in your time apart, but disclose absolutely nothing about the comedians and poets and the other people you picked up at Matchless' two-for-Tuesdays.

4 months, 2 weeks: the veil is lifted
Dumper
You find yourself picking fights over petty things. Choosing a
restaurant
becomes a two-hour, full-blown assault on the other's personality flaws. You're experiencing major deja vu; isn't this why you broke up in the first place?
Dumpee
OK, so maybe you've been putting this person on a pedestal for the last few months. They kind of suck. You thought you'd feel better if you got back together?

4 months, 2.5 weeks: the breakup pt. 2
Dumper
Realize this was all a mistake.
Dumpee
Realize you just wasted several weeks of your life. You end it on mutual terms and promise to stay friends, aka: awkwardly avoid each other in all social situations for years to come because adults are bad at being adults, and this city is way smaller than you ever cared to admit. You swear off North Brooklyn for a while because there's so much more to life than running into James Murphy in Greenpoint every now and then.
Jason Hoffman/Thrillist
1.5 years: the inevitable and unsubstantiated sighting after stasis
Dumper
You finally mastered Tinder and it has paid off -- if this were your NYU student loans, they'd owe
you
money. It's your third time at
Vbar
this week, and the bartenders are brainstorming nicknames for you that reference the fact that you're with a new person you clearly met from the Internet each time. In the middle of not listening to the person you're currently on a date with, you glance aimlessly out the window.
Dumpee
You're walking and eating a slice of pizza on 1st Ave, heading back to the L train after your improv class at UCB East (because you figured out you weren't so bad at the comedy thing). You're laughing to yourself about one of your classmate's bits, when... holy shit, is that your ex in the window of VBar? Yes, and you definitely just made brief eye contact, but you press on to make the St. Marks crosswalk light, suppressing the nervous tightness in your chest and the redness in your cheeks in an effort to not freak out. You'll get over it a week later, but will tell this story for years to come, never realizing that they didn't even see you through the window.
Sign up here for our daily NYC email and be the first to get all the food/drink/fun New York has to offer.
Leanne Butkovic is a cities editor at Thrillist who would like to stop running into James Murphy in public, please. She would also like to thank her friends for reliving their traumatic experiences for the sake of "journalism." Tell her how she got it all wrong on Twitter @leanbutk.