Tell a New York City real estate agent that you're looking to live alone and your monthly rent budget is $1,500 or less and they'll be handing you pamphlets for quaint Ho-Ho-Kus, New Jersey. But before you swallow your pride and become an official resident of the Garden State, it might be worth checking out these seven bonafide New York City neighborhoods, none of which require a roommate to be entirely within your price range.
Sunnyside, Queens
Square footage: 300-550sqft
What you get: Though you won't find tons of modern amenities, the prewar buildings in Sunnyside are well-maintained, clean, and comfortable.
The neighborhood vibe: "Sunnyside is very popular. It was the next neighborhood to develop after Astoria," says Ronald Gahol, a licensed real estate agent with Citi Habitats. "Just down the 7 line, you can be in Manhattan in 15 minutes. There are a lot of new building developments, but it is marked by low rise buildings." Sunnyside also has a booming food scene that rivals Astoria's, with everything from barebones Peruvian food to a popular Baja-style taco joint that started at Smorgasburg, to one of the city's most classic 24-hour diners (and one of the best old-school Irish pubs that's been around since 1966). You can even save money while shopping here -- the neighborhood is home to lots of great vintage and thrift stores.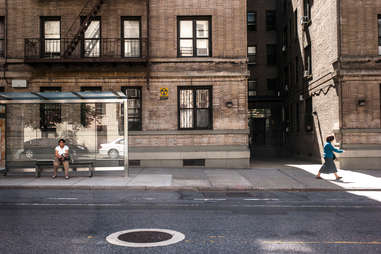 Washington Heights, Manhattan
Square footage: 400-600sqft
What you get: In Washington Heights, east of Broadway, you'll easily be able to find a studio in a walk-up for this price point. Most of the housing stock is older, which means another added bonus: more square footage.
The neighborhood vibe: "It's lively," says Eric Cruz, licensed real estate agent with Citi Habitats. "People love being outdoors, so you're going to hear the sights and sounds of the city. It's not quiet, but in a good way." The neighborhood has a large Dominican population, which means there's tons of great, authentic Dominican food (including the city's best mofongo), but the Heights is also home to one of the city's best craft beer bars, Buddha Beer Bar, and a specialty burger joint. "The good thing is if you are on a budget, the cost of living is definitely cheaper," Cruz says, "The neighborhood has everything you need, but in mom-and-pop businesses." For the ultimate get-outside-the-city feeling, Washington Heights is also home to The Cloisters, the four-acre medieval art museum and garden owned by the Met.
Forest Hills, Queens
Square footage: 500sqft
What you get: Studios in prewar buildings, similar to Sunnyside.
The neighborhood vibe: Citi Habitat's Gahol puts it bluntly when talking about the appeal of Forest Hills: "Austin Street has the modern comforts that young people in New York love, like cocktail bars and yoga studios." But it's not all shiny new things in Forest Hills. The neighborhood is also home to one of the city's last remaining neighborhood movie theaters, which happens to be directly across from Eddie's Sweet Shop -- an old-school malt, shake, and sundae spot that's been around since 1909.
The neighborhood is ideal for people who want to escape the frenetic energy of Manhattan, without completely abandoning city comforts. It's a more residential neighborhood than others that are closer to Manhattan, with a commute time of about 30 minutes into the city. It's also divided by two totally different scenes -- Queens Blvd has more of a strip-mall feel, while Austin St has certain elements of small-town charm, lined with bars, restaurants, and shops. In addition to that, the neighborhood also has Forest Park, which offers plenty of hiking and biking trails.
Kew Gardens, Queens
Square footage: 550sqft
What you get: Like Sunnyside and Forest Hills, the housing stock in Kew Gardens is varied, but will likely be prewar walk-ups, or a house that is broken up into smaller units.
The neighborhood vibe: If you've sat jury duty at the Queens County Criminal Court, then you already know Kew Gardens. It's a predominantly residential community, surrounded by Forest Park, giving the neighborhood an ample amount of green space. "Kew Gardens is a quieter neighborhood when compared to its neighbors like Jamaica and Forest Hills," says Gahol. Like many parts of Queens, its main selling point is access to express trains, she adds. But the neighborhood does have other attractions. You can catch all the latest indie films at Kew Gardens Cinemas, a restored Art Deco-era building that used to be a porn theater, and Dani's House of Pizza, located across the street, is a long-standing and dependable stop for an old-school slice.
Jamaica, Queens
Square footage: 550sqft
What you get: An apartment in a six-story prewar building, or a house with several units.
The neighborhood vibe: "Jamaica's selling point is its proximity to the express train into Manhattan. You can be in Midtown in about 30 minutes, plus it is close to buses, the LIRR and AirTrain to the airport," says Gahol. The neighborhood's main thoroughfare, Jamaica Avenue, is a bustling commercial strip, lined with all sorts of shops and quick-service restaurants, as well as a neighborhood movie house and a city-backed performing arts center, which hosts an array of cultural programming throughout the year. The surrounding neighborhood is also home to some unique hole-in-the-wall eateries, like the Guatemalan-themed Tierra Centro Americanas.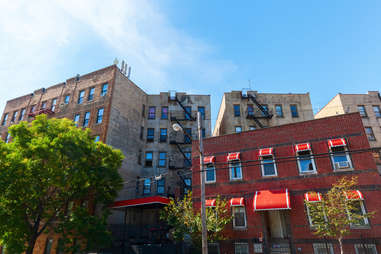 Neighborhoods across the Bronx (particularly the South Bronx)
Square footage: 700sqft
What you get: For this price point in the Bronx, across the entire borough, there will be a high possibility of finding a rent-stabilized unit. They will be one-bedrooms in basic prewar buildings, with the potential for laundry and an elevator, as well as renovated appliances, hardwood floors, and high ceilings.
The neighborhood vibe: "When you talk about the Bronx you see that it is the most underdeveloped borough," says Chyann Sapp, a licensed real estate agent with Citi Habitats. "Rent is lower than anywhere else in the city. You will probably pay $500-600 cheaper for a one bedroom than [you would] in Manhattan, but you get the same amount of space, if not more. However, you have to deal with a few things that you wouldn't have to in Manhattan, namely inconvenience. [The Bronx] works for people who already live uptown. But if you move to the South Bronx and hop on the 5 or the 6, you can be at Grand Central in 20 minutes." The South Bronx is also home to a bevy of great, affordable food options, like authentic Mexican restaurant Mexicocina and popular Puerto Rican food truck Lechonera La Pirana. There's also Charlie's Bar & Kitchen for inventive cocktails and surprisingly good bar bites.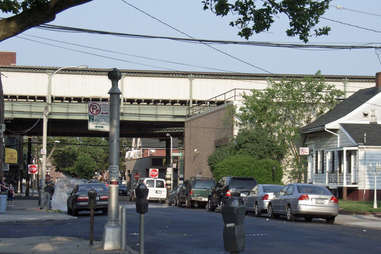 Gravesend, Brooklyn
Square footage: 650-750sqft
What you get: This price range will typically fetch a walk-up one-bedroom with updated hardwood floors and, most likely, a renovation.
The neighborhood vibe: "Neighborhoods like Gravesend are ones that are definitely more residential," says Jacob Henderson, a licensed real estate agent with Citi Habitats. "The people here are less transient, as opposed to neighborhoods on the North side of Brooklyn. You are going to get more space and be closer to the beach, but you won't have the cultural centers that Williamsburg and Park Slope have. But there's a ton of culture. The families that live in neighborhoods like Gravesend are those that have been there for a long time."
But what you gain in space and authenticity, you lose in commute time to Manhattan. It's a solid hour from Gravesend into Midtown. Still, the neighborhood is a great option for freelancers and those with a little more flexibility in their work schedule. Outdoor enthusiasts will enjoy the serene waterfront views and abundant bird life at the 73-acre Calvert Vaux Park, and all your food-obsessed friends will want to come visit the famed local pizzeria L&B Spumoni Gardens.
Sign up here for our daily NYC email and be the first to get all the food/drink/fun New York has to offer.
Meagan Drillinger is a contributing writer for Thrillist. She lives in Astoria and thinks it's a really boring neighborhood with absolutely nothing to offer anyone of interest so by no means should you relocate there. Don't move there. Follow her on Instagram, Facebook, Twitter, and Snapchat at @drillinjourneys.