You could conceivably call plenty of things in New York City the worst -- including, but not limited to, hangovers, staying fit, and being single -- but in my studied opinion, there is no city in America worse than NYC for that mundane, necessary, often expensive task we know and loathe: parking that car you don't want to drive anyway. Unlike most American cities, doing so here means dealing with street sweeping and alternate-side parking rules every few days or so. And as we approach the holidays, there's no better time to get a parking ticket that could set you back by $100 or more.
My fellow New Yorkers, it does not have to be this way. Here's everything you need to know to abide by the alternate-side parking rules and avoid unnecessary tickets in NYC.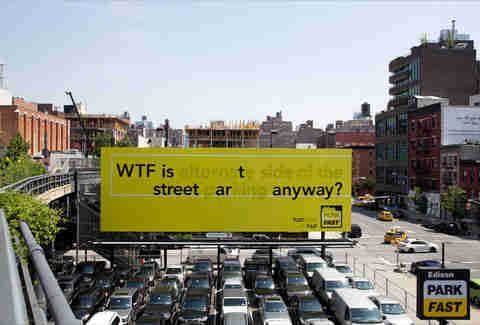 Step 1: Learn the rules of alternate-side parking -- aka the fender-bending dance of death
Alternate-side parking refers to the clearing of parked cars on New York City streets, usually once or twice a week in most neighborhoods across the five boroughs, to accommodate the Department of Sanitation's street-sweeping schedule. It's overseen by the Department of Transportation and is a ubiquitous part of living in the Big Apple if you regularly drive a car. You can get ticketed if you don't follow the rules and move your car (often early in the morning or late at night) out of its parking space for the duration of time prescribed on signs on the street you originally chose to park on (see the photo above).
Parking signs. Not all parking spots are created equally. In addition to the typical alternate-side parking sign that you'll find on most streets, here are what some of the parking rules are for other signs you'll see on the street. Violating any of these during the times listed on the signs could also run the risk of a ticket.
No Stopping: You cannot stop to drop off/pick up passengers, load/unload packages or luggage, or wait with your car.
No Standing: You can stop to drop off/pick up passengers, but cannot load/unload packages or luggage or wait with your car.
No Parking: You can stop to drop off/pick up passengers or load/unload packages or luggage, but you cannot wait with your car.
Hydrants. The rule is to give 15ft from either side of the hydrant, and though folks outside my apartment building are constantly parked in front of ours, I promise you, you will get ticketed.
Double parking. It's illegal at all times, including during street-cleaning days, despite a persistent myth to the contrary and whatever shenanigans your neighbors pull. As an adult committed to common human decency, I can't recommend it.
Legal holidays. On major legal holidays, standing, stopping, and parking sign rules are generally suspended except in cases where the signs say they are in effect seven days a week, i.e. "No Standing Anytime." (See below for a full distinction between legal and religious holidays.)
Towing. In addition to getting a ticket, your car can 100% get towed in New York if it is parked or operated anywhere illegally or has missing or expired inspection or registration stickers. Them's the brakes [not sic].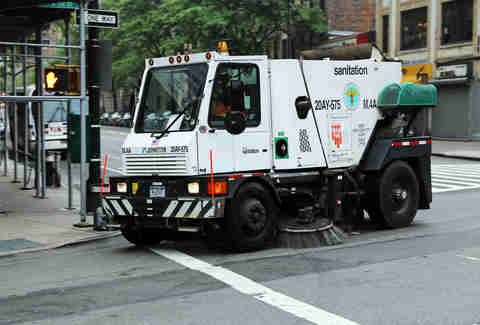 Step 2: Alternate-side parking is your enemy. Study its weaknesses.

All this seems complicated. Is street sweeping worth the ASP hassle?
New York City is a notable outlier among most major American cities for sweeping its streets twice a week. As Kristin Iversen of Brooklyn magazine put it last year, the point of this seems to amount to, "making the city more money, and making life here quantifiably more stressful."

When running properly, NYC street sweepers actually do keep streets cleaner, using a combination of water, a rotating broom, and a vacuum-like system accompanied by a conveyor belt that pushes debris up into a bin on top of the sweeper.
The problem -- as Pat Nelson once pointed out in The New York Times -- is that for it to work, brooms need to be maintained, drivers need to travel at no more than eight miles an hour, and the water in the system needs to be replenished. Moreover, several parts of the city can go without sweeping for long periods of time, as Nelson pointed out was the case for Park Slope in 2008. Nelson and others have long argued that a reduced sweeping schedule wouldn't make much of a dent in the city's overall cleanliness, and would also reduce traffic, pollution, and tickets.
OK, what if I see a street sweeper has gone by already? Can I park in that spot?
Legally, no, you still cannot park there. "We do have to go around the block twice in plenty of instances," Paul Visconti of the Department of Sanitation told WNYC in 2014, and there's simply no way of knowing, unless you're the operator of the sweeper, whether or not they have to pass over it again. Second sweeps are much more common in the fall, when leaves can clog the brushes.
Step 3: Plan ahead accordingly with the alternate-side parking calendar for 2016 and 2017
Here are the remaining legal and religious holidays in 2016 for which alternate-side parking is suspended, as well as the full upcoming calendar for 2017, per the DOT. Make sure you wake up early to move your car on all the other days of the week.
Remaining 2016 Dates Alternate Side Parking is Suspended
Sukkot -- Monday-Tuesday, October 17th-18th
Shemini Atzeret -- Monday, October 24th
Simhat Torah -- Tuesday, October 25th
Diwali -- Sunday, October 30th
All Saints' Day -- Tuesday, November 1st
Election Day -- Tuesday, November 8th
Veterans Day -- Friday, November 11th
Thanksgiving -- Thursday, November 24th*
Immaculate Conception -- Thursday, December 8th
Christmas Day -- Sunday-Monday, December 25th-26th*
2017 Dates Alternate Side Parking is Suspended
New Year's Day -- Sunday, January 1*
New Year's Day (Observed) -- Monday, January 2*
Martin Luther King, Jr.'s Birthday -- Monday, January 16
Asian Lunar New Year -- Saturday, January 28
Lincoln's Birthday (Observed) -- Monday, February 13
Washington's Birthday (Presidents Day) -- Monday, February 20
Ash Wednesday -- Wednesday, March 1
Purim -- Sunday, March 12
Passover (1st/2nd Days) -- Tuesday-Wednesday, April 11-12
Holy Thursday -- Thursday, April 13
Good Friday -- Friday, April 14
Passover (7th/8th Days) -- Monday-Tuesday, April 17-18
Solemnity of Ascension -- Thursday, May 25
Memorial Day -- Monday, May 29*
Shavuot -- Wednesday-Thursday, May 31-June 1
Eid al-Fitr -- Sunday-Tuesday, June 25-27
Independence Day -- Tuesday, July 4*
Feast of the Assumption -- Tuesday, August 15
Eid al-Adha -- Friday-Sunday, September 1-3
Labor Day -- Monday, September 4*
Rosh Hashanah -- Thursday-Friday, September 21-22
Yom Kippur -- Saturday, September 30
Sukkot -- Thursday-Friday, October 5-6th
Columbus Day -- Monday, October 9
Shemini Atzeret -- Thursday, October 12th
Simhat Torah -- Friday, October 13th
Diwali -- Thursday, October 19th
All Saints' Day -- Wednesday, November 1st
Election Day -- Tuesday, November 7th
Veterans Day (Observed) -- Friday, November 10th
Veterans Day -- Saturday, November 11th
Thanksgiving -- Thursday, November 23rd*
Immaculate Conception -- Friday, December 8th
Christmas Day -- Monday, December 25th*
* These count as Major Legal Holidays. The rest are designated religious holidays, and typically, regular parking, standing, and stopping sign rules are still in effect as usual, unless the DOT says otherwise.
You know, it'd really help if there were a map or apps that laid all of this out logically
Don't we all know it. The DOT does its best, but its online NYC parking map, while a janky piece of technology is still the simplest way (on desktop) to quickly find out what alternate-side parking looks like for any given street. It gets the job done, but not terribly well.
The best and simplest app for my money is SpotAngels. Available for iOS (with Android support coming soon) it offers a map that's not a nightmare to navigate, sends notifications for when alternate-side parking is in effect and how much time you have left to move your car, and is supported in San Francisco, Los Angeles, Chicago, Boston, and a handful of other cities in addition to NYC. If you're using Android, we'd recommend Smooth Parking, which has an accurate and up-to-date map and times for alternate-side parking in the city and also takes street parking holidays into consideration.
Popular parking apps SpotHero and BestParking are also useful if you're looking to spend the cash on a garage or just need to know if you can park on certain sides of the street, but they have either incomplete or unlisted alternate-side parking times.
Step 4: Prepare for surprises by following NYC alt-side parking religiously
The city tweets out alternate-side parking updates twice daily at @NYCASP, at 7:30am and 4pm, as well as during emergency situations. The most current information for parking rule suspensions can also be found on the NYC.gov homepage, through an email signup, or by texting 311-692, dialing 311, or using the 311 mobile app. WNYC and other local radio outlets also announce parking rule updates periodically throughout the day. Above you'll find the most up-to-date tweets that answer the age-old question: Is alternate-side parking in effect today?