Jason Hoffman/Thrillist
Jason Hoffman/Thrillist
Remember that time you were cruising Craigslist for the perfect apartment and found that adorable one-bedroom in the East Village for just $700 a month? Also, remember how that apartment didn't exist at all, and how the broker listing it was actually a huge criminal who took all your money? Don't worry, it happens all the time. Rental brokers in the city tend to get a bad rap -- and most of the time, it's pretty warranted (from "no fee" apartment scams, to fake bedrooms, to the classic bait-and-switch). But not all realtors are out to screw you over; some actually just want to find you an apartment. To make your next move a little easier, we reached out to some of the city's top brokers and industry professionals to find out all the ways the sleazier brokers are ripping you off.
Taking advantage of desperation
When looking for an apartment in New York, there is absolutely a golden rule. "If something sounds too good to be true, it most likely is too good to be true," says Gary Malin, president of Citi Habitats. "People understand that the rental market here is a very tight one. It's very expensive. The market moves quickly. Brokers who are looking to take advantage are looking for people who have been through the ringer and have come up not finding what they want, so they're desperate. You have to be your best advocate and keep your antennae up all the time."
The bait-and-switch
The bait-and-switch is one of the most commonly used tactics to lure in unsuspecting renters. "This is when a broker will advertise an apartment, usually a high-quality apartment with great pictures, at a low price. Upon inquiring, the broker will say that this apartment is no longer available and will show lower-quality places," says Shannon Eidman, a real estate agent at Compass. That listing you saw for a just-off-the-Bedford-stop two-bedroom with brand-new appliances, a 24/7 doorman, and a gym, all for $2,700? Yeah... that's not happening.
Fake bedrooms
How about that one listing you saw for a three-bedroom in the Financial District for just $2,000 a month? That sounds great, right?! Sure, until you get there and find out that the bedroom that would be yours is actually an alcove with a half-wall. "Advertising bedrooms that aren't really bedrooms is another common rip-off," says Eidman. "This includes spaces that are sub-grade recreational space and/or rooms without windows."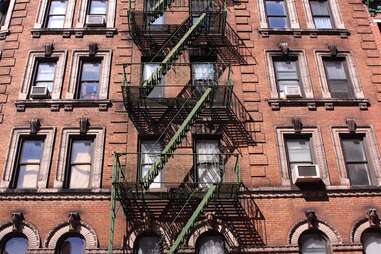 Exclusivity
Often times, a broker will only show you their own exclusives, or their company's exclusives, regardless of what you're actually looking for, just so they can get full commission. "Let's say the typical commission for a rental broker is 15% of the annual rent. If a rental broker pushes you into one of their own exclusive listings, telling you that it is the best in the neighborhood on the market, and others aren't available to be seen, etc., then they get the benefit of the full commission without having to split it with anyone," says Eidman. "Regardless of commission, whether it's half or whole, a broker should show you everything that fits your criteria no matter who the listing agent or person is."
Cash deposits
If your broker is asking you for any payments in cash, be wary. "While some landlords and brokers do require cash deposits, most reputable companies prefer a credit card, bank check, or money order. If they do require cash, make sure to get a receipt," says Steve Halpern, an agent at Compass.
Credit checks
How many times have you shelled out $100 for a credit check? That seems like an absurdly large amount of money when there are tons of advertisements out there for credit checks that are supposedly "free." "Some companies are looking to make a profit on credit-score checks," says JP Smith, a real-estate agent at BLU Realty Group. "Generally a credit check should be $50-75."
"No-fee" apartments
When an apartment is listed as "no-fee," that essentially means "no fee for the renter." The broker still makes a commission on a no-fee apartment, but it's the building owner who pays it. Some brokers, however, will try to double-dip. "This happens when a broker fails to list an 'owner-pays' apartment as a no-fee apartment," says Eidman. "This is an attempt by the broker to get paid by both the landlord and tenant."
In general, it's common for brokers to put up a "no-fee" listing, and then try to talk prospective renters into paying some sort of fee. "People aren't stupid. But this is important to remember: if an apartment is listed as no-fee, then do not pay any type of fee other than what the landlord or building requires," says Smith.
The other major issue with "no-fee" apartments? They're typically priced much higher than apartments with fees, so it's generally a huge misconception that you're getting a better deal.
Sign up here for our daily NYC email and be the first to get all the food/drink/fun New York has to offer.