Asian Climbing Tribe member at The Cliffs at LIC

| Photo by Lanna Apisukh for Thrillist
Asian Climbing Tribe member at The Cliffs at LIC

| Photo by Lanna Apisukh for Thrillist
While the notion of dangling off a 50-foot wall would make almost anybody's palms sweat, for avid rock climbers it's the closest thing to nirvana. What you'll hear often from members of the climbing community is that it's the sense of accomplishment combined with an wild adrenaline rush that keeps them coming back for more.
In the words of history's greatest ever free climber Alex Honnold, quoted in the Oscar-winning documentary Free Solo, "The big challenge is controlling your mind, I guess. You're not controlling your fear, you're sort of just trying to step outside of it."
It's both Honnold's incredibly inspirational free solo climb of El Capitan—captured in the film—and the 2020 addition of sport climbing into the Olympics that have contributed to the noticeable uptick in new climbers over the past few years. But, the most consistent draw for beginners? The close-knit sense of community.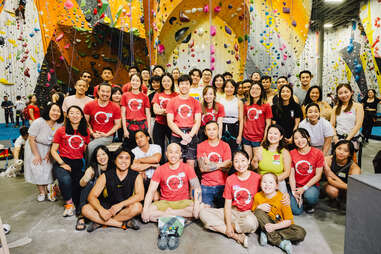 In New York City, there are more than a dozen commercial climbing gyms spread across the five boroughs. But picking up a new hobby (especially one as daring as rock climbing) in hopes of befriending like-minded participants is easier said than done.
This is where local communities like the Asian Climbing Tribe come in. Co-founded by Peter Wang and Paul Jung in 2021, the Asian Climbing Tribe is a non-profit organization dedicated to connecting and uplifting Asian climbers in New York City. The spark that ignited the creation of this group presented itself to Wang and Jung via social media during the summer of 2021.
Within the climbing community, "We never felt that there was any hate or animosity towards Asians, until the height of the pandemic," says Wang. "But it was then that we started observing microaggressions along with the Asian hate crimes across the country." Around this time, an Asian climber, who the duo were acquainted with, expressed her anxiety and fear for her own safety in a NYC climbing group Facebook page. Another member dismissed her outright by replying with something along the lines of, "It's not the climbing gym's responsibility to make you feel safe." It was then Wang and Jung decided to do something about it.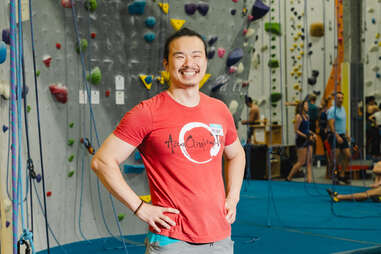 "That was a trigger for us," recounts Wang. "Even though the climbing world is usually a very safe space for people, we needed to acknowledge that there was a call for an Asian community within it. A space where we could share experiences and be there for each other."
Since the first meetup in December of 2021, the Asian Climbing Tribe has grown astronomically. Compared to the initial 50 participants, these days upwards of 800 Asian climbers now gather for themed Asian Climbing Tribe events (like the Summer Bash Climbing Night and Send-tember Climbing Night) held at gyms across the city including The Cliffs at LIC and The Cliffs at Harlem.
It's here that Asian and Asian American New Yorkers bond over the shared pursuit of conquering challenging problems (a sequence of climbing moves that leads to a defined top) without fear of judgment. "At our meetups, you can approach anyone and they're happy to share their wisdom, happy to talk to you. Part of that is just intrinsic to the sport," explains Weison Ding, an officer on the Asian Climbing Tribe board. "Climbing is a lot of problem solving. You end up getting a lot of people sharing, what we call betas—the solution to a problem is the beta. It naturally facilitates people connecting."
For Summer Liu, the treasurer of the Asian Climbing Tribe and also Wang's fiancé, the mat (the foam pad used for protection beneath climbing walls) has proven to be the biggest help in improving her climbing skills. "When you get stuck on the wall, people beneath you on the mat call out things like 'Summer, put your feet there' or 'Put your hip a little closer to the wall,'" tells Liu. "That kind of support matches the slogan we developed: Together, we're stronger."
When the organization was first finding its footing, it was local AAPI-owned and -run businesses like holistic healthcare office Nava Wellness, coffee shop Bird & Branch, market and cafe Local Roots NYC, kombucha brand Culture Kitchn, muy thai and Brazilian jiu jitsu gym Hinds Combat Sports, and outdoor clothing and gear store Patagonia Brooklyn that provided help, supplies, and resources along the way. Following in this philanthropic spirit, the Asian Climbing Tribe incorporates local initiatives, fundraisers, and small businesses into their everyday practices—from fundraising for Chinatown's Yu and Me Books (which recently experienced a devastating fire) and Be the Match swabbing for a fellow climber to self defense classes run by Safe Island City and local vendor setups during each meetup.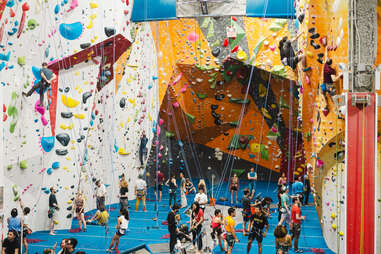 At the core of its mission, the Asian Climbing Tribe is focused on the needs of its community. Every day, the team considers, "'What are the challenges that Asian people face in general? What do I need as an Asian person living in New York? What do my friends and family need?'" says Liu. "We seek inspiration through that lens and then come up with solutions and campaigns to help or resolve the situation."
Expansion is up next for the Asian Climbing Tribe. "We're trying to get a community started in the Philly area, then slowly moving down to DC," says Wang. "We understand that other cities need this kind of community too. It's more than just a meetup, it's a networking platform and support system."
Stay tuned for an Asian Climbing Tribe coming to a city near you.
Izzy Baskette is the New York City Staff Writer for Thrillist. Talk to her at izzy.baskette@voxmedia.com or find her on Instagram.