Dogs have taken over 34th St. Some of these are just prettier, cleaner versions of the canines everyone is familiar with -- high-end golden retrievers, beagles, and German shepherds. But mostly, we're looking at the deep cuts of the dog world, creatures that appear to have been designed by the Gremlins prop maker -- early versions that were rejected for being simply unrealistic.
Every February, over 3,000 dogs participate in the Westminster Dog Show, which culminates in the most prestigious event of its kind in the Americas, and possibly in the world: the Best in Show event. While the animals are largely required to hold still -- preternaturally still, at times -- this three-day dog-off is classified as the second-oldest sporting event in the United States, after the Kentucky Derby.
All of the most famous dogs stay at one hotel: the Hotel Pennsylvania, on 7th Ave in Midtown. A dog-friendly space the rest of the year, the Hotel Penn transforms into show dog Shangri-La during the Westminster Dog Show, offering special accommodations, related events, photography, grooming, a doggie workout room, and as much attention as a show dog can take.
We were granted a behind-the-scenes look at the process of running a hotel that caters to dogs' needs during their busiest time of year. It was surreal, crowded, adorable, and occasionally -- though more rarely than you might imagine -- smelly.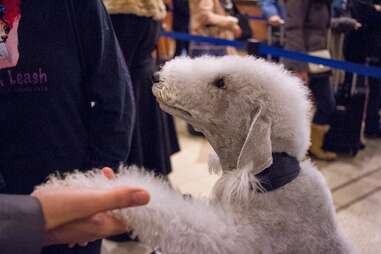 In the weeks before and during the Westminster Dog Show, the Hotel Penn relies on the expertise of Dog Concierge Jerry Grymek, who 1) exists, 2) will be referred to here as The Dog Concierge, and 3) greets us when we arrive in the crowded lobby. He's a tall, affable man who describes himself as being in Pooch Relations, and who explains that he's been doing his job for two dog years -- 14 in human terms. He offers the dogs waiting to check in specially-crafted dog cookies. They adore him.
The Dog Concierge is full of excellent dog information. "We're accommodating over 600 dogs for this event," he explains, "and we're one of the few hotels that accept dogs of all sizes -- you'll see a 300-pound bull mastiff next to a teacup chihuahua, and it's perfectly normal."
It's not just self-promotion. Everyone we talk to wants to stay at the Hotel Penn, partially because it's literally across the street from Madison Square Garden, where the Best in Show competition will take place, but also because the Penn really is the most dog-friendly accommodation in New York. This week, the hotel's largest conference room is transformed into a Dog Spa, decorated with large dog portraits and palm trees. It features a room full of bathing tubs and equipment, Jog-a-Dog treadmills, and a massive dog toilet: a gigantic tarp spread with sawdust and studded with red plastic fire hydrants, where the dogs are encouraged to do their business. To be fair, some of these dogs have never seen snow before, and it's six degrees outside -- you wouldn't want to pee out there either.
"A handler once wanted seven cheeseburgers for his dog, and the dog ate all of them."
One of the strangest room requests the Dog Concierge has received is for a simple cot. The night before the big show, a handler once requested a child's cot for his well-furnished, $200-a-night room -- and proceeded to sleep on it himself, gifting the bed to his dog.
In the spa area, we chat with two young women from Canada who wash a pair of show dogs in anticipation of the upcoming events. They work for a handler, and together, they're responsible for shepherding ten showdogs through New York for an entire week, grooming them, posing them, and running them around town.
"People can be very superstitious," says Katie McGinn, who washes and dries her tiny charge with practiced care. She explains that when they show, the dogs' handlers wear elastic armbands with a piece of paper tucked inside, bearing the dog's number and other information. If you win, it's considered lucky to hold onto these armbands afterwards, and collections of armbands are often tucked into travel grooming kits, or hung from rearview mirrors.
Three people mention cheeseburgers as the ultimate gift for a dog who has done well--or who might need encouragement to do well in the near future.
"Special treats are very common," The Dog Concierge explains. "A slice of pizza, a chicken sandwich, or a cheeseburger -- no onions. A handler once wanted seven cheeseburgers for his dog, and the dog ate all of them, right in front of me. It was astonishing. Apparently it's good for their coats."
Normally, however, these dogs are on healthy, austere diets. "Yes, they're not allowed many extra treats like that, not frequently -- they have to be in perfect shape," The Dog Concierge says. "It's like Miss America meets the Puppy Bowl."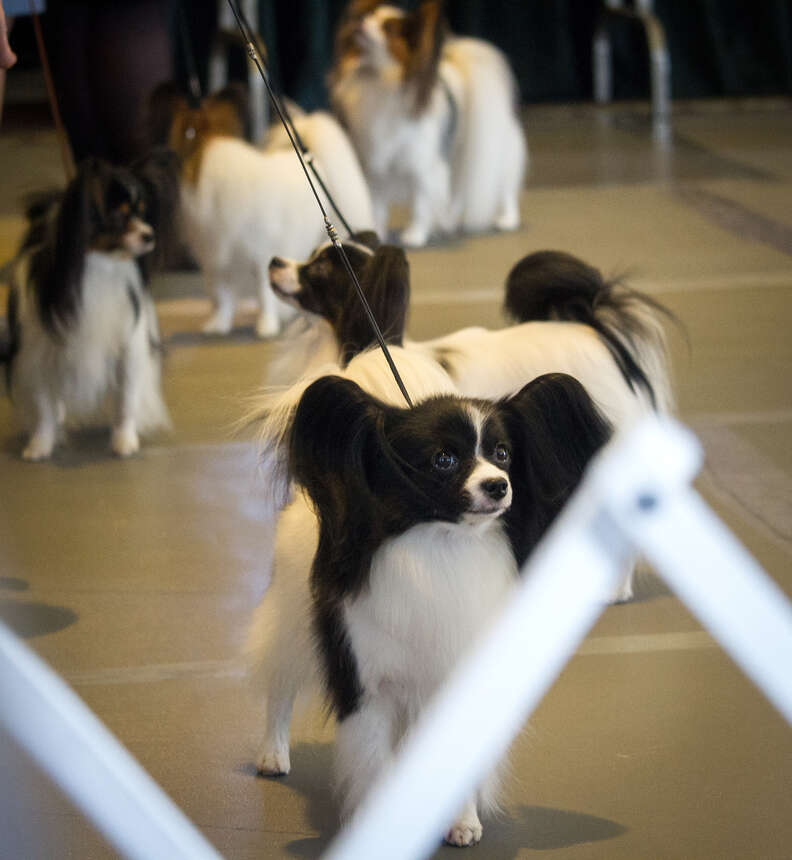 On the eighteenth floor, we enter the New York Metropolitan Specialties show, which is comprised of events titled things like Longhaired BOV Dachshunds, Pekingese Sweepstakes, Best Junior Handler, and Veteran Bitch.
These rooms are tense -- but a fraction of what Madison Square Garden will be like come Tuesday night. Dogs are ushered into a ring, trotted about by their handlers, posed, lifted onto tables, and groped by the judges. Some dogs -- perfectly lovely dogs -- are dismissed from the ring. Others are kept. We cannot figure out why some dogs are kept and others are excused, but we are merely dog-affectionate, not dog aficionados.
There are passels of Boston terriers on one side of the room, and a painterly collection of Papillons on the other. It is eerie to see so many of the same breed collected together. They interact gently. Their humans do not, always. As is to be expected with a group of folks whose primary passion in life is dog shows, many of them have not completely formed social graces. A large woman in a magnificent purple caftan interrupts us with the phrase, "I need to get from over here to over there," in the kind of tone usually reserved for a dog who has done something very messy on a very pricey carpet.
The events are titled things like Longhaired BOV Dachshunds, Pekingese Sweepstakes, Best Junior Handler, and Veteran Bitch.
"There was a time a dog wanted a red carpet to be rolled out," The Dog Concierge tells us with an entirely straight face. He does not appear to be trolling us. "We were happy to accommodate -- and the dog felt good. It was a small dog, too -- the tiny ones want to make the biggest impression."
Another time, the Dog Concierge brought an opera singer to the lobby. "The owner told me that the dog, a Spinone Italiano, loves the opera," he says. "So as a little treat before the show to make it comfortable, we set up a space for an Italian opera singer to serenade the dog -- which was wearing a tuxedo." Naturally.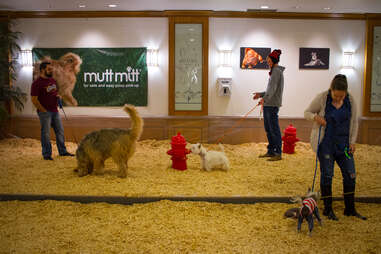 When the shows are going on, the grooming room on the 18th floor is almost abandoned. We were fully anticipating a room filled with clones of Parker Posey in Best in Show, screeching about lost Busy Bees. Instead, there are two crates stacked atop each other, each containing a French bulldog. Before them, a stylishly dressed woman is sleeping in her chair, an iPhone dangling from one hand. Next to the crates, a man in a colorful suit discusses business on the phone and frowns.
"It's like Miss America meets the Puppy Bowl."
Back in the lobby, there is an alien disguised as a dog, patiently waiting for check-in. Its handler claims that it is called a "Bedlington terrier." The Dog Concierge strokes its sleek, arrow-like head, affectionately pronouncing it "aerodynamic." It is a docile, lovely animal, willing to be cooed over by the crowds that form around it.
At this point, it's late in the afternoon, and the lobby is getting chaotic -- the line of dogs waiting to check in must be upwards of 50, and more keep pouring in. The hotel is also packed with visitors in town for a rather similar event: Fashion Week. The combination of high-strung fashionistas and similarly tempered dog handlers is overwhelming. A man, who explains that he wears exclusively his own designs, sees the Bedlington terrier and exclaims, "Oh my God, I have to Snap this! Can I -- may I touch it!"
James Morrissey, who runs Wild Coyote Studio, is the dog photographer of record at the Hotel Penn. A gentle, hippie-ish man with a long ponytail and a passion for both animals and photography, his studio is temporarily set up every year in the Hotel Penn, and caters to the Westminster set who want to take home something more personal than a ribbon. When asked about the goals of dog photography, Morrissey is quick to note that his images are not what you will find ringside.
"These are warmer," he says. "They're more about the dog's personality."
Like many of the people here, dog shows aren't Morrissey's full-time game. A social worker during the year, he takes a week of vacation to come to Westminster every year, and brings his family to help.
"Should I use the duck?" his niece asks. She is stroking Joy Graham's nine-month-old German shorthair pointer, BB, who Graham is attempting to pose on a short, wide wooden block. BB is gorgeous, his coat so glossy it's probably radioactive, but he's also lanky, and puppy-clumsy -- his hind legs careen off the end of the stage as he tries to play with the duck-call noise-maker.
"Oh, that won't deter him," Graham says, laughing. "His father would have been so easy." A shoot with Morrissey is family tradition: BB's more austere father also had his portrait taken when he was a competitor in the Westminster shows, long before the pup was even a gleam in his breeder's eye.
There must be more women in Manhattan wearing rhinestone-encrusted cowboy boots and carrying bags of poop today than on any other day of the year.
"I only got him back two and a half weeks ago," she says, referring to BB. "He was on the road; we had to send him out to get points at the shows -- he's got nine points, and he needs a major in two singles to finish." Graham explains this as though it makes sense to people outside the dog world. She is a pretty blonde with a Southern accent and a warm, cackling laugh. She's wearing jeans, and it's very clear that she is one of the least pretentious people in attendance at the oldest dog show in America -- and not just because her t-shirt is emblazoned with the phrase BITE ME ("I have another one at home that says 'Alpha Bitch,' but I couldn't find it").
"The worst part here is the attitudes when they don't win. It's a dog show. You'll see people stamping out of the rings like two-year-olds. I have about as much patience for that as a flea," Graham says. "Win, lose, or draw, there's another dog show another day. To me it's all about the dog -- I'll love my dog as much after as I did before. You know, I've learned to massage my dogs, all that. When it's your passion, it becomes different."
Now that BB is nine months old, he's ready for a starring role in the Westminster Dog Show. "Every breed has a standard," Graham says. "When you square them up, their back feet should be like this, and their front feet should be under them, so you can see the chest," she says, gesturing to BB's back paws, which are splayed wider than his hips, his front feet closer together.
"That looks great -- can you back him up a bit? His snout is starting to warp on me," Morrissey says. "He's doing beautifully -- very well for a dog so young."
Most people, it seems, come into the world of dog shows through their families: Joy Graham's daughter started showing years ago, and Graham picked up the bug from her; one girl explained that she and her mother had shown horses when she was younger, but dogs were more convenient; a man said that his family had always kept Irish wolfhounds, and he'd developed a weakness for them; a young woman, carefully combing the contradictorily wiry, soft fur of her Kerry blue terrier, told us that she and her sister compete against each other every year, but couldn't recall who had gotten into the dog show world first.
Despite the fact that most of these people have spent months training their pets to respond favorably to camera-ready situations, the handlers tisk affectionately when their dogs perform for the camera.
The entire week is laid out in anticipation of the Tuesday night Best in Show competition at Madison Square Garden, and The Hotel Penn serves as the backstage before the backstage, the place where everyone rinses, fluffs, perfumes, smoothes, soothes, and completely freaks out all over each other.
As we walk down a carpeted hallway, a woman in a silk suit tries to pose her obedient little dog, only to find his back paws slightly improperly splayed. "You didn't see this," she says, looking up, as she laughs nervously and calls for an assistant.
Next to her, a very pretty woman in a conservatively cut red suit pauses to check her phone as a Boston terrier waits beneath her. He gently snorts at her calf tattoo, which is of him, or his predecessor, or maybe the platonic ideal of Boston terriers. It is softly muted beneath a pair of taupe pantyhose.
There must be more women in Manhattan wearing rhinestone-encrusted cowboy boots and carrying bags of poop today than on any other day of the year.
There are almost 200 different breeds staying at the hotel right now, and one thing they all have in common with each other -- and with contestants in child beauty pageants -- is that they are all phenomenally interested in cameras. Some, especially the younger dogs, simply seem to react with interest to the shutter's clicking noise, whereas others appear to have developed a more Pavlovian response: strike a pose when the weird shiny box appears in front of your face, and you'll receive attention and praise.
While the owners clearly love the attention as well -- every single person responded gleefully in the affirmative when we asked to photograph their dogs -- they often like to mock their pets' desire for the limelight. Despite the fact that most of these people have spent months, even years, training their pets to respond favorably to camera-ready situations, the handlers tisk affectionately when their dogs perform for the camera. "She's such a show-off," they'll say. "Oh, you love that attention, don't you? Such a drama queen."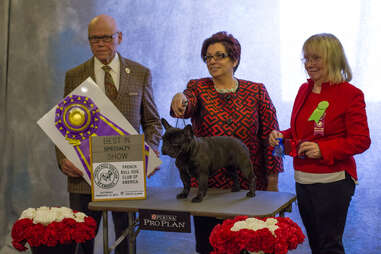 The elevators open on a new floor, and we are in the thick of it: a crowd is gathered in front of a bespectacled woman who holds back tears as her French bulldog is anointed The Most French Bulldog of All The French Bulldogs, This Year. A man softly details and praises the dog's physical features into a microphone, the way one might describe a hero's deeds in an epic poem of yore. Dozens of cameras click as the happy couple pose, festooned in bright blue ribbons. For a brief moment, the dog and his owner turn away from the crowd. She bends forward, cradling him directly under her slight frame in a pose he clearly finds familiar. She whispers something in his tiny bat ear, kisses the top of his head, and he looks elated. Then they straighten for the cameras again.
Sign up here for our daily NYC email and be the first to get all the food/drink/fun New York has to offer.
Jess Novak would totally borrow your dog and take it on a walk in Prospect Park. You can follow her on Twitter and Instagram.