Bowling is for everyone: disgraced presidents, moonshine-deranged oil magnates, bachelorettes, every blue-collar sitcom dad, your dad, the list goes on. But not every bowling alley is for everyone. The alleys in the five boroughs offer a wide selection that will fit any mood, aesthetic, and tolerance for glitz and grime.
In New York City, you'll find three distinct alley types: Entertainment Center, Bar With Bowling, and Traditional Alley, all beautiful in their own ways. This guide breaks down where to go to clock your first 300.
Manhattan
A trip to Times Square thrusts New Yorkers into the depths of ennui. Who are these people? Where have they come from? What do they want from that off-brand Elmo? Or, what does he want from them? But if you're going to bowl in Manhattan, the area is unavoidable -- the borough's three major bowling alleys are within a five-avenue confine. And they're all Entertainment Centers, to varying degrees of success.
624-660 West 42nd Street
Located on the West Side Highway, Lucky Strike attempts something no other bowling alley in NYC does: make bowling sexy. With the tagline "bowling optional," dim lighting, plush couches, and cocktail lounge aesthetics, Lucky Strike positions itself as a cool date spot. Bowling as a social lubricant rings false, but Lucky Strike makes a commendable effort -- the place is equally suited to mingling over billiards, ping-pong, and other games around the 26 lanes. Most of the alleys in Manhattan, much like many of the larger bars, seem built to host corporate functions; if you wind up at one at Lucky Strike, you could do worse.
Quick stats
Budweiser: No Bud. $3 Coors Light at happy hour (Monday-Friday, 3-7pm)
Music: Saccharine Paul McCartney covers followed by a DJ spinning '80s and '90s tunes
Score Screen Animations and Visuals: expensive screens, slick visuals
Crowd: Try-hard dates; sedate young professional holiday parties.
Bowling Alley Carpet Pattern Rating: N/A
550 Ninth Avenue
"Bowling alley inside of Port Authority" sounds like the setting for a joke or a crime scene (or both!), but Frames is a fine place for a game of tenpins. The money and effort they invested to elevate the place to Entertainment Center level is evident; there's an attached bar with billiards, a ping-pong area, and a karaoke bar. On a recent visit, the 28 lanes were all packed with parties, each table topped with dwindling beer towers and each lane brimming with enthusiastic bowlers. Finally, a reason to look forward to visiting the Port Authority on purpose.
Quick stats
Budweiser: $7
Music: Top 40
Score Screen Animations and Visuals: Slick and modern
Crowd: Corporate parties one hour of open bar away from going completely off the rails
Bowling Alley Carpet Pattern Rating: N/A
222 West 44th Street
If you're going to an Entertainment Center bowling alley, go all in. Ominously located beside now-shuttered Guy's American Kitchen & Bar, Bowlmor boasts six alleys spread across two floors, each fashioned in a New York theme: Central Park, Coney Island, Chinatown, Times Square (so meta), Art Deco, Prohibition, and, curiously, Pop Art. The spaces are kitschy but well-executed and together comprise 48 lanes. The complex also features two bars, an arcade, billiards and classic lane-side snacks like nachos, French fries, and chicken wings. Once you knock the I'm in Times Square chip off your shoulder, this is where you'll have the best time bowling in Manhattan.
Quick stats
Budweiser: $8.71
Music: Loud
Score Screen Animations and Visuals: Varies by alley
Crowd: JP Morgan's holiday party
Bowling Alley Carpet Pattern Rating: 2/10 (located in the arcade area)
Brooklyn
Brooklyn is a vast and varied borough, and its bowling alleys reflect its multiplicity. Alleys of every type abound, offering something for everyone; alleys for family parties; alleys for double dates; alleys for mandatory after-work bonding sessions; alleys for all.
200 North 14th Street
Gutter Bar represents the best of a new generation of Bars With Bowling. Its eight lanes glow under dim lights, vintage beer ads line the walls, long tables and booths accommodate large and small parties, and a well-appointed bar is fixed to turn out any cocktail. They don't accept reservations, so wait times can be hours long on Saturday nights. Fortunately, Gutter Bar is a great place to loiter over a few beers with friends, shoot some pool, and snap up a lane when one finally clears out.
Quick stats
Budweiser: No Bud. $6 Narragansett (or $21 pitchers)
Music: New and classic rock
Score Screen Animations and Visuals: N/A
Crowd: Williamsburg, but grown-up
Bowling Alley Carpet Pattern Rating: N/A
1 Bouck Court
Just off the Avenue X/McDonald Avenue F-line stop in Gravesend, Shell Lanes is a barebones Traditional Alley that's great for families and neighborhood folks alike. It's one of just a couple of alleys serving the outer areas of the borough and truly worth a visit if you want to see authentic Brooklyn, not gussied up with Edison lightbulbs and reclaimed wood. Naturally, the place has seen better days and could use some freshening up, but it gets the job done.
Quick stats
Budweiser: $3.75
Music: Top 40
Score Screen Animations and Visuals: '90s home movie graphics
Crowd: Locals
Bonus: Within walking distance of L&B Spumoni Gardens
Bowling Alley Carpet Pattern Rating: 5/10
461 37th Street
Nothing but a full-throated recommendation for this stalwart. Located in a micro-neighborhood on the southwest corner of Greenwood Cemetery between South Park Slope and Sunset Park (and adjacent to the developing Industry City), Melody Lanes is a melting pot of old-timers and newcomers. Families established in the neighborhood generations ago bowl alongside girls-night groups stopping by after a bite at Avocaderia. Melody is a Traditional Alley with 26 lanes, no frills, and one major personality: bartender Peter Napolitano. A Brooklyn character straight out of Central Casting, he'll talk philosophy and physics with you when wait times exceeds an hour on weekend nights. When you get peckish, hit the Tacos El Bronco food truck around the block on Fifth Avenue, itself a local landmark of sorts.
Quick stats
Budweiser: $5, $14 pitchers
Music: A great mix of late '70s and early '80s pop
Score Screen Animations and Visuals: Classic Nickelodeon
Crowd: It's like the DMV; you'll find types from every walk of life
Bonuses: Melody Lanes has some of the best fried food in Brooklyn. Come for the bowling, stay for the jalapeño poppers and mozzarella sticks.
Bowling Alley Carpet Pattern Rating: 6/10
Staten Island
Staten Island at large is in the eye of the beholder -- a projection of each visitor's hopes and dreams, inner turmoil, greatest fears and deepest desires. To some, it is a mysterious and inaccessible land to be gazed upon but never touched. To others it is uncharted territory, a blank canvas of fertile ground upon which one might begin anew. To a relative few, it is home. There's also a coupla bowling alleys over there. This is one of them.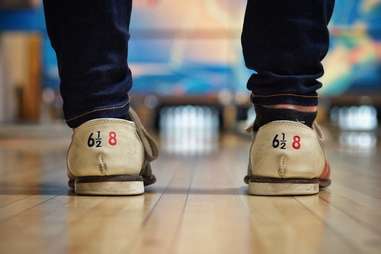 1600 Hylan Boulevard
A journey by land and sea leads to this 48-lane Traditional Alley. Unlike most other spots, you can reserve lanes in 15-minute increments, perfect for the single bowler looking to squeeze in a few quick games. If it weren't attached to the alley, Rab's High Roller Lounge would still be worth a visit in its own right. Grab a beer from Carrie, the friendly bartender who will ask you if you live in the neighborhood even though she knows you don't.
Quick stats
Budweiser: $4.75, $15 pitchers ($3 for all pints on Sundays from 4-7)
Music: Upbeat summer wedding
Score Screen Animations and Visuals: Early 2000s Matrix style
Crowd: Friendly Staten Islanders, happy to chat about their borough
Bonuses: Gennaro's Pizza and a laser maze
Bowling Alley Carpet Pattern Rating: 10/10
The Bronx
Like Staten Island, the Bronx is often overlooked on lists like this. Both are wide and dynamic boroughs with so much to recommend them, but somehow neither quite has the brand recognition. But for those willing to make the trek, the Bronx is waiting with perhaps the best bowling alley in New York City.
1756 Bronxdale Avenue
Upon your arrival, Freddie at the front counter will take care of you, detailing the nuances of their ancient pin-setting and ball return mechanisms, and offering to help you keep score if you've never done it yourself. Van Nest Lanes is a beautiful artifact virtually untouched by modern bowling innovation. The aesthetics are excellent: original late '60s/early '70s style; no screens; and all hand-scoring. More than any other alley in the city, Van Nest provides a bowling-first experience worth the excursion.
Quick stats
Budweiser: $3.50
Music: '70s classic rock
Score Screen Animations and Visuals: N/A
Crowd: Yankees fans
Bowling Alley Carpet Pattern Rating: 6/10
Located even further out than Van Nest Lanes, Gun Post Lanes in Laconia and Bowlerland in Eastchester are both notable Traditional Alleys. They both feature the (same) best bowling alley carpet on record: low-pile and printed with neon geometric shapes -- the circles are bowling balls.
Queens
The most diverse of New York City's boroughs -- a borough depicted in the broadcast arts by perhaps the Platonic ideal bowler -- it is no surprise that Queens offers every type of bowling alley. These are just our favorites.
30-05 Whitestone Expressway
Even after taking the 7 train to the end of the line, Whitestone Lanes is another mile away. But the remote, 48-lane bowling alley is open 24 hours, so if you've got the itch to bowl at 5am, this is your place. The exterior evokes a Soviet-era Russian bowling training bunker, but it's a warm Traditional Alley on the inside, catering to families and locals out to beat their personal bests.
Quick stats
Budweiser: $5
Music: Z100 at full volume
Score Screen Animations and Visuals: Slow, blocky, and in muted colors
Crowd: A virtual lifecycle of young families, high-schoolers, and old folks.
Bowling Alley Carpet Pattern Rating: 4/10
10-22 46th Avenue
Although they couldn't quite win Brooklyn, Gutter Bar takes Queens. Located in the rapidly developing Long Island City, their northern outpost is a new addition to the tapestry of bowling in New York City. Much like its Williamsburg counterpart, the Gutter LIC is a great bar that happens to have bowling. Again, it's only eight lanes, so on weekends, the wait could be a few hours. Unlike its Brooklyn counterpart, however, the Gutter LIC's much larger floor plan can ably accommodate larger crowds, so waiting is a bit more comfortable. Long Island City also houses some of the best breweries in the city, reflected on the Gutter's solid beer menu.
Quick stats
Budweiser: No Bud, but $5 Narragansett
Music: A well-curated mix of indie and punk rock
Score Screen Animations and Visuals: N/A
Crowd: A who's-who of G train riders
Bowling Alley Carpet Pattern Rating: N/A
Sign up here for our daily NYC email and be the first to get all the food/drink/fun New York has to offer.
Erik Helin is the only Brooklyn-based freelance writer.