Living in New York City can be wildly draining, and sometimes all you need is a few nights in a tent underneath the stars alone or with your closest camping friends.
The good news is, you don't have to travel far to get the exact opposite of the city: green forests, uncrowded beaches, private campfires, and the actual sound of crickets at night can be found within just a couple hours of the city (and, in some cases, without leaving the five boroughs at all). We've pulled together 11 spots you can reach from New York City without having to talk your significant other's cousin into borrowing their car. There are options for any kind of camper (amateur or pro), whether you're looking to get away for one night or an entire week.
Recommended Video
Proof That Iceland's Ring Road Is the World's Most Beautiful Road Trip
Where to get gear
Chances are, you don't have space in your tiny NYC studio for a tent. Don't fret! Getting camping gear in the city has never been easier with set-ups like REI's camping gear rental program and Traverse Outfitters' delivered-to-your-door equipment (delivery is free over $99).
New York-based rental business Gear to Go will deliver camp cooking gear, from bowls and coffee presses to stoves and water purifiers straight to your apartment, so you don't have to make any big-time purchases for a single weekend trip.
Fort Wadsworth, Staten Island
How far it is: 1 hour by bus
How to get there: Take the S51 bus to the park's entrance, or hop on the S53 bus, which will leave you at the rear entrance. Heads up -- the rear entrance closes at 7pm every day.
What to expect: Not only is Fort Wadsworth one of the oldest military sites in the United States, there are also seven campsites available for overnight stays for the small cost of $30 a night. Each campsite has a fire ring, a grill, a picnic table, and there are bathroom and shower facilities onsite. You'll want to make a reservation far in advance on Recreation.gov.
Floyd Bennett Field, Brooklyn
How far it is: 45 minutes by bus
How to get there: This Brooklyn oasis -- dubbed Camp Getaway -- lives at the edge of Jamaica Bay. The Q35 bus will take you straight to the entrance of the park.
What to expect: Floyd Bennett Field is the perfect place to enjoy a campfire with friends and sleep underneath the stars. Camping sites fill up quick, so head over to Recreation.gov to make a reservation. Each site is equipped with the basic amenities: drinking water, campfire rings, grills, picnic areas, recycling, and trash collecting. There's also an area for RV parking.
Croton Point Park
How far it is: 1 hour and 30 mins by train
How to get there: Take Metro North to the Croton-Harmon stop.
What to expect: This 500-acre park in Westchester County offers cabins and tent sites for rent on a nightly basis. Campers visiting Croton Point Park will find a nearby beach, hiking trails, fishing and boat launches, playing fields, and picnic areas. If you're lucky, you might catch one of the summer festivals or concerts.
Malouf's Mountain Sunset Campground
How far it is: One hour and 35 minutes by train and shuttle bus
How to get there: Take Metro North to Beacon, where you'll catch a shuttle to the Malouf Mountain trailhead. Heads up -- you do have to hike in and out of this campsite, so be careful to pack only as much as you can carry.
What to expect: Malouf's Mountain Sunset Campground can accommodate any level of camper. This is a great spot for amateurs who aren't quite sure what kind of gear it takes for a fun weekend of camping -- they'll set you up with what you'll need, from the tent to the cooking supplies (but bring your own sleeping bag). If you're looking for something a bit more remote, they've also got you covered. You can also opt in for guided hikes ranging from 30 minutes to five hours in length. The campground website offers package deals, some of which include discounted Metro North tickets.
Mills Norrie State Park
How far it is: 2 hours by train and cab
How to get there: Take Metro North to Poughkeepsie and grab a 15 minute cab from the station.
What to expect: At Mills Norrie State Park, you'll find 1,000 acres of campgrounds -- including 46 sites with tents and 10 cabins available to rent -- and tons of activities: hiking, cycling, skiing, and snowshoeing. If you've somehow managed to get your boat to the park, there's also lake access from the campground. The park is also just five minutes from the Vanderbilt Estates and Franklin D. Roosevelt's previous home, in case you get tired of taking in nature.
Harriman State Park
How far it is: One hour and 30 minutes by train and cab
How to get there: Take New Jersey Transit to the Tuxedo or Harriman stops.
What to expect: There are plenty of great spots to camp overnight inside Harriman State Park, but your best bets are the Tom Jones lean-to or Bald Rocks, which you can find next to Island Pond. Pick a clear day to set aside for hiking Island Pond and Lake Skenonto. The park has everything you'd ever need for a solid weekend outdoors: grills, cabins for rent, playing fields, picnic tables, showers, a beach, biking, fishing, hiking, and boat rentals.
Clarence Fahnestock State Park
How far it is: One hour and 40 minutes by train and cab
How to get there: Take the Hudson Line on Metro North to Cold Spring. Once you get there, grab a cab to take you the 5 miles to the park.
What to expect: You won't be the only camper getting off at the Cold Spring stop, so prepare to make a few friends on the way to your campsite. There are plenty of amazing views, but the Canopus Lake beach is what people really come to experience. The campground is located on natural rock ridges, making it easy to find private little alcoves to spend your night underneath the stars. There are 80 campsites available to rent in the park and you'll find bathroom and shower facilities centrally located.
Hither Hills State Park
How far it is: 3 hours by train
How to get there: Hop on the LIRR to Montauk and call a cab or hike the short distance to the 189-site campground.
What to expect: Hither Hills State Park is located right on the ocean, presenting the ideal wake-up call from your tent -- the sound of waves hitting the beach. You can fish year-round if you've got the right permit; hike the walking dunes of Napeague Harbor; hike through pine, oak, shad, and Russian olive trees; bike the region; or cross-country ski, depending on when you visit.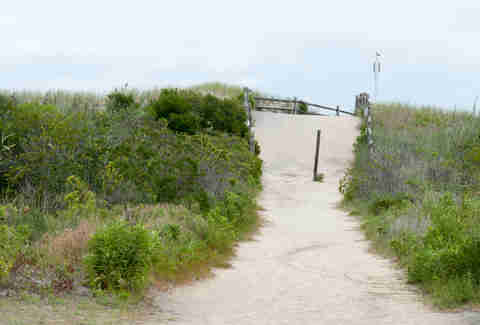 Wildwood State Park
How far it is: 3 hours by train
How to get there: Hop on the LIRR to Riverhead and grab a cab at the station for the 15-minute ride to the campground.
What to expect: If you're focused on getting a good hike in, Wildwood State Park has 600 acres of forest and two miles of beach to explore. Other park activities include stand-up paddleboarding, swimming, biking, fishing, or making the perfect campfire s'mores. It's recommended to book a campsite on Recreation.gov before you make your journey there.
Lake George Escape
How far it is: 6 hours by bus and cab
How to get there: Take a Greyhound bus from Port Authority to Lake George, then grab a cab from the bus station to the campground 6 miles away.
What to expect: Lake George Escape is great for families looking to spend some quality time outside the craziness of the city. You can rent a site for your tent, a furnished cabin, or a spot to hook up your RV. Expect all of the usual campground activities -- hiking, fishing, playing fields, bonfires, swimming at the beach -- but the best thing is the $8, one-hour tubing trips on the nearby Schroon River.
Lake Placid/Whiteface Mountain
How far it is: Eight hours and 30 minutes by bus and cab
How to get there: Hop on a Greyhound bus at Port Authority to Lake Placid. From there, take a cab -- or bike! -- from the bus stop to the campground at Whiteface Mountain.
What to expect: Not only are there tent spots (some with built-in lean-tos for extra shelter), but the campground also offers cabins and glamping sites, as well as RV parking. The Lake Placid/Whiteface Mountain campgrounds are open all year round. You can fish, bike, play a round of mini-golf, swim in the onsite pool, or start a campfire. There are also on-site bathrooms and showers within walking distance.
Sign up here for our daily NYC email and be the first to get all the food/drink/fun New York has to offer.