Everyone likes comedy (right?), but it's not as funny if you've been shanghaied into a low-grade show by one of those aggressive hawkers on the corner of Macdougal and Bleecker. As much good comedy as there is in New York, there's also enough roll-your-eyes and wish-you-elsewhere material to put you off seeing open mics until the next lifetime. To separate the side-splitting nights from the total snoozers, we asked working New York City comedians to recommend venues for good laugh on the cheap in Manhattan, Brooklyn, and Queens.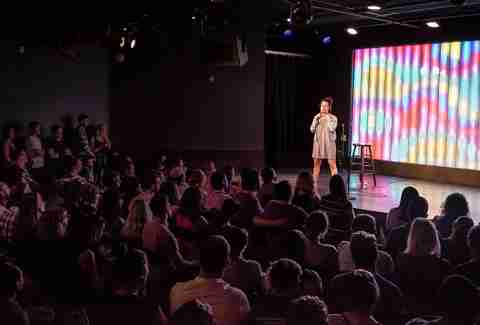 Gowanus
First up, a confession from VH1 regular Michelle Buteau: "I'm totally biased because I live in Bed-Stuy, and I don't like driving over bridges." Nevertheless, she says, "The new Littlefield looks exactly like the old one; it's like a guy who divorces his wife saying, 'I need someone new,' and then marries someone who looks identical to his ex. It's très cute." Buteau recommends seeing the weekly and monthly shows, which all offer a different vibe, as well as the chance to see "cool drop-ins" like Jim Gaffigan and "the Broad City bitches."
Williamsburg
"This feels like a place Lady Gaga would have started out playing music at 10 years ago," says Buteau. Hannibal Buress founded Comedy at the Knitting Factory in 2008, before he got hella famous -- these days the Sunday night gig is an established favorite on the NYC circuit, and has hosted the likes of Louis C.K., Chris Rock, and Dave Chappelle. Buteau says the big names make it feel "more like LA than NYC," but there's a touch of European tradition too: comics get a flat 15 minutes on the mic, regardless of how long they've been in the game.
Lower East Side
For a weeknight laugh, Buteau recommends spending $10 on a ticket to Seth Herzog's "Sweet!", which feels like "the Bar Mitzvah Seth never had," according to Buteau. Special guests may include everyone from Herzog's mom to his "famous friends from NYU," and the burlesque vibe of the underground theater (below Pizza Beach) makes Buteau feel like "Liza Minnelli might slip onto stage at any moment."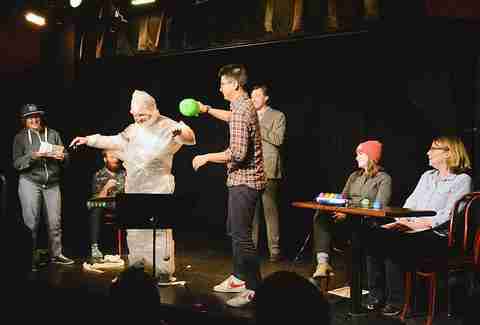 East Village
Comic Selena Coppock (who runs the parody NYT Vows Twitter account) recommends checking out this legendary improv school, which hosts nightly shows spotlighting students and alumni (including Amy Poehler, Tina Fey, and Abbi Jacobson). Top props go to the show "Whiplash," at 11pm on Mondays: "The theater is the perfect size and shape, the lineups are always stacked, the beer is cheap, and the show is FREE," Coppock says. "What more could you ask for?"
Chelsea
"It's very campy and silly," Coppock says of "Bitchcraft!," the quarterly show she co-produces and co-hosts at this stylish karaoke bar. The show blends stand-up, storytelling, singing, characters, and, naturally, costume changes. After the show you can even "belt out a few hits yourself," thanks to the prominently placed piano, open to all talent levels.
Long Island City
Coppock calls the $10 monthly show Petey's World at The Creek "a safe bet" thanks to a diverse cast of comics, at least one of whom will surely share your sense of humor. Comic Petey DeAbreu runs the show, and there's Cal-Mex food and $6 beers to add to the allure.
West Village
Jo Firestone (you know her from The Tonight Show and 2 Dope Queens) recommends this "cool space where you wouldn't expect to see comedy." Its proximity to sceney restaurants and clubs means you should expect a "very attractive crowd." As Firestone puts it: "Go for the laughs, stay for the audience full of hot people." Keep an eye out for Lady Lovin' podcast host, Greta Titelman's monthly show, "Room Service." "She's a really fun, dynamic host and it's always a great line-up," Firestone says.
Bushwick
Firestone is also a fan of this bar/café/yoga studio/performance space that is truly a manifestation of millennial Brooklyn. She likes "Live From Outerspace," hosted by Erik Bergstrom and Molly Austin (Fridays at 9pm) as well as "super-fun" weekly improv by The Postmen. If you haven't seen the Postmen, Firestone has some advice: GO SEE THE POSTMEN. The group consists of Anthony Oberbeck, Carmen Christopher and Matt Barats, who are "delightful and so funny." Up N' Coming, a monthly show by comedy duo Reformed Whores is another Firestone favorite.
Park Slope
Buteau recommends this Brooklyn hangout for "weird, crazy, one-off shows." The basement, which "feels like a speak-easy," is where she recorded her album: "Because the room is small, it always feels crowded -- a good thing for comedy -- and the vibe is different every time." She also loves that lineups here often include multiple women, even when the shows aren't labeled specifically as women's shows.
Gowanus
Buteau says to think of The Bell House as a "bigger, more fun" version of Union Hall. Two stages host comedy, music, and alternative entertainment -- and, as a perk, no drink minimum. "I mean, I'm always going to have lots of drinks," Buteau says. "But I appreciate that you're not forcing me."
Chelsea
Comedian Lesley Hennen confesses she is "obsessed" with this venue: "They have really great shows seven nights a week -- my personal favorites are "Trike" and "The Cast," and on Tuesdays and Wednesdays you can see the house teams in four back-to-back hours of improv, for just $7." Hennen also recommends Perri Gross's monthly stand-up show, "Everyone Is Sad," which features up-and-coming comedians alongside stand-up veterans: Book in advance because the $7 tickets tend to sell out. Think you can do better? Enroll in the Magnet's free one-hour introduction to improv class.
Williamsburg
Stand-up Joe Pera (you've seen him opposite Seth Meyers on Late Night) "doesn't get out as much" as he used to, but plugs his own show at The Shanty, co-hosted with Dan Licata and Charles Gould at 8pm on Tuesdays. A regular neighborhood audience means the trio can't get away with repeating material, and, Pera says, "We book people from different scenes to add variety." The bar is run by the New York Distilling Company, so expect "super-strong booze."
Astoria
Astoria-based comedian and Girl Code producer Chelsea White stands by her neighborhood's only comedy venue as a go-to for up-and-coming comedians and established old-timers. "Kambri Crews, Q.E.D.'s proprietor, is plugged into the comedy scene and super-passionate about fostering community,"  she says. "This is killer entertainment in a laid-back, neighborhood-y environment." If you need a little extra encouragement, remember that Artichoke Pizza and a cluster of Greek diners are just steps away.
Sign up here for our daily NYC email and be the first to get all the food/drink/fun New York has to offer.