House of Cannabis

| Photo by Carlos Hano
House of Cannabis

| Photo by Carlos Hano
New Yorkers are finally able to light up legally and we're right there with you on the hunt for the best spots to pick up cannabis products. In addition to answering the where, when, and how of cannabis use across the boroughs, we'll also give you a rundown of the four legal dispensaries in New York City and a few events that'll make 4/20 even more special this year.
Is weed legal in New York City?
It sure is! Recreational cannabis is now legal across New York State for adults 21 and older.
When did NYC legalize weed?
In March 2021, New York State became the 15th state to legalize the use of recreational cannabis. With the passing of this legislation, also came an impassioned and hard-fought program to reinvest millions of dollars from cannabis tax revenues back into the local communities that have been systemically and unjustly devastated by the war on drugs.
Can you buy recreational cannabis in NYC without a medical card?
You do not need a medical card to buy weed at recreational dispensaries in New York City.
Can jobs test for weed in NYC?
No, the days of surprise cannabis drug tests are in the past. With a few exceptions, New York State has prohibited employers from testing current and potential employees for cannabis use, plus any discriminatory action against workers who use cannabis outside of the workplace and work hours.
Are there recreational dispensaries in New York City?
After years of hoping, the answer is finally yes! All of the individuals or organizations who operate city dispensaries were selected specifically for their charitable missions and/or to promote entrepreneurship opportunities to those who have been unjustly affected by cannabis-related arrests or imprisonment. Read on for a rundown of NYC's recently opened legal dispensaries that are serving flower, chocolates, gummies and so much more.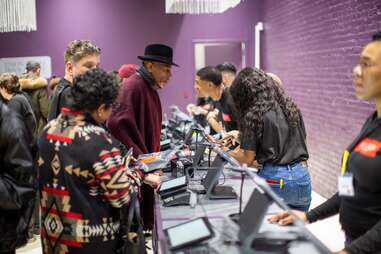 Greenwich Village
Run by the Housing Works non-profit, which has supported unhoused and AIDS-inflicted communities since 1990, the Housing Works Cannabis Co. was the first legal recreational weed store in New York City. At the East Village shop, visitors can peruse a selection of flower, prerolls, vapes, tinctures, edibles, and more from LGBTQIA+-, BIPOC-, and women-led brands. Delivery is now available for a few neighborhoods around the Greenwich Village area.
East Village
As New York State's first Black-owned recreational weed store, Smacked Village is just the beginning of the many cannabis stores that are slated to open as a way to work towards creating social equity in this emerging market. Owner and CEO Roland Connor, who has a previous conviction for a cannabis-related offense, operates the popular store alongside his wife and son. Shoppers can either browse products from women- and BIPOC-run brands in-store or place orders online for pickup.
Union Square
At Union Square Travel Agency, more than half of all profits go directly to funding the Doe Fund, a non-profit whose mission is to break cycles of homelessness, recidivism, and poverty through job training, housing, paid employment, and more. In addition to the products available in store and online, customers can sign up for The Travel Club for exclusive access to merch drops, member-only events, and limited-edition bundle offers.
Jamaica
The newest addition to NYC's dispensary crew and the first to open in Queens, Good Grades debuted its Jamaica storefront in March 2023. Notably the first woman-owned recreational dispensary in New York State, Good Grades is helmed by cousins Extasy and Michael James. The shop's mission, aside from selling high-quality products, is to provide an inclusive atmosphere, spread positive cannabis education, and inspire their community.
How can I celebrate 4/20 this year?
We're manifesting chill vibes and good energy this 4/20. The recently opened House of Cannabis immersive museum is a perfect spot for stoned wandering, and the holiday will be celebrated with live performances, exclusive drops, and an exciting special guest. In Prospect Park, Black Girls Smoke—a cannabis-friendly concept that promotes inclusion—is hosting a picnic-style hangout with DJ sets, local vendor setups, and more. For revelers in Manhattan, Washington Square Park will be popping off with a collaborative Sesh in the Park event by Scarr's Pizza, VIBES, and Smashed. The Standard, High Line hotel's The Shop will host a pop-up from the smoking accessory brand, Sackville & Co.—look out for the complimentary treats and limited-edition merch. Finally, drop by the East Williamsburg odds and ends shop, Friends NYC, for their annual 4/20 party where the whole store will be 20% off.