The Best Places to Catch Live Drag Shows in New York City
narcbar at The Standard

| Cole Saladino/Thrillist
narcbar at The Standard

| Cole Saladino/Thrillist
Drag's popularity has skyrocketed lately. What was once underground, fringe, or special occasion entertainment (beat it, bachelorettes) is now ubiquitous at bars and restaurants across the boroughs. Drag even has the ability to turn seemingly straight-slanted spaces into fabulous queer havens.
Even beyond New York, the art form has hit the mainstream. A VH1 representative tells me the last season of RuPaul's Drag Race was the "most watched and best season ever for the franchise," with a 109% increase in viewership. RuPaul's DragCon (think Comic-Con, with gender-bending) made its New York debut at the Javits Center last fall, and returns with an additional day of festivities this September.
Before you return to Paris Is Burning or Drag Race reruns, get off the couch and see some of the best drag performances in NYC. Be a good spectator and bring singles (of both types) for tips.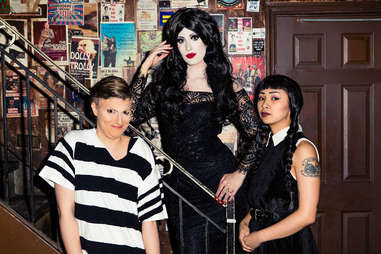 Prospect Heights, Saturdays
A typical Switch N' Play showcase features drag queens, kings, and queer burlesque stars, all with a wide range of performance styles. Their bimonthly shows at Branded Saloon are "beautiful, weird, irreverent, sexy, campy, funny and tender," says Miss Malice, a performer with the collective. "Expect a joyful, inclusive queer space with family vibes and an eclectic, polished show that has a little bit of everything." New faces of "excited queers" pack the honky-tonk space for beer, burgers, and some of Brooklyn's best burlesque.
Williamsburg, Wednesdays
Expect alternating performers and occasional weekly themes (like a recent '90s tribute) at the all-ages shows hosted by Ellipsis Queen and Tracy Michele. Tacos spin out of the kitchen, margaritas are shaken to frothy allure, and happy hour runs all night on Wepa Wednesdays. "We're so proud to have created a space where performers at all stages of their career can come and showcase their drag," says co-host Tracy Michele. "It's not competitive -- just a platform for some of the best drag artists in the city to present in an environment of love."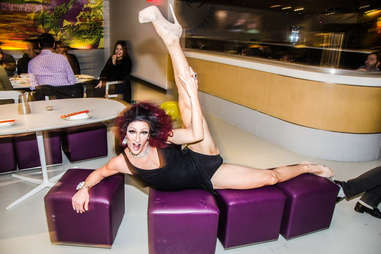 Hell's Kitchen, Mondays
The drag talk show draws names straight off Times Square marquees. "Stage Fright brings the biggest names of Broadway out each week to chat about their careers and to just let their hair down and have fun," says host Marti Gould Cummings. Broadway stars like Michael Longoria, Ann Reinking, and Tamyra Gray are unafraid to compete for attention and perhaps suffer some deprecation at the hands of a quick-witted drag queen in this sprawling lounge.
East Village, Thursdays
This show kicks off each weekend with a menagerie of queens and a RuPaul's Drag Race screening. Each week, a different Drag Race queen brings their unique spin to the perpetually packed affair. The Standard's signature effortless cool draws divas from every borough to perform, party, and infuse the neighborhood spot with disco vibes.
Locations vary, Saturdays
Introduce little ones and aspiring queens to the art of drag at this weekly roving storytime. Drag queens read aloud (some in Spanish!) at libraries throughout the outer boroughs, employing the funny faces and goofy voices rugrats love. Post-story meet-and-greets allow the kids to socialize with the glamorous storytime stars.
Bushwick, Sundays
This cheekily-named drag brunch typically sells out reservations, but they'll usually find room for walk-ins. Performer Ariel Italic says she's noticed "millennials using our show as a just-edgy-enough experience to broaden their visiting parents' horizons." Joined by Emi Grate and Lady Bearica Andrews, the trio covers pop, grunge, opera, Broadway hits, and "as many numbers as our legs can carry us through," Italic says. This is the thinking person's drag -- not the beginner-friendly burlesque brunch you may encounter in Manhattan. "It's not the kind of drag you see on TV," Italic says. "Some of our humor is uncomfortable. Some of our numbers are slow or sad or strange. Some of our costumes are ugly." Think: A queen pretending the floor is lava while lip syncing and stripping down to her boxers. With eggs.
Williamsburg, Mondays
Co-hosts Ruby Roo and Ragamuffin flaunt it as Billed as a "fucked-up variety show." This revue-style series combines their unique chemistry with stand-up comedy, poetry readings, interactive games, and macabre news segments. "We are not afraid to address some serious issues," Ragamuffin says. "Drag is a political act, and our show also tackles what is going on in the world, and the tensions of the current social and political climate." Die-hard regulars join newcomers each week. "It's our own little queer Monday night family," Ragamuffin says. Sister bar to nearby Metropolitan, this party rages until 4am -- and people still aren't ready to leave.
West Village, Fridays & Saturdays
New York drag legend Linda Simpson has been hosting her exuberant bingo show at this downtown art cabaret since 2011. A bargain on the drag scene, admission is free, and cards are five for $10, and good all night to vie for goofy prizes and a cash jackpot. "Each week draws in a very diverse crowd from NYC and all over the world, mostly in their 20s and 30s," Simpson says. Every week, a drag queen or burlesque "spokesmodel" assists Simpson in riling up the crowd. "It's definitely not boring church-basement Bingo!" Simpson says.
Midtown East, Saturdays; Hell's Kitchen, Sundays
Unlimited cocktails for $30 plus fabulous drag performances? Yaas, queen. Seatings at noon and 2:15pm let you sleep in a little before you chow down on pulled pork tostadas, guacamole, and other loosely Latin American-inspired brunch foods. Comedy, dance, acrobatics, and plenty of energy will keep your hungover eyes wide as queens get up close and personal with your empanadas. "The show is a raunchy laugh riot that may not be suitable for those under the age of 18, and the easily offended," says Ritzy Bitz, one of the brunch performers.
Sign up here for our daily NYC email and be the first to get all the food/drink/fun New York has to offer.
Melissa Kravitz is a writer based in Brooklyn and a drag enthusiast.