Before I became obsessed with escape rooms, I'd completely dismissed escape rooms. Team building? Solving puzzles? I scoffed; why would anyone want to do that? But my curiosity got to the better of me, and eventually I recruited a team of amateur escape artists (writers; game designers; Dungeons & Dragons enthusiasts) to try one out. An hour later, I was hooked. Locked in Dr. Jekyll's office while the clock ticked, we checked underneath hats and scrutinized oil paintings for hints to crack combination locks, revealing more incriminating clues and hidden doors.
We made it out with minutes to spare, giddy and exhilarated. Escape rooms bring an adrenaline rush, a chance to get away in an alternate reality, a chance to immerse yourself in a game with stakes: seeking a way out of a spaceship headed for Earth; a haunted hotel with blood-soaked cushions; or the laboratory of a strange cult. It's a chance to collaborate and play and race against the clock. Once you get into them, it's hard to stop.
A handful of companies around New York City operate dozens of rooms, which as recently as 2014 were only the exotic provenance of Eastern Europe. They may strike you as a bit faddish, but the mousetrap setup will resonate with anyone who grew up playing narrative puzzle adventure computer games (LucasArts' "Day of the Tentacle" and "Sam & Max Hit the Road" were exemplars). You'll need a team, so choose wisely: Most games are designed for up to 10 players, but the most satisfying adventures are had with groups of a half-dozen (you might have to shell out for a private room if you'd rather not be paired with strangers). A diverse team (look for the analyst, the quick-witted, the logician, the watchful, the playful) will fare better than eight like-minded accountants.
Spend some time pre-gaming, literally. Get to know your teammates and make sure you can communicate under pressure. Dress comfortably -- some rooms require you to crawl, climb, and run. Pep up with caffeine, but go easy on booze until after your victory (or defeat). Arrive early to get oriented (common escape room rules will bid you not to destroy the sets or climb on furniture) and leave time for debriefing after: What puzzle almost cost your victory? How many other teams escaped? And of course, no escape room is complete without a post-game photoshoot, replete with signs and giant keys for props. There are myriad escape rooms to dive into in NYC: These are some of the best.
55-59 Chrystie Street
Difficulty: Hard
Players: Up to eight
Cost: $29 per person
You're hurtling toward Earth on the USS Nemesis, and you have no choice but to commandeer the spaceship and save humanity from destruction. The immersive space station in Nemesis is filled with complex, layered puzzles that build towards a dramatic change in course. Can you unlock the spacesuit behind the screen and get authorization to pilot the ship? Do the glowing planets on one wall reveal secrets and connections only you can solve? The sheer variety of tactile clues and places to explore make this space mission a blast. The puzzles are challenging and rigorous, requiring sharp observation and lots of collaboration. Even if you die trying, the trip is worth it. Mission Escape Room game masters are adept at delivering hints at the right moments, and offering enthusiastic debriefing and walkthroughs, so you can relive your accomplishment or failure at the game's end.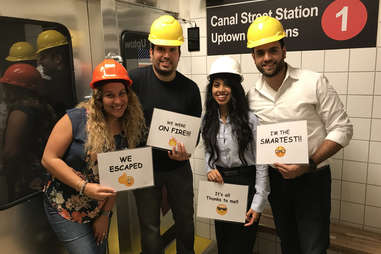 246 West 38th Street, Seventh Floor
Difficulty: Medium-advanced
Players: Two to seven
Cost: $28 per person
In a nondescript Midtown office building, beyond a small lobby, you'll find what might be the best-kept secret of NYC escape rooms. Exit Escape's High Speed NYC game drops you into a riveting storyline: you're trapped in a subway car speeding through tunnels, stuck in a mad conductor's revenge plot. Can you save yourself and the rest of the train? The set design here is impeccable (recreating a realistic subway-scape is no easy task), and the multi-room game is full of creative yet intuitive puzzles. I can't stop recommending this room -- especially to anyone with a love/hate relationship with the MTA -- for its impressive technology, great reveals, and rewarding story line.
48 West 20th Street
Difficulty: Medium-advanced
Players: Two to 10
Cost: Starts at $29 per person
A bloody handprint on the wall is a macabre hint of things to come. BrainXcape specializes in intricate, lush sets (created by designers who worked on "Sleep No More"), and the immersive feeling begins before you even enter the haunted hotel room. The moody atmosphere and layers of unique puzzles make this more sophisticated than a jump-scare joint. Is the bloody teddy bear trying to send you a message? What's that written on the walls? The clues here are surprising and fun to explore, and the puzzles are challenging but rewarding (especially if you scare easy). This spot is best for horror film and interactive theater buffs who want to marvel at beautiful objects while escaping a crime scene.
52 Kent Street, Brooklyn
Difficulty: Medium
Players: Up to eight (18+)
Cost: Starts at $30 per person
Once you've tired of sci-fi, fantasy, and mystery-themed escape rooms, take a turn toward something a bit more... lascivious. In Greenpoint you'll find this den of illicit pleasures (or as I like to call it: kinky Snow White) for an hour you won't soon forget. Previous agents have disappeared investigating this red-light room, and a politician is at risk of being blackmailed, unless your team can uncover a data drive that will save him. Colorful dildos, blindfolds, and handcuffs are strewn about, mannequins are poised for punishment, and you'll find clues in surprising crannies. The clever technology and cheeky set design are honestly delightful, and lusty hints are easy to come by.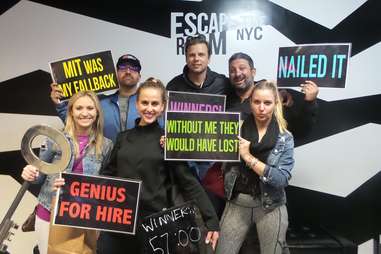 24 West 25th Street
Difficulty: Hard
Players: Up to eight
Cost: Starts at $28 per person
The clocks are ticking. The gears are turning, the crazy timekeeper is supposed to give you an exam, but something's gone awry. Can you make repairs, rewind time, and get away? Escape the Room NYC is one of the city's longest-running escape room outfits, and their polish shows. The puzzles are elegant, varied, tactile, and require serious focus. Dedicated escape room players will find a challenging sequence of puzzles and games that engage all senses. Time, a cohesive yet layered theme, threads throughout: How do you find the dials and the right hour? What will fit into the mysterious furnace? If searching for number and letter codes isn't your jam, you'll find a reprieve in the physical clues and puzzles here. Fans of steampunk and Dr. Who will definitely love this one.
594 Pacific Street, Brooklyn
Difficulty: Medium-advanced
Players: Two to eight
Cost: $30-$35
You are blindfolded and split from your teammates into separate dungeon cells, surrounded by torture instruments. Dim hallways and dastardly surprises await. Can you get out before the executioner's ax falls? The Medieval Dungeon is perfect if you love to explore physical spaces (sometimes crawling through hidden tunnels) and touch artifacts in an immersive set that echoes with the screams of those who have come before you. The spooky vibe works super well, and even without a complex narrative, you'll get lost in exploring the space and theme itself.
Sign up here for our daily NYC email and be the first to get all the food/drink/fun New York has to offer.
Laura Yan is a writer in New York. Invite her to your next escape room!