Although a summer spent enduring piles of garbage bags on the street and slowly sputtering AC units doesn't exactly line up with the romanticized idea of the Big Apple, as New Yorkers, we can always count on the city's unmatched art scene to pull us out of any funk.
And as the home of some of the most renowned cultural institutions—like The Metropolitan Museum of Art, The American Museum of Natural History and The Guggenheim Museum—plus a bevy of impossibly cool independent galleries, forgo aimlessly doomscrolling for some IRL inspiration instead.
From a posthumous homage to the iconic designer Virgil Abloh at the Brooklyn Museum to the newest and very trippy immersive show at Artechouse, here are the best art exhibits to check out in NYC right now.
Prospect Park
Exhibition: Figures of Speech
World renowned for his experimental style and visionary creations, late designer Virgil Abloh is the focal point of the Brooklyn Museum's latest crowd-puller. Curated by Antwuan Sargent, Figures of Speech includes artwork; clothing; video and audio clips; architectural sketches; and more, that speak to Abloh's legacy as an iconic figure in fashion and contemporary culture. Highlights include a full-size wooden house (designed by Abloh himself as a space for creatives to share knowledge and inspiration); collaboration projects with artist Takashi Murakami and musician Kanye West; plus pieces from Off-White and Louis Vuitton.
How to buy tickets: Admission from $25
NoMad
Exhibition: F*CK Art: the body and its absence
Popular across IG for their raunchy installations, intentional lack of censorship, and inclusive discourses on sex and sexuality, the latest project to hit the halls of the Museum of Sex is titled F*CK Art: the body and its absence. Displaying mediums including live performance art, sculpture, film, photography, and ceramics from 18 artists, the exhibit comments on modern-day perceptions of the human body, desire, arousal, and intimacy.
How to buy tickets: Admission from $36
Chelsea
Exhibition: Jean-Michel Basquiat: King Pleasure
When it comes to legendary New York artists, Jean-Michel Basquiat definitely tops the list and his paintings regularly reach more than $100 million when sold at auction. Learn more about the talented pioneer who helped shape 1980s pop art and is now considered one of our most revered cultural icons through renderings of his childhood homes; video plus audio recordings; and more than 200-never-before-seen works of art, artifacts, and ephemera spread out within the more than a century-old Starrett-Lehigh Building.
How to buy tickets: Admission from $45
Chelsea & Upper East Side
Exhibition: Art in Process
Often referred to as the "Father of Video Art" for his groundbreaking elemental usage of video and television into the world of fine art, this year marks what would have been famed Korean-born artist Nam June Paik's 90th birthday. To celebrate the occasion and his legacy, the Gagosian gallery is hosting a two-part showcase. Firstly, more than four decades of Paik's multimedia creations and towering video sculptures are being shown at Art in Process: Part 1 in the Gagosian's Chelsea space through July 22. Then, through August 26, the Upper East Side outpost will host Art in Process: Part 2, which consists of decorated TVs and projected reels of one-time television broadcasts made by the artist.
How to buy tickets: Free for admission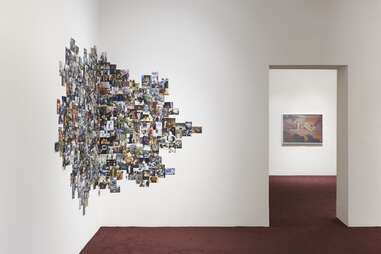 Long Island City
Exhibition: Deana Lawson
First showcased at MoMA PS1 via the Greater Than New York series in 2010 and 2015, accomplished photographer Deana Lawson makes her triumphant return to Long Island City for her first solo museum exhibition. Over the last 15 years, the New York State-native has created a glowing reputation for her hyper-staged portraits and a mission to push past conventional and over-saturated portrayals of the Black community. With more than 50 works on display, the exhibition includes intimate and elaborate photographs of people across the world, from Brooklyn and New Orleans to Haiti and Brazil.
How to buy tickets: Admission from $10
Chelsea
Exhibition: Dior + Balenciaga: The Kings of Couture and Their Legacies
To the delight of fashion aficionados, for the first time ever, creations by the late fashion designers Christian Dior and Cristóbel Balenciaga are being juxtaposed in a gallery space under the same roof. Known for their eponymous brands that are synonymous with luxury, trend-setting, craftsmanship, and present-day social media flexing, a colorful array of more than 60 of their garments and ensembles is on display within The Museum at FIT.
How to buy tickets: Free for admission
Concourse Village
Exhibition: Jamel Shabazz: Eyes on the Street
Throughout Brooklyn-born photographer Jamel Shabazz's life, his passion has been the people, culture, and community found on the streets of New York City. Now, The Bronx Museum of the Arts honors Shabazz's incredible talent by presenting an expansive deep dive in the last four decades of his work. The more than 150 photographs, spanning from 1975 to present day, on display capture a genuine and heartwarming glimpse of daily life across all five boroughs and its residents in moments of joy, heartbreak, contemplation, and love.
How to buy tickets: Free for admission
Chelsea
Exhibition: Life of a Neuron
Making its debut earlier this summer, the latest exhibition from Artechouse, titled Life of a Neuron, is a can't-miss for a trippy immersive experience that will undoubtedly have you contemplating your own existence. Through large projections and 3D cellular models melding art and science and created in collaboration with the Society of Neuroscience, the 60-minute exhibit session delves into how the brain shapes our individual human experiences.
How to buy tickets: Admission from $25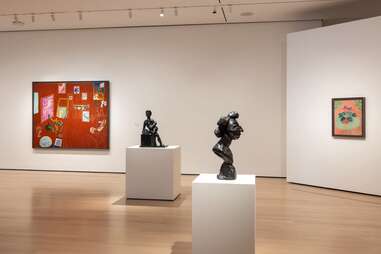 Midtown
Exhibition: Matisse: The Red Studio
Although French artist Henri Matisse is renowned for his works like The Dance and the Blue Nudes series, one of his long-disregarded paintings, titled The Red Studio, is taking center stage at this MoMA exhibition. Created in 1911 and originally met with indifference by the art world, the painting depicts his studio in the Parisian suburb of Issy-les-Moulineaux and is now considered an exquisite example of modern art. Within the show, there's also six other paintings, three sculptures, and one ceramic produced by Matisse during this time in Issy-les-Moulineaux.
How to buy tickets: Admission from $25
East Harlem
Exhibition: Raise Your Voice
Depicting the beauty and resilience of NYC's Asian American and Pacific Islander community comes an immersive installation by Brooklyn-based artist Amanda Phingbodhipakkiya. First gaining prestige after her I Still Believe in Our City art series in response to the Atlanta shootings in March of 2021, which appeared within NYC subway stops and on the cover of TIME magazine, this new venture for Phingbodhipakkiya focuses on an array of colorful murals depicting historical figures like Yuri Kochiyama and Malcolm X plus scenes of NYC activism over the past nine decades.
How to buy tickets: Admission from $20
Meatpacking District
Exhibition: Whitney Biennial 2022: Quiet as It's Kept
Marking its 80th edition, this year's showcase at the Whitney Museum of American welcomes 63 artists and collectives centered around abstraction, community, and personal narratives. Quiet as It's Kept fills up two floors of the museum with paintings, sketches, and sculptures, while presenting two starkly different themes. On the fifth floor, visitors will be met with a bright and airy vibe, which is then dramatically juxtaposed with the sixth floor's windowless and moody design.
How to buy tickets: Admission from $25
Izzy Baskette is a Staff Writer for Thrillist New York. Talk to her at ibaskette@thrillist.com or find her on Instagram.