Magentaverse NYC at Artechouse

| Photo courtesy of Artechouse
Magentaverse NYC at Artechouse

| Photo courtesy of Artechouse
Alongside local cultural institutions—like The American Museum of Natural History and The Guggenheim Museum—art lovers have ushered in a wave of immersive experiences as a modern-day way to soak up New York City's thriving art scene (plus the IG content doesn't hurt either).
In addition to fresh installations like Monet's Garden: The Immersive Experience and Gustav Klimt: Gold in Motion, we've got all the details on where to go for both a dose of tradition and the innovatively cool. From the global impact of hip-hop shown through fashion and photography to teeny tiny miniatures, here are the best immersive art experiences and art exhibits in NYC right now.
Upper East Side
Exhibition: Before Yesterday We Could Fly: An Afrofuturist Period Room
During the 19th century and in what is now known as Central Park, there was once a thriving community of mostly Black landowners and tenants living in an area called Seneca Village. Consisting of homes, churches, a school, and more, it represented freedom and prosperity before being seized by the city in 1857 to make way for the park. Now, as a way to shed light on the village's impact, The Metropolitan Museum of Art created Before Yesterday We Could Fly: An Afrofuturist Period Room, featuring a wood-frame structure filled with artifacts from the village, as well as other relevant ephemera and artwork from the museum's collection.
How to buy tickets: Admission from $30; Admission for NY residents is pay-what-you-wish
Astoria
Exhibition: Cinema of Sensations: The Never-Ending Screen of Val del Omar
The work of the lesser known, but highly influential Spanish artist and filmmaker José Val del Omar is welcomed stateside for the first time next month on March 10. Hosted by the Museum of the Moving Image, at the center of the exhibit will be Val del Omar's groundbreaking piece titled Elementary Triptych of Spain, alongside works by contemporary artists like the audiovisual artist Sally Golding and multimedia creator Matt Spendlove.
How to buy tickets: Admission from $20
Chelsea
Exhibition: Fresh, Fly, and Fabulous: Fifty Years of Hip Hop Style
Born in a Bronx apartment in 1973, hip hop is one of the most important cultural movements to come out of New York City. At the Museum at FIT, New Yorkers can now pay homage to the music genre's roots, as well as learn more about its massive influence on fashion over the past fifty years. Consisting of more than 100 pieces of clothing and accessories, on display you'll find designs by Kangol, Dapper Dan, Manolo Blahnik, and more.
How to buy tickets: Admission is free
Gramercy Park
Exhibition: Hip-Hop: Conscious, Unconscious
In the same vein as the Museum of FIT's latest exhibition, the team at Fotografiska New York celebrates the past fifty years of hip hop, but through photography. An expansive showcase of work by photographers from the 1970s to present day, the eye-catching images within the exhibit capture legends like Tupac, Notorious B.I.G., and Mary J. Blige, alongside contemporary favorites such as Tyler the Creator, Megan Thee Stallion, and Nicki Minaj.
How to buy tickets: Admission from $31
SoHo
Exhibitions: INTER_personal, INTER_sensory, INTER_planetary, INTER_val, and INTER_connected
One of the hottest interactive experiences to unveil in New York City over the last year is a collaborative project from JOBI Experiential and multidisciplinary artist Pete Sax with his studio Chemistry Creative dubbed INTER_. Here, guests are welcomed to wander through a series of five installations which each play on a distinct theme of earth, wind, fire, water, or ether. Highlights include gallery spaces set up with trippy mirrors, a guided meditation, verdant displays of hanging greenery, a vibrational playing of gongs, and more.
How to buy tickets: Admission from $39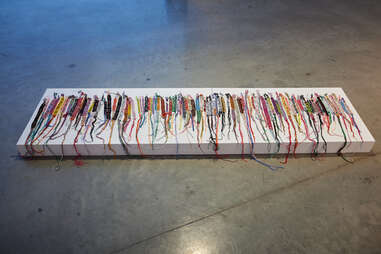 Chelsea
Exhibition: Land of Tenderness
Starting on March 16, art lovers can venture into the 8th Floor independent gallery space for an immersive video installation by South Korean artist Bang Geul Han. Sourcing inspiration from the Carte du Tendre—a map of an imaginary land created by a group of French women in the 17th century, which depicts the path towards true love—the exhibit weaves between themes like interdependency, memory, empathy, and care, in relation to the ongoing migration crisis.
How to buy tickets: Admission is free; RSVP for the Land of Tenderness opening
Chelsea
Exhibition: Magentaverse NYC
Always reliable at creating innovative and trippy immersive experiences, the latest exhibit by Artechouse sources its inspiration from Pantone's Color of the Year 2023: Viva Magenta. Characterized as a descendant of the red family and beacon of strength, Viva Magenta is spread across an eye-catching array of high-tech projections which draw inspiration from nature, NASA, and the James Webb Space Telescope footage of outer space.
How to buy tickets: Tickets from $17
NoMad
Exhibition: Portia Munson: The Pink Bedroom
Through a rotating display of provocative installations, the cheeky Museum of Sex advocates for intentional lack of censorship and inclusive discourses on sex and sexuality. Now, in a flurry of rose-hued tones, the latest to hit the halls is Portia Munson: The Pink Bedroom. Created by visual artist Portia Munson, the exhibit is a commentary on how society views the female body through a chaotic mix of objects like high heels, stuffed animals, lingerie, and more.
How to buy tickets: Admission from $36
Exhibition: Small is Beautiful: Miniature Art Exhibition
Marking its U.S. debut on February 21, Small is Beautiful: Miniature Art Exhibition showcases the incredible skill and unbounded creativity of the miniature artform. With over 130 works of art by more than 30 international artists, the exhibit plays to the viewer's childlike wonder through tiny photography, sculpture, food, and more—some of which is so teeny that it can only be seen through a microscope.
How to buy tickets: Admission from $24
Prospect Park
Exhibition: Thierry Mugler: Couturissime
A visionary legend within the fashion industry for his unorthodox and architectural style, the recently passed French designer Thierry Mugler is the focal point of this Brooklyn Museum exhibit. Defined by an aura of drama and power, peruse more than 100 original pieces including haute couture, stage costumes, and accessories plus an array of videos and photos of Mugler during his lifetime.
How to buy tickets: Admission from $20
Izzy Baskette is a Staff Writer for Thrillist New York. Talk to her at ibaskette@thrillist.com or find her on Instagram.