Practically every inch of NYC can inspire our creativity and imaginations (even a steaming manhole can feel romantic here), but as home to some of the world's best and most prestigious cultural institutions, forgo studying the pile of garbage bags on your street and head to a museum instead. Because on top of the best restaurants, singles bars, and Actually Cool Things To Do, the city's art scene never ceases to thrive, and there's an expertly curated exhibit out there for everyone this winter.
From a must-see sharks exhibit at the American Museum of Natural History to the newest very-trippy immersive show at Artechouse, here are the 11 best art exhibitions to check out in NYC right now.
Upper West Side
Exhibition: Sharks
The mysteries of the deep blue's fiercest predators are uncovered at Sharks, a new exhibit at the American Museum of Natural History. The exhibit dives into the species by exploring their anatomy and behavior over the centuries, with more than 500 handmade models, an array of ancient fossils, and underwater footage. Open through August, there's also plenty of time to gaze in awe at the 37-foot-long screen streaming content from Discovery's popular series Shark Week.
Chelsea Market
Exhibition: TRUST
Known for their trippy immersive experiences created with cool lights and sounds, TRUST is the latest installation from Artechouse located inside Chelsea Market. Teaming up with fuse*, an Italian art studio, the exhibit's goal is to translate the concept of trust into tangible art. High-resolution lights and photo projections along with overhead audio will guide you through the three-part gallery—Past, Present, and Future. Through archives, real-time data, and upcoming predictions, this peek into human nature is on display through May 30.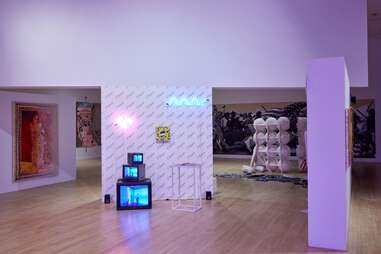 Concourse
Exhibition: Bronx Calling: The Fifth AIM Biennial
Showcasing early art from members of The Bronx Museum of the Arts' AIM Fellowship, the museum makes a statement on everyday life, health, grief, the environment, and identity with Bronx Calling: The Fifth AIM Biennial exhibit. When visiting, expect towering sculptures, intricate paintings, and intimate photographs by more than 60 artists that showcase social justice themes like the basic need for shelter, women's rights, racial inequality, and the climate crisis.
Prospect Park
Exhibition: Revelation
Revelation, the latest addition to The Brooklyn Museum, unpacks renowned artist Andy Warhol's complicated relationship with faith. From his famous celebrity portraits to lesser-known sketches, the exhibit shows how Warhol translated and symbolized Catholicism during his artistic career. With more than 100 items in the collection, there's a wealth of newly-discovered works as well as popular prints like the Last Supper series.
Downtown Brooklyn
Exhibition: Drive-Thru by Soft Firm
In collaboration with Brooklyn artists, performers, filmmakers, and local organizations, The Plaza at 300 Ashland in Downtown Brooklyn is now home to an immersive outdoor art installation. Through April 13, bundle up with your neighbors as you look up at screens alternating between film photography and video reels featuring glimpses into everyday life, dancing, and moments of human connection. There's also a list of upcoming live performances and film viewings that can be found on the website.
Upper East Side
Exhibition: Walt Disney: The Animation of French Decorative Arts
Little did we know that some of our most beloved animated films like Cinderella, Sleeping Beauty, and Beauty and the Beast are the direct result of Walt Disney's admiration for European design. These influences can be found through some of the most-beloved talking teacups, wardrobes, and candelabras that danced alongside Disney characters in grand pastel-hued castles. Through March 6, delve deeper into this knowledge at The Met with Walt Disney: The Animation of French Decorative Arts exhibit. Alongside 150 production artworks from sources like the Walt Disney Animation Research Library and Walt Disney Archives, 18th-century European decorative designs and artistry, like tapestries and furniture, will be displayed to showcase the aesthetic parallels. And to top it all off, snippets of these adored films will be played throughout to demonstrate how the inspiration carried over to the silver screen.
Upper East Manhattan
Exhibition: Celebrating the City: Recent Photography Acquisitions from the Joy of Giving Something
Toasting to the inimitable energy and community of NYC is the latest exhibit at The Museum of the City of New York. With a visit to Celebrating the City: Recent Photography Acquisitions from the Joy of Giving Something, explore over 100 photographs, some dating back more than a century, that capture quintessential events in time, streetscapes, skylines, and intimate moments of residents. Find yourself wavering between deep contemplation and light-hearted amusement as you wander through the gallery space's 10 categories: working, shopping, going, playing, loving, being, gathering, gazing, reflecting, and building.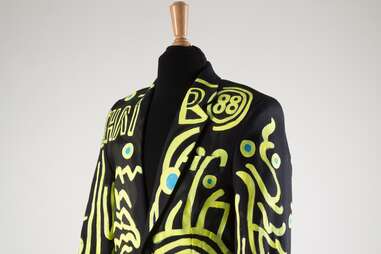 Chelsea
Exhibition: Asian Americans in New York Fashion: Design, Labor, Innovation
From March 2- 27, the Asian American community's lasting contributions to the city's fashion industry will be celebrated at MFIT via Asian Americans in New York Fashion: Design, Labor, Innovation. Curated by FIT's graduate students in the Fashion and Textile Studies program, the exhibition displays clothing, textiles, videos, and photography from the 1950s to present day that lay out a journey of design processes, original aesthetics, unrecognized production labor, and iconic garment creation.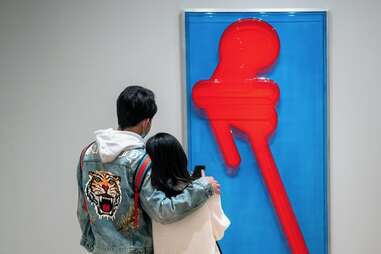 Midtown
Exhibition: Living Abstraction
Known for her dedication to abstract art is artist Sophie Tauber-Arp's Living Abstraction at MoMA. Encompassing her talent for combining fine art with creative liberty, more than 300 of her works are on display. From brightly-colored marionettes, paintings, sculptures, prints, and photographs to wildly-textured architectural design elements, furniture, and textiles explore how Tauber-Arp's ever-changing lifestyle translated into her work.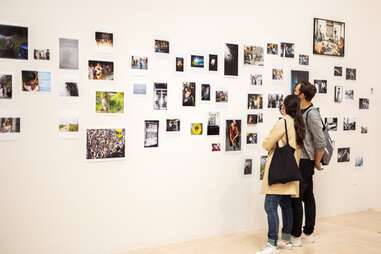 Long Island City
Exhibition: Greater New York
After a year-long pause in 2020 due to the pandemic, Greater New York at MoMA PS1, an expansive showcase for contemporary artists who live and work in the city, has returned. Through April 18, check out more than 300 works of art by 47 artists and collectives that speak to the unique voices that inhabit NYC. Spread out over three floors of the museum, the mediums vary from documentary photographs, surrealist paintings, short films, and sculptural installations, all of which provide commentary towards current and historical social, political, and ecological issues.
Hudson Yards
Exhibition: Free the Air: How to hear the universe in a spider/web
Featuring the work of artist and activist Tomás Saraceno is multi-sensory experience Free the Air: How to hear the universe in a spider/web. Focused around climate justice, the 95-foot-tall sculpture features web-covered floors and walls; foggy mist-filled air; vibrational audio; and dim lighting to mimic the feeling and sounds of a spider building its web. After exiting the immersion, there's two more floors of gallery space in The Shed featuring more of Saraceno's environmental work.
Sign up here for our daily NYC email and be the first to get all the food/drink/fun New York has to offer.
Izzy Baskette is a Staff Writer for Thrillist New York. Talk to her at ibaskette@thrillist.com or find her on Instagram.