There are so many incredible things to see in and around New York City: stunning skyline views, beautiful beaches, hidden hiking destinations, quite a few nudes, and restaurant and bar menus as carefully curated as some of this city's finest museum exhibitions. If you want to look at stuff, this is the town to beat.
But sometimes, looking at stuff isn't enough. Sometimes you need other people to look at you looking at stuff. You need people to look at Instagram, Facebook, Twitter, Pinterest, and Snapchat to see you looking at stuff. And the stuff you're looking at better be good if you're gonna rack up the likes and shares you crave. As da Vinci would have said (and you know, out of all the masters, da Vinci would have been the first to say it), pics or it didn't happen. Here are all of the best exhibits in NYC to share on your social right now.
Recommended Video
The Chillest Museum in LA Is the Museum of Ice Cream
Permanent installation at the Museum of the Moving Image
Astoria
See Big Bird, Elmo, Miss Piggy, Kermit the Frog, and 43 of their puppet pals at this sweet celebration of the creator who gave us The Muppet Show, Sesame Street, and Labyrinth. You can even try your hand at puppeteering on screen and snap a pic the Twitter bots will love.
Cost: General admission is $15
Open through January 2, 2019, at the American Museum of Natural History
Upper West Side
Test your senses as you move through 11 galleries designed to engage your sense of sight, sound, smell, taste, touch, and balance. One space tries your equilibrium -- is the room spinning, or do your eyes deceive you? -- another manipulates images with tricks of light, and another compares our sensory abilities to those of our friends from the animal kingdom. Each colorful display will appeal to kids and aspiring influencers alike.
Cost: $28 includes general admission and exhibit entry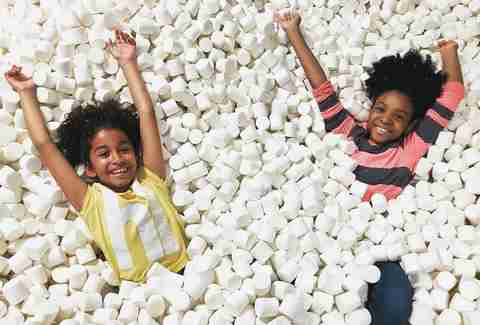 Open through November 15 at Candytopia
Midtown West
Here it is, here's the one, this is what you came for! Something-something Charlie and the Chocolate Factory and so on, Willy Wonka, etc. Candytopia has re-imagined famous works of art in candy, created a confectionery taxicab, and filled a pool with (fake) marshmallows. It's a world of pure Instagramination.
Cost: Tickets are $34
Indefinite installation at Color Factory
SoHo
This is the other one. New to New York by way of San Francisco, Color Factory knows its audience -- cameras are scattered throughout the space in an effort to minimize wait times in the monochrome ball room, at the colorful macaroon conveyor belt, and on the illuminated Twister-esque dance floor. You'll still have to be patient to capture the perfect Boomerang, but at least they tried.
Cost: Tickets are $38
Permanent installation at the Brooklyn Museum
Prospect Heights
Each of these 23 rooms pulls back the curtain on lifestyle and design from the 17th to the 20th century. Travel back in time and indulge in a little old-fashioned cosplay on the periphery of a New England Sea Captain's whimsical 1725 parlor, a lavish 1860s Rockefeller smoking room, and a sexy Art Deco study. On the internet, nobody knows it's not your apartment.
Cost: General admission is $16
On view through November 30 at Mmuseumm
Chinatown
The tiny gallery inside this pocket-sized Cortlandt Alley storefront is the art world's answer to the speakeasy. Nothign is Perfect is a study in error. See a crooked screw, a wonky die, a one-sided nickel, product packaging blunders, and other curiosities any time of day or night. The space keeps limited weekend hours, but guests can call into a number posted on the door for an audio tour, and view exhibits through windows 'round the clock.
Cost: $5 suggested donation
Indefinite installation at the Museum of Sex
Flatiron
Colloquially known as the "boobie bounce house," Jump for Joy is a holdover from the Museum of Sex's 2014 exhibit, "Funland: Pleasures & Peril of the Erotic Fairground." And it's exactly what it sounds like: a surprisingly realistic inflatable adult attraction fashioned after breasts, rather than the primary-color plastic castles of your youth.
Cost: General admission is $20.50 during peak hours, Jump for Joy is $3 extra
Open through October 27 at the C24 Gallery
Chelsea
Katja Loher's videos are framed by objects like those found in the natural world, to looking-glass-portal effect. This multimedia exhibit deals in vision, sound, and scent. Loher's fellow artist Tansy Kaschak created the scentscape that accompanies this immersive exploration of Air, Water, Fire, Earth, and Love.
Cost: Free
Indefinite installation at the New York Hall of Science
Corona
Hundreds of ribbons of 52-foot-long fluorescent flagging tape cascade from the massive circular skylight in NYCSCI's lobby, creating different light and color patterns depending on the time of day, where you're standing, and even weather conditions. Visit often for changing views and repeated views.  
Cost: Lobby access is free, general admission is $16
On view through October 8 at the New York Historical Society
Upper West Side
The NYHS has a lot to recommend it. Walk This Way: Footwear from the Stuart Weitzman Collection of Historic Shoes is rife with hashtag possibilities for girls you went to high school with who went on to find middling Insta success.
Cost: General admission is $21
Open through October 7 at the Rosé Mansion
Midtown East
Like Candytopia and Color Factory, this is not a museum as such. Or at all. It's more of circuitous route to the bar with social media opportunities. Rosé all day throughout 12 rooms, where you'll learn a little wine history, blend your own, and pose on a chandelier swing for some reason. Your last stop on the tour is the bar, where you'll find more than 100 varieties of the pink stuff.
Cost: $45 includes a wine glass, and about 2 servings of vino spread across eight tastings
On view through October 21 at Perrotin
Lower East Side
The artist's dusty take on cars from semi-recent cinema classics like Back to the Future's DeLorean, and the 1961 Ferrari 250 GT California Spyder LWB from Ferris Bueller's Day Off will remind you that, while life is not long, neither is pop culture.
Cost: Free
Sign up here for our daily NYC email and be the first to get all the food/drink/fun New York has to offer.