8 Cool NYC Art and Museum Exhibitions to Check Out Now
We're finally in the museum phase of Phase 4.
Governor Cuomo announced that indoor cultural activities like museums (and also bowling alleys, yes!) are allowed to reopen starting today. That's good news for art-loving New Yorkers who have been cooped up for months with limited entertainment options.
While many museums will slowly reopen over the upcoming weeks, when they do, expect attendance limited to 25% capacity, staggered and timed entry with ticketing booked in advance, and necessary safety protocols including the requirement of facial coverings and social distancing. So grab your mask and hand sanitizer, and check out these eight cool exhibitions to celebrate the museum phase of Phase 4's reopening.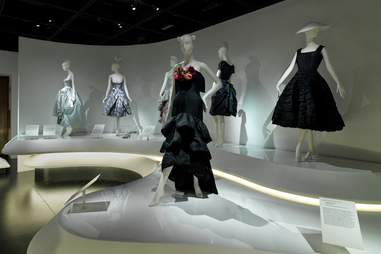 In Pursuit of Fashion: The Sandy Schreier Collection

| The Metropolitan Museum of Art
Upper East Side
Considered to be one of NYC's most significant museums, The Met holds some impressive statistics: 150 years old; 4.7 million visitors a year; two million square feet of space to peruse; and 5,000 years of culture housed under its roof. Break your five-month streak of life without museums (while you were wearing the same stretchy pants) by making a visit to In Pursuit of Fashion: The Sandy Schreier Collection, The Costume Institute's 2019 exhibition on display until late September. It'll spark great inspiration for a new fall wardrobe and bring back memories when the annual The Met Gala was a fun sartorial distraction to be had.
Reopening date: August 29, check website for more info
Hudson Yards
Located at the end of the 7 Train at Hudson Yards, Bella Azbug Park is dedicated to a former NY congresswoman and leader of women's rights, and is now home to the largest bronze gorilla statue in the world. Artists Gillie and Marc Schattner based King Nyani off a silverback gorilla they encountered in the wild and hopes to bring light to the kinder side of the endangered species. King Nyani's large hand can fit 2-3 people for a photo, and marks a new chapter for New Yorkers that will have us asking: "King Kong, who?"
Opening date: August 24
Jordan Casteel: Within Reach

| Dario Lasagni
Lower East Side
Seven rectangular boxes stacked high on the Bowery is home to the New Museum, a place "for contemporary art and an incubator of new ideas" since 2007. When it reopens in mid-September, exhibitions from January and February will be on display until the end of the year, including Jordan Casteel: Within Reach, the painter's first solo museum exhibition to take place in NYC. Take in up to 40 large-scale oil portraits inspired by former Yale classmates, neighbors in Harlem, and snapshots of daily life.
Reopening date: September 15, free admission until September 27 with tickets available via website starting August 31
East Harlem
El Museo was founded in 1969 and is "the nation's first Latino and Latin American cultural institution." With more than 8,000 objects spanning more than 800 years of art and culture, the museum is located in Spanish Harlem, a neighborhood that's home to a large Puerto Rican population. To celebrate El Museo's 50th anniversary, the exhibition, Taller Boricua: A Political Print Shop in New York, showcases Taller Boricua, a local "alternative space" and printmaking studio that produced and distributed hundreds of prints from artists in the 1970's.
Reopening date: September 12, check website for more info
Prospect Heights
The original design of the Brooklyn Museum dates back to 1893. It's had plenty of additions and renovations since then, including the glass roof of the Martha A. and Robert S. Rubin pavilion that greets museumgoers at its entrance. When the museum reopens, check out Studio 54: Night Magic, an exhibition with photography, fashion, film, and some never-before-exhibited elements that showcase Studio 54, one of Manhattan's most iconic nightlife spots ever. Seeing all of the uninhibited partying and revelry from that era will be a great reminder of what we have to look forward to when we also can go out like that again -- whenever that may be (stay strong!).
Reopening date: September 12, check website for more info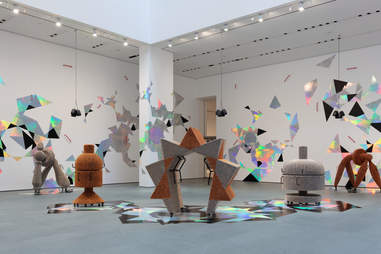 Haegue Yang: Handles

| Denis Doorly
Midtown
After three years of renovations, the new MoMA debuted in October of 2019 with plenty of extra square footage to glimpse classics like Monet's Water Lilies, Andy Warhol's Campbell's Soup Cans, and Cindy Sherman's self-portraits. The museum also has an ongoing exhibition from Berlin-based Korean artist, Haegue Yang, named Handles, a "play of light and sound." Study sculptures and geometric shapes in the presence of birdsong captured in 2018 during political talks between North Korea and South Korea at the two countries' Demilitarized Zones.
Reopening date: August 27, free admission until September 27 with tickets available via website on Fridays at 10am EDT
Upper West Side
At this 150-year-old museum and NYC institution, making return visits to their permanent exhibitions with breathtaking dioramas of African elephants or halls filled with meteorites and 94-feet-long blue whales is always exciting. A new exhibition, T. rex: The Ultimate Predator, celebrates the museum's special anniversary this year and is a nod to being the city's ultimate destination for all things dinosaur. Expect life-sized models, fossils, and casts while learning how even an animal that starts off as a "helpless hatching" can turn into the planet's ultimate predator.
Reopening date: September 9, check website for more info
Meatpacking District
This stylish museum located near the High Line and the Hudson River showcases American art, and there's nothing more American than all of the crafting we've been doing while quarantining at home. Through the exhibition, Making Knowing: Craft in Art, get crafting inspo from works that span across seven decades through mediums like sewing, pottery, weaving, textiles, glass, and more.
Reopening date: September 3, pay-what-you wish admission until September 28 with tickets available via website
Sign up here for our daily NYC email and be the first to get all the food/drink/fun New York has to offer.