There are so many incredible things to see in and around New York City: stunning skyline views, beautiful beaches, hidden hiking destinations, quite a few nudes, and restaurant and bar menus as carefully curated as some of this city's finest museum exhibitions. If you want to look at stuff, this is the town to beat.
But sometimes, looking at stuff isn't enough. Sometimes you need other people to look at you looking at stuff. You need people to look at Instagram, Facebook, Twitter, Pinterest, and Snapchat to see you looking at stuff. And the stuff you're looking at better be good if you're gonna rack up the likes and shares you crave. As da Vinci would have said (and you know, out of all the masters, da Vinci would have been the first to say it), pics or it didn't happen. Each of these exhibits fall into one of three categories: garish gimmick, actually cool, and high art. A few even overlap. Share them on your social and let your followers sort out which is which.
Recommended Video
This Museum Is a Dream Come True for Dr Pepper Lovers
Indefinite installation at the Museum of Illusions
Chelsea
The photo-up you're most drawn to at the Museum of Illusions is a reflection of your id. Are you driven to see yourself infinitely multiplied, serve your head on a plate, loom large over a companion, straddle a bottomless pit, or find out who really wins when you're playing a high-stakes game of poker against... yourself? Each trick of the eye appeals to a distinct base desire -- but that's between you and your shrink. For our money, the Rotated Room, where you'll appear to scale the walls, provides the most social media buck bang.
Cost: Tickets are $19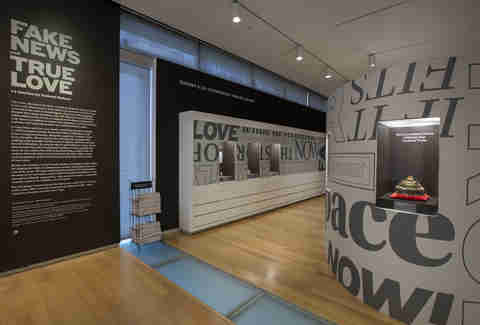 On view at the Museum of Arts and Design through March 3
Midtown West
"Fake News and True Love: Fourteen Stories by Robert Baines" pairs jewelry works with fictional tales purportedly detailing each piece's provenance. In "Marilyn and JFK, Together Again," a ring resembling a bizarro friendship-necklace accompanies the very fake news that the tragic movie star must have given it to the tragic president for his birthday. You can't sample the wares, but we hear #fakenews might be trending.
Cost: Tickets are $16
Open through March 31, 2019, at the Whitney Museum of American Art
Meatpacking District
What would Andy Warhol, patron saint of wannabe it-girls, have thought of our current selfie climate, where everyone's famous all the time, at least to a to a self-selecting community? I don't know, he's dead, but here's a theory. Decide for yourself at the Whitney's retrospective, "From A to B and Back Again," where you'll see his celebrity silkscreens, everyday objects, and portraits, among 350 works.
Cost: General admission is $25
Open through February 3, 2019, at Industry City
Sunset Park
There are three types of people in this world: Those who find the notion of being immersed in a topsy-turvy M.C. Escher work intoxicating, those who find it nauseating, and those who just wish the Museum of Pizza were permanent. This exhibition and experience is for the former. See more than 200 of Escher's pieces like "Hand With Reflecting Sphere," "Eye," and "The Stairs One You Remember From the Dorms in Undergrad," then step into the wonky, perspective-distorting Relativity Room, where the objects in your 'gram may be larger -- and smaller -- than they appear.
Cost: General admission is $20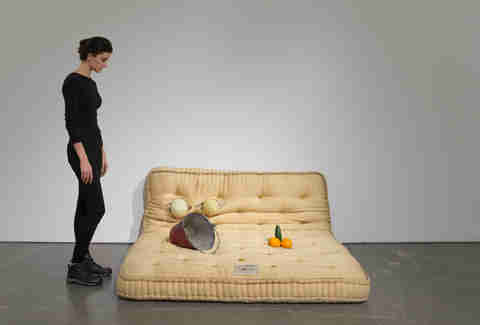 Open through January 20 at the New Museum
Lower East Side
Lending its name to the greater three-floor survey of more than 150 works by British artist Sarah Lucas, Au Naturel is a sculpture depicting precoital lovers in bed. Most of the show is NSFW in really just the weirdest way possible, making this the ideal destination for edgy dilettantes who endeavor to get banned from social media platforms like it's their job.  
Cost: General admission is $18
On view through January 27 at The Morgan Library & Museum
Midtown East
This anniversary exhibit celebrates the 200th anniversary of the publication of Mary Shelley's Frankenstein, or, the Modern Prometheus. (This is also as good a time as any for a reminder that "Frankenstein" was the doctor; "the Creature" was the monster.) You'll see illustrated high and low-brow takes on Shelley's tale from over the centuries, portions of her original manuscript, and, most photogenic of all, a replica of the Creature's unwitting companion's iconic fright wig as seen in the 1935 film, The Bride of Frankenstein.   
Cost: General admission is $20
Open through May 27, 2019, at the American Museum of Natural History
Upper West Side
Walk among hundreds of butterflies in dozens of species from all over the world, and wonder why these beautiful, winged creatures inspire feelings of whimsy, while their close cousin, the creepy moth, just freaks everybody out. Have your flower crown filter at the ready to complete the social media look.  
Cost: $28 includes general admission and exhibit access
Permanent installation at the Museum of the Moving Image
Astoria
See Big Bird, Elmo, Miss Piggy, Kermit the Frog, and 43 of their puppet pals at this sweet celebration of the creator who gave us The Muppet Show, Sesame Street, and Labyrinth. You can even try your hand at puppeteering on screen and snap a pic the Twitter bots will love.
Cost: General admission is $15
On view through February 10 at Mickey: The True Original Exhibition
Chelsea
Here's your broad-appeal pop-up behemoth, the most wholesome #hashtagable #likebait you'll find in town right now. See works inspired by one of the most litigiously protected corporate mascots of all time as you pass through 10 interactive rooms. Hop on the you-sized steamboat to recreate Mickey Mouse's star-making turn in the 1928 animated short Steamboat Willie for a portrait your grandmother will cherish forever.
Cost: Tickets are $38
Indefinite installation at Color Factory
SoHo
This is the other one. New to New York by way of San Francisco, Color Factory knows its audience -- cameras are scattered throughout the space in an effort to minimize wait times in the monochrome ball room, at the colorful macaroon conveyor belt, and on the illuminated Twister-esque dance floor. You'll still have to be patient to capture the perfect Boomerang, but at least they tried.
Cost: Tickets are $38
Permanent installation at the Brooklyn Museum
Prospect Heights
Each of these 23 rooms pulls back the curtain on lifestyle and design from the 17th to the 20th century. Travel back in time and indulge in a little old-fashioned cosplay on the periphery of a New England Sea Captain's whimsical 1725 parlor, a lavish 1860s Rockefeller smoking room, and a sexy Art Deco study. On the internet, nobody knows it's not your apartment.
Cost: General admission is $16
Indefinite installation at the Museum of Sex
Flatiron
Colloquially known as the "boobie bounce house," Jump for Joy is a holdover from the Museum of Sex's 2014 exhibit, "Funland: Pleasures & Peril of the Erotic Fairground." And it's exactly what it sounds like: a surprisingly realistic inflatable adult attraction fashioned after breasts, rather than the primary-color plastic castles of your youth.
Cost: General admission is $20.50 during peak hours, Jump for Joy is $3 extra
Indefinite installation at the New York Hall of Science
Corona
Hundreds of ribbons of 52-foot-long fluorescent flagging tape cascade from the massive circular skylight in NYCSCI's lobby, creating different light and color patterns depending on the time of day, where you're standing, and even weather conditions. Visit often for changing views and repeated views.  
Cost: Lobby access is free, general admission is $16
Sign up here for our daily NYC email and be the first to get all the food/drink/fun New York has to offer.