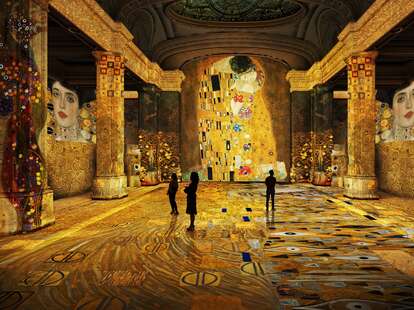 Alongside local cultural institutions—like The Metropolitan Museum of Art, The American Museum of Natural History, and The Guggenheim Museum—a new generation of art lovers have fully embraced immersive experiences as a modern-day way to enjoy New York City's thriving art scene (the flex-worthy BeReal content doesn't hurt either).
In addition to fresh installations like the whimsical Alice's Adventures in Wonderland-themed Wonderland Dreams and controversial Banksy: Building Castles in the Sky, we've got all the details on where to go for both a dose of tradition and the innovatively cool. From a rare collection of chic designer shoes to a technological homage to the gilded world of Gustav Klimt, here are the best museum exhibits and immersive art experiences in NYC right now.
Lower Manhattan
Exhibition: Gustav Klimt: Gold in Motion
Across the first floor and subterranean vault level of the historic Emigrant Industrial Savings Bank building on Chambers Street in Lower Manhattan, the recently opened Hall des Lumières introduced its inaugural installation as a dedication to the gilded and female-centric work of the Austrian painter Gustav Klimt. Upon entering, guests are able to peruse 30-foot projections of Klimt's famed work from the early 20th century such as The Kiss and Portrait of Adele Bloch-Bauer I, which is accompanied by a customized soundtrack of ambient music. Additionally, Hall des Lumières will welcome a new exhibit every 10 to 12 months, so stay tuned for updates on their IG page for future artist line-ups.
How to buy tickets: Admission from $37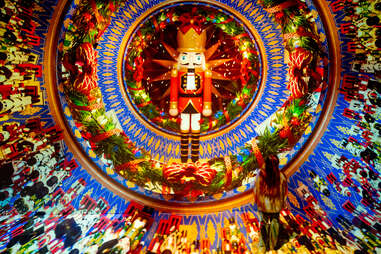 Chelsea
Exhibition: Spectacular Factory: The Holiday Multiverse
As always dependable at creating innovative and trippy immersive experiences, the latest exhibit by Artechouse is rooted in seasonal nostalgia and joy. Opening just in time for the holiday season on Saturday, November 19, Spectacular Factory: The Holiday Multiverse features imaginative versions of holiday villages stocked with giant jingle bells, thousands of nutcrackers, huge wreaths, and a candy cane carousel. Also available, whip up a holiday present via the Artechouse phone app and sip on seasonal cocktails from the on-site bar.
How to buy tickets: Admission from $25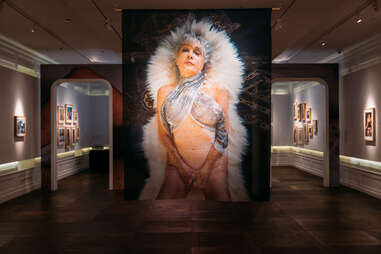 NoMad
Exhibition: Self Power | Self Play
Popular across IG for their raunchy installations, intentional lack of censorship, and inclusive discourses on sex and sexuality, the latest project to hit the halls of the Museum of Sex is titled Self Power | Self Play. Displaying more than 50 years of work by the celebrated photographer Linda Troeller—who apprenticed under legendary artists like Georgia O'Keefe and Annie Leibovitz—the exhibit comments on sensual empowerment, ageism, and social taboos through intimate and playfully voyeuristic portraits.
How to buy tickets: Admission from $36
SoHo
Exhibitions: INTER_personal, INTER_sensory, INTER_planetary, INTER_val, and INTER_connected
One of the most recent interactive experiences to unveil in New York City is a collaborative project from JOBI Experiential and multidisciplinary artist Pete Sax with his studio Chemistry Creative dubbed INTER_. Here, guests are welcomed to wander through a series of five installations which each play on a distinct theme of earth, wind, fire, water, or ether. Highlights include gallery spaces set up with trippy mirrors, a guided meditation, verdant displays of hanging greenery, a vibrational playing of gongs, and more.
How to buy tickets: Admission from $39
Long Island City
Exhibition: Autonomous Drive
Showcasing the work of Mexican artist Frieda Toranzo Jaeger, Autonomous Drive at MoMA PS1 is a commentary on the queer freedom and expression, humanity's connection to nature, and the themes of joy and pleasure. The first major solo museum exhibit for Jaeger in the U.S., a range of sculptural/multi-paneled paintings emulate 15th century European altar paintings and aim to reform out-dated and exclusionary origin tales like Adam and Eve. Through her highly detailed works, Jaeger's core message is a resistance to patriarchal and oppressive power structures.
How to buy tickets: Admission from $10
Lower East Side
Exhibition: Beyond King Tut: The Immersive Experience
With a residency at Pier 36 near the Lower East Side, this immersive exhibit explores the 3,300-year-old story of King Tutankhamun's short rule as a child pharaoh, as well as his family, untimely death, tomb, and journey into the afterlife. Explore the space's nine galleries and expect everything from eye-catching technology and interactive activities to life-size replicas of an Egyptian sailing ship and King Tut's burial tomb. Also, through the use of light projections of National Geographic's archival photography, alongside video, sound, and narration, the exhibit is created without the use of any physical artifacts.
How to buy tickets: Admission from $47
Meatpacking District
Exhibition: Edward Hopper's New York
The first of its kind, Edward Hopper's New York within the Whitney Museum of American Art focuses on the artist's personal connection with the Big Apple, which is evidenced throughout his works of art. Famous for his narrative and thought-provoking oil paintings like Nighthawks (which is said to be based off a real NYC location that is now home to the restaurant Jeju Noodle Bar), the exhibition dives into Hopper's life through his sketches, prints, and illustrations, as well as personal letters, photographs, and journal entries. Some of Hopper's most well-known work from the early to mid 20th century such as Automat, Room in New York, and New York Movie will also be on display.
How to buy tickets: Admission from $25
Prospect Park
Exhibition: Figures of Speech
World renowned for his experimental style and visionary creations, late designer Virgil Abloh is the focal point of the Brooklyn Museum's latest crowd-puller. Curated by Antwuan Sargent, Figures of Speech includes artwork; clothing; video and audio clips; architectural sketches; and more, that speak to Abloh's legacy as an iconic figure in fashion and contemporary culture. Highlights include a full-size wooden house (designed by Abloh himself as a space for creatives to share knowledge and inspiration); a collaboration project with artist Takashi Murakami; plus pieces from Off-White and Louis Vuitton.
How to buy tickets: Admission from $25
Chelsea
Exhibition: Jean-Michel Basquiat: King Pleasure
When it comes to legendary New York artists, Jean-Michel Basquiat definitely tops the list and his paintings regularly reach more than $100 million when sold at auction. Learn more about the talented pioneer who helped shape 1980s pop art and is now considered one of our most revered cultural icons through renderings of his childhood homes; video plus audio recordings; and more than 200-never-before-seen works of art, artifacts, and ephemera spread out within the more than a century-old Starrett-Lehigh Building.
How to buy tickets: Admission from $45
East Harlem
Exhibition: Raise Your Voice
Depicting the beauty and resilience of New York City's Asian American and Pacific Islander community comes an immersive installation by Brooklyn-based artist Amanda Phingbodhipakkiya. First gaining prestige after her I Still Believe in Our City art series in response to the Atlanta shootings in March of 2021, which appeared within NYC subway stops and on the cover of TIME magazine, this venture for Phingbodhipakkiya focuses on an array of colorful murals depicting historical figures like Yuri Kochiyama and Malcolm X plus scenes of NYC activism over the past nine decades.
How to buy tickets: Admission from $20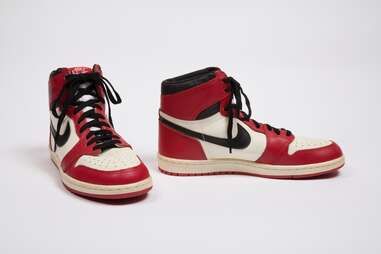 Chelsea
Exhibition: SHOES: Anatomy, Identity, Magic
To the delight of fashion aficionados, more than 300 pairs of rare and painstakingly crafted footwear, including heels, boots, sandals, sneakers, and more, are now on display at The Museum at FIT's SHOES: Anatomy, Identity, Magic exhibit. From Nike and Dr. Martens to Manolo Blahnik and Tom Ford, the exhibit explores how shoe design can help define personal identity, as well as the history behind high heels and the impact of sneaker culture.
How to buy tickets: Free for admission
Izzy Baskette is a Staff Writer for Thrillist New York. Talk to her at ibaskette@thrillist.com or find her on Instagram.